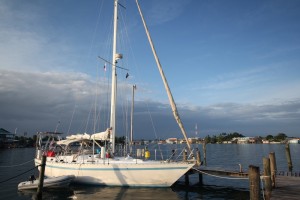 NEW YORK to PANAMA
Hi Peter, now we have put around 1700nm on the vane, we left from rhode island in early november and are now in Bocas del toro, panama. we have solidly tested the windpilot in a wide variety of conditions and we are extremely happy with it, we have used in conditions ranging from close hauled to dead run and it has worked well particularly in heavier conditions.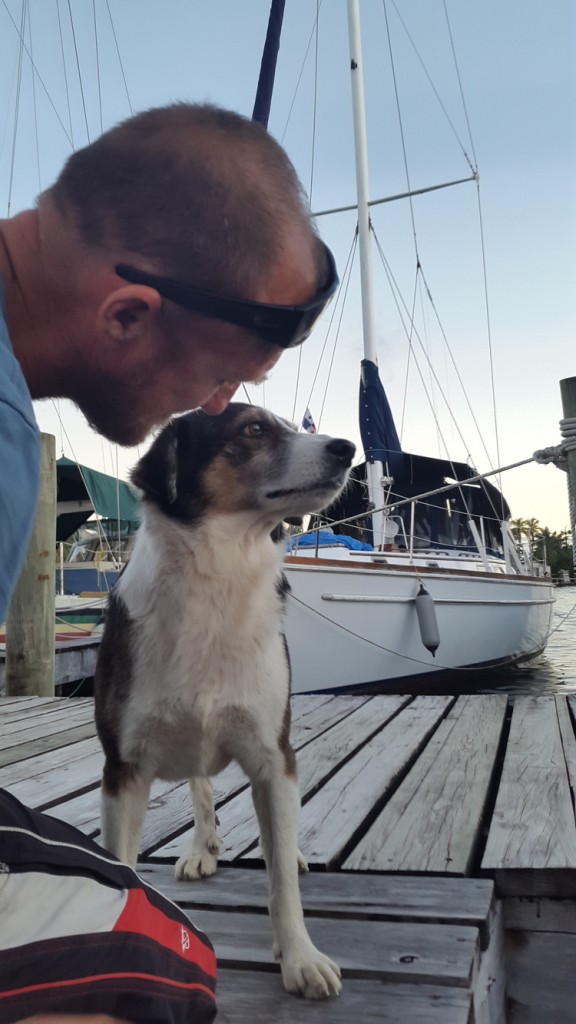 we find that in lighter variable winds we have to be very careful with the sail balance and on a few occasions if the wind drops suddenly it can wander off course, but it has been amazing in stronger winds, we had three days in the Caribbean sea of 25-35kn with gusts to 45kn and 10 to 15 ft seas and it steered us the whole time perfectly, it was a great help to us. its heavy air performance is amazing.
i was also pleasantly surprised to find that its upwind performance has been great, i thought with our davits, outboards on brackets, solar panels, dan bouy and jon bouy all mounted around our arch that i would have trouble with the vane, i expected to have to move our outboards below or at least switch them around so the smaller one was on the windward side but nothing has affected its performance enough to worry about moving anything.
i also just wanted to share a story with you, i know this is not a recommended way to use the vane but thought i would tell you anyway,
on our trip through the Caribbean as i mentioned before we had some bad weather, i had one particular bad line squall one morning where the winds hit 45kn and rain was so heavy that i only had visibility of 50m, we were running downwind with triple reefed main only doing 12kn and surfing down 15ft seas, due to the conditions i needed to heave to, as i had the vane engaged and was alone on deck i decided to use the rudders against each other so started hand steering slightly off course, as the vane tried to bring us back on course the rudders working against each other managed to slow us from 12kn down to 3kn where i was then able to bring the baot head to wind gently and not fly into the seas at high speed, it worked perfectly and the amazing thing was my boat then sat perfectly hove to with the bow 30 degrees off the wind until the squall passed, once it did, i just moved the main rudder to just off centre where i had it before, the boat came around and then the vane drove us perfectly for the next three days in very rough conditions and i didnt leave the cockpit once to adjust it.
i have also been using the same technique to reef when the wind is aft of the beam
so in summary you have a very happy customer and i have told anyone that asks that i am very happy with the vane and your service and will continue to do so.
so Peter once again thanks for your help.
Matt from Panama WEITERLESEN