Peter Foerthmann
1947 – 1964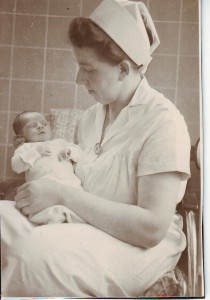 I would like to say I emerged into this world on an elegant schooner clutching a screwdriver in one hand and a pen in the other, but actually I arrived wet and howling just like everyone else – in my case at Hamburg's Jerusalem Hospital in May 1947. My early years were fairly typical too: plenty of do this, do that – and definitely don't do that.
My mother Charlotte Foerthmann (1915 – 1997)
Resistance was useless – believe me I tried and believe me it hurt. The world seethed with temptation, positively overflowed with restrictive rules. Some of them even made sense, usually once I found out what happened when I ignored them. I eventually came to appreciate my mother's firm and consistent approach to child rearing, but that was decades later. Meanwhile I made the most of what freedom I was allowed and enjoyed myself: life was simple and the world full of opportunities.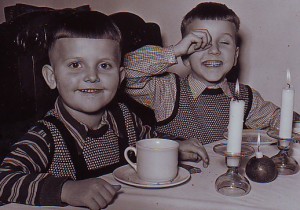 My first love proved long and enduring – and also something to endure, especially when I had to cycle around with her on my back. Hauling her around exhausted me and together we were a source of exasperation for both my mother and my teacher, but like my bike, my violin kept me out of all kinds of trouble. No boy can avoid confrontation for ever of course, but I managed to limit my serious dust-ups to one with my brother – who still bears the scars of my attack (at least that's the way his wife puts it) – and some other kid who never amounted to anything (unless, that is, you consider being a senior international judge at the UN tribunal in The Hague an achievement).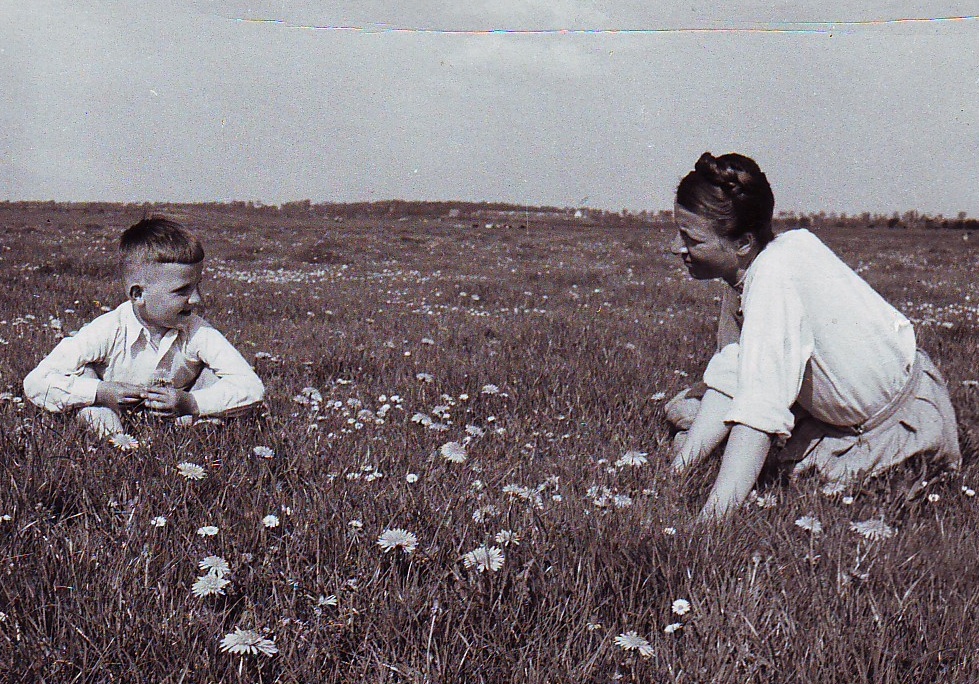 Water enjoyed a place close to my heart from my earliest years – provided I wasn't expected to wash in it. I loved the waterfront, any waterfront I could reach by bike. The harbourside in Hamburg was ideal: loud, colourful, bustling and full of activity. The only problem was that with so much going on, it was easy to miss something exciting.
My soundtrack to these years came from Austrian singer Freddy Quinn (now 80 and still living in Hamburg), whose tales of the sea spoke clearly to my young mind. My mother, who sang Schumann and played the harpsichord, was horrified: we were a proper musical family – my brother Berend on the cello, my violin teacher and stand-in father Hubertus on first violin (in passionate Hungarian style) and the viola – and we played 'proper' music.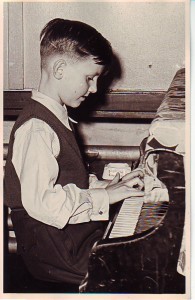 Ballads of the ocean never featured in the family concerts we used to put on twice a year (and neither for that matter did Bach's Concerto for 2 Violins even though I actually learned to play it well enough that – most of the time – it didn't sound at all like multiple cat torture).
My mother had a fine voice, but still I preferred Freddy's rough tones and could only smirk with embarrassment when she rose to sing. Nothing changes: now that I'm a parent myself I too have transformed into a Martian and know nothing about anything that really matter. But I digress.

Freddy indirectly came into my life again 20 years on when I joined Windpilot founder John Adam and Rolf Kaczirek, inventor of the Bügel anchor, to deliver the MS Libertad, formerly owned by Freddy, to the Seychelles on behalf of its new owner. Freddy's stature as a cultural icon is a matter for others to debate; it was his physical stature that concerned us as we suffered bruise upon bruise moving about below deck on his erstwhile party pad.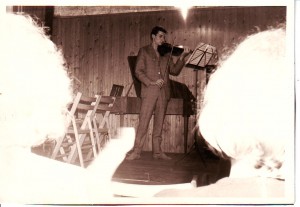 But back to the harbour in Hamburg. When the banana boats steamed in from Ecuador, there I lurked down at the docks like some crazed monkey waiting for any 'windfalls' from unloading. Oranges from Morocco provided rich pickings too: if the crane operator was in a hurry or, even better, had sunk a few too many the previous night, whole crates of fruit would drop from the palettes and I would brave the orange hail to stuff my panniers before setting off home (with a friendly nod from the customs man), bike groaning under the load, to show off the harvest. I, at least, felt I had done my homework…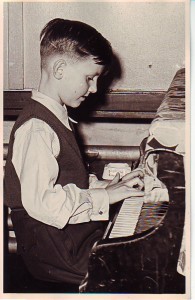 The bike began to lose its appeal to cars when I hit ten and by eleven I was driving an Opel around Hamburg sitting on a cushion. This was another achievement that seemed to impress me far more than it did my mother, but I'm sure she must have been proud really (I even obtained a driving license eventually, though that was years later). A full tank cost only 10 Marks and lasted two whole weeks. Now I was living!
Hamburg (Falkenstein) nautical training college, 1964
Cars, however, were nothing compared to the sea, which came to dominate my thoughts completely. I found its draw overwhelming and at 16, powerless to resist any longer, I packed my bags and set off for nautical training college to learn how to be a seaman. I was one of just four students in my class who knew how to sail already (another went on to be one of the co-founders of the Antigua Classic Yacht Regatta and a third made a splash in the nautical world leading the rescue and restoration of Sea Cloud) and in truth it was the "man" part of being a seaman that I really needed to learn about. I was that figure of a youth that you fear might blow away on a windy day, but the sea was not just in my veins but in my genes: my father, after all, was a significant figure in circles maritime who served as director of the nautical college, carried out the internal investigation into one of Germany's worst sail-training disasters and continued as an advisor to the Meyer Werft shipyard until well into old age.
My father, Budapest, 1944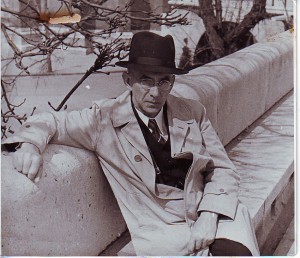 Already advanced in years by the time I was born, my father never played an active part in my childhood. I knew him to be a man of the water though, and no doubt this only strengthened my resolve to heed the call of the sea ringing so clearly in my own ears:
I wanted the ocean under my keel and I wanted to travel as far as possible.
Most of all, I wanted – I still want – to see the world and live life to the full.
The Laeisz shipping company
Given my early interest in the banana boats, there was a certain inevitability to the fact that my first voyage would be to the plantations. I joined the Laeisz shipping company and when its gleaming MS Pisang set off down the Elbe river on the ebbing tide one day in 1964, I went too, standing tall and proud to be a man at last (until I saw my mother waving me off from the Willkomm´ Höft, at which point the sudden realisation that I was leaving home and hearth perhaps for good turned me into a blubbering wreck).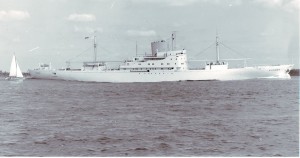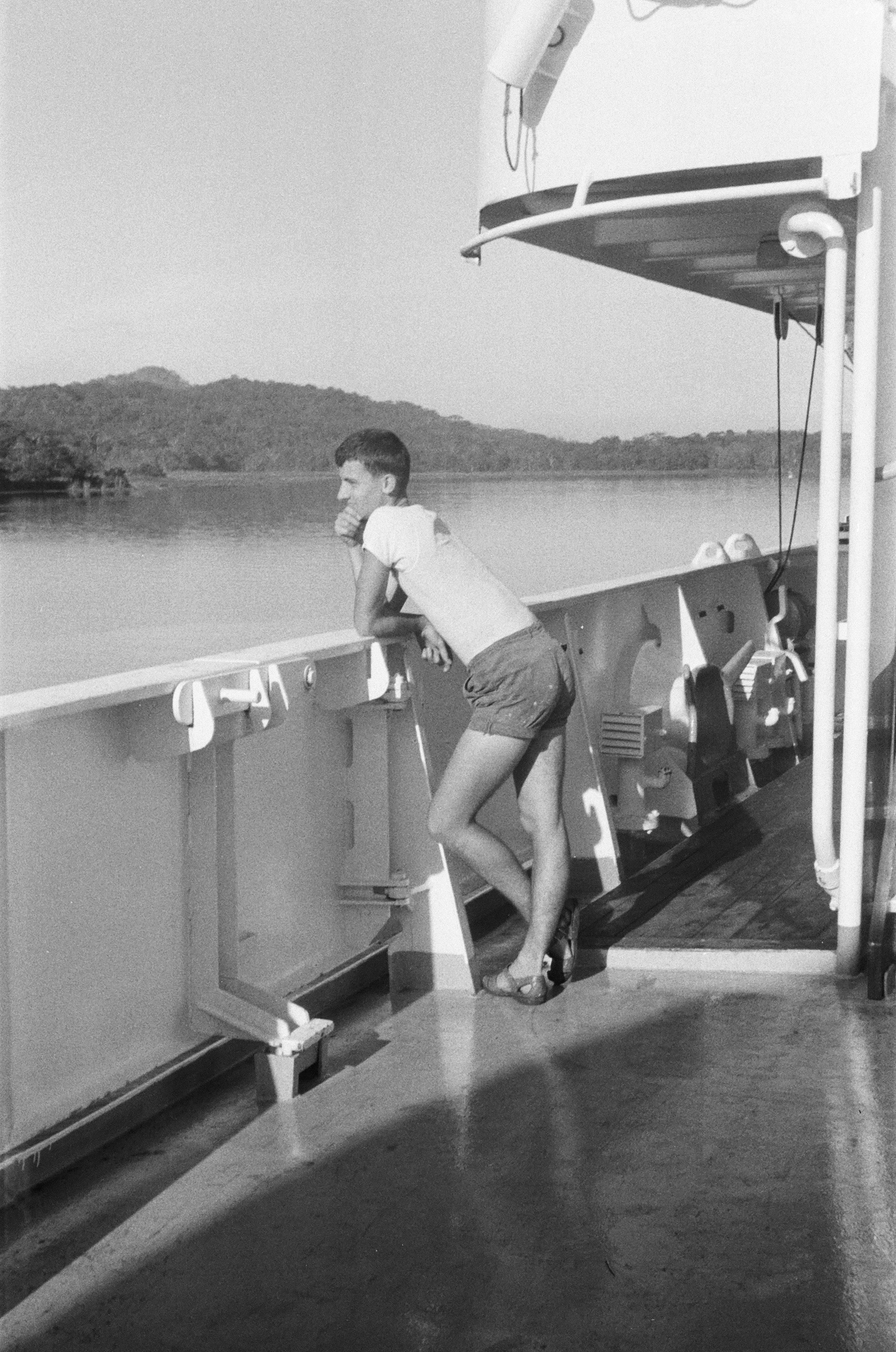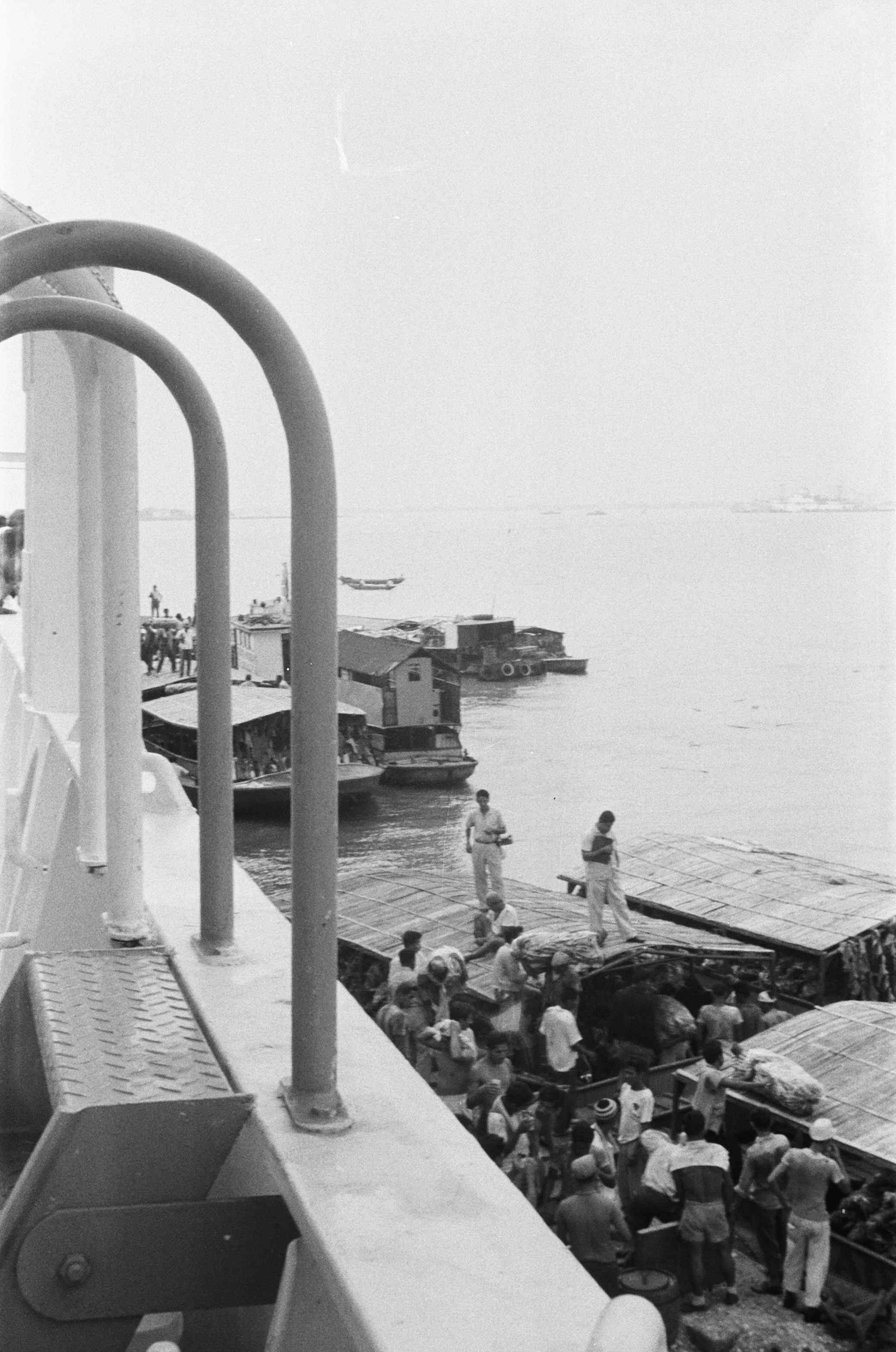 Bananas for Japan were our standing orders – as they would be for years – and so the Pacific became my home. The reality proved rather less romantic than my young mind had imagined, but nevertheless my career moved on rapidly. All the way to the rank of ordinary seaman. It was indeed a man's world. All men. All men who couldn't wait to disembark and spend some time in the sort of female company always to be found around the docks awaiting men in search of just that sort of female company. Believe me our second officer, now 78 years old and still with Laeisz, did sterling work with the penicillin after every round of shore leave…
Aboard the MS Pisang – the Panama Canal and the Pacific
The passage through the Panama Canal was an easy number: slow ahead and don't hit the sides. Steering on this leg of the trip counted as a privilege though and I certainly enjoyed it despite the jealous glances of crewmates whose skills at the controls were, well, better to suited to the open sea.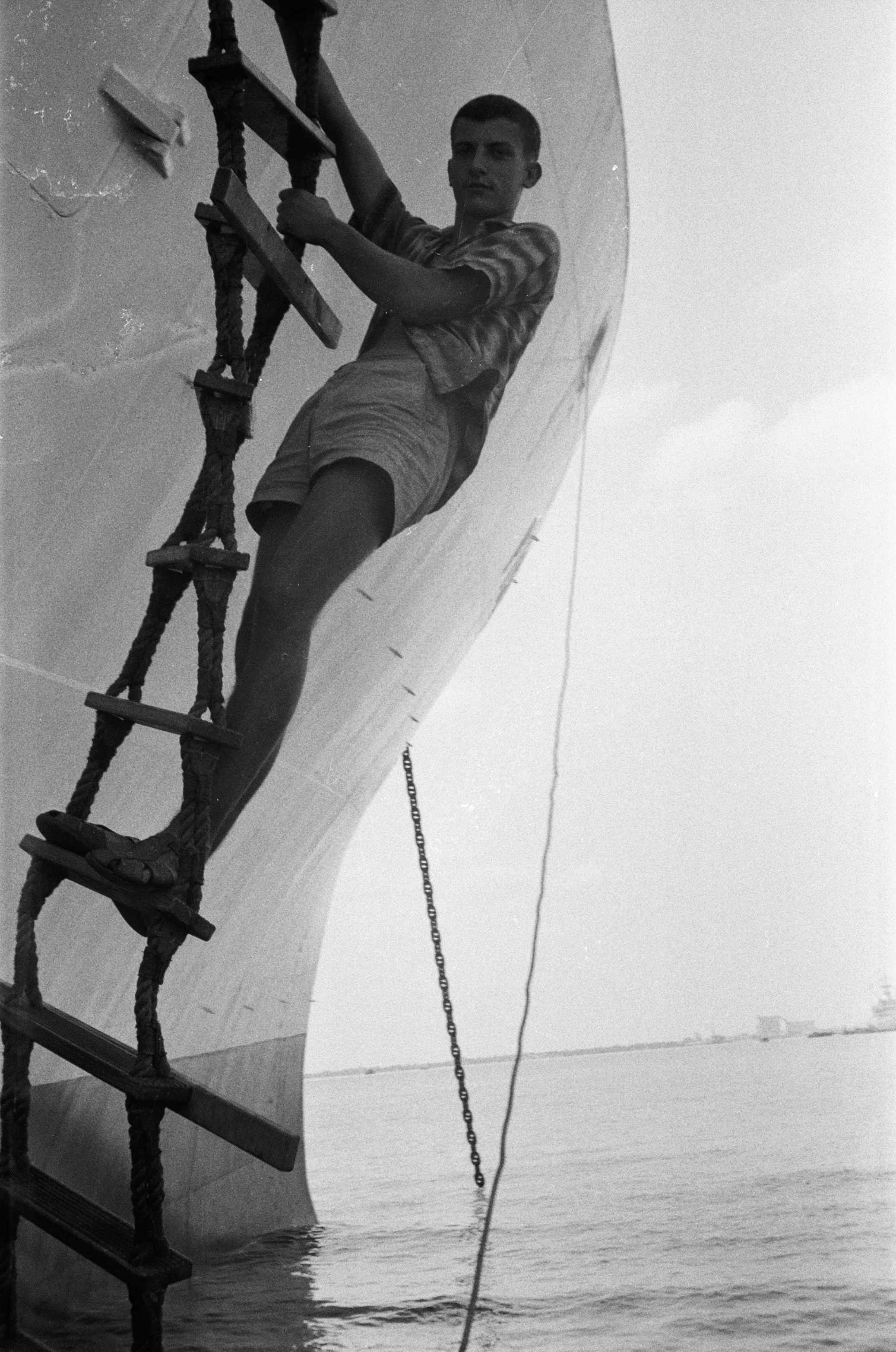 On leaving Panama at Balboa we headed off down the coast for a while before a hard left into the river and up to Guayaquil. Anchor down, launch alongside and off went 30 hungry seamen to pass the night on land – and in some cases the next day as well if the situation with the ladies allowed. The last few hands were always late back on board and in the meantime there was extra work for the rest of us. I was happy to fill in whenever necessary: extra hours were not exactly richly rewarded, but 150 hours of overtime a month added up to a decent sum. It wouldn't have bought me much time with the ladies, of course, but I had other plans and dreams for my cash.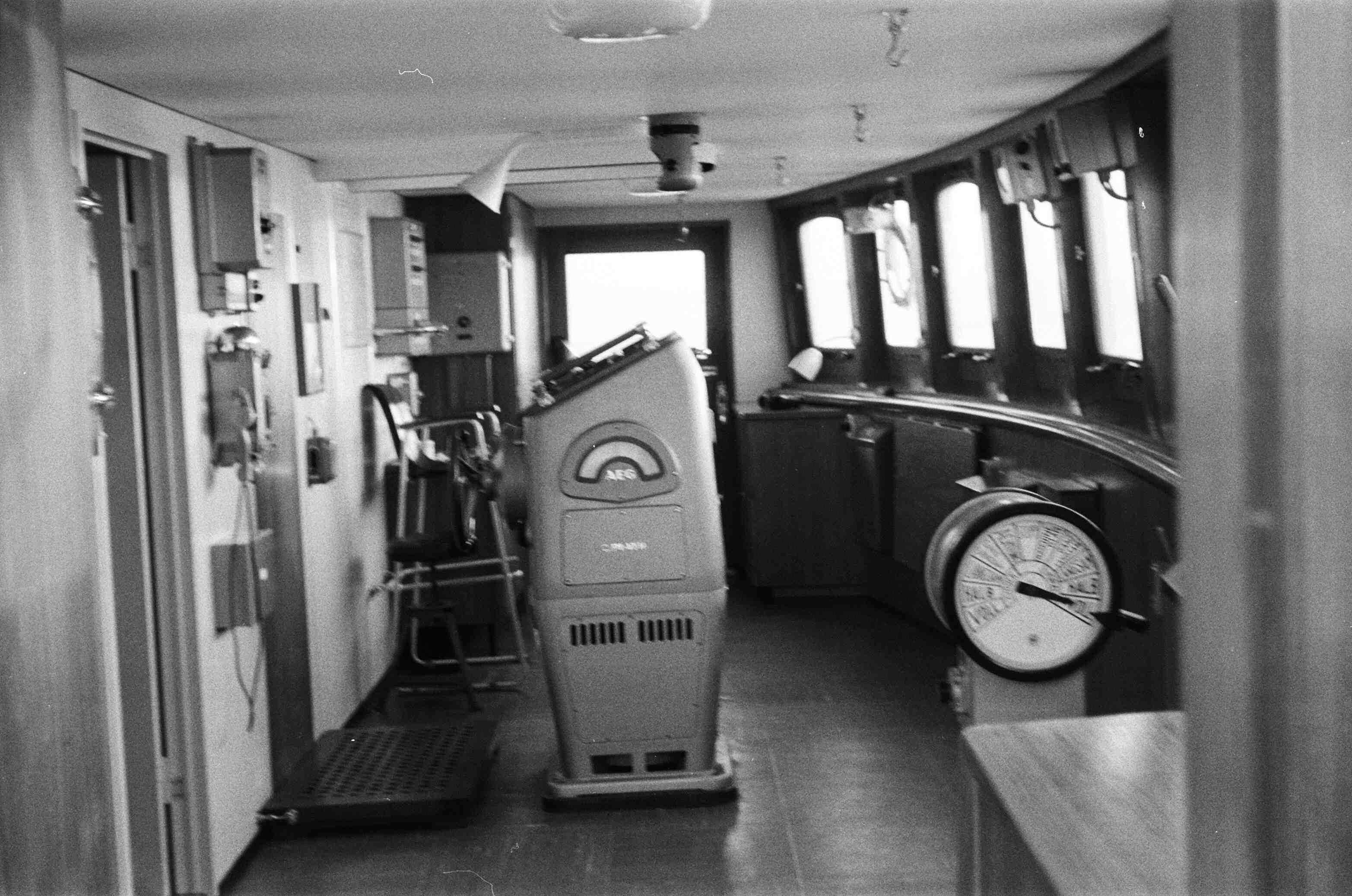 I caught some flack from the rest of the below-decks crew for keeping my powder dry while they made new 'friends', but I was already beginning to realise our futures lay in different directions. I particularly noticed the stark difference between the officers and the men. Up on the bridge, etiquette reigned supreme: officers were family men in crisp white uniforms and gleaming gold trim – calm and controlled and preoccupied with altogether more weighty matters like cargo, tides and the shipping company inspector, who would appear ghost-like around the corner if anything, even the smallest hint of rust, dropped our otherwise perfectly white banana boat below the impeccable standard expected of a Laeisz vessel. The job of keeping all 136 meters of the Pisang up to scratch fell to us below decks – and it was one we never finished. Needless to say as one of the lowliest life forms on board, I landed all the choicest chores!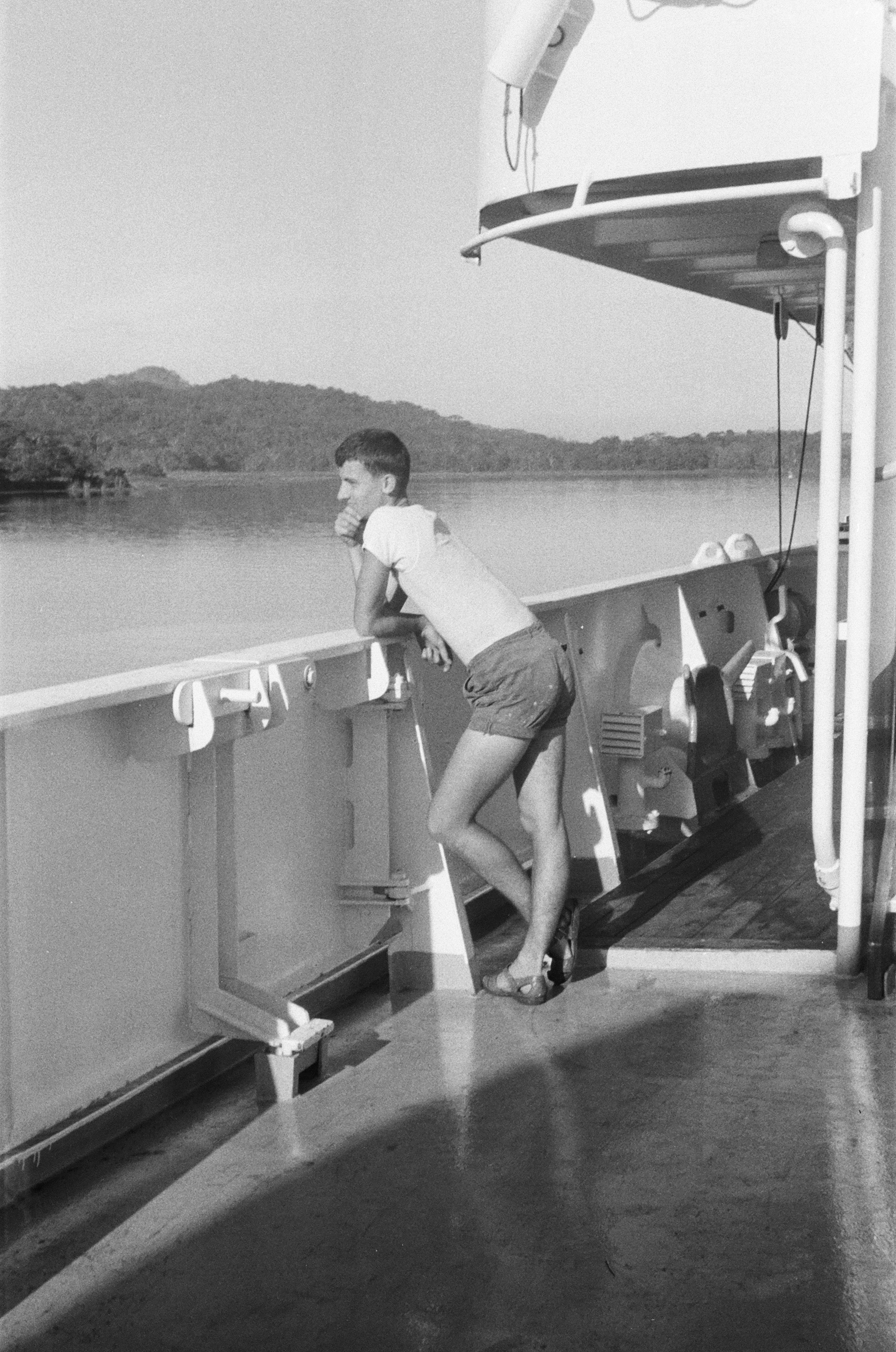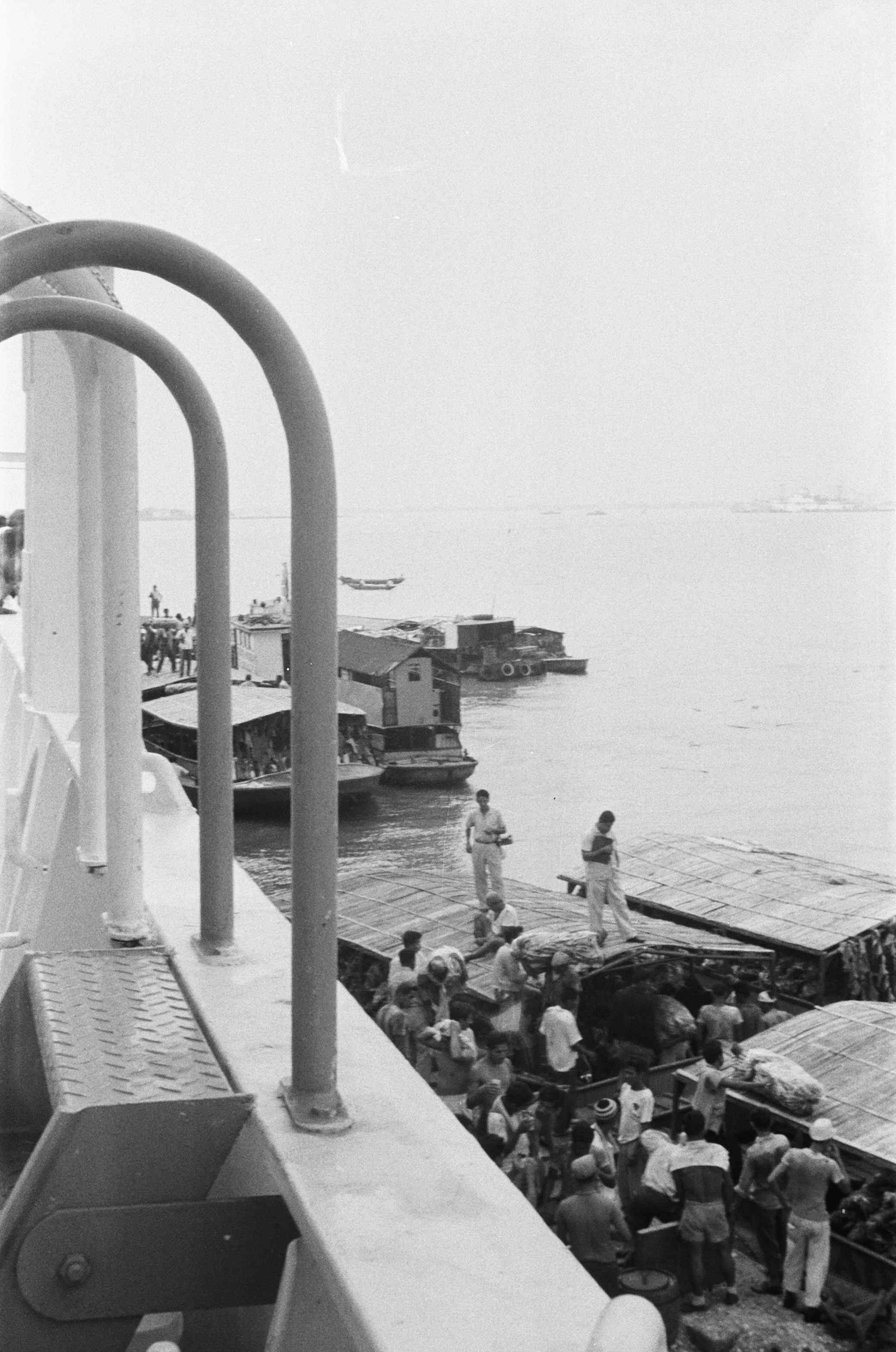 The bananas were loaded by hand. Stem after stem came aboard via a seemingly endless stream of straining bent backs – and with the bananas, hidden away and unnoticed, came the multitude of spiders and snakes that would awake again, all at once, on leaving the cold store at the end of the voyage to make our life just that little bit more stimulating.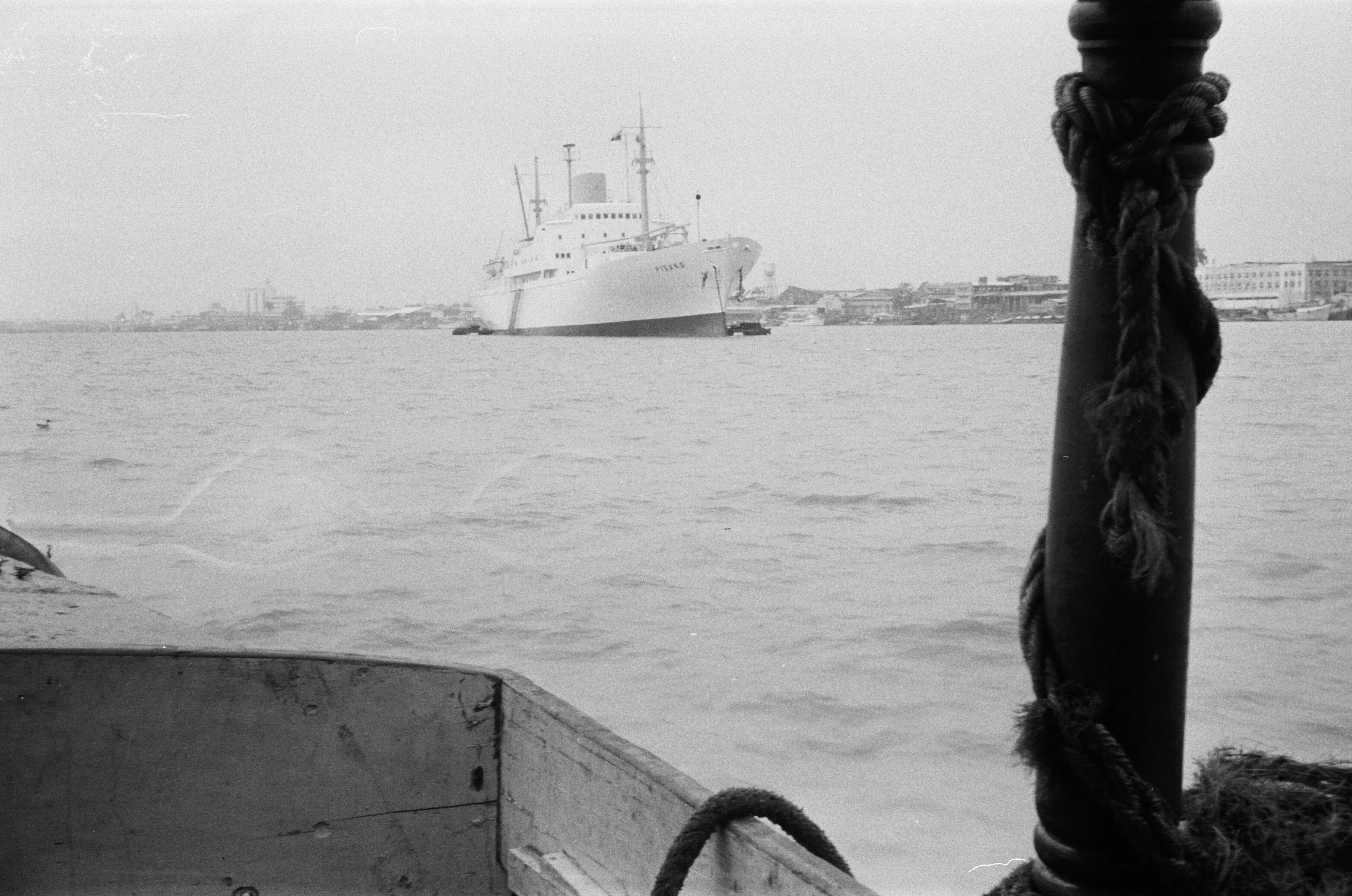 Brown and soupy, the Guayaquil River was no place for a swim, especially as there was always some creature or other, in or on the water, looking for something to bite. In the evening great swarms of locusts would rise out of the swamps and sweep into the city. Many met their end crashing into our ship, thence to be roasted by the cook or – if not quite dead – tucked away in some poor soul's bunk. It took more than that to wake me up (although a bucketful of salty water certainly did the trick – and left my mattress in a fine state afterwards too).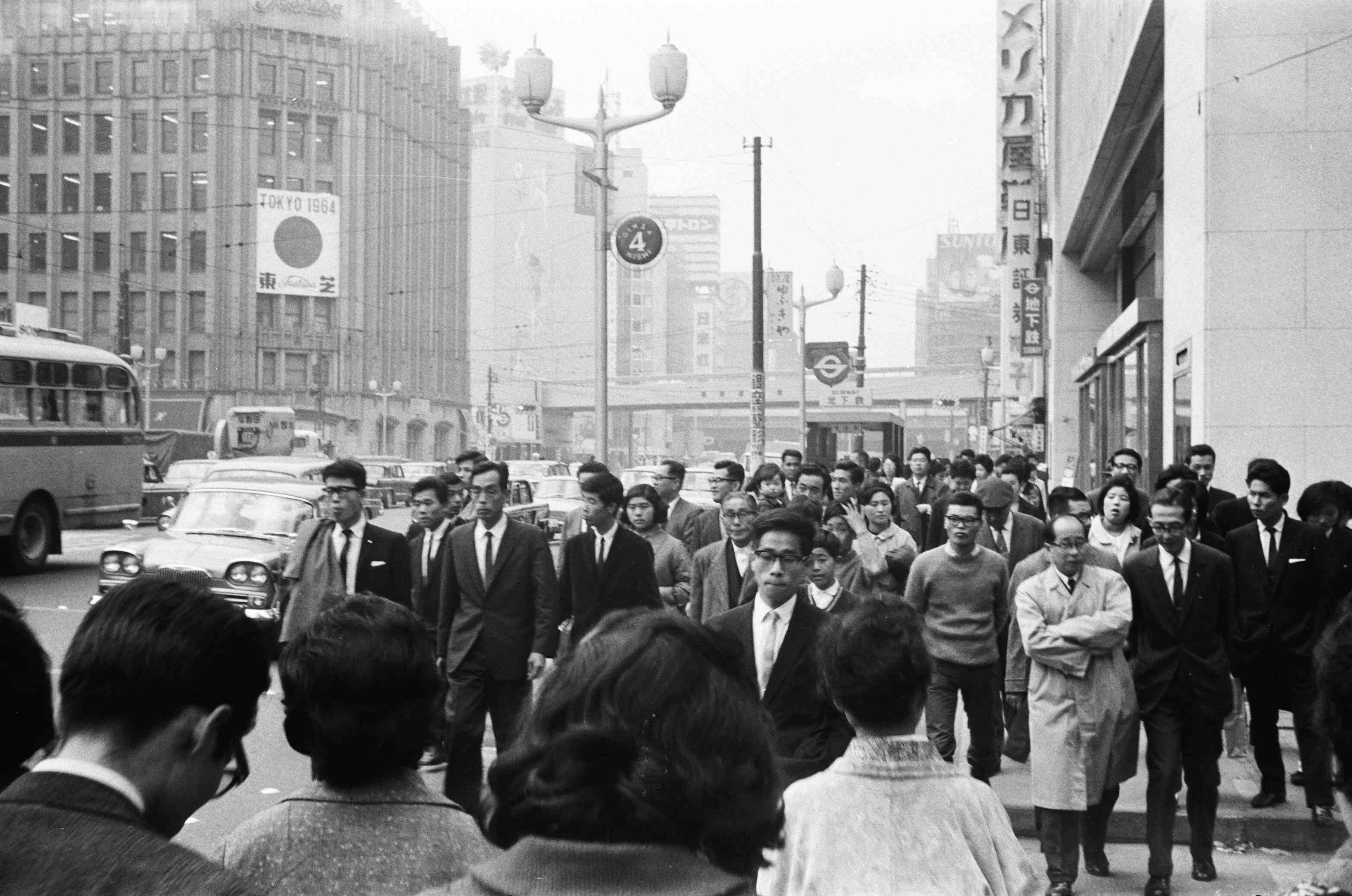 After weeks of loading, we finally set off West to bring the Land of the Rising Sun its dose of yellow delight. No sooner did we reach Japan than the testosterone kicked off again. The pilot brought with him a heavy folder full of photos in which sailors were invited to select their companion of choice and note the date and time at which they would like to be collected. I always thought the price excessive just for "a bath and shave", especially as most customers seemed to be left to find their own way back to the ship, but they certainly did end up clean – Yokohama made a much smaller dent in the penicillin supplies than banana country.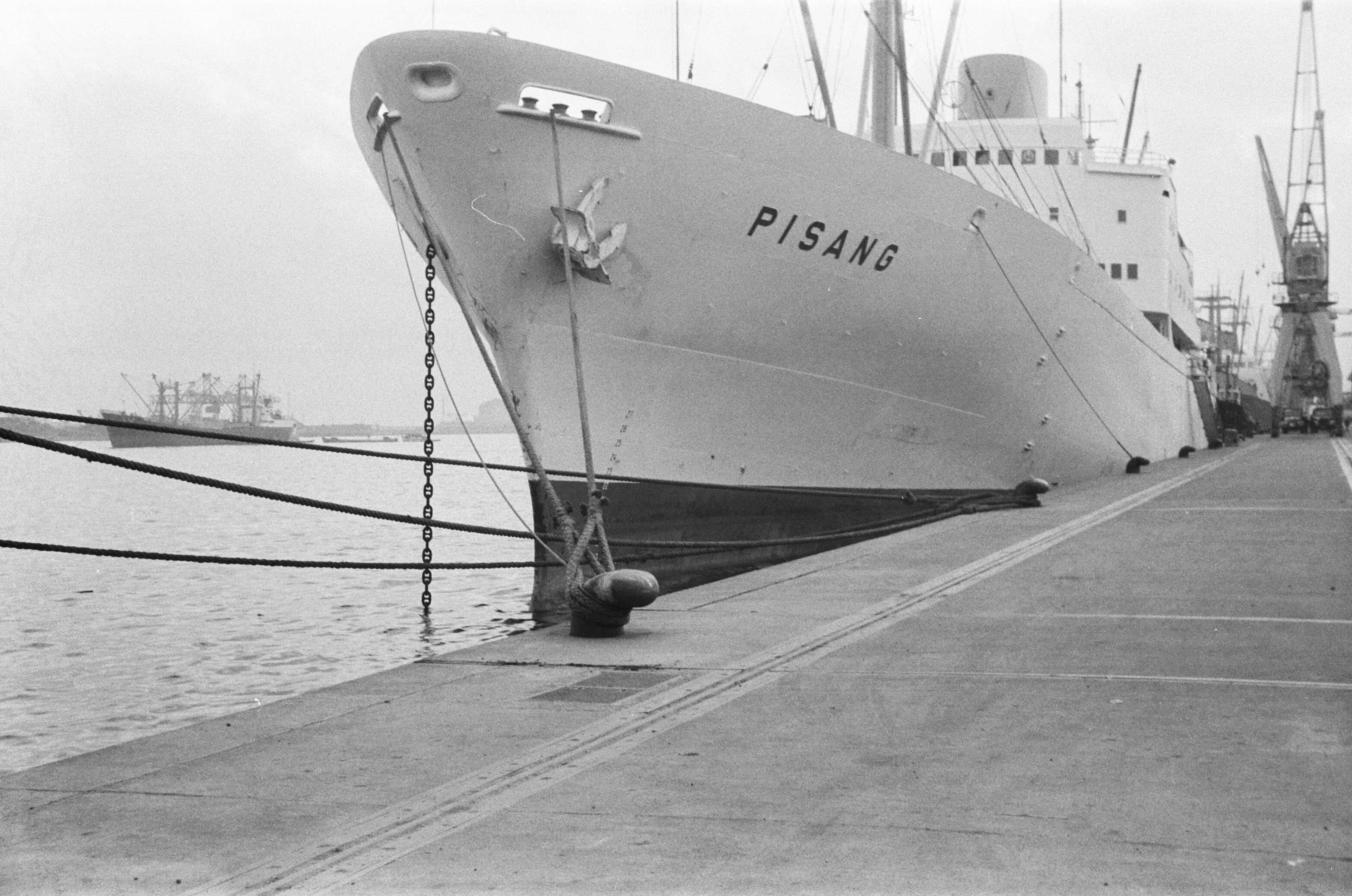 So off went the bananas, back we went to Guayaquil and the whole show played out again. Seven times we sailed to Japan, along the way surviving typhoons, shivering in shorts in the Aleutians and squeezing under the Golden Gate bridge (with a wave to Alcatraz), starting and finishing every time at anchor off Guayaquil – where we roasted in the tropical heat waiting for the bananas to be ready, for one last load to come aboard and, on one occasion, for the four other Laeisz lines ships ahead of us in the queue to be on their way. Temperatures could be anything up to 50 Celsius, the humidity up to 100%. Rain, buckets of water or just plain sweat: one way or another we were always soaked through.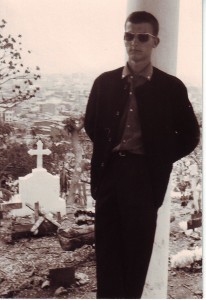 I spent my leave exploring the country in hired cars. I discovered that in Japan they drive on the other side of the road – but what was that to me, a man who had no driving license (yet) anyway? Visiting places like the Ginza district in Tokyo, I found that although the place was heaving, someone of my height (1.83 m/6 ft) could enjoy a pretty unobstructed view. Being tall was no help on the underground though – we were swept along in the human tide as much as anyone else (taxis were a luxury too far for ordinary sailors in Japan – unless going to visit the ladies, but enough about that).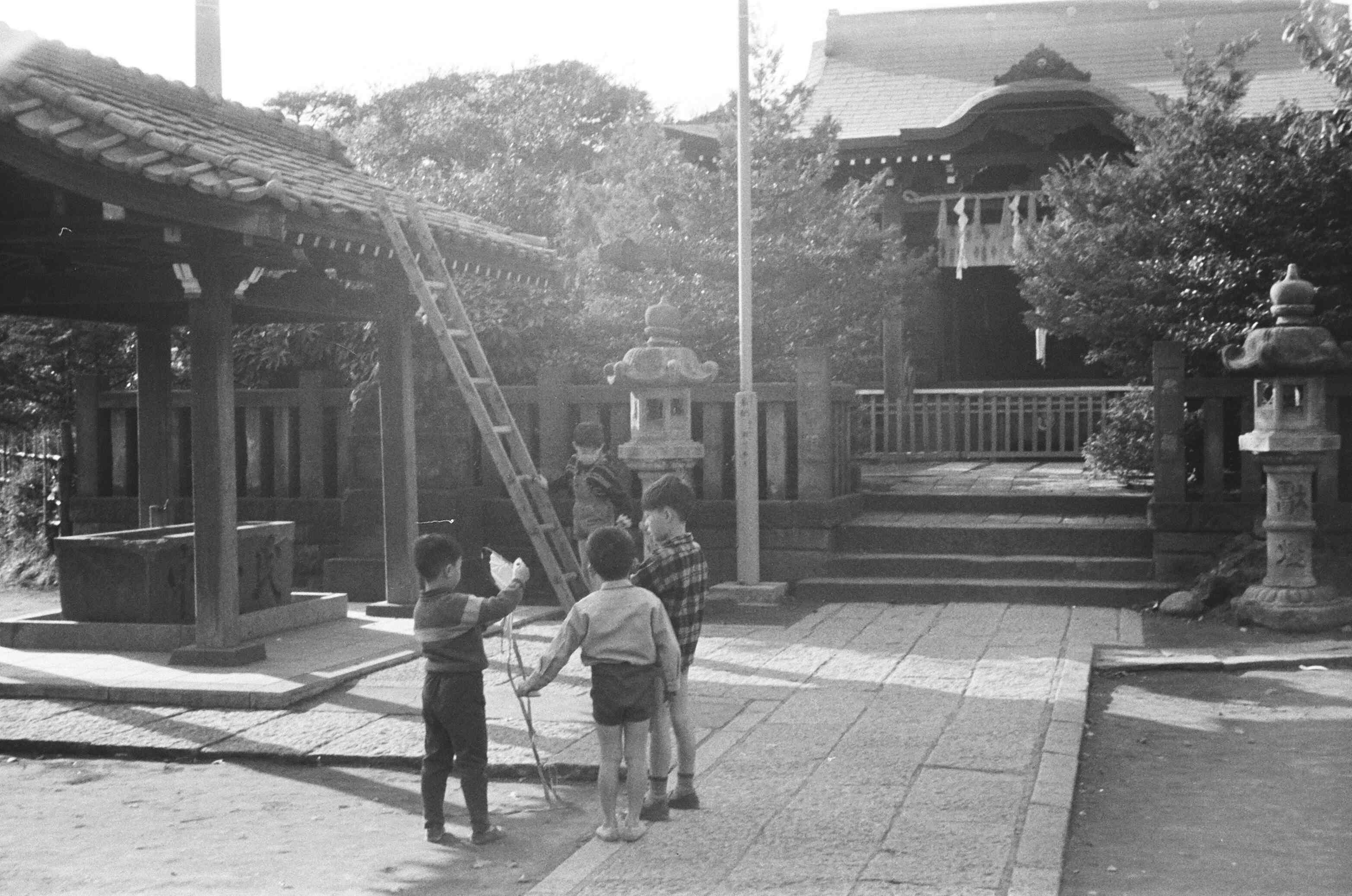 The story of going to sea: follow your genes – or your head – until you know better, then think again, swallow your pride and keep your head down until the winds turn favourable again.
Thanks to my mother and school headmistress aunt, I was able after 18 months at sea to fall back in with my old school class. Tanned but somewhat behind with my education, I managed to finish school successfully largely thanks to my violin playing and my ability to recount a good story.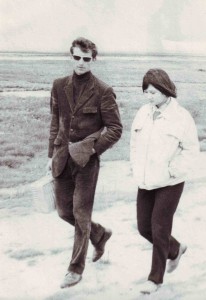 Back among normal people again, life was full of fun and I soon left all thoughts of my misadventures at sea behind. My time onboard ship left me fit and strong, but on land I was my own man and that, I decided, was how I wanted it. I had tried, had my fingers burned, and from now on I would find my pleasures in the colour and excitement of life ashore.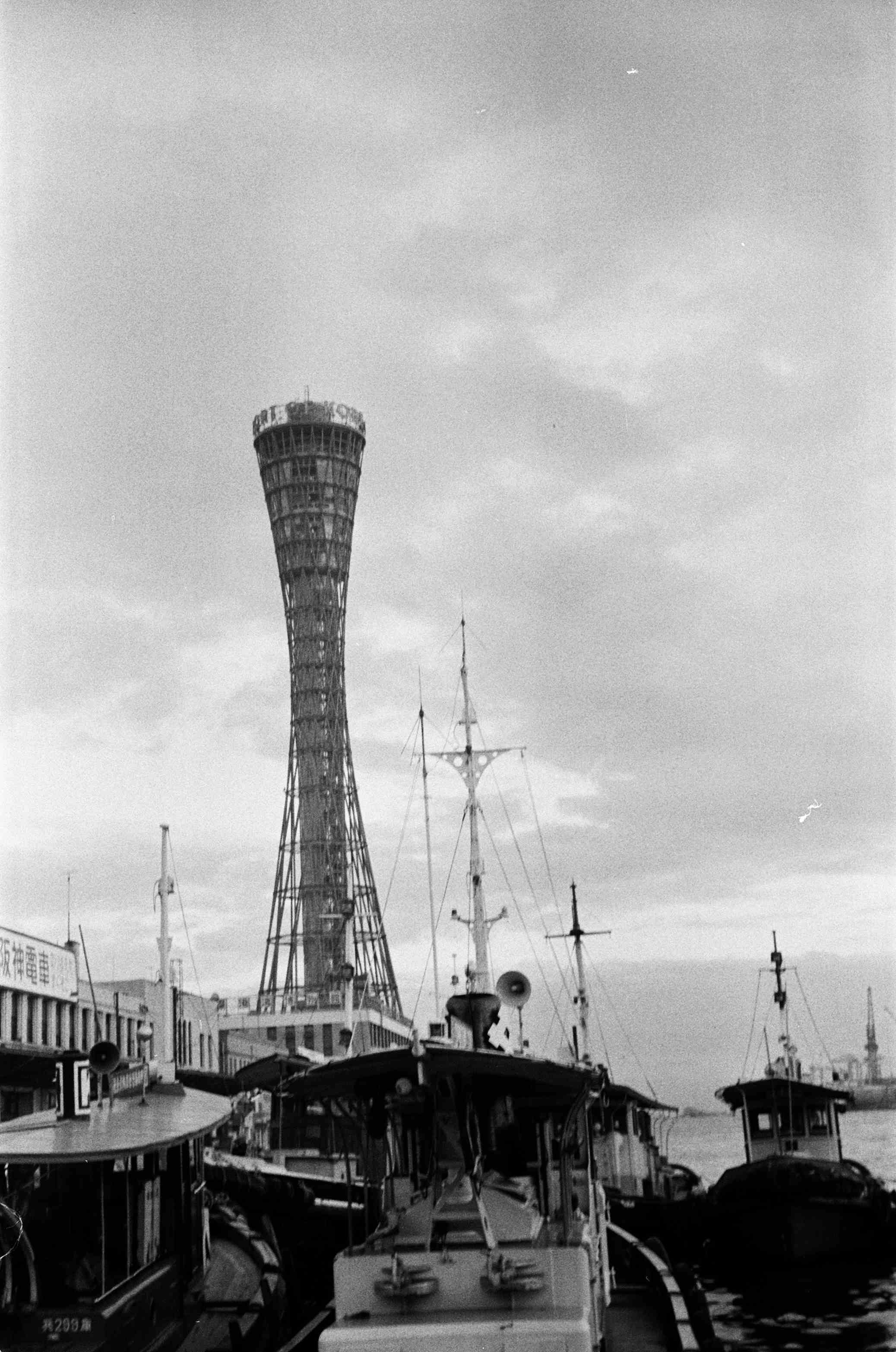 I valued my individuality and I valued genuine communication and friendship – not the ideal qualifications for living cheek by jowl below decks in an exclusively male society with little more than the dubious pleasures of the oldest profession for variety. The veil had been lifted, Freddy had been economical with the truth (who can a 16 year old trust on such matters if not a singer from a landlocked country with no experience of working on ships?) and a year and half later here I was again older, wiser and no longer one for the sea.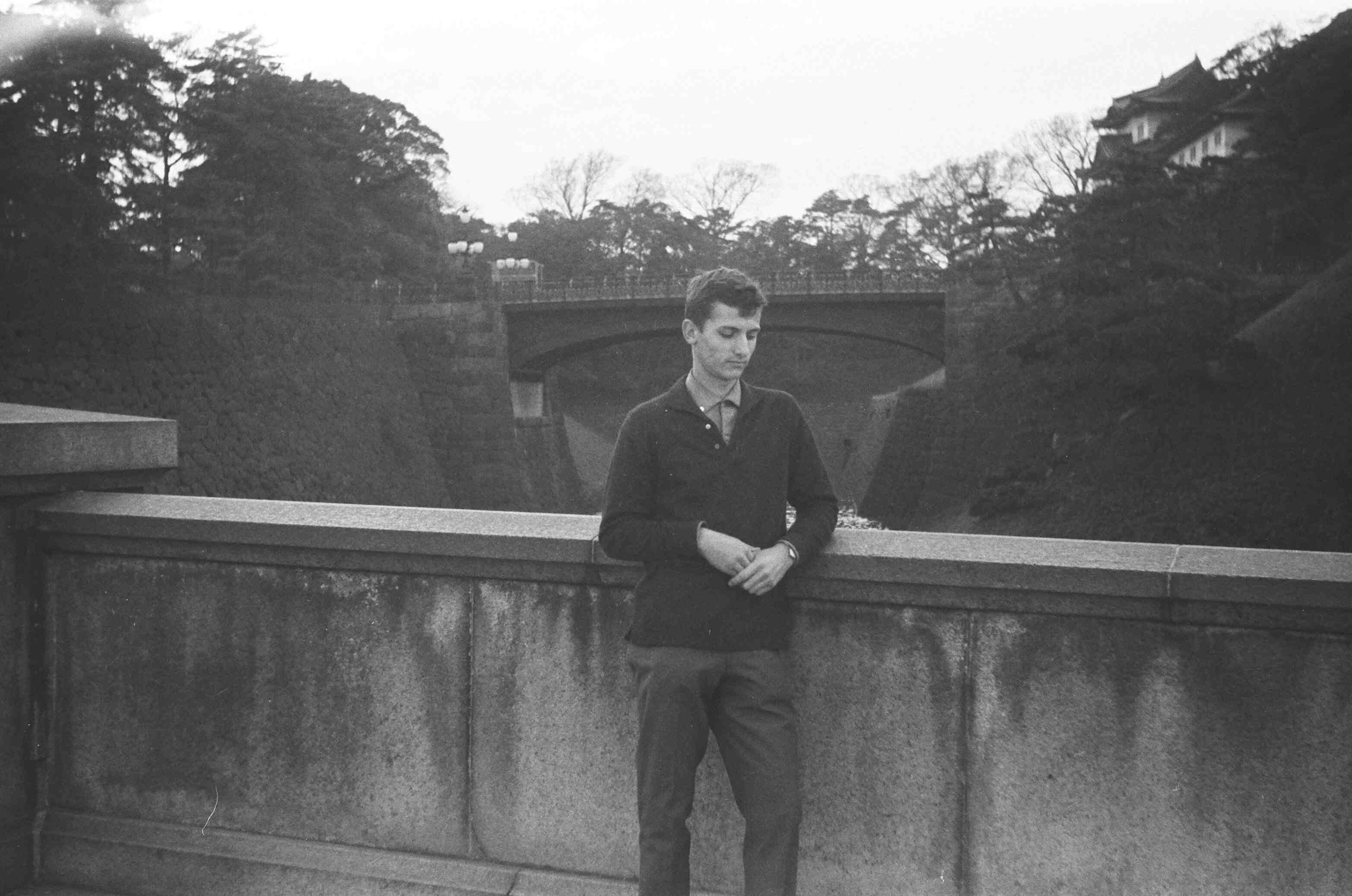 Or so I thought. Little did I know the spoon I had dipped in the ocean's experiences had been just too small. But I found out – and I promise to explain how!
Peter Foerthmann