WINDVANE SELF-STEERING – BACK TO BASICS
translation of the German blog dated 17th july.2018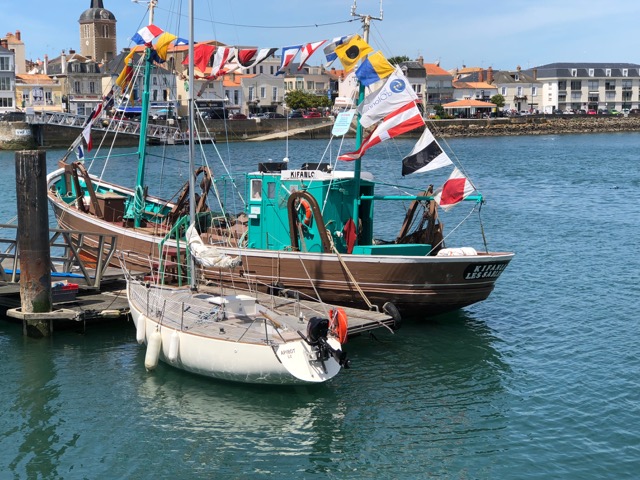 It has been 16 days since the start gun fired and the sailors could finally put the exhausting preparation period behind them: 18 came to Les Sables, 17 managed to jump through all the hoops and claim their Green Card (clearance to race) and now the sea and the winds will decide. The competitors have barely covered the first 2000 miles and conditions have generally been very kind, but weather and waves have already whittled the fleet down to 13. Silent self-steering systems have found themselves in the spotlight in this early part of the race, singled out as the weak link in the solo sailor's armour – and conspicuously lacking a voice of their own to respond. Perhaps, then, this is the right moment to revisit a few of the principles of the field.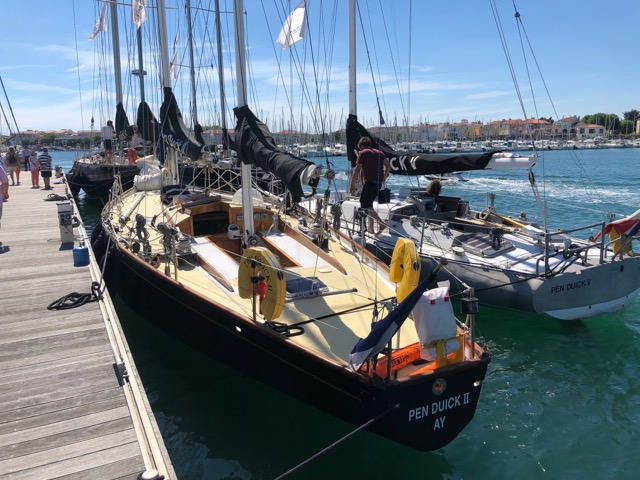 Windvane self-steering systems are slaves to the laws of physics and have neither eyes to spot and avoid breaking waves nor the long arms that enable human helms to make major course corrections quickly in extremis, all of which reduces their suitability for racing. Sailors operating under the pressure of competition and/or a sponsor's expectations have to decide for themselves whether they want to spend their time offshore as prudent mariners or to adopt race mode and go all-out for victory, personal glory and a boost to sponsor profiles. Riding the razor's edge, that's what I call it. Each of the participants in the GGR has to decide independently which option is right for them. Both philosophies are represented within the fleet and it comes as little surprise to see the gaps that have opened up between them.
After 16 days of sailing, the cards are on the table and the fan has had several close encounters with the brown stuff: time, then, to restate a few immutable principles in the hope of seeing no more solo challengers crawling ashore in some far-flung harbour only to pull out that old chestnut: "It's all the self-steering's fault".
The race organisation naturally wants to tell the world an exciting and dramatic tale of courageous non-stop adventurers and reports of conspicuous navigation errors, sleep deprivation, hallucinations, breaking waves flooding the chart table, injuries and, for a little extra spice, non-functioning self-steering systems are all grist to its mill. Sometimes, however, a more prosaic truth lurks behind the drama – and the facts deserve to be told.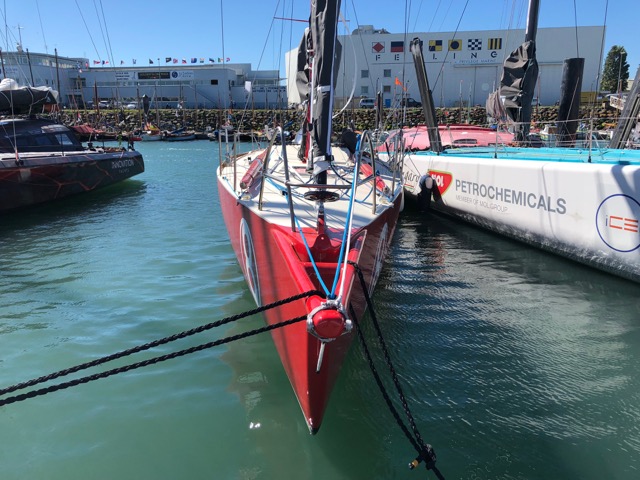 We repeatedly hear the GGR billed in the media as "Alone with no outside assistance" and have already seen the organiser, insistent on all of the idiosyncratic rules penned for the event, decline to shake hands or offer a celebratory beer at the drop-off point. And yet there remain numerous uncontrolled communication channels through which the sailors can receive information under way and maintain contact not just with the GGR team but with the outside world in general. This being the case, I would suggest providing an explanation of all things silent self-steering that is sufficiently detailed to enable sailors in difficulty to continue their voyage safely would make far more sense than denying them all help and advice – and potentially even punishing them for "outside assistance". Let's face it, the skippers receive plenty of assistance and information, especially about their competitors, during those entertaining interviews at the drop-off point.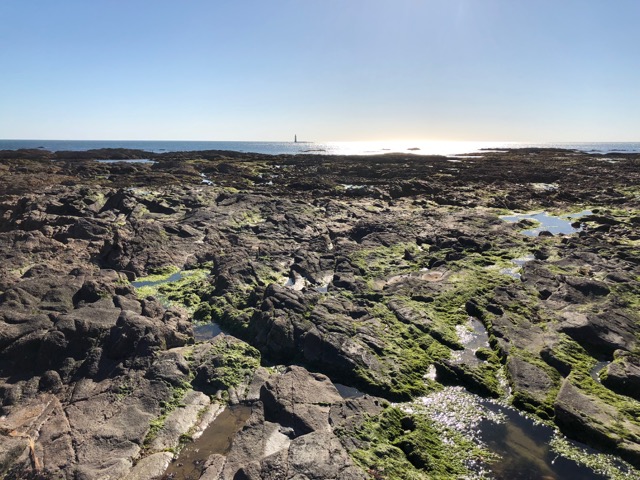 CAUSE AND EFFECT
It surely serves nobody's interest to have technical problems put solo sailors in the position of having to choose between abandoning their dream and retiring from the race or taking a chance with their safety and health and continuing, at least where the technical problems concerned relate to a windvane self-steering system. Kevin Farebrother's stark description of his hallucinations brought on by lack of sleep leave no doubt as to the consequences. It may sound counter-intuitive, but further retirements from the race do neither the event nor the people behind it any favours, especially if the issues driving competitors to give up could easily be resolved through communication.
The GGR team has uploaded interviews with two sailors that carry an alarming message: both have the same problem but have reached opposite conclusions about the best way to deal with it (one choosing to stop, the other electing to continue in the race and use his limited messaging capability to give his self-steering supplier a metaphorical kicking along the way). Contractual agreements and personal animosities aside, I would have thought it prudent to seek the advice of the manufacturer of the systems in question rather than leaving the skipper (who needs to be totally self-reliant for the tough sailing to come) to carry on fighting a battle against fatigue that he has no guarantee of winning.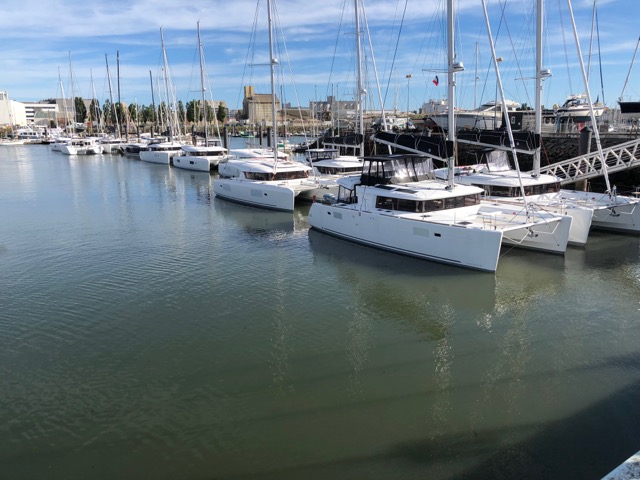 It is slightly ironic that the GGR team have gone on to create and post their own video about windvane self-steering systems and principles on the event website – where everyone apart from the GGR participants themselves, the people it could help the most, can see it…
The number of online rumours, discussions and web searches concerning the problems encountered by the GGR fleet has spiked since the news of self-steering problems first broke. These arguments and debates led me, after 35 hours awaiting a call for assistance (or at least some sign of life) from Lanzarote, to publish the Fall Guy post on my blog.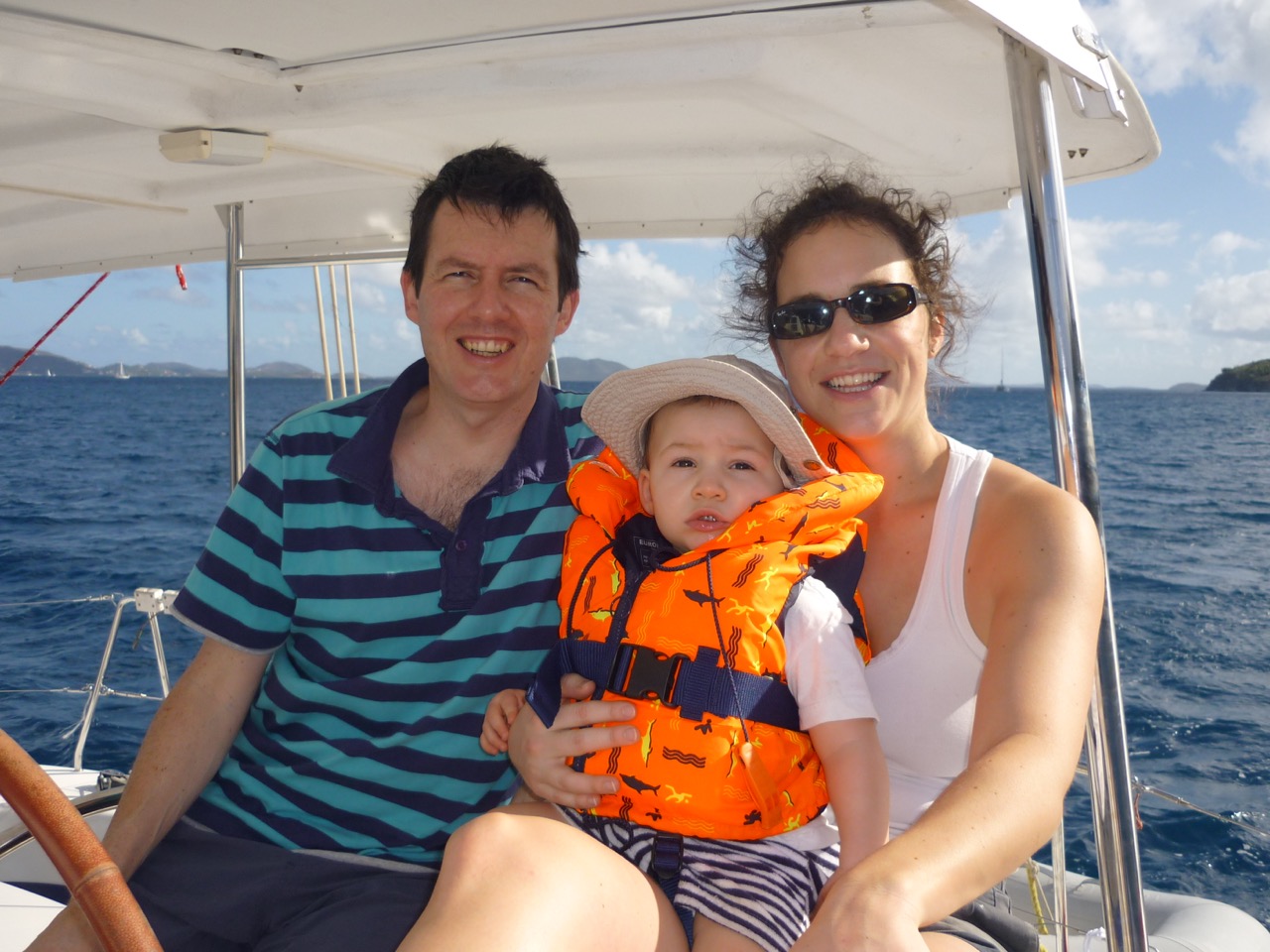 It may be a coincidence, it may not, but Antoine initiated the following e-mail exchange just a few hours after the text went online.
17.07.2018 – 10.30 a.m.
Hi Peter
Quick update on windvane. Firstly I lost nut 116 and 113 started to unscrewed itself. I fixed it. Ring nut 345 got loose completely – perhaps too much grease. 801 and 805 got loose as well. All been fixed
Now, I still have issue using the windvane downwind. I have to considerably reduce the sails. Any tips?  Shall I move 345 a little down to get more force?
Otherwise I am fine. It was good to stop here in Lanzarote to release the pressure after the start and give a good look at the boat.
I am leaving early afternoon.
Best regards,
Antoine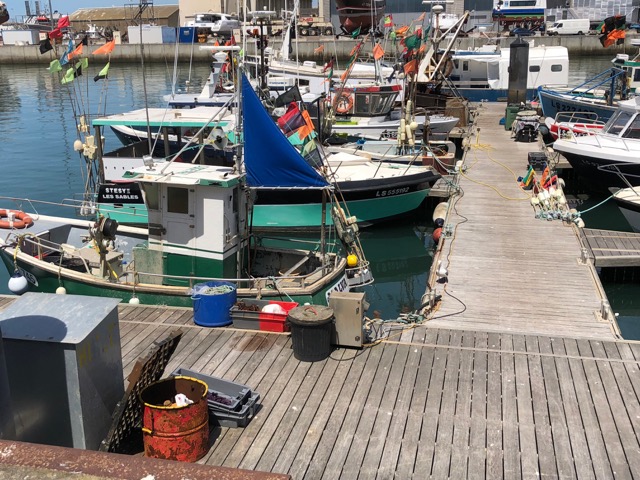 Meine Antwort 30 Minuten später:
Dear Antoine,
nice to get your email today, thanks for that.
Having seen Don´s video upon your arrival It has been my distinct conviction that you might send a message to me within minutes after arrival or picking up the phone to get any advice, as you very obviously have been in need to get support…
Guess you may have seen my yesterdays Blog posting:
https://windpilot.com/blog/en/golden-globe-race/istvan-kopar/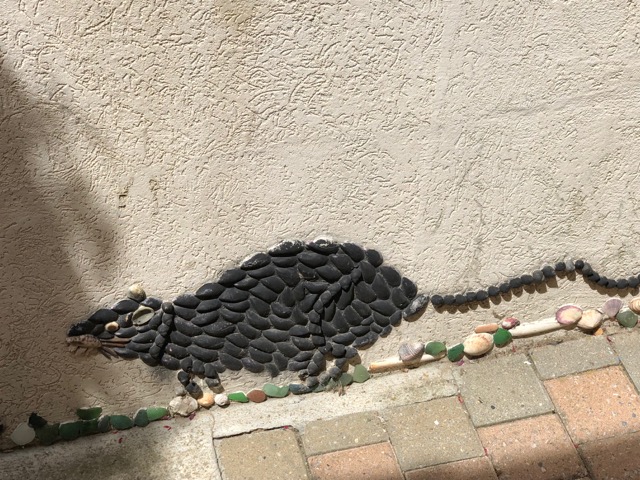 FACTS AND ADVICE
Manual of the Windpilot Pacific
Any SS bolts / nuts have been fitted with the use of LANOLIN to prevent problemss about contact with AlMg5 aluminium. Lanolin however is no grease, it will never disappear from the surface it has been fitted. So constantly corrosion proof.
Mind that nut # 116 is just for countering ( securing ) purpose, to ensure perfect positioning of bolt #113 … leaving enough room for sensitive operation / free swing of the vane holder #110
From my knowledge the wheel steering on your boat has a 2,25 turn between both endstops – so the positiong of RINGNUT 345 will be fine as it is.
SIMPLE TEST about perfect ratio of line transfer from the windpilot to your boats wheel steering, to achieve information about poor / perfect  positioning of ringnut 345, as per manual:
Please move wind vane by hand between both endstop rather suddenly at full speed of vessel: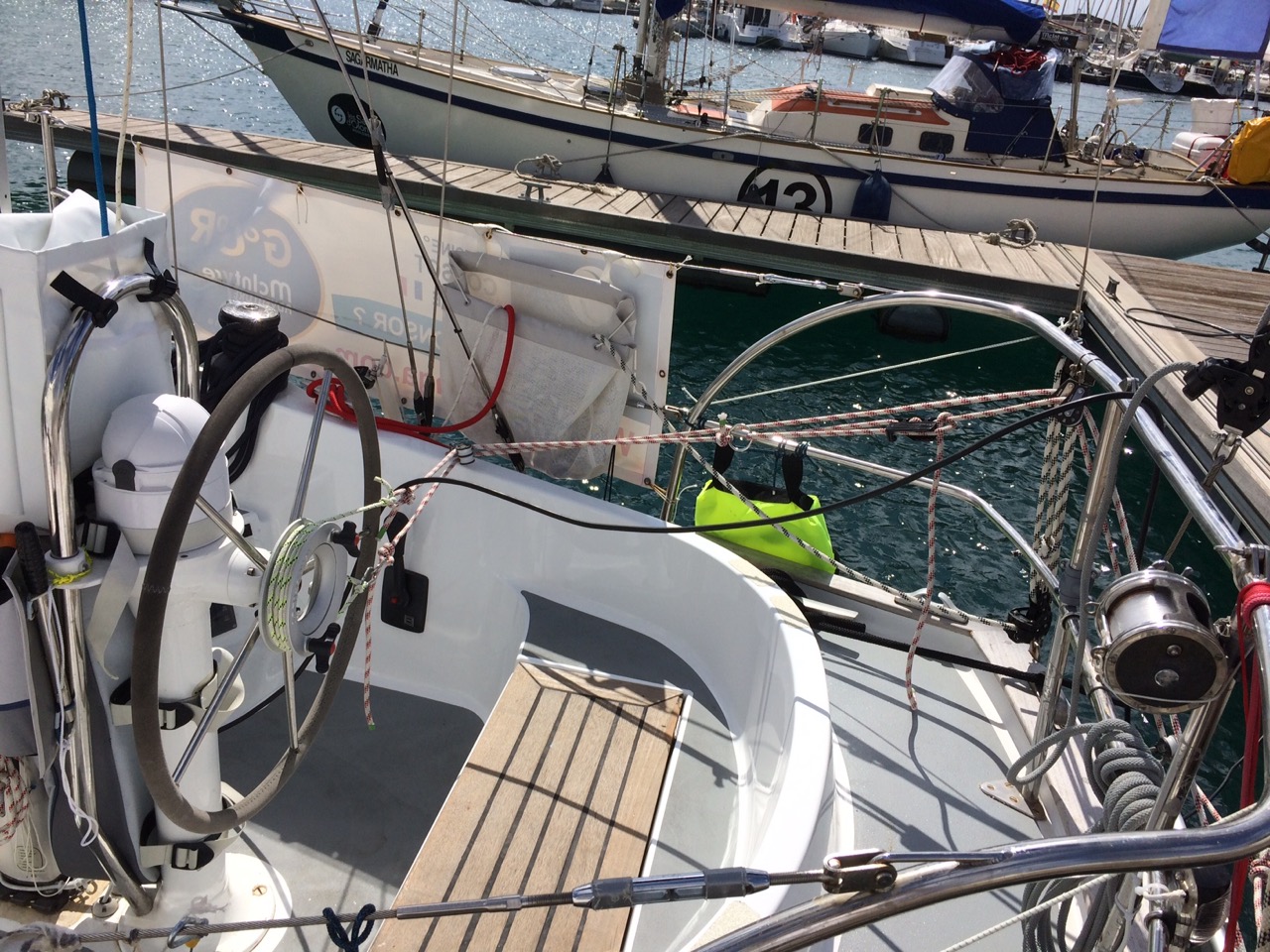 QUESTION: does the pendulum rudder FOLLOW ALMOST IMMIDIATELY – or does it move SLOWLY ONLY. In first case all is fine – in second case adjust ringnut 345 more to the lower end. REPEAT PROCEDURE until the unit will be able to convert any steering signal from the vane into IMMIDIATE sideward move of the pendulum carriage #330. You have got the perfect ratio!
Fixing, checking bolts at the unit always needs control from time to time. You may have realize that almost any bolt on your unit will be in the spare part pack I have stored in your cockpit during your absence … including a spare wheel coupling, a full set up for line transfer to emergency tiller conversion … Hopefully you still have the entire replacement unit with you on board!?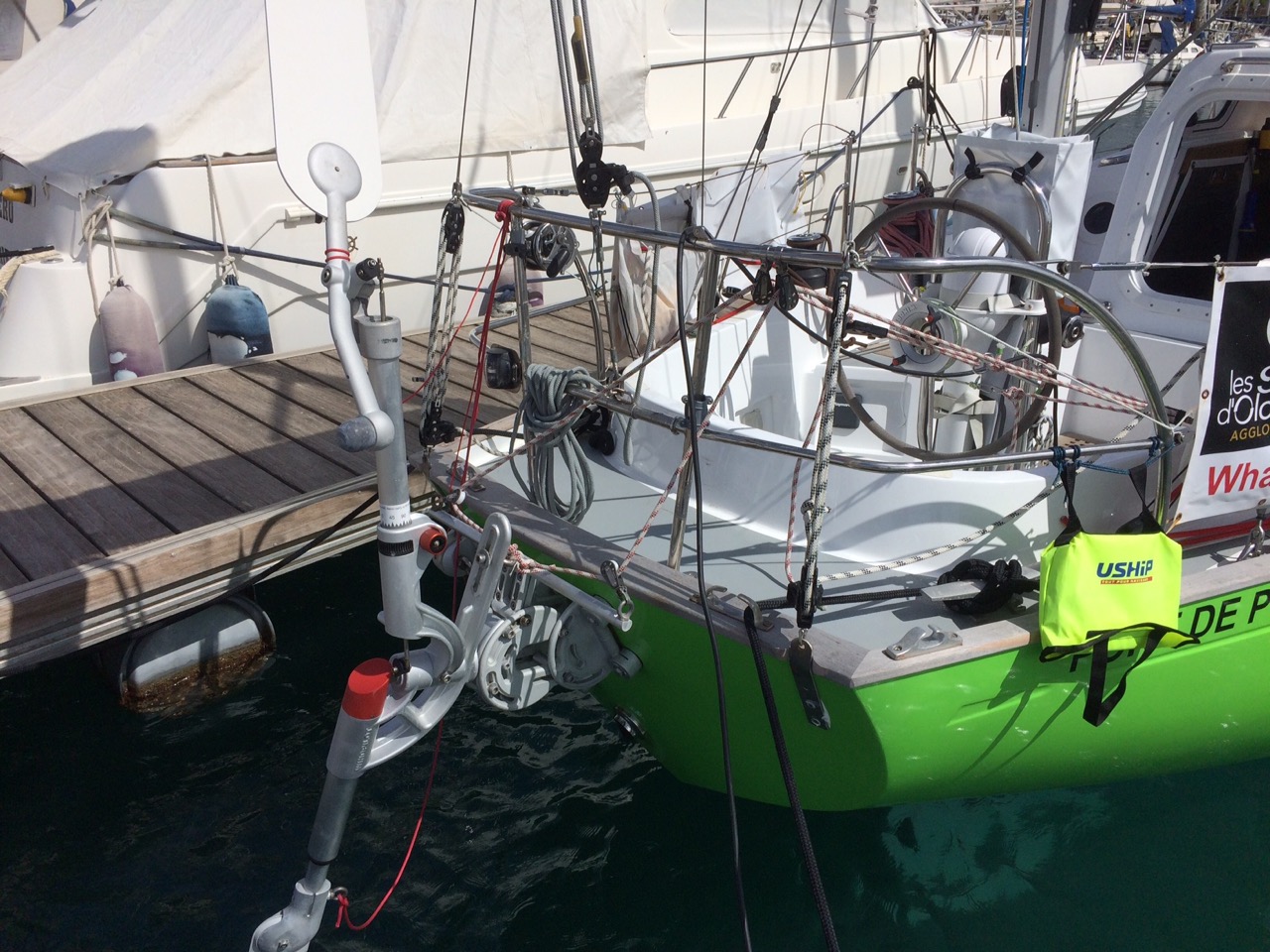 DOWNWIND PERFORMANCE
The unit will tell you on her own about limitations and needs for trim and balancing as any pendulum unit will be able to provide a max angle of rudder to counter steering needs. 
If you will need wider angle to counter on the main rudder, any unit will fail to provide this, as any of the todays pendulum units – unless the Beaufort which lacks to existence of yawdamping by set of bevel gears – are identical in terms of these design features ( Aries, Monitor, Windpilot ).
Get the horses pull in front, reducing main sail to avoid shadow for the headsail and you will have the best steering slave at your boat transom. If you are overpowering because you want to race … you will find yourself at the helm sooner or later.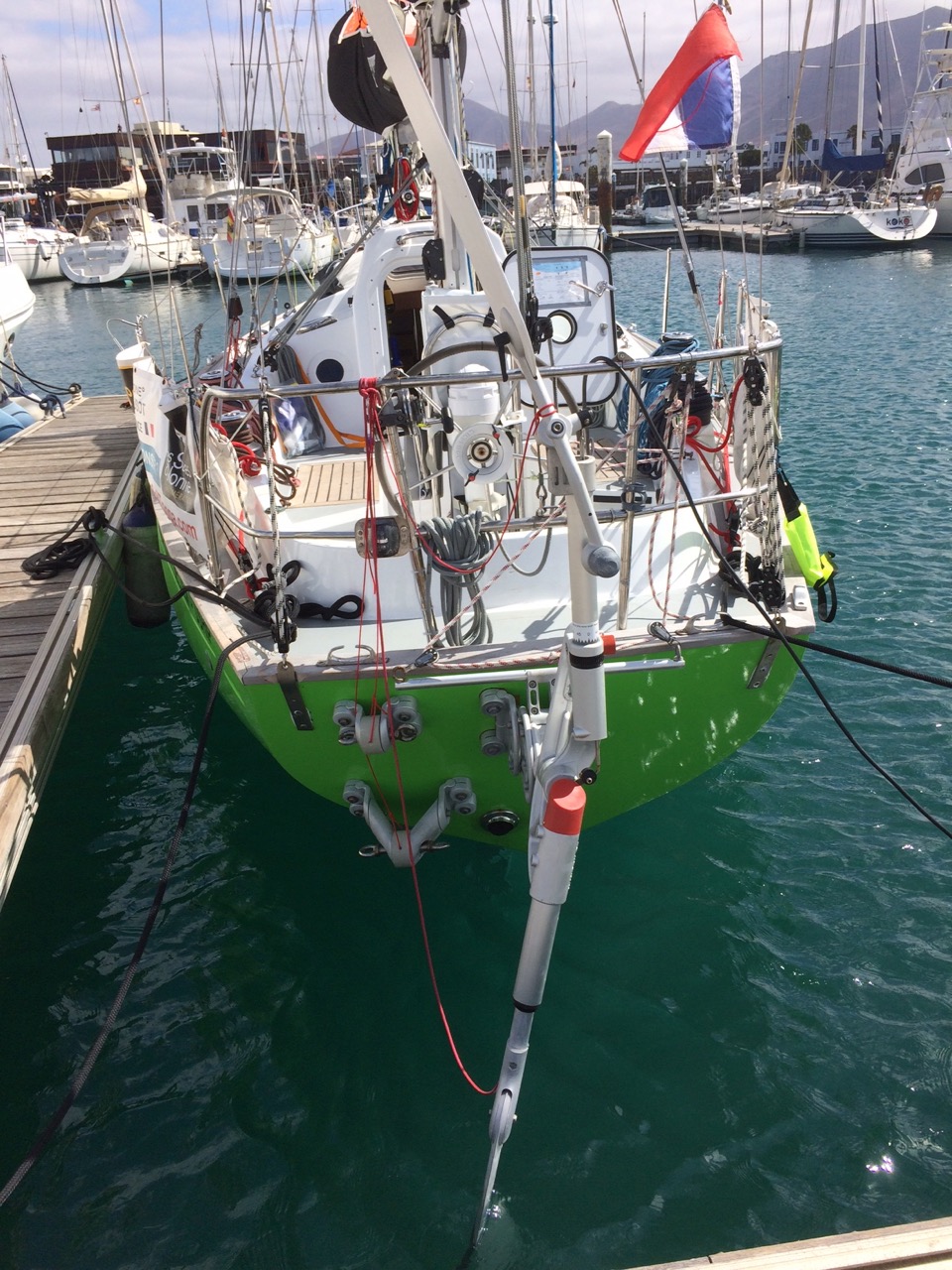 MOST IMPORTANTY – REREAD MANUAL PLEASE:  General course setting at the vane – fine tuning ALWAYS at the helms position / wheel steering. NEVER BE ATTEMPTED to change course by just pulling the remote control setting, as pendulum rudder will never be in alignment to the positioning of the main rudder – which always has to be locked slightly off centre due to weather helm.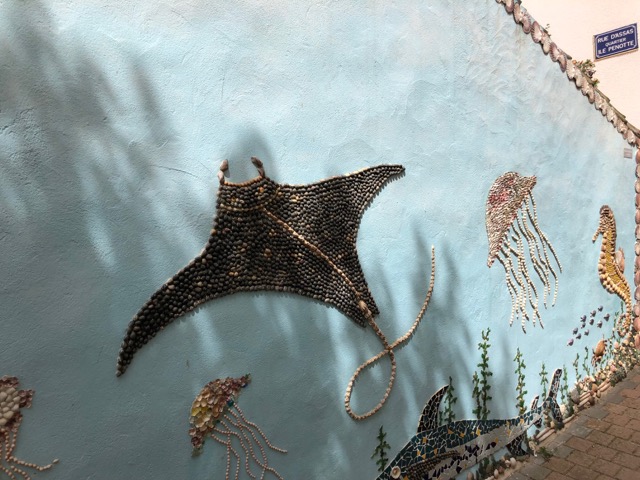 PLEASE PLEASE PLEASE: send me some pictures of the entire set-up BEFORE your departure enabling me to provide further hints and tipps … to coming back to earth about wind vane steering again – which is just following basic physical rules … you will have to learn rather quickly … to avoid hand steering and achieve a nice sleep overnicht … whilst your boat will silenty perform … even without his skippers hands frozen to the wheel.
Take care … and in case of further queries… you will find me almost always to be just a mouse-click away …
Cheers
Peter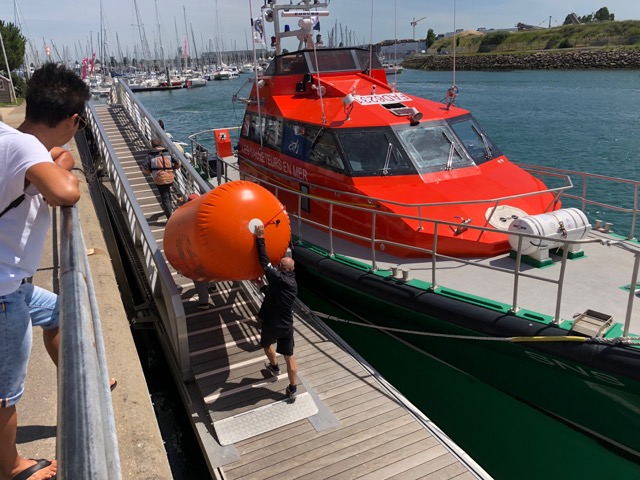 Antoine quickly replied with photos..
My immidiate answer:
Thanks for the picts … I can hardly recognize some details, so my question:
The rope thats is fitted at pendulum carriage port side … needs to turn the wheel steering CLOCKWISE… compare encl picture. Please confirm.
Good Luck …. the unit will teach you – be asured
best
Peter
Antoine, all of a minute later:
Yes I confirm portside rope pulling the wheel clockwise.
Me:
Good Luck to you … you have got the lesson the hard way, now its time to enjoy the life on the cruel sea from the more pleasent side.
take care
Peter