WINDVANE REPORT – A JOURNEY THROUGH TIME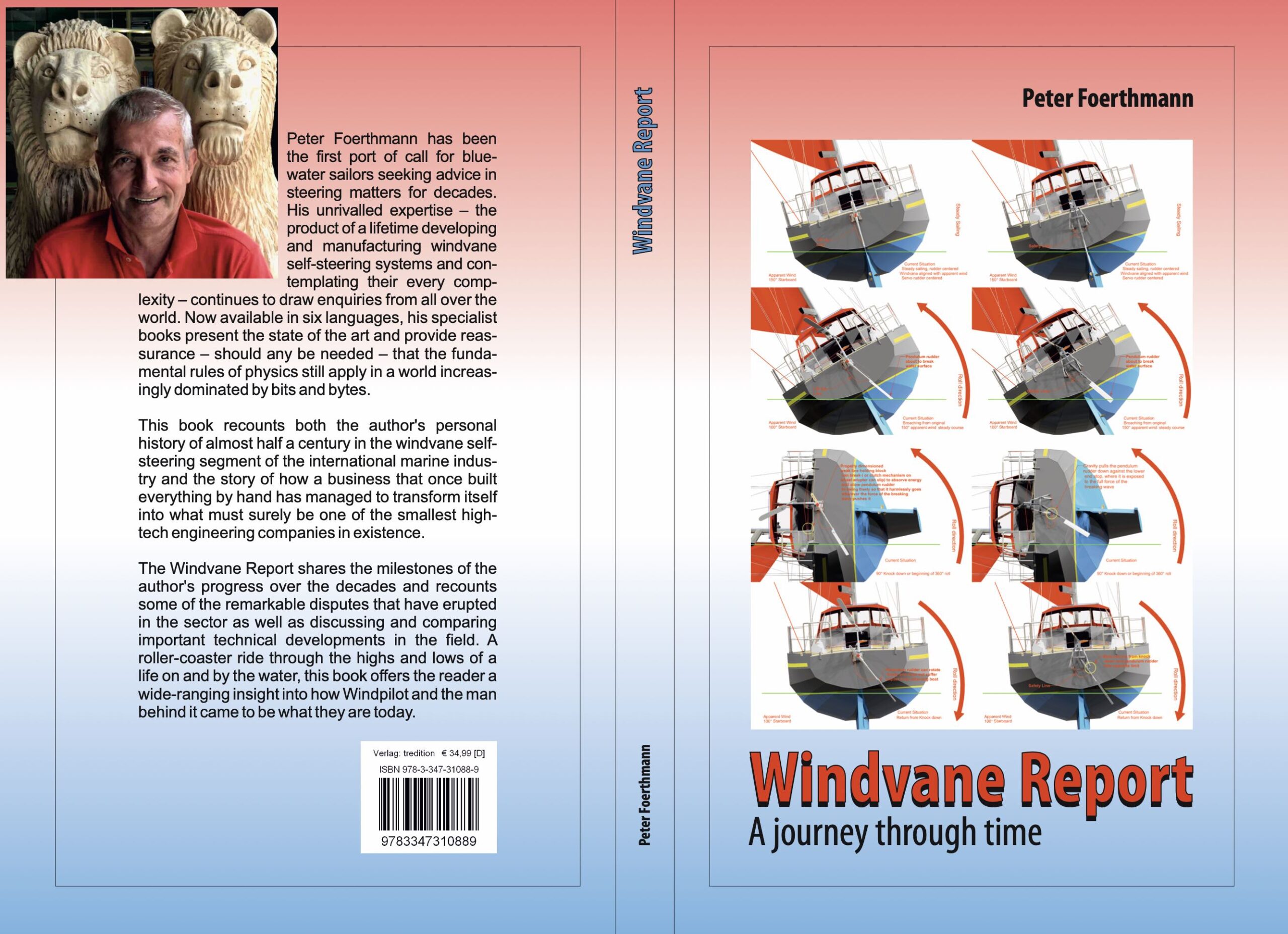 The significance of the title might not be immediately obvious but it does make sense: this book crystallises the knowledge gained over almost half a century of passion for (let's not say obsession with) all things transom ornamentation. As it says on the back of the book (so it must be true):
Peter Foerthmann has been the first port of call for bluewater sailors seeking advice in steering matters for decades. His unrivalled expertise – the product of a lifetime developing and manufacturing windvane self-steering systems and contemplating their every complexity – continues to draw enquiries from all over the world. Now available in six languages, his specialist books present the state of the art and provide reassurance – should any be needed – that the fundamental rules of physics still apply in a world increasingly dominated by bits and bytes.
This book recounts both the author's personal history of almost half a century in the windvane self-steering segment of the international marine industry and the story of how a business that once built everything by hand has managed to transform itself into what must surely be one of the smallest high-tech engineering companies in existence.
The Windvane Report shares the milestones of the author's progress over the decades and recounts some of the remarkable disputes that have erupted in the sector as well as discussing and comparing important technical developments in the field. A roller-coaster ride through the highs and lows of a life on and by the water, this book offers the reader a wide-ranging insight into how Windpilot and the man behind it came to be what they are today.
For me the book is a chance not only to recount the progress of the years but also to put the developments and events, especially the conflicts, into some kind of logical context: windvane self-steering is still about science and engineering rather than magic and hocus-pocus and the laws of physics stubbornly refuse to change. Whether all my competitors have fully grasped this remains open to question. Thankfully though it appears that sailors at least now have a better understanding of the key principles, which means they should be ideally prepared to enjoy my most recent creation.
I do hope you find it interesting! 

17 May 2021
Peter Foerthmann