NO SECOND SHIP – OR IS IT?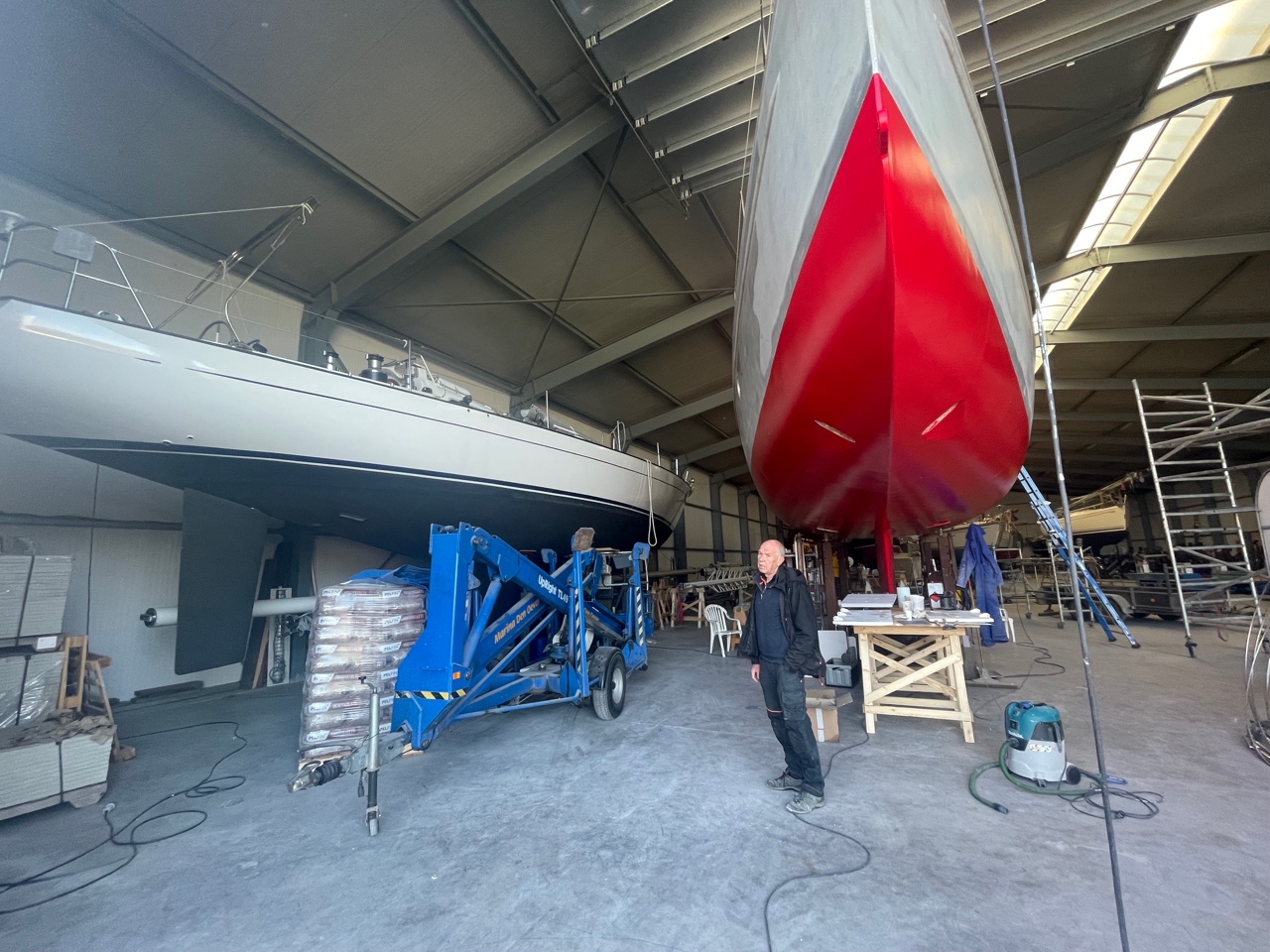 There are ships that belong to my life, that accompany me, that leave traces here and there in my soul, because although they are only produced in small numbers, like a common thread, they always give me cause to reflect, because they tell stories that have actually happened, that are remembered again and again with constant vehemence.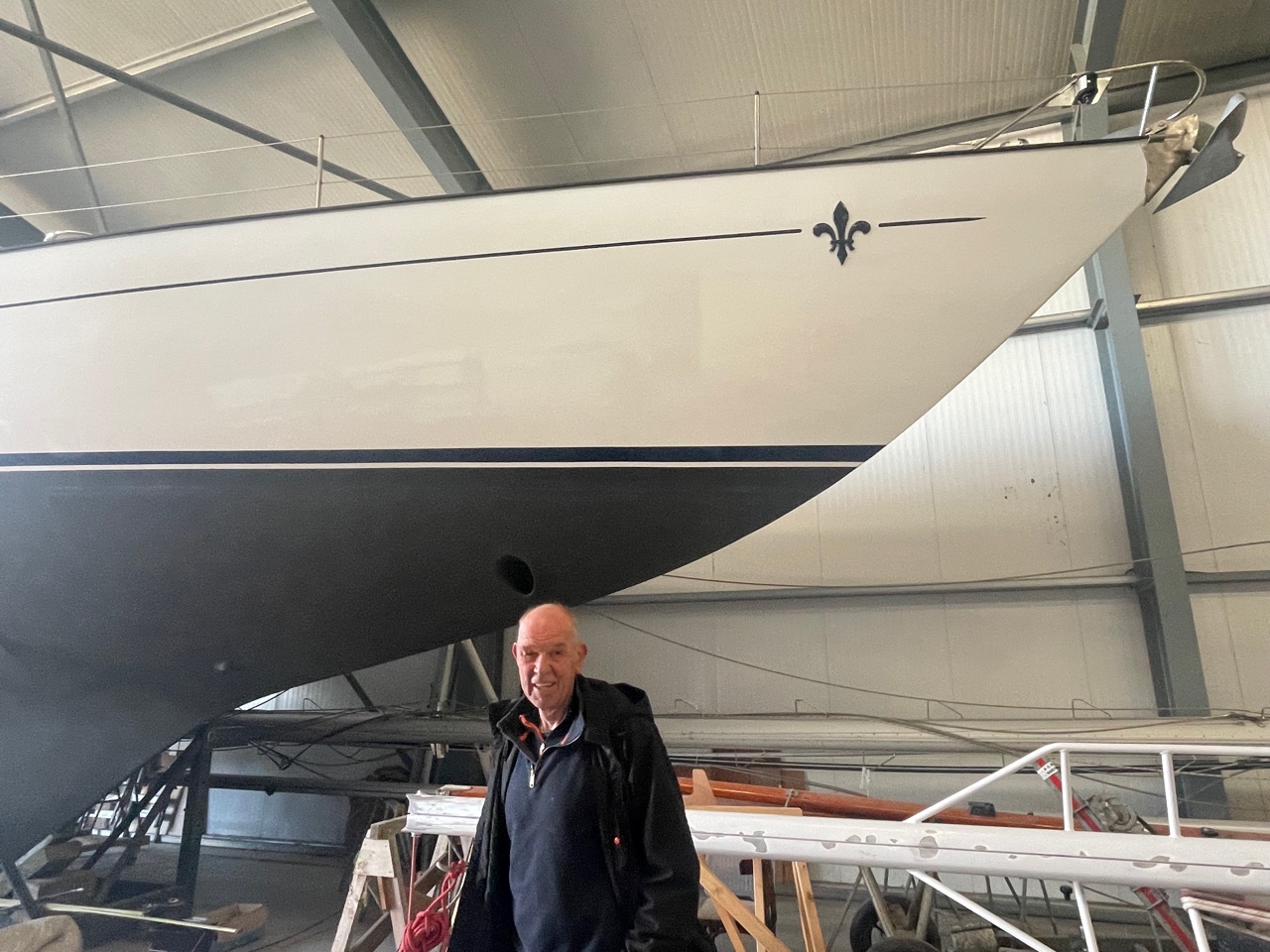 For example, the other day in Den Oever, when these two ships, each of which was suitable for a stand-alone story, were lying next to each other in a hall in a double pack. Hardly anyone would suspect that one was the second ship of the other, or vice versa, because they both obey the same owner, who lost his heart to them in equal measure, which is why he gave in to his penchant for the second ship in the end, even though he often only uses his ships as single-handed sailors. Since then, Douwe Gorter has been toiling away to restore both ships to new condition, worthy and as if from scratch, with his own hands, which is a Herculean task for which one could or would otherwise have to employ whole columns of slaves. But he didn't!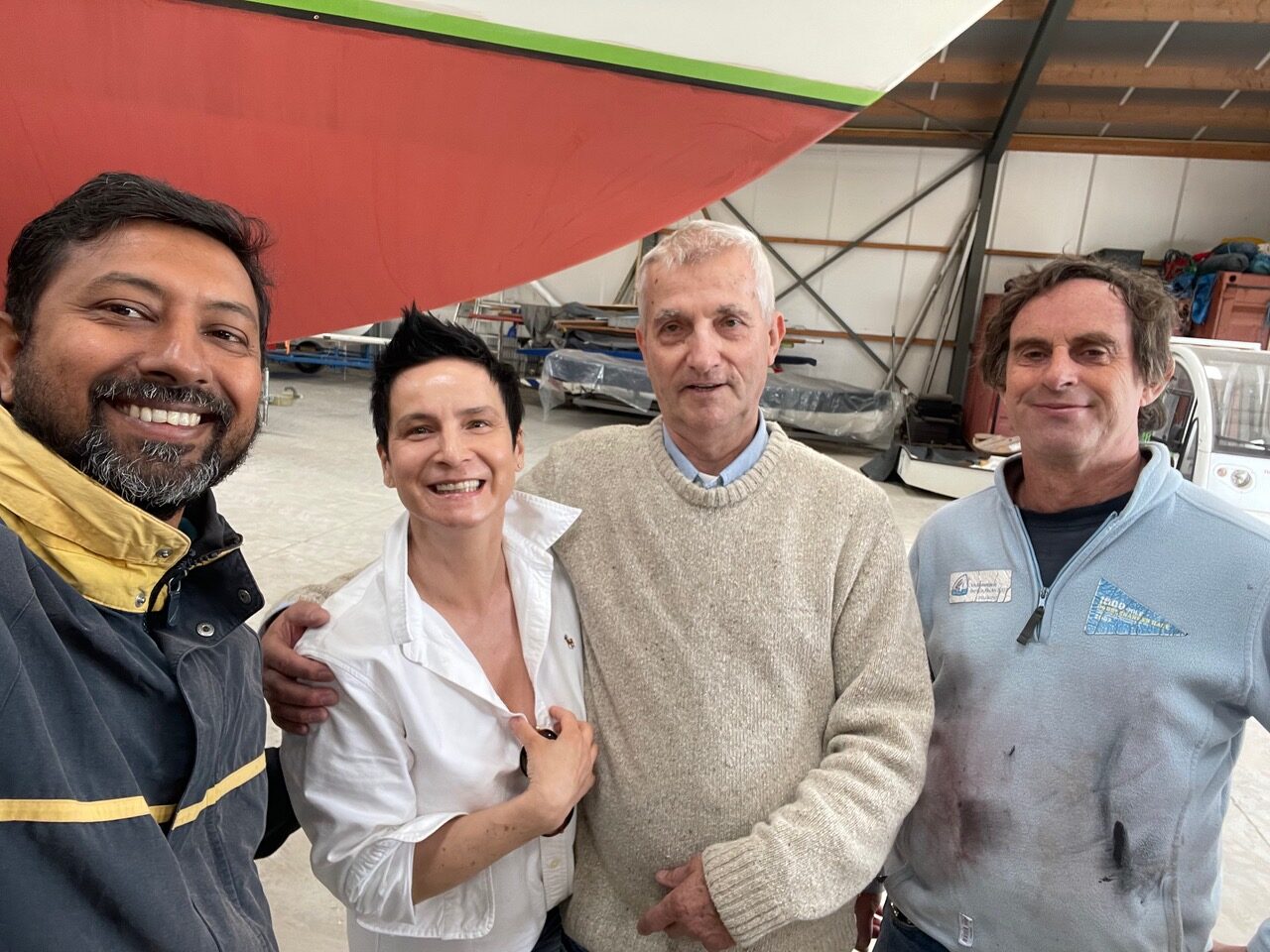 Douwe came cycling into the shipyard hall on an old Dutch bicycle, where I was discussing the assembly of a steering slave for the SV Bayanat with Dick Koopmans and Abhilash Tomy, introduced himself nicely and asked to see me in the side hall.
I was struck when I realised that there were two dream ships lying peacefully side by side in the hall, each of which could tell a story in my story.
It was in 1977, I had just put on a pair of entrepreneurial trousers that were far too big for me at the time, and was tentatively on my way as a new owner of the Windpilot company to teach myself the trade and the finer points of the tax slave trade, when the newspapers around the world told of the fabulous voyage of Naomi James (born 1949). She had set out single handed on the Express Crusader, a Gallant 53, to beat Sir Francis Chichester's then record, which she did by two full days in 1978, 272 instead of Gipsy Moth's 274. Both heroes, Naomi and Francis were "beaten" by the Queen, since then I know that the female SIR, is the LADY. A sailing man of those days never forgets such a thing. What fascinated me much more, however, was her choice of stern ornamentation, for there was a Schwedomat mounted there, the correct name of which I cannot and will not remember, even under threat of torture. This story is noted separately and filed for posterity:
I was blown away and did reverent laps around these systems in the Ernst Merck Hall at the Hamburg Boat Show, as it was still called back then, where the blue-painted tax slaves were offered for sale shoulder to shoulder with watercolours of filigree yachts sublimated with art. Clever move, probably higher marketing art, which irritated me a little. I then got the idea that this had been a special trick to lure couples dressed half in fur to the cash register in pairs: a stern ornament for the tax-weary skipper man and a wall ornament for the pampered lady for the place above the leather sofa at home. After all, the tax slaves of that brand were priced at five-figure DMarks, which is why the art was offered at equivalent prices, presumably to keep the potential for intermarital strife to a minimum because, after all, the visit to the fair was worthwhile for all concerned. For the record: at the time, I offered my spick-and-span tax slaves in the DM 950 range. A completely foreign world! At the time, I recommended my systems as being suitable for ships of max 34 feet, light years away from a Gallant 53 equipped with the Schwedomat. The staircase joke of history, when I learned years later that the development costs of that product were apparently subsidised by the Swedish treasury, which the three resourceful inventors could credibly assure that it would be a product close to the people and highly interesting for the broad masses of buyers. A mistake with stupid consequences, in the wake of which I had to swallow water. As I said, it's all history. Only a few hundred Schwedomat systems were made at that time.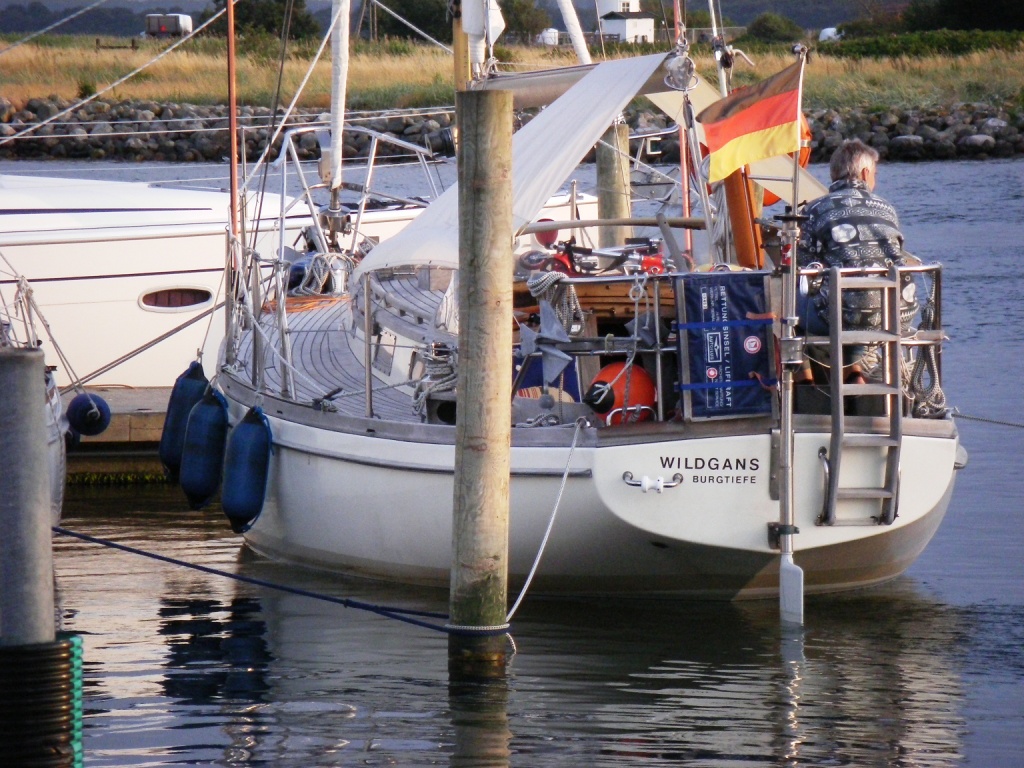 Remember: back then, ships in the 34-foot range already sublimated owners' wealth, everyone dreamed, but hardly anyone had the means to convert the dream into reality. The Thalassa, with which Bobby Schenk set off for the long trip together with his resolute feminine government headquarters, was an Faehnrich 34, it was considered a veritable blue-water yacht of by gone days and was laminated in Rendsburg, quite thick, as I saw with my own eyes when I tried my drill on the stern, presumably because at that time really no one had any idea how thin ships could have been built, especially as resin, GRP mat and working time were still cheap to come by. These robust yachts are still in use today, some have already undergone a refit by Prof. Mang, sorry, I mean of course, Peter Wrede, which is only a worthwhile investment if the substance is worthy and solid of the cost … for endless lifetime extension.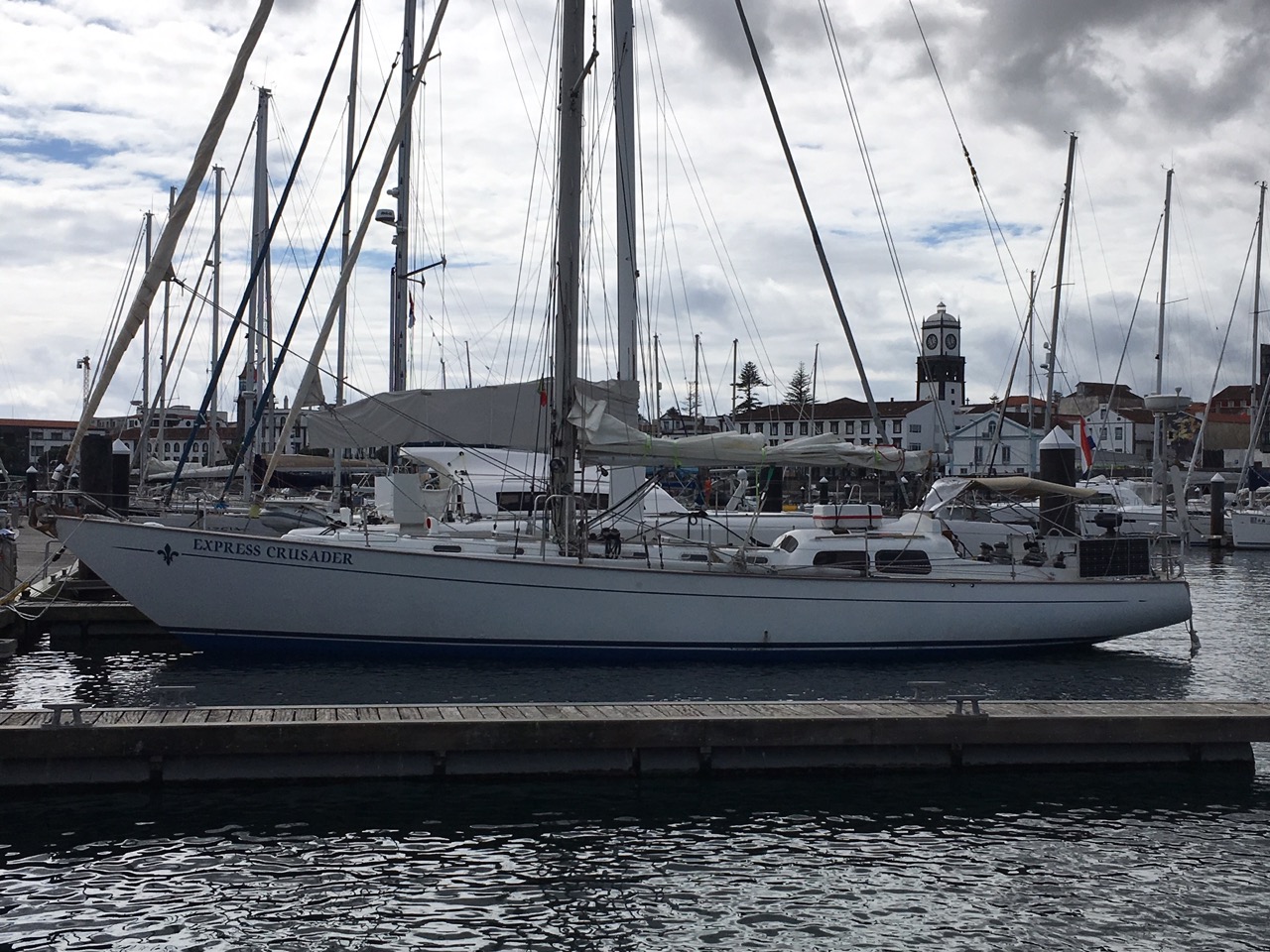 A little later and with more experience on my back, I could hardly believe that Naomi James had broken off about seven (!) rudder blades of those stern ornaments in toto on her journey around the cue ball … nevertheless, the system was lifted to the skies qua marketing … and offered for sale to a special clientele, mainly the SWAN and BALTIC class, which was preferably sailed by better-off freelancers or gods in white. The price for the stern ornamentation was accepted and nodded off, a market niche I did not understand at the time, though I radically refreshed my ignorance a few years later, see above.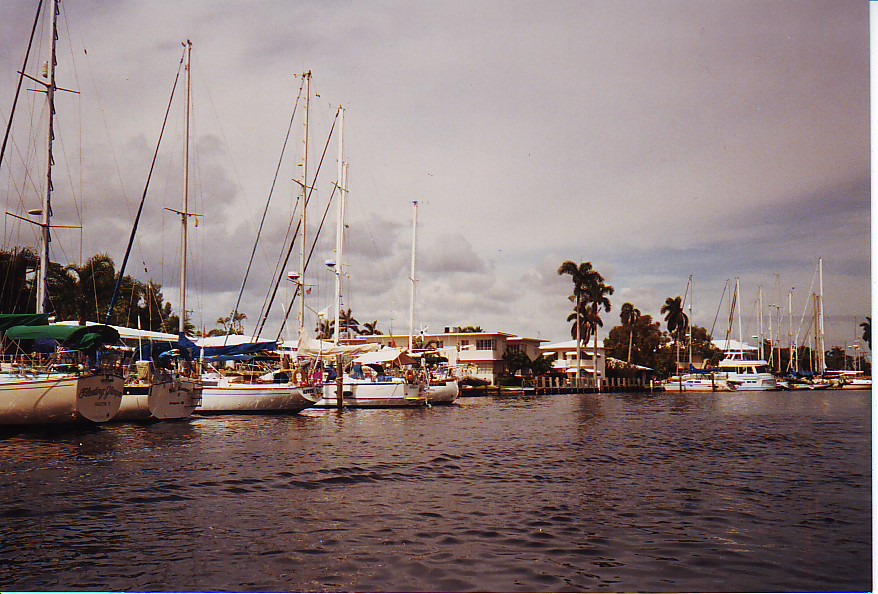 In the years that followed, I repeatedly came across the Express Crusader, or rather, it was on the side of the road that increasingly led me to Florida. A trip up the South Fork New River was enough to find treasures sheltered from the sun, sometimes under floating roofs.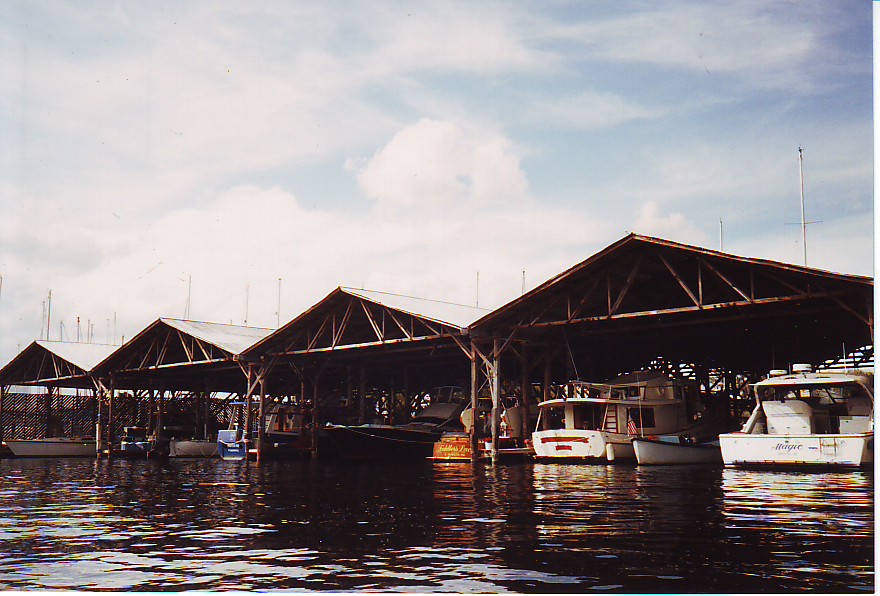 For several years, the Express Crusader was hidden or parked there. parked there, in the midst of a huge dorado of ships of all sizes and colours, either tied up behind houses on the countless canals, or condemned to wait in the sun in huge marinas for the day of days when their masters would come running, flying or driving to clean them, to clear them, to take them out to sea … or not and instead just sail up and down the ICW – not to be confused with IWC watches – so as not to get their feet wet in the Atlantic. After all, it's a waterway almost 5,000 km long, enough for a whole boater's life with or without spars.
Anyway, in the summer of 2018, I got an email from Douwe about Iridium and learned a bit more about the history of this ship:
Hi Peter,
Hope this email finds you well!

I wanted to give you a short update on the performance of the very old Windpilot that I bought and installed on Ponta Delgada, the Azores.

Since this is my very first experience with a windvane I must say that I am totally blown away by its performance on this boat. As you know this is the old boat that Lesly Williams sailed the Ostar with in 1968 three months after she was launched, he came in second by the way. She is even better know as the boat that was lent to Naomi James by Chay Blyth to become the woman to ever sail around the world single handed in 1978. The boat was equipped with a Sailomat of the first generation, despite the very many issues she had with the Sailomat she stated in her book that the adventure success had been very much dependant on the self steering.

Express Crusader is very well balanced van de Stadt design and your Windpilot performs so good that I have used it 90 percent of the time so far, switching off the Raymarine S3G autopilot. Even when I push the boat hard the Windpilot is very well capable to keep course. I am now some 500 miles from the Azores on my way to England. I had winds between 7 and 30 knots so far, mainly on the quarter, not the easiest course to maintain. I still use the 1:2 gearing of the Windpilot as you suggested.

I bought the Windpilot second hand as a backup for the Raymarine since I sail singlehanded a steering aid is an absolutely vital thing to have.
However, based on the performance so far, I believe for long distance ocean sailing the Windpilot will become my main steering.

Thank you for designing and building a great product, and what is even more, thank you very much for your help and advice during the installation on the Azores. I did not even buy this one from you! I may come by later in Hamburg with the Windpilot so you can check it and see that I get some new stickers that indicate the course you set, the only worm part I believe.

O yes and I did find out the hard way not to launch the baby at a speed of 8 knots if you don't know how to do it, I had to bent the Stainless rod straight again. I your manual you described somewhere that that is a possibility. Was a 15 minute job. So even when I made a stupid mistake the product is build is such a way that you can repair your self 🙂

Best regards,
Douwe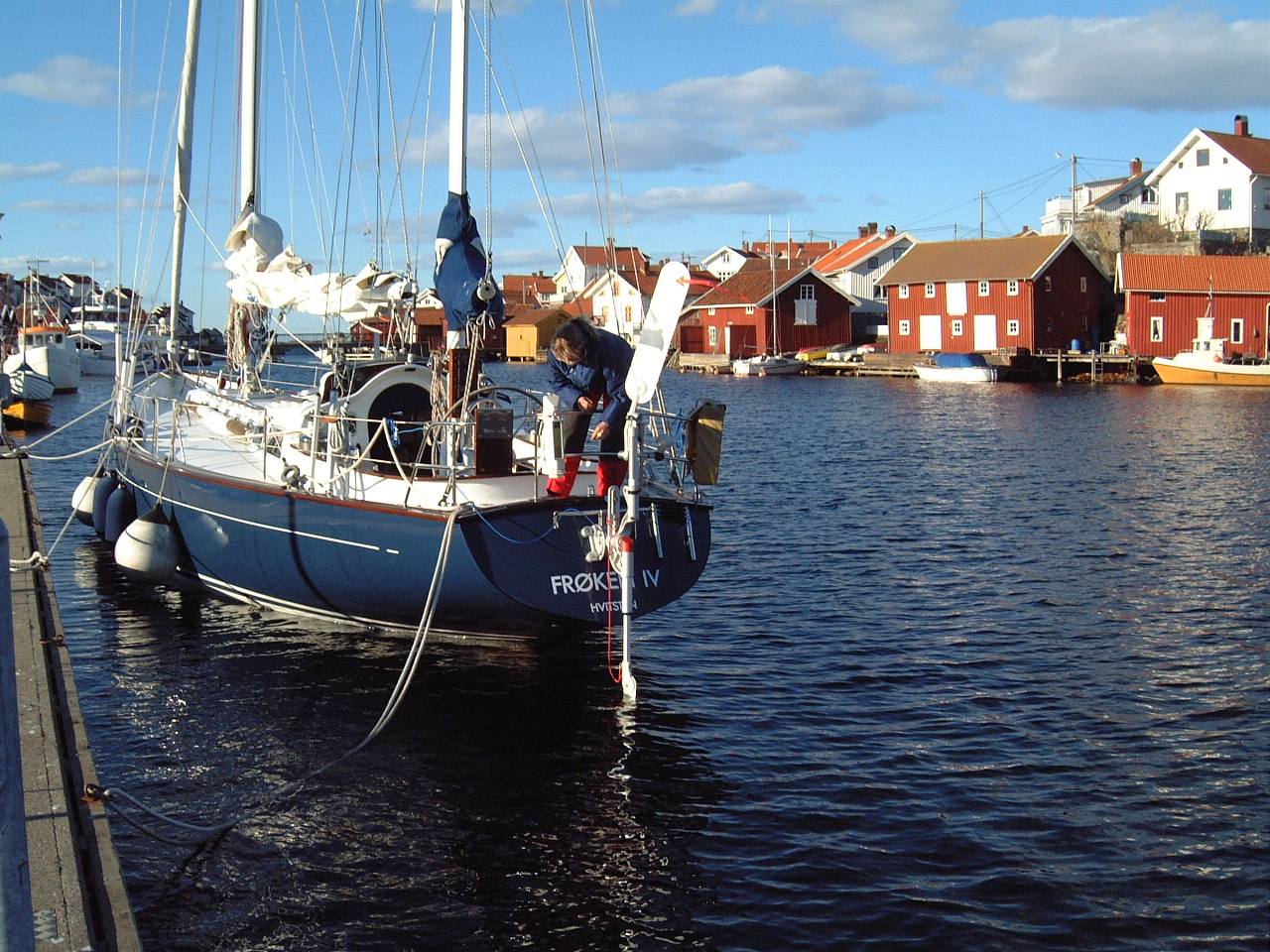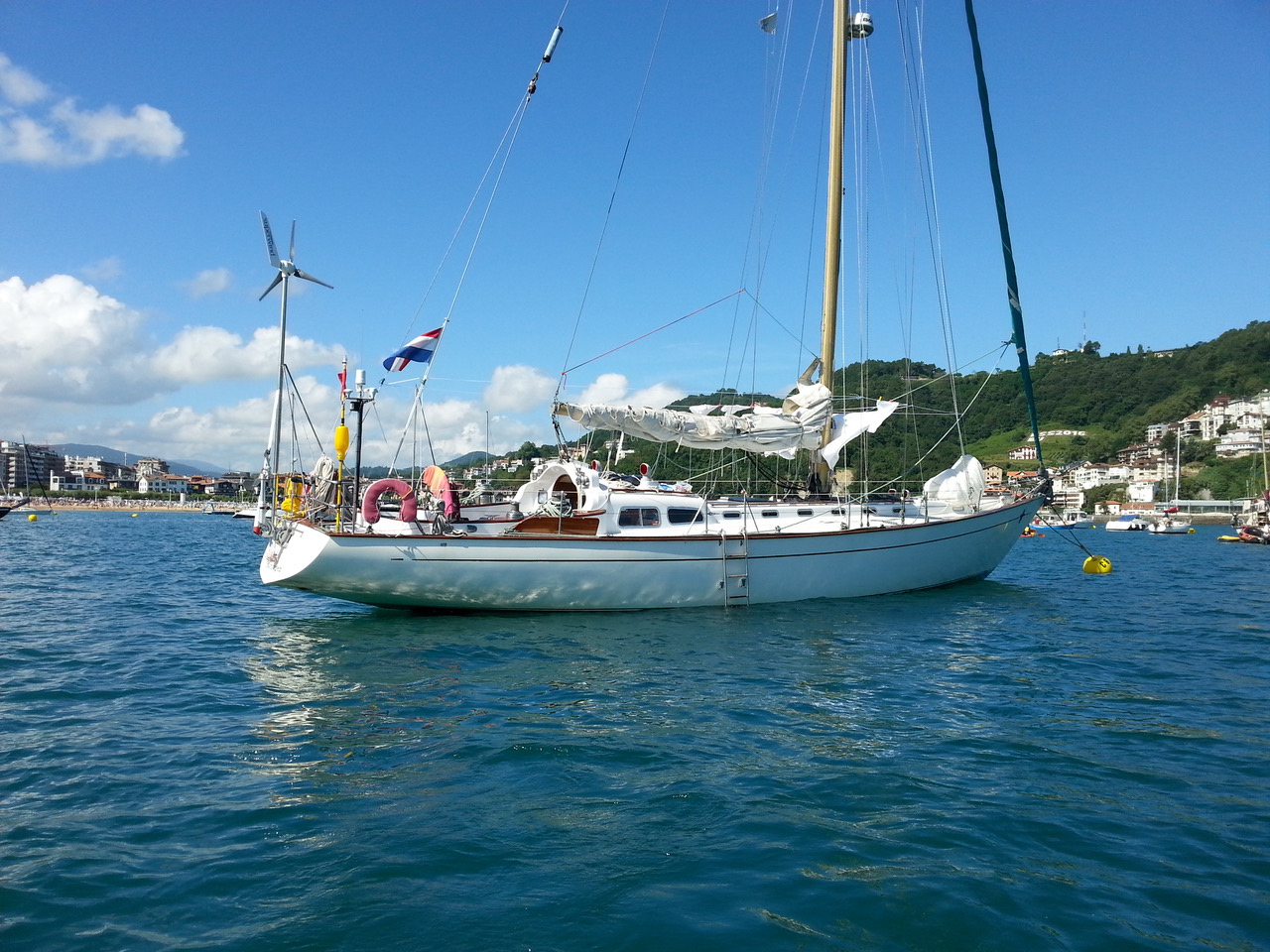 Of the 22 Gallant 53s built, 7 were fitted with a Windpilot Pacific.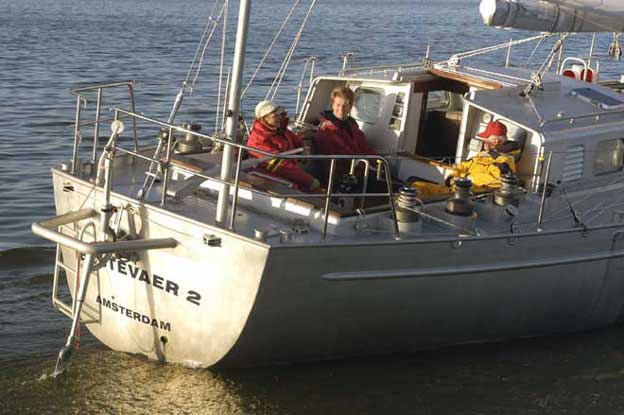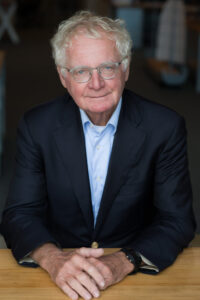 My first connection to Gerard Dykstra stems from the same time, because in 1976, at the same time as my first attempts at welding, I put all the literature on the relevant subject around automatic tax machines under my pillow, clear for consultation at any time, in case I discovered a hole in my head that I wanted to pave … with knowledge. The reading was, well, clear. The book SELF STEERING was just hot off the press, published by the Amateur Yacht Research Society, I devoured 160 pages, I soon knew the book content by heart, especially as physics was quite logical, because you only had to observe a few laws, all of them logical … at least if you were willing to think logically.
A little later, the German book SELBSTSTEUERANLAGEN was published by Delius Klasing in 1979. A market for wind steering systems was just emerging, John Adam ( founder of Windpilot ) had after 7 years of activity, swapped his business for my ship. The author was Gerard Dykstra, and the legend formation in my head started exactly at that time.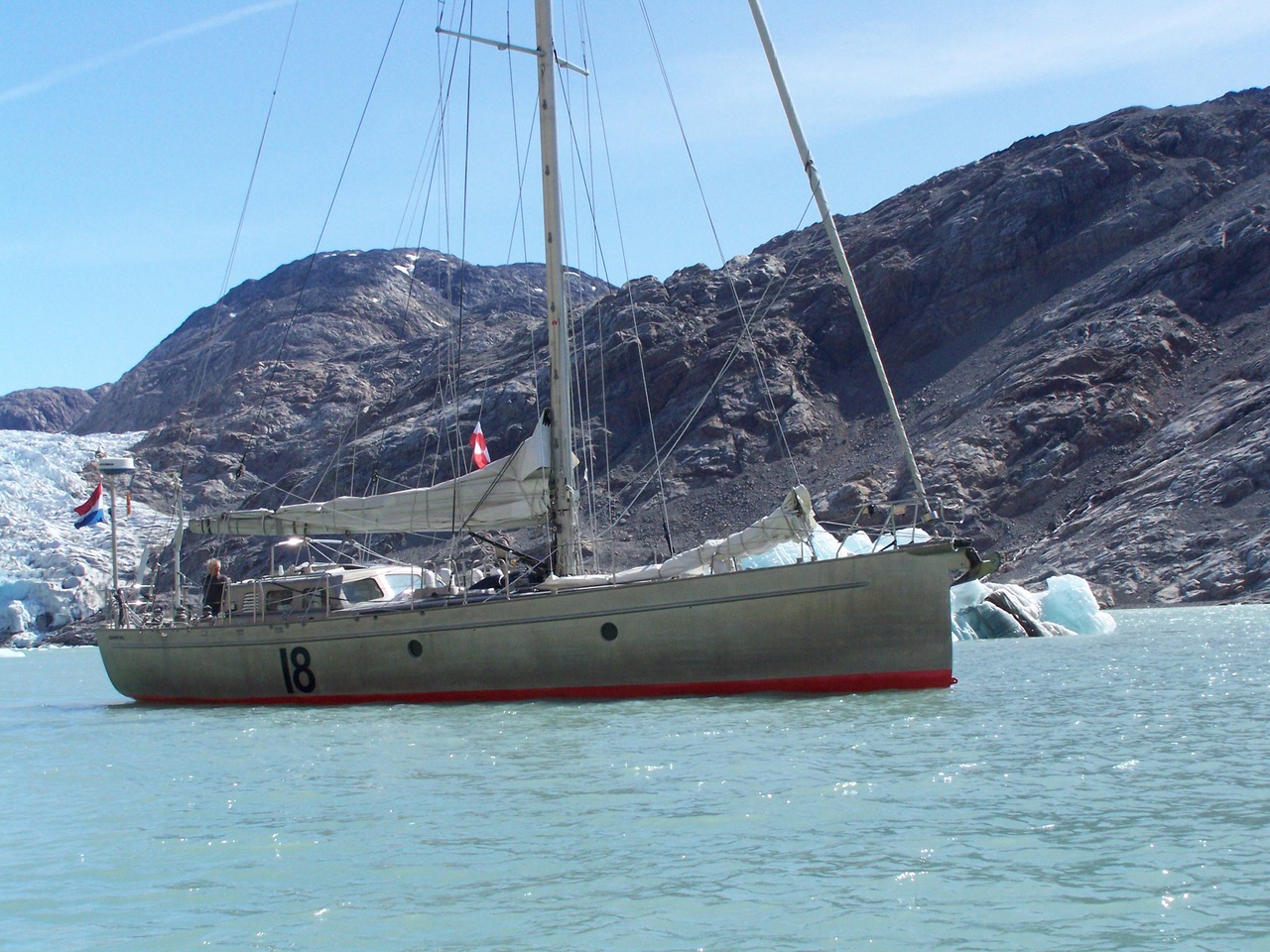 My life began to whiz by, the course of events wanted to overtake me on the right, and if you didn't run yourself while the whip was cracking, life would flatten you and checkmate you in the end. But that's exactly what I didn't want, which is why I took my legs under my arms, took a deep breath … and started the race of life. Pacific Light, Pacific and Pacific Plus, these creatures came into being in my head, all I had to do was screw my hands and feet to them, beg the banks submissively for their lubricating oil, and then turn the ideas into steering slaves, a process that can produce unexpected feelings of happiness when, in the end, you are ploughing through the seas with no hands on the tiller of your own ship and with Paolo Conte's music playing in your dead straight wake.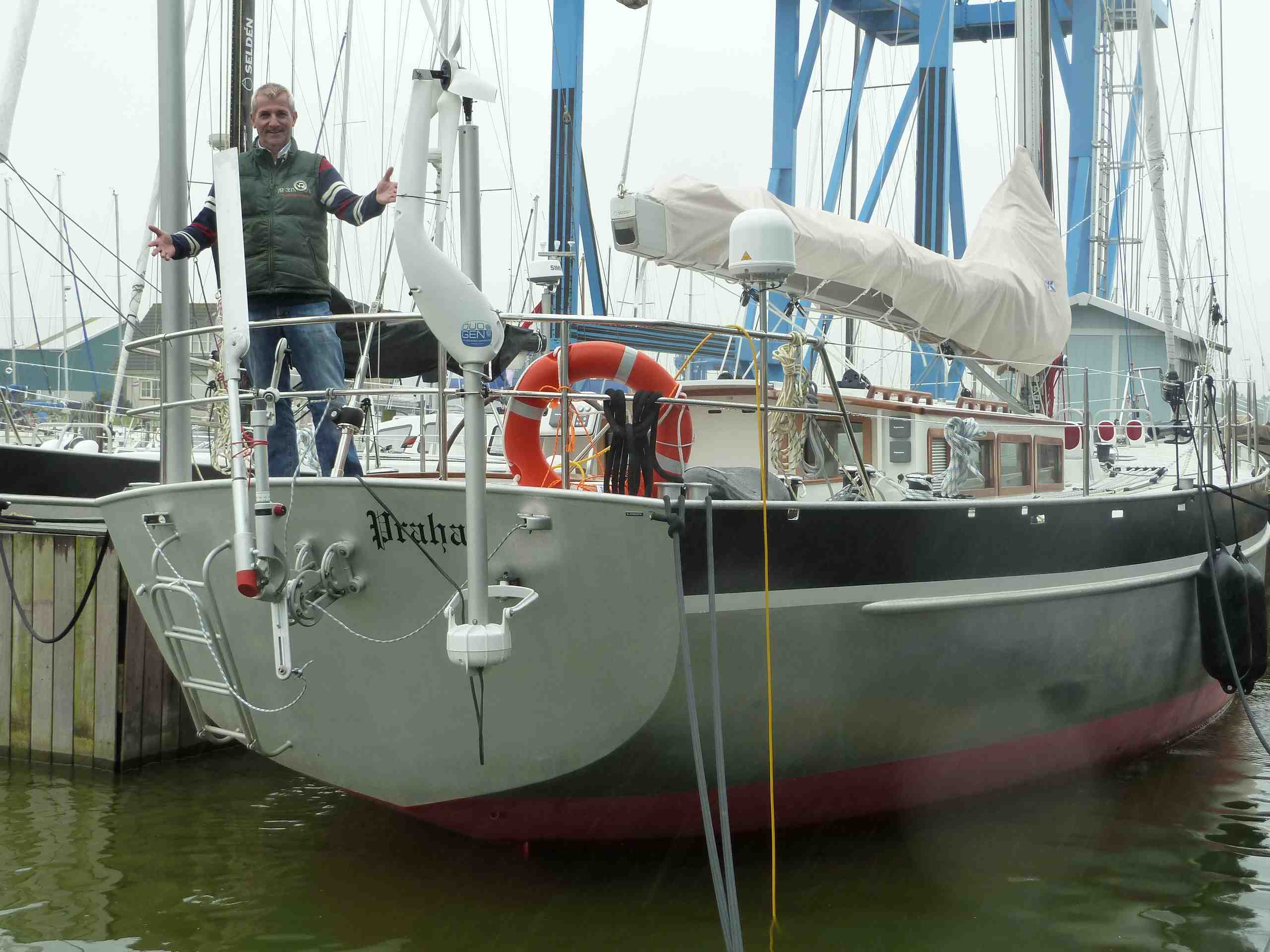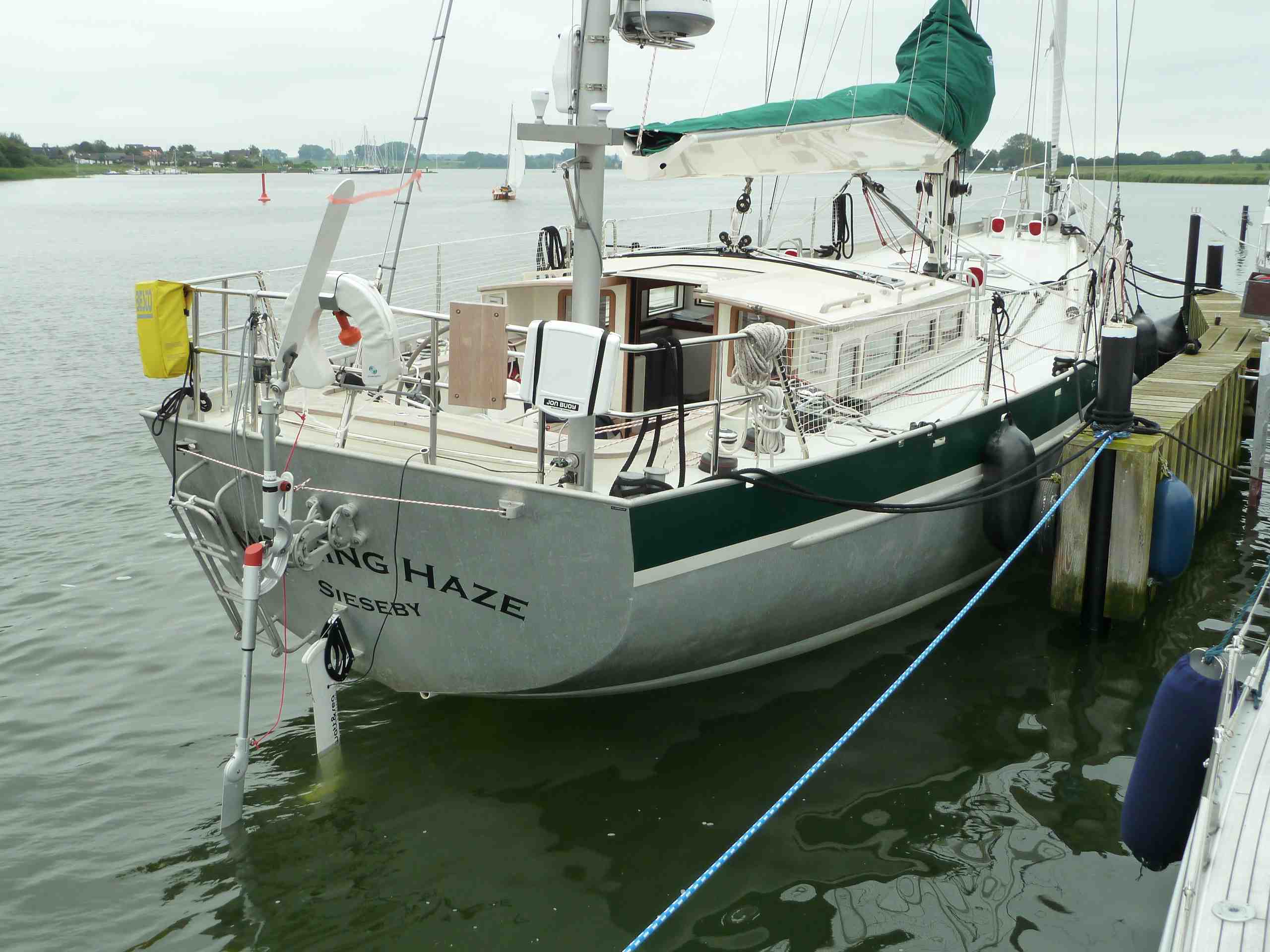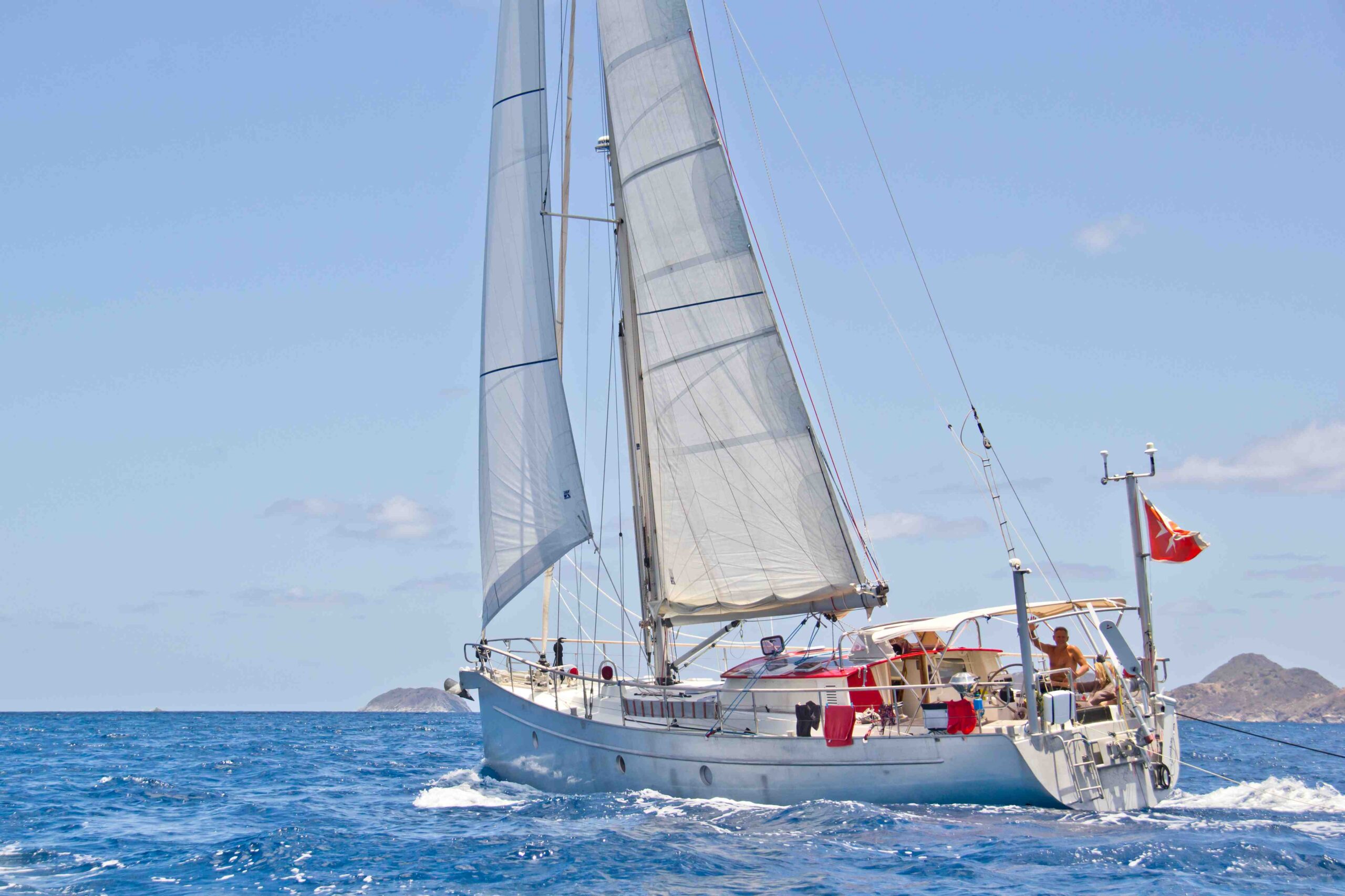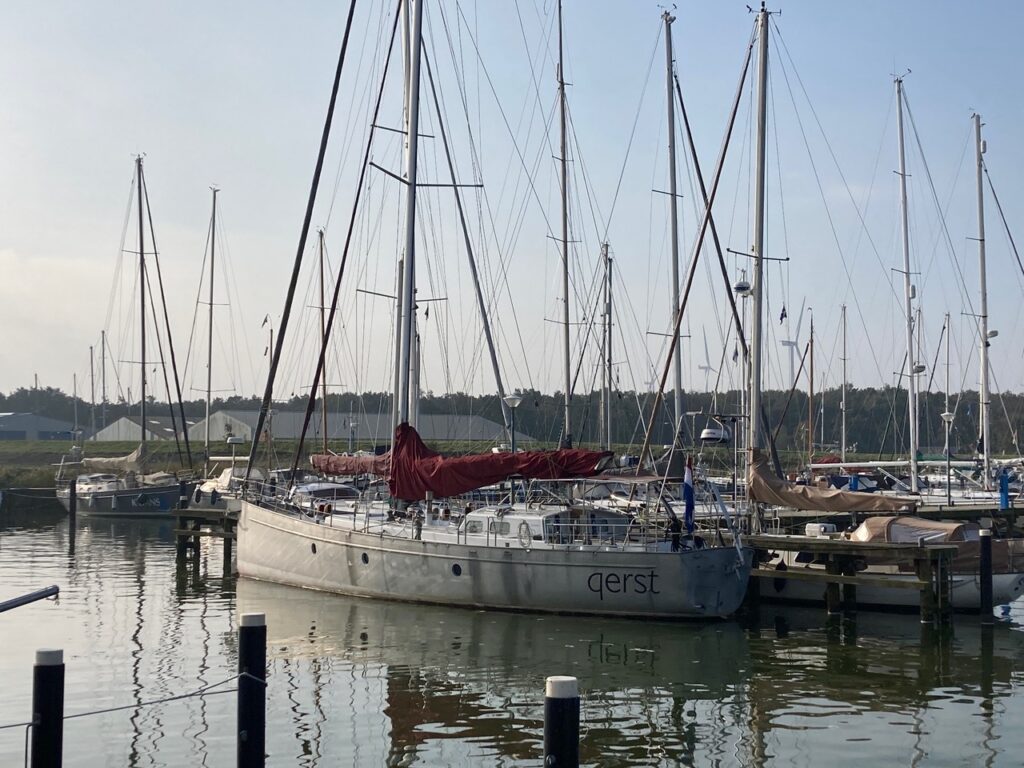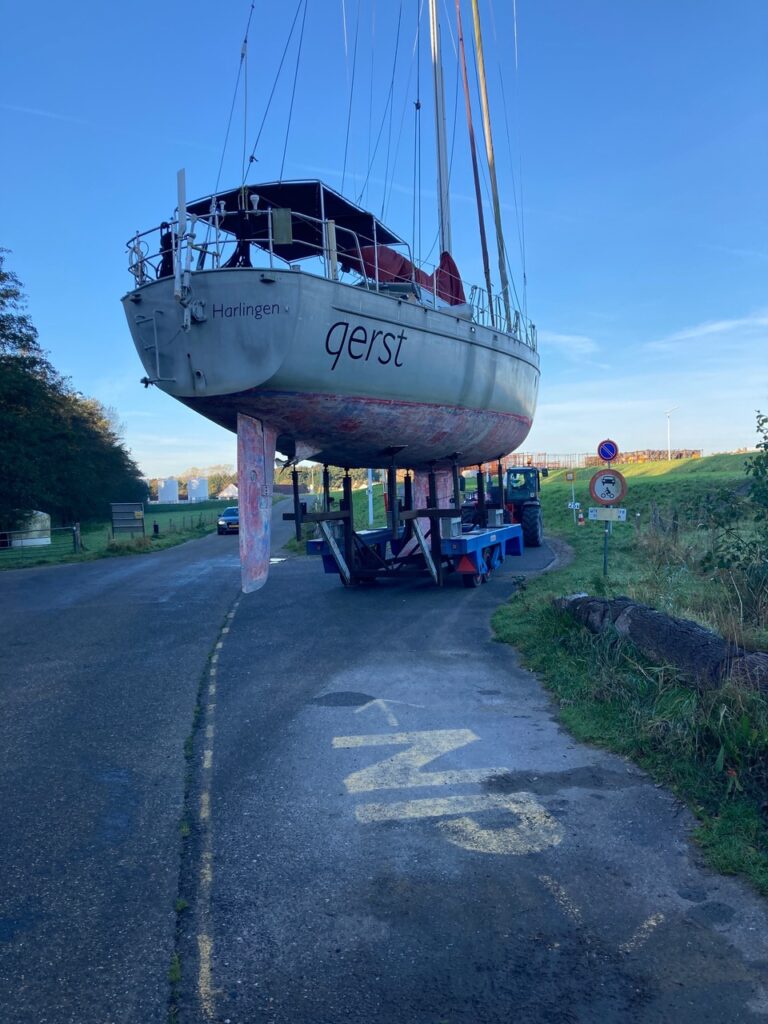 Thanks to Jimmy Cornell I was later forced to "write", the story can be read. Anyway, it was logical and an honour that I gave Gerard one of my first copies of SELFSTEERING UNDER SAIL to Holland for a casual reading. Had I made mistakes, had I overlooked something? My trousers were shaking, who would want to embarrass himself? A little later, Gerard asked me to deliver a Pacific for his BESTEVAER 2, ordered it, paid for it and installed it. Thunderclap, I was proud! I then took some evidence photos on the occasion of the HANSEBOOT in the City Sportboat Harbour in 2002 and preserved the slides until today. The ship had come to Hamburg via the North Sea during the cold stormy season. I held my breath in the following years because I regularly hesitated to offer and sell my Pacific for such large ships at that time.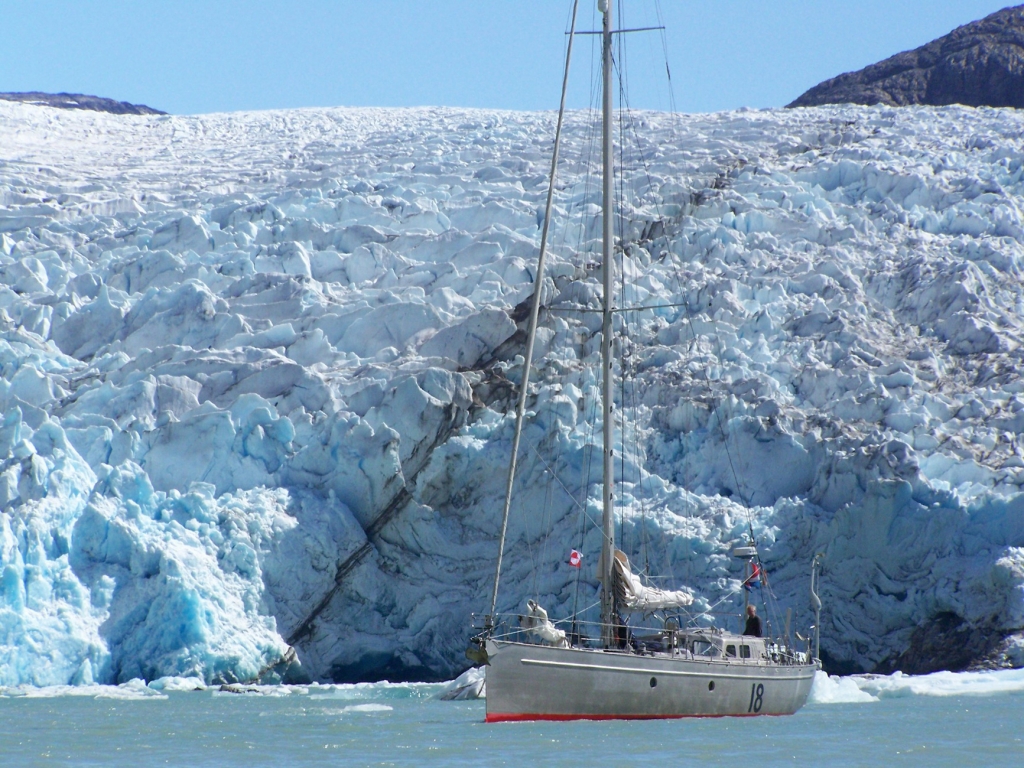 In 2005, I received this email:
Dear Peter, attached two photo's of your windvane hard at work. We were running in a force 7-8 off the coast of Norway back to NL with reefed main and staysail set. The windvane steered nearly all the way. Thanks.
Best regards,
Gerard Dykstra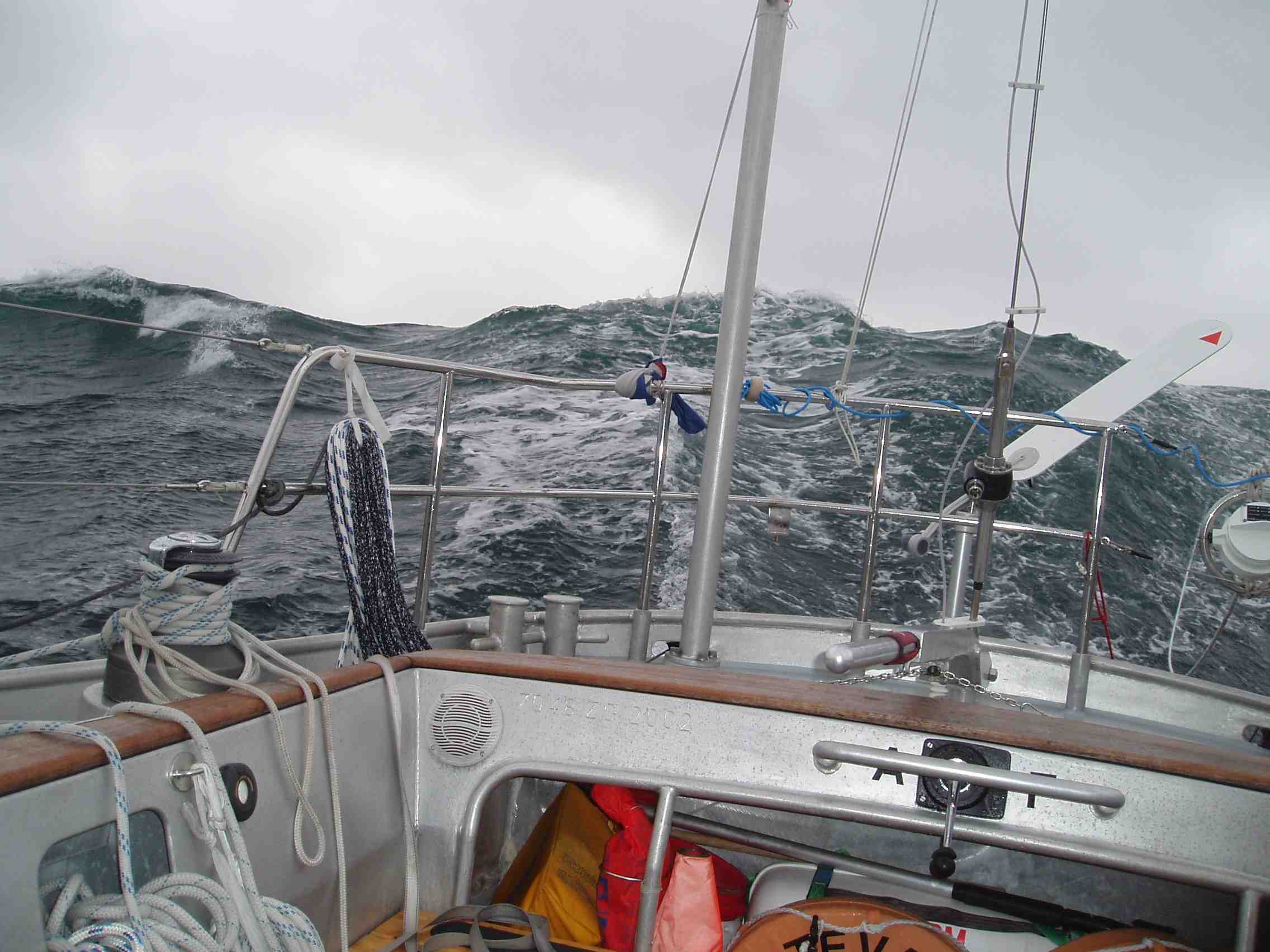 The photo adorns this blog to this day. I was able to breathe easy again, became freer and more confident about my recommendations to equip ships of the 50-foot class with my system from then on. About 18 Bestevaers have been equipped to date and all of them are mounted byKooi Makkum BV
this message came from Bestevaer 55 SV Albatros:
Dear Mr. Förthmann, as from the launch in 2009, my Bestevaer 55′ Albatros (approx. 26 tonnes) has been equipped with both a Pacific Windpilot and a B&G autopilot.
Both the pilots are being used seperately and have served us well over the years and still do.
Best regards,
Jan Willem Eyssen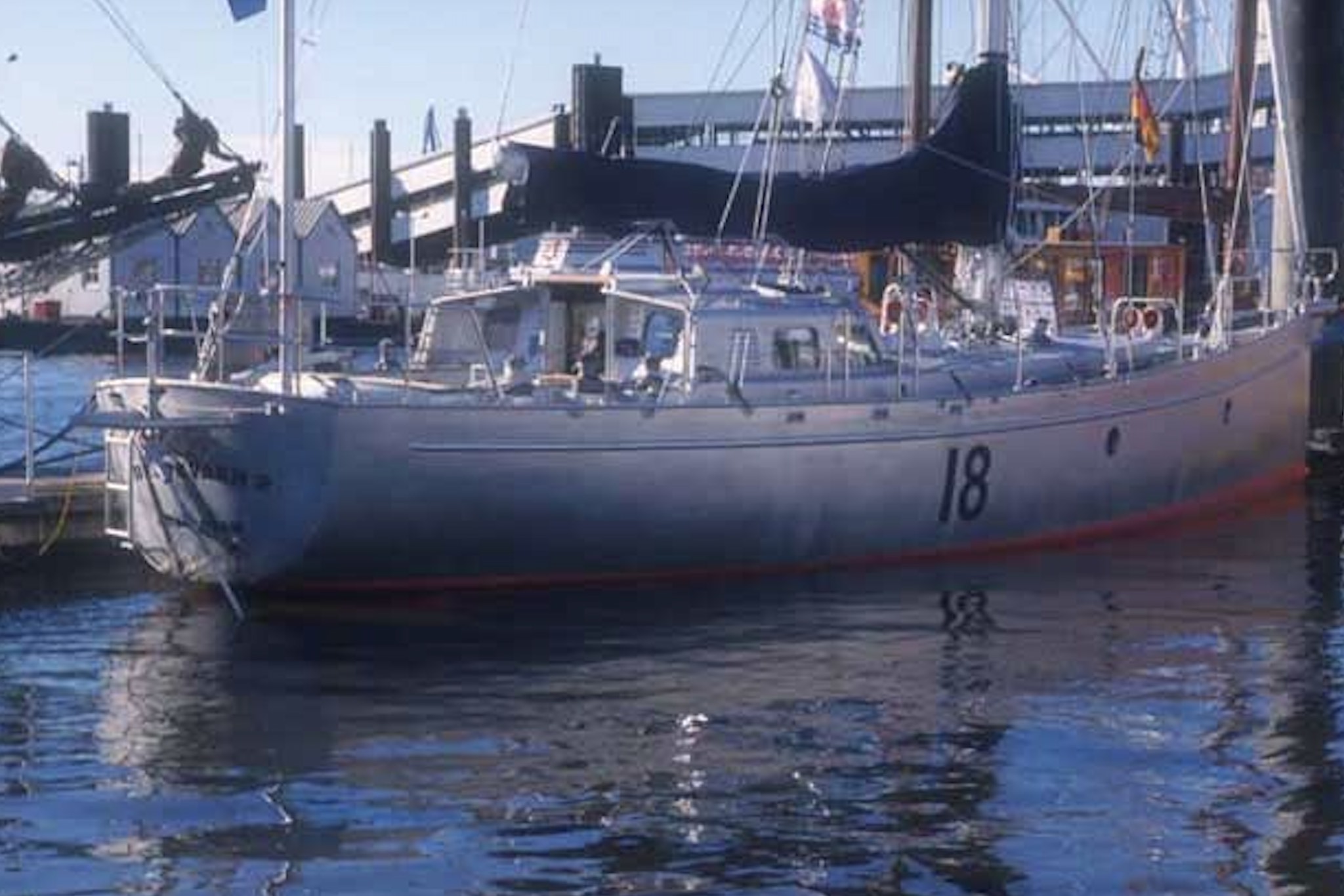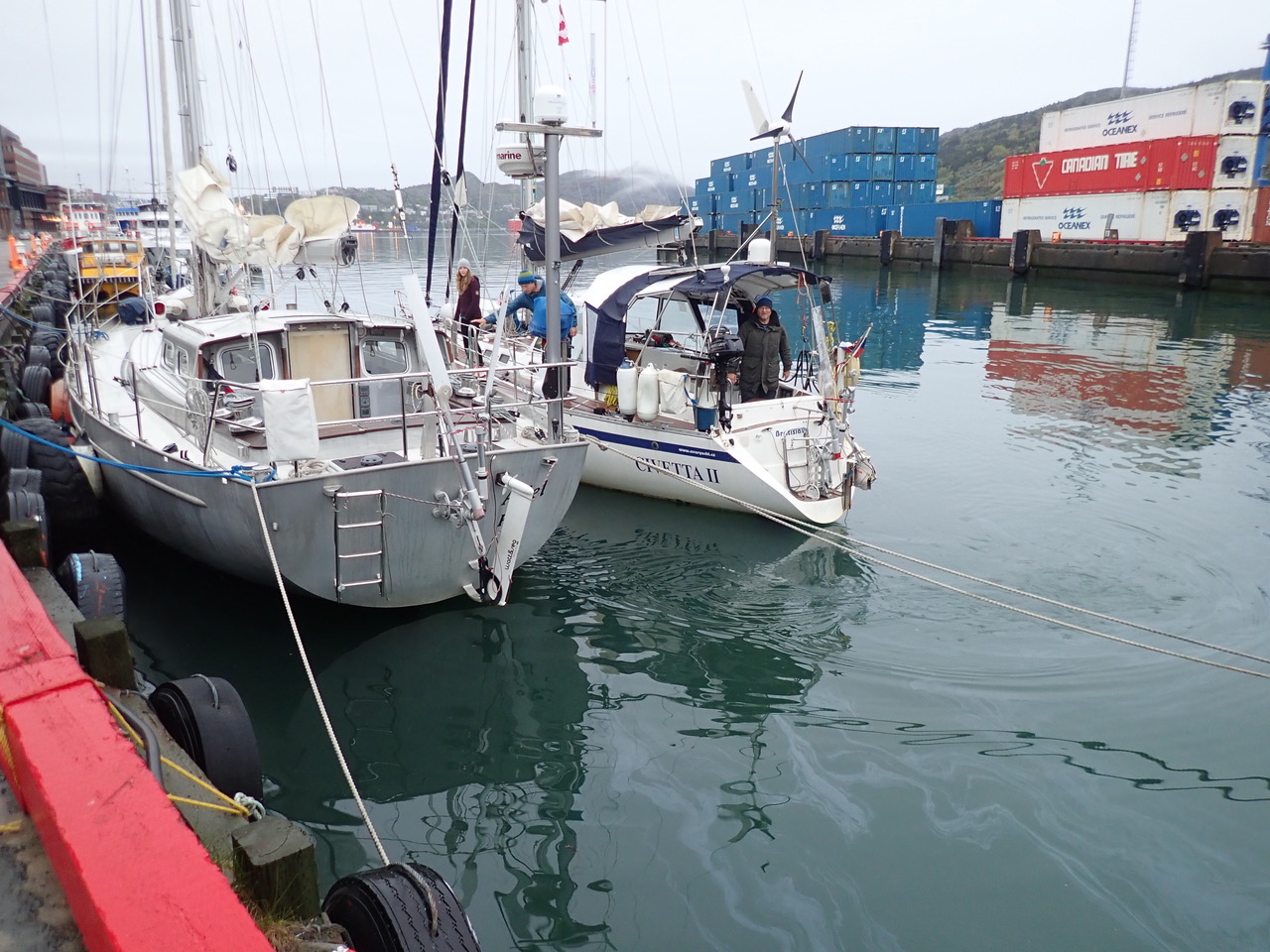 Douwe Gorter redeemed Bestevaer #2 last year in Amsterdam, where she seemed to be waiting for a buyer in a neglected condition. I met ALICE in Puerto de Mogan in 2003, she was built for a US buyer, and was on her way out to her home port of San Diego CA.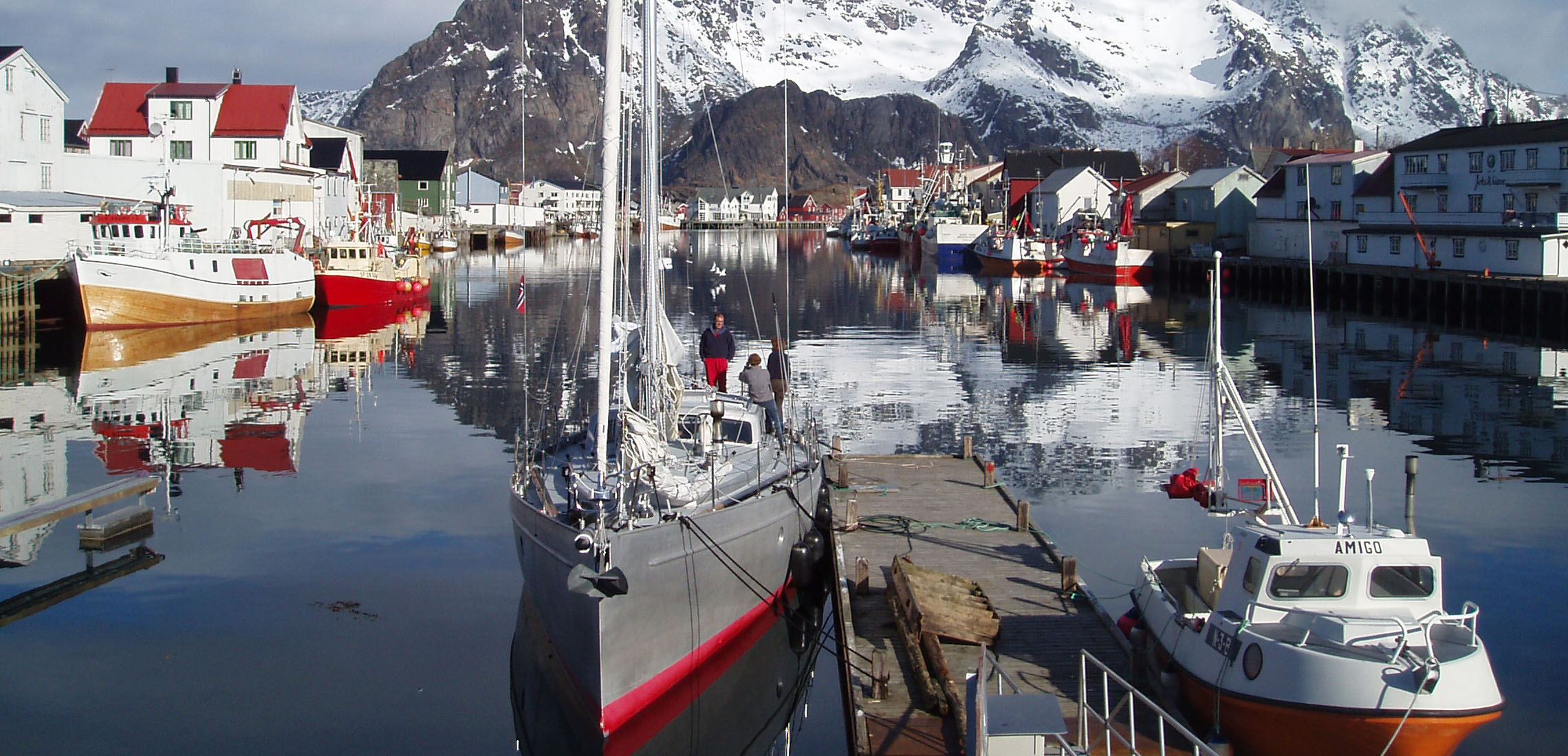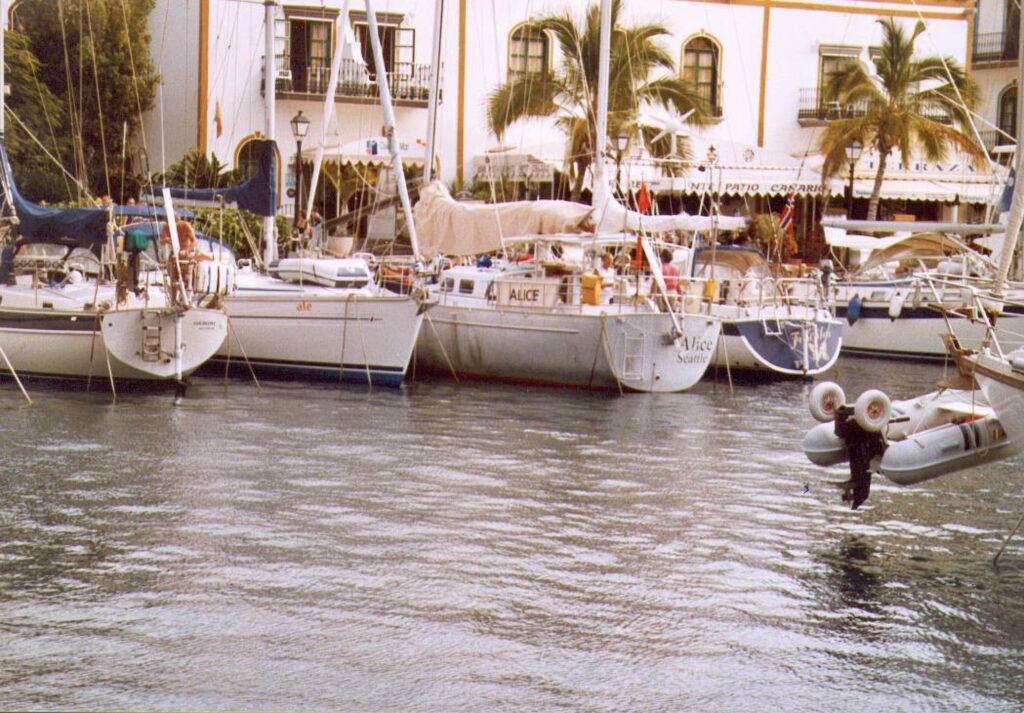 The Alice is now moored side by side with the Express Crusader in Den Oever. Two ships built to last and for sailors who dare to go out in all weathers, both with a wind pilot stern ornament.
Written with fun and joy on 01.08.2022
Peter Foerthmann