FORMULA ONE PIT STOP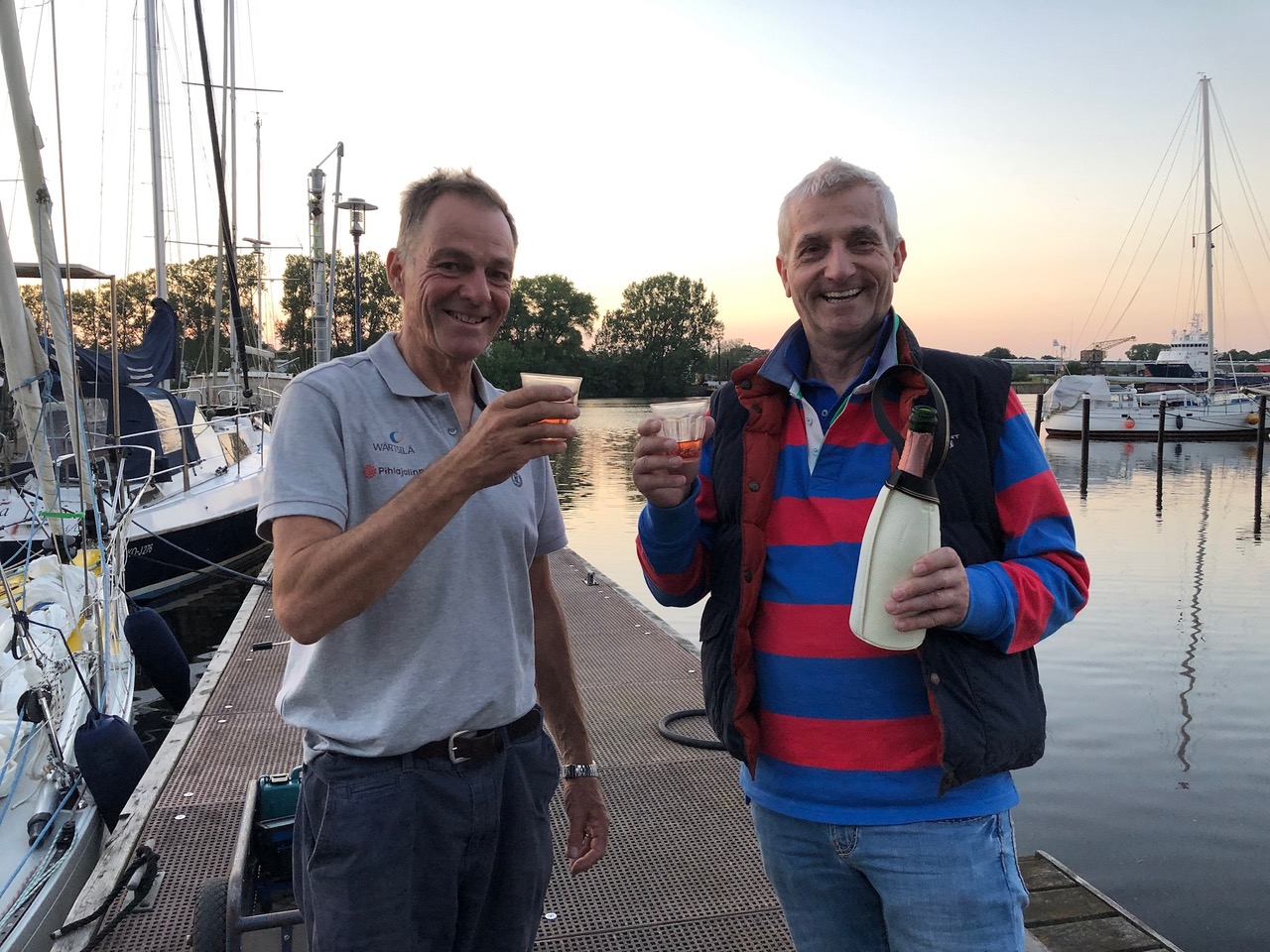 It's almost exactly a year since I met this friendly, introverted Finn face-to-face for the first time in Les Sables. It surprises me still how very closely he corresponds to my mental picture of Finnish people: the epitome of calmness (almost to the point of immobility), contemplative, quick and alert eyes, unhurried speech, a rasping voice (that cries out for lubrication) and a manner of moving about his small yacht that is so nimble and economical that I find myself at first reluctant to take a step for fear of breaking the spell. Or have I been watching too many Kaurismäki films?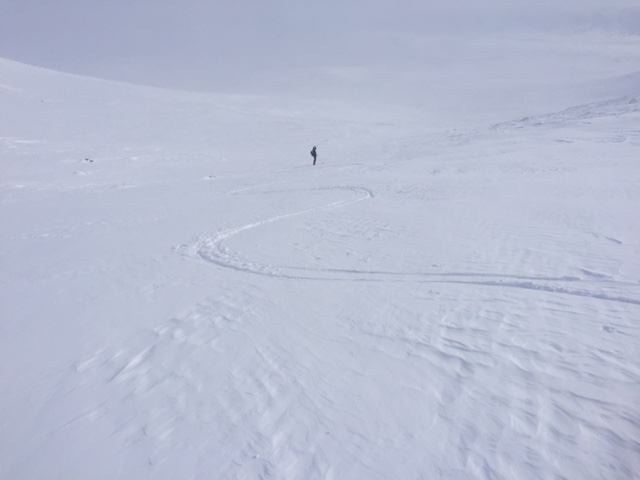 Tapio sent me a photo once of his favourite pastime – cutting curves in the snow – in which everything was shades of white apart from the distinctive figure of Tapio himself. The man loves landscapes, I realised. They draw him in, captivate him endlessly. Rarely have I met someone more comfortable in his own skin, more at ease with his own existence and his own company.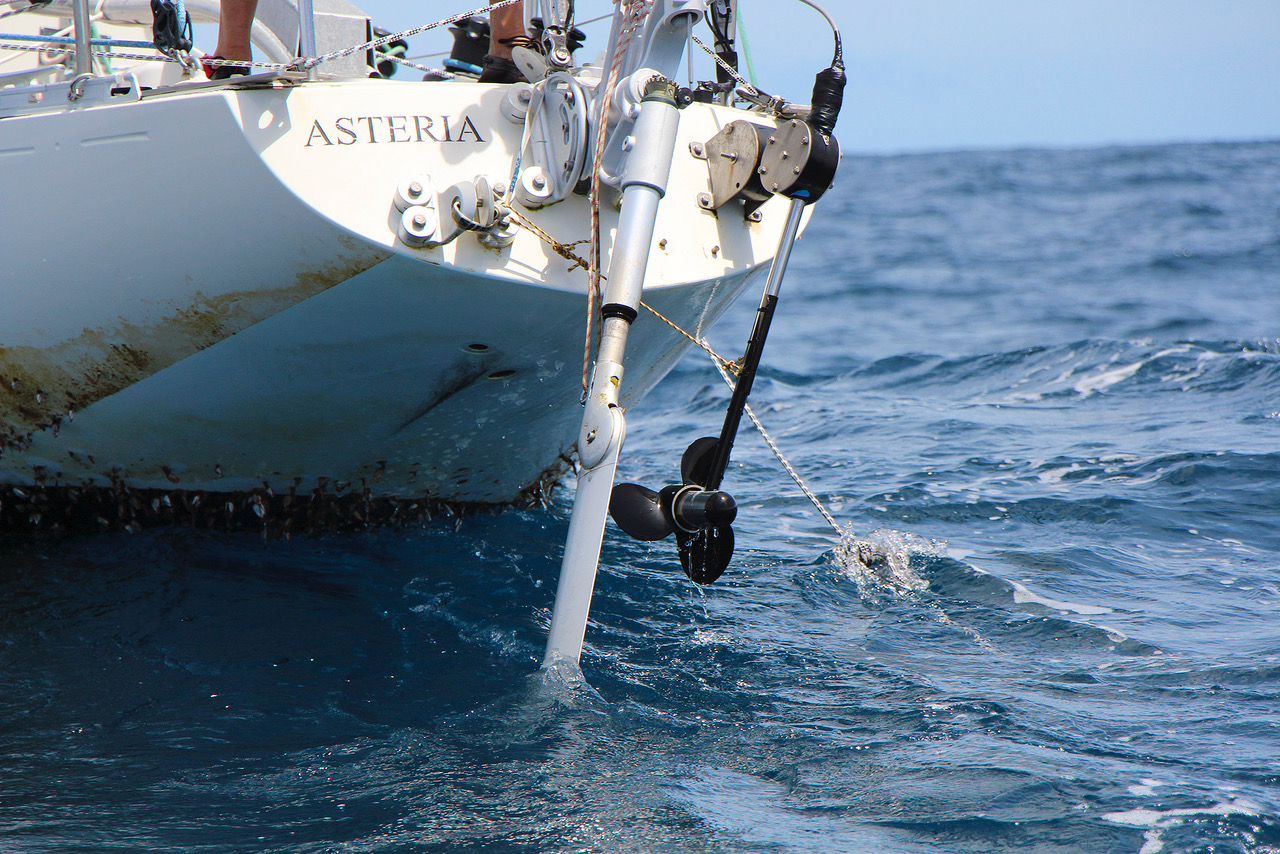 Although that meeting in Les Sables was our first chance to get to know each other in person, we had been in touch so regularly for so many months that by that stage we already felt like old friends. This familiarity enabled us to concentrate straight away on what really mattered: the low-slung feast for the eyes that was to take him around the planet (Asteria's deck rode pretty much flush with the pontoon, in stark contrast to the other GGR boats, whose topsides rose to such a height that older family members visiting for one last teary-eyed farewell with their "kids" were inclined to seek out a ladder). Naturally we devoted particular attention to the menagerie of tools and toys assembled at Asteria's (slightly) less pointy end. Space at the stern was tight but – with Tapio having little else to take care of during his time on deck besides watering the fishes – nonetheless adequate.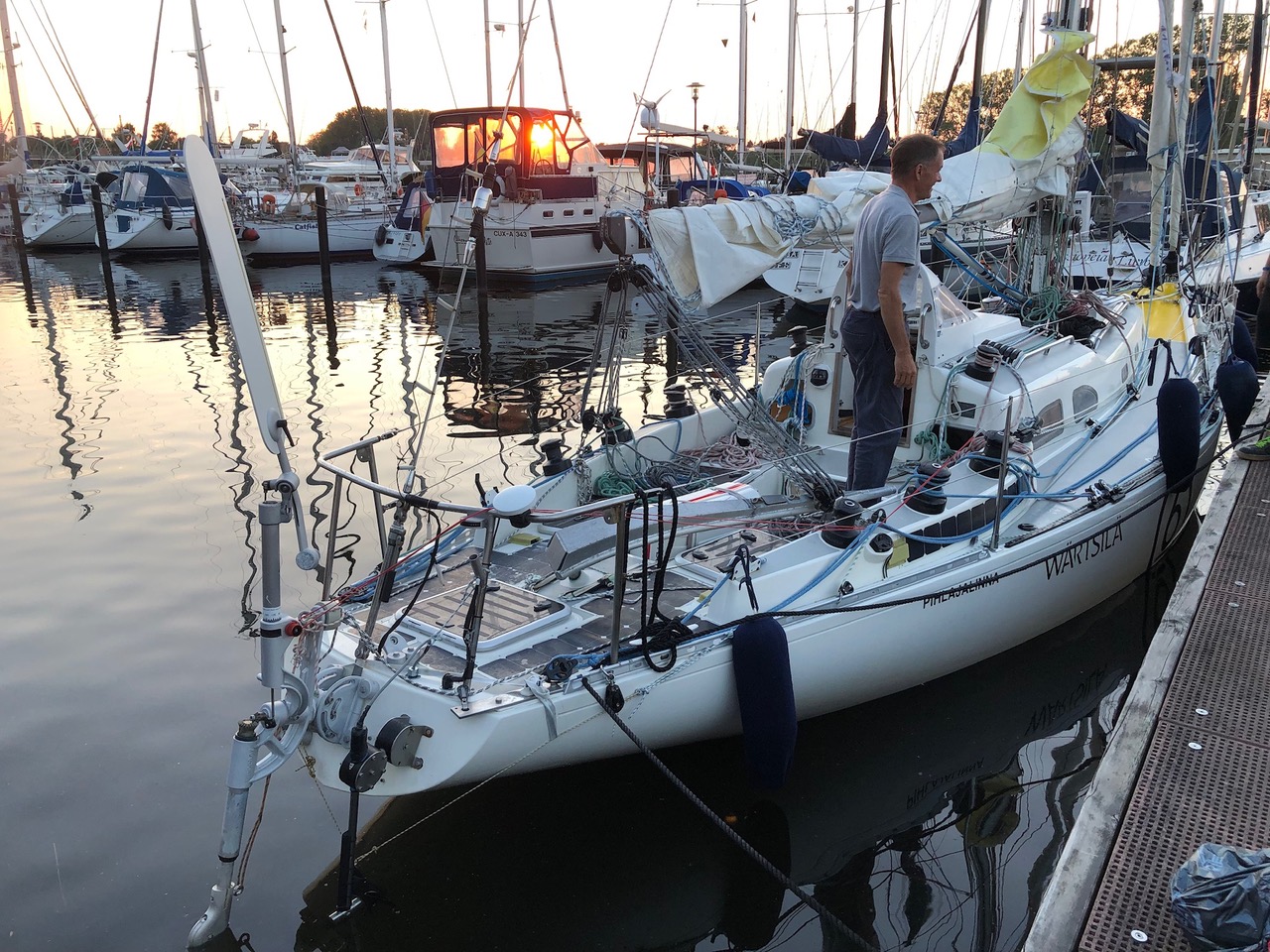 I learned yesterday that Tapio did not remove the windvane from his self-steering system even once during the race, meaning that despite its good-as-new appearance, the whole unit – with one notable exception – had circumnavigated completely unscathed. The exception is the servo-pendulum rudder blade, which became home to such a thriving colony of mussels (as big as a man's head apparently) that eventually it and its occupants made a break for freedom. Lifting the blade up to clean it would have been an option but for the very close proximity of the SailingGen, which had a particularly sensitive component in the perfect position to take a blow from the top end of the pendulum arm were the blade to be raised. A fatal (for the generator) short-circuit was the likely outcome, so the two devices had instead to settle for peaceful coexistence: self-steering and hydrogenerator operating in harmony to help their skipper maintain his break-neck pace of 2-3 kn for weeks at a time (respecting all statutory breaks and rest periods, of course) and reach the finish as fast as possible.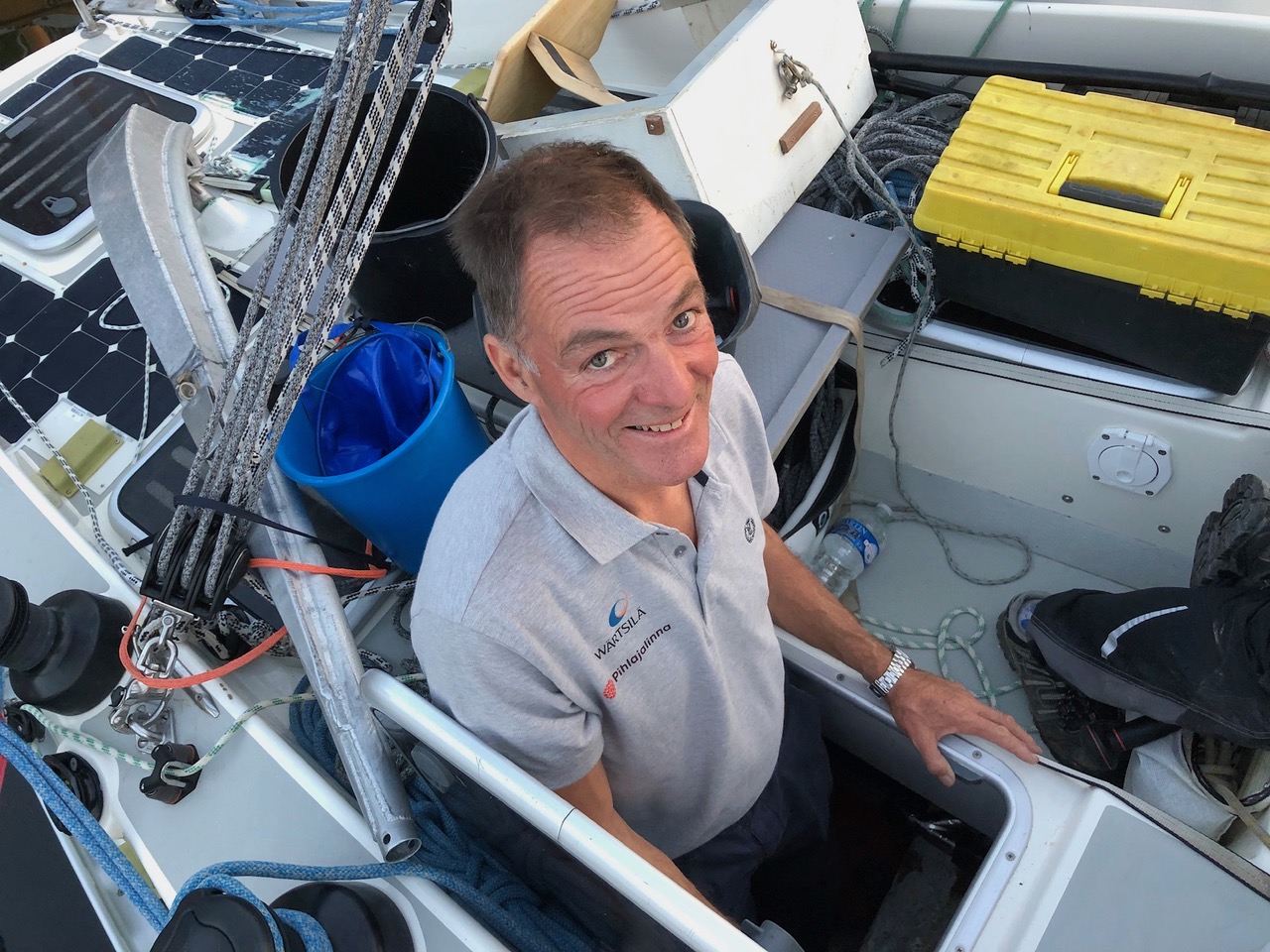 Tapio did have diesel power too, but his (let's call it a Lamborghini to avoid ruffling feathers unnecessarily) engine took a dislike to the sea on the initial passage to Les Sables, left him to be towed out to the start line and remained cold and silent thereafter as an industrial monument/odd-shaped ballast. The world his witness, Tapio consequently sailed the entire race without once – even once – starting his engine. The French diesel fuel making its way back to Helsinki as I write is genuine 2018 vintage.
The stoic Finn took his time circling the globe, enjoying energy bars and delicacies from home, listening intently as his ham radio operator Jari Jussilae back in Finland regaled him with the latest news from around the world, keeping up with developments everywhere, observing the marine flora and fauna (especially the fish, some of which he observed more closely before adding them to the menu, either cooked or latterly, once the gas cylinder had breathed its last, as sashimi) and watching his silent mechanical helmsman tirelessly reel off the miles and hours until he himself, more appreciative of sleep (and in the happy position of not being bolted to the transom), ducked back down below to the comforts of his bunk. He read books too – some of them four times, just to be sure he had completely grasped the author's intent. There is always something more to extract from between the lines… Tough times!
Tapios recent upgrade:
NO NO, THE PILOT FISH AND THE DORADOS FOLLOWED ASTERIA FOR DAYS AND DAYS, DORADOES HIDING IN THE SHADE OF THE BARNACLE JUNGLE MAKING ASSAULTS AT THEIR PREY TO RETURN BACK. I KNEW THEM AS INDIVIDUALS, THEY LIKED WHEN I FILMED THEM UNDER THE WATER, CAME CLOSE TO MY HAND AND THE CAMERA. I COULD JUST HAVE LIFTED THEM JP, BUT FISHING THEM WOULD HAVE FELT LIKE A PETER GREENAWAYISH WAY OF MURDERING THE GUEST OF HONOR FOR THE MAIN COURSE OF A DINNER. THOSE FISH WERE MY FRIENDS, THE LNES I ATE HAD BEEN KILLED AND TINNED BY SOMEONE ELSE SOMEWHERE ELSE:)
ACTUALLY I HAD 15000 – 20000 pages of books with me, read Robin Knox-Johnston's and Bernard Moitessier's books a few times as well as a couple of my favorite poem collections, I also reread some of my favorites from earlier times (Rob James Ocean Sailing, Errol Bruce's Deep Sea Sailing, Adlard Coles' Heavy Weather Sailig are some of my old school bibles), Homer's Ulysses is the oldest and still may be the best description of a sailing journey:)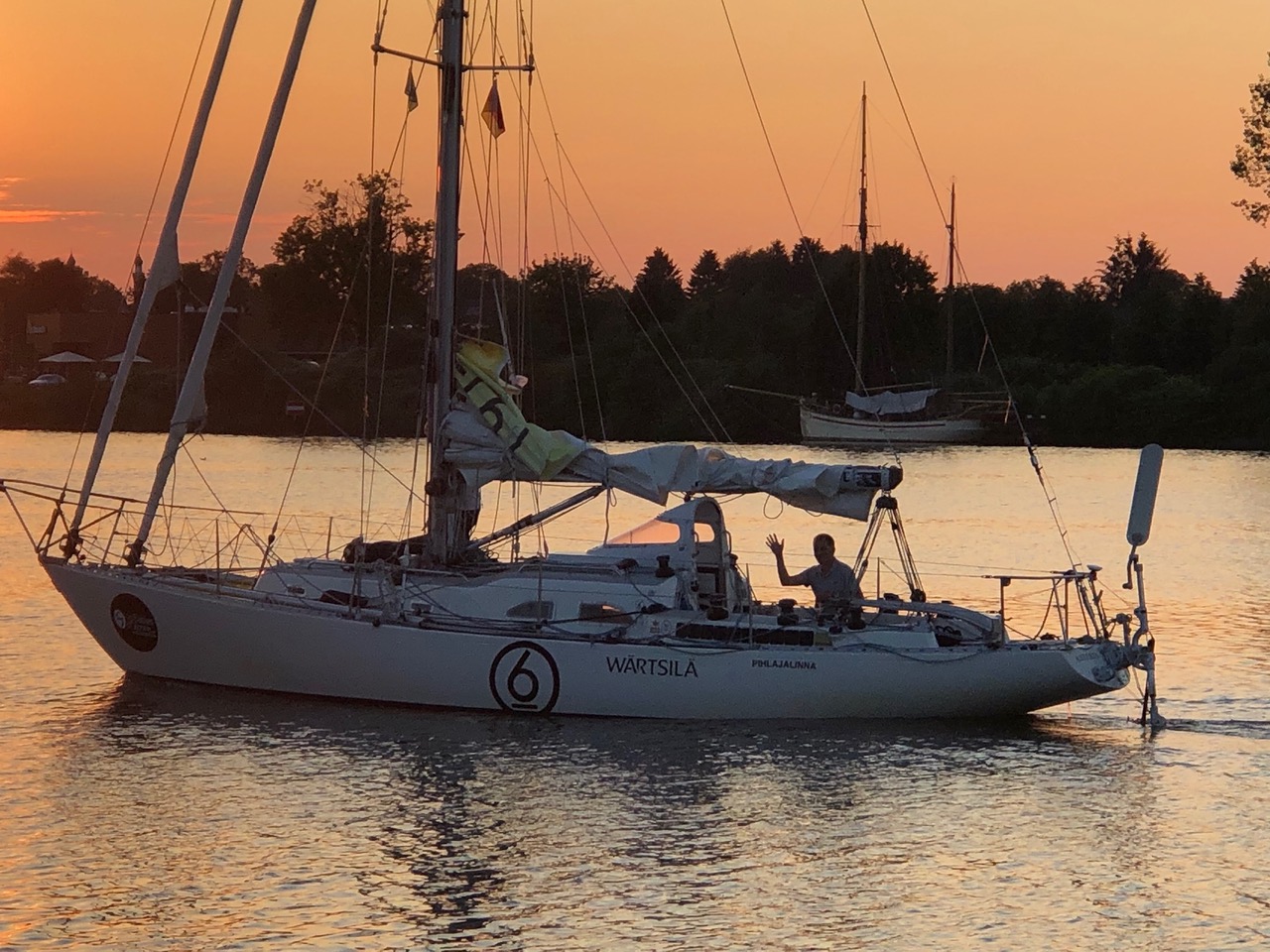 Tapio confided to me yesterday, over a glass of champagne, that he would really have liked to experience a proper knock-down, as he has been waiting a long time to discover what it's like. Unfortunately – said the Finn – the wait continues: difficult as it is to believe, Asteria completed the GGR without so much as a single broach. Tapio went on to reveal that he could have the boat ready to go again very quickly (in the event of general mobilization, perhaps?); in fact, he implied, it might almost be best to set off on another lap right away – after all Asteria should be a fast boat and he owes her a full-speed tour at some point! There was champagne involved, as I mentioned, but let me assure you this was a thoroughly sober conversation. It's all a matter of perspective (as I often tell myself).
Again Tapio:
THE BOAT AND IT'S RIG HAD BEEN REDESIGNED BY THE FINNISH STRÅHLMANN YACHT DESIGN TO WITHSTAND THE SHOCK OF A CAPSIZE OR EVEN A PITCHPOLING.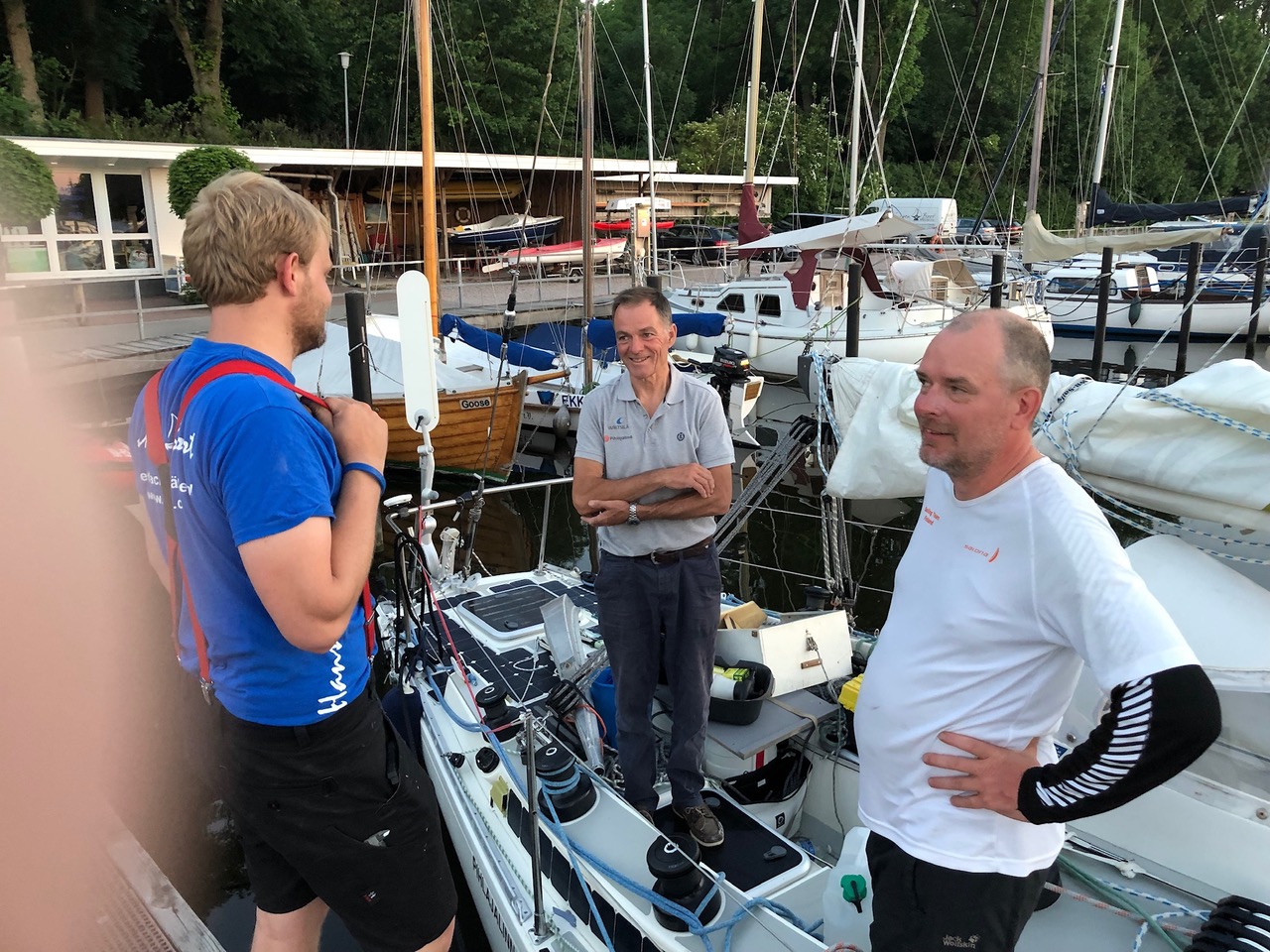 Asteria underwent an engine transplant in Les Sables, but one genius overlooked a cable or two and omitted to hook the new Lambo up to the rest of the boat. The first Tapio knew of this was when he discovered, on the passage back to Finland (in the middle of the night, naturally), that the batteries were not charging. This was just more of the same for a man who first ran into trouble with his electricals almost as soon as the race entered the South Atlantic. Tapio even asked Don whether he would be permitted to continue as a "dark ship" with no electrical power at all at one point in the GGR, but eventually the crucial missing part for the SailingGen emerged from the tightly packed stores and supplies down below and the juice started to flow again. Tapio reports that the hydrogenerator has supplied power in abundance ever since – so much so in fact that the other night he left all lights blazing just to give the batteries a bit of relief. A Finn indeed…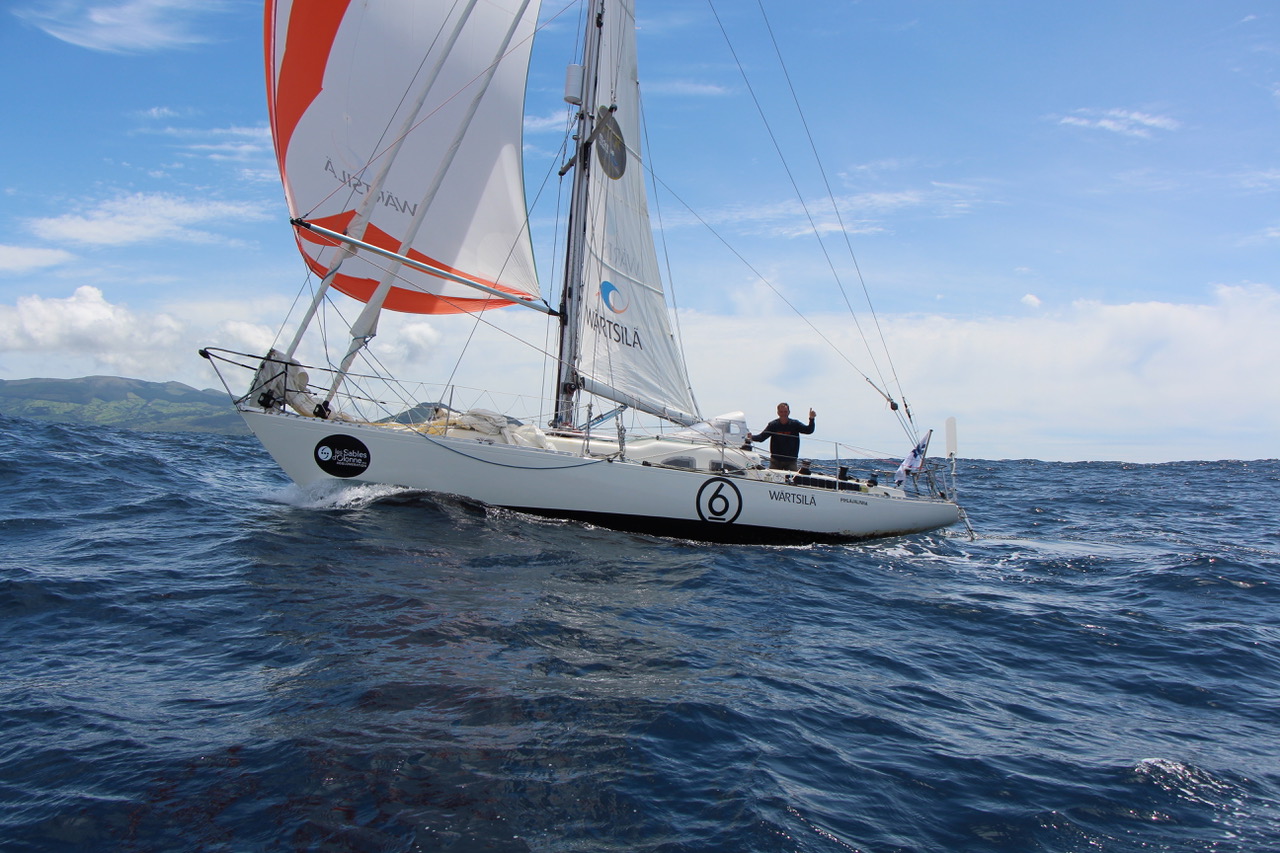 Asteria has made excellent time on the home-run so far, cutting the corner tight at Ushant with a fair tide under her keel, blazing past Dover under spinnaker, ticking off the East Frisian islands in a matter of minutes, hanging a right into the Elbe at a pace that launched the crockery from the shelves and almost needing the help of the drogue to slow things down off the entrance to the Kiel Canal at Brunsbüttel: Asteria had never seen 10 kn over the ground before. The speed of their approach did not go unnoticed at lock control either and while Tapio and crew Petri tried to reduce their rate of approach, the terrified lock master was getting the gates open as fast as he possibly could. I had never realised before that watching the AIS could make you dizzy! Anyway, it was clearly time to make a move, so I loaded myself into the car and made haste for Rendsburg a few miles into the canal. And I got there first!
It turns out Tapio is homesick. Well OK, not really: it turns out he has a most important appointment in Mariehamn a very few days from now, hence his fervent plea from the North Sea: "My brand new engine needs the 50hrs service incl. change of oil / filter etc. Can you please arrange a Formula 1 – style pitstop engine service???" Hello? Kiel Week is only days away and in these parts, that means everything with legs and a boat has engine problems!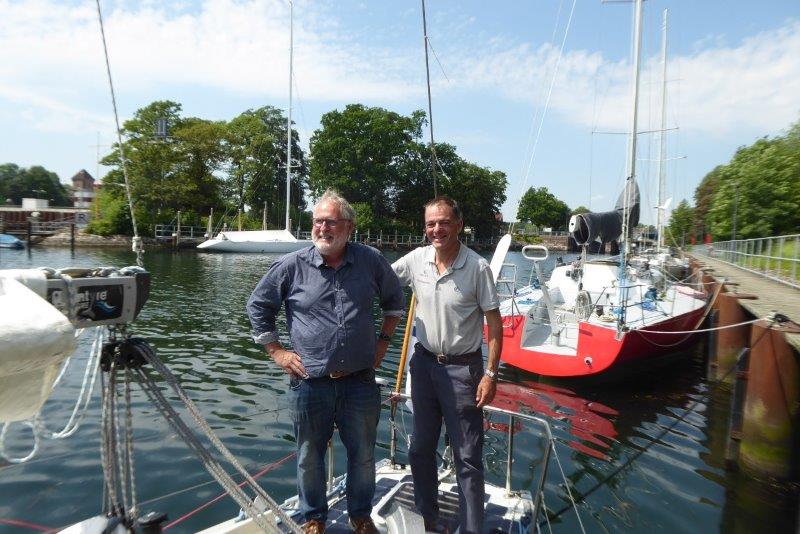 I did what I could and after countless noes spanning the country from Hamburg to southern fringes of Berlin, my hot red ears eventually received the vital tip courtesy of Robert Keil: why not try Björn Hansen in Schleswig? He might have learned his trade at Niki Lauda's knee so efficient did his team turn out to be. Asteria's warps were still being made fast as Björn and his mate stepped aboard and set to work on the hot Lambo, quickly discovering – to their professional disgust – that their counterparts in France had forgotten (or did they do it on purpose in the mistaken belief that the boat was off to steal a race from one of their countrymen?) to fit the cable connecting the batteries to the generator. Or do Lambo engines charge via Wi-Fi? I was puzzled…
Pit-stop night in Rendsburg was a great pleasure – champagne all round – despite the boat still only being equipped for a single-hander (one knife, one fork, one spoon), the dishwasher having gone on strike long ago (the glasses had turned opaque) and any kind of movement on deck being hindered by clusters of bulging sail bags. But for the presence of a few stanchions, one could have slid the whole boat under the pontoon so low in the water was it sitting. Like an iceberg it was, with just the tip showing. And up on top, Tapio, proud Finnish circumnavigator…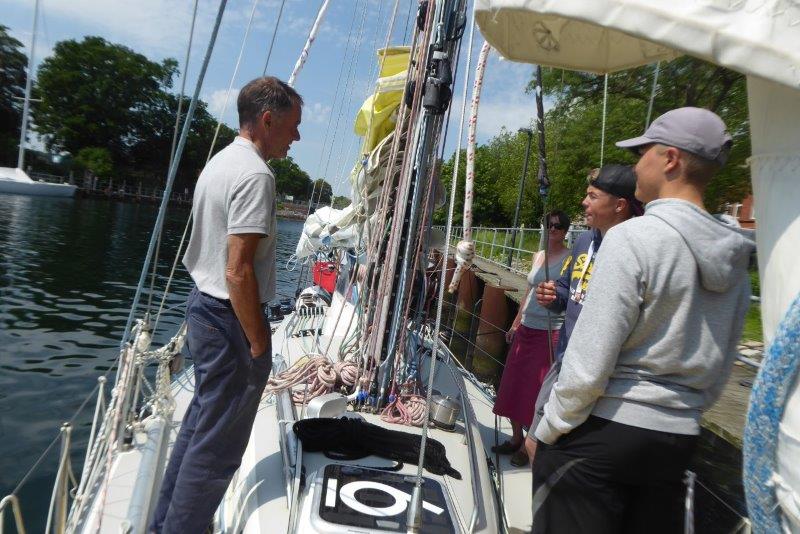 His crew having done sterling work on the remains of a potent strawberry punch not very long before, Tapio found himself manoeuvring through the lock in the grey morning light as a single-hander once more, although the doughty Petri was back on the ropes by the time they came alongside. I have heard, too, that Tapio finally pulled off the trick of engaging reverse gear in the Holtenau lock at the other end of the canal. It took six of us resisting with all our might to avert disaster when the throttle outwitted him in Rendsburg: "Excuse me please, I am not familiar with my engine yet…" Madness!
Having delivered a few lessons in navigation for a neighbouring crew of young Finish sailors eager to glean what they could, Tapio then set off with his wife Vivi bound once more for the cruel sea. Next stop Mariehamn please!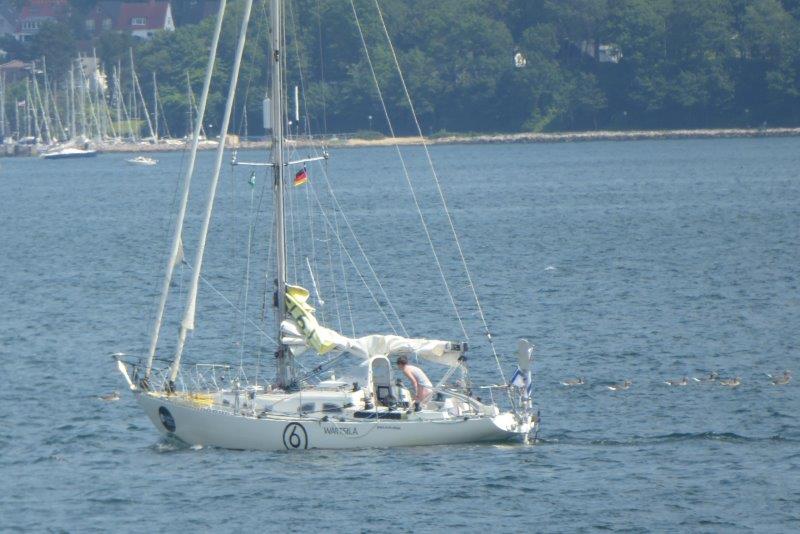 The Rendsburg rendezvous will not be the last time Tapio and I get together. We still have too many loose threads to make shipshape, too many details to fill in and altogether too much of the tale to share. Tapio has invited me to Finland in fact. Ideally, he says, he'd like me to sail with him for a couple of weeks to establish once and for all whether (and if so how) he can further enhance the performance of his Windpilot. He says he regularly spent days on end under various spinnakers and Windpilot and wonders whether it might be possible to find a way to manage with even less manual steering. Otherwise, being a stoic Finn, he admits that he will be satisfied with having his self-steering look after him 99.9 % of the time as it has done over the last year. Should I fly to Finland in pursuit of that last 0.1 %? What should I expect (apart from midges)? The mind boggles!
I like the Finns, although as someone who enjoys language and languages it bothers me that theirs remains so elusive. The advantage here though is that since Tapio and I communicate in English, we are both in alien territory, as it were, and that is a great leveller. It seems I am already looking forward to new Kaurismäki adventures … and to spending more time in the distinctive company of Finns.
Concedes

Peter Foerthmann