HAM RADIO – TAPIOS KEY IN FINLAND
Golden Globe Race – Tapio Lehtinen ja radioamatööriyhteydet. Jari Jussila kertoo, miten yhteyksiä pidetään la 9.2. klo 17 Purjehdussatamassa.

Gepostet von Vene Båt am Samstag, 9. Februar 2019
The HAM Radion Stadion of Tapio in Finland is kind of idyllic place, just have a look to Jari Jussila´s working place.
——————–
BARNACLES UPDATE 800 nm WEST OF CAPE HORN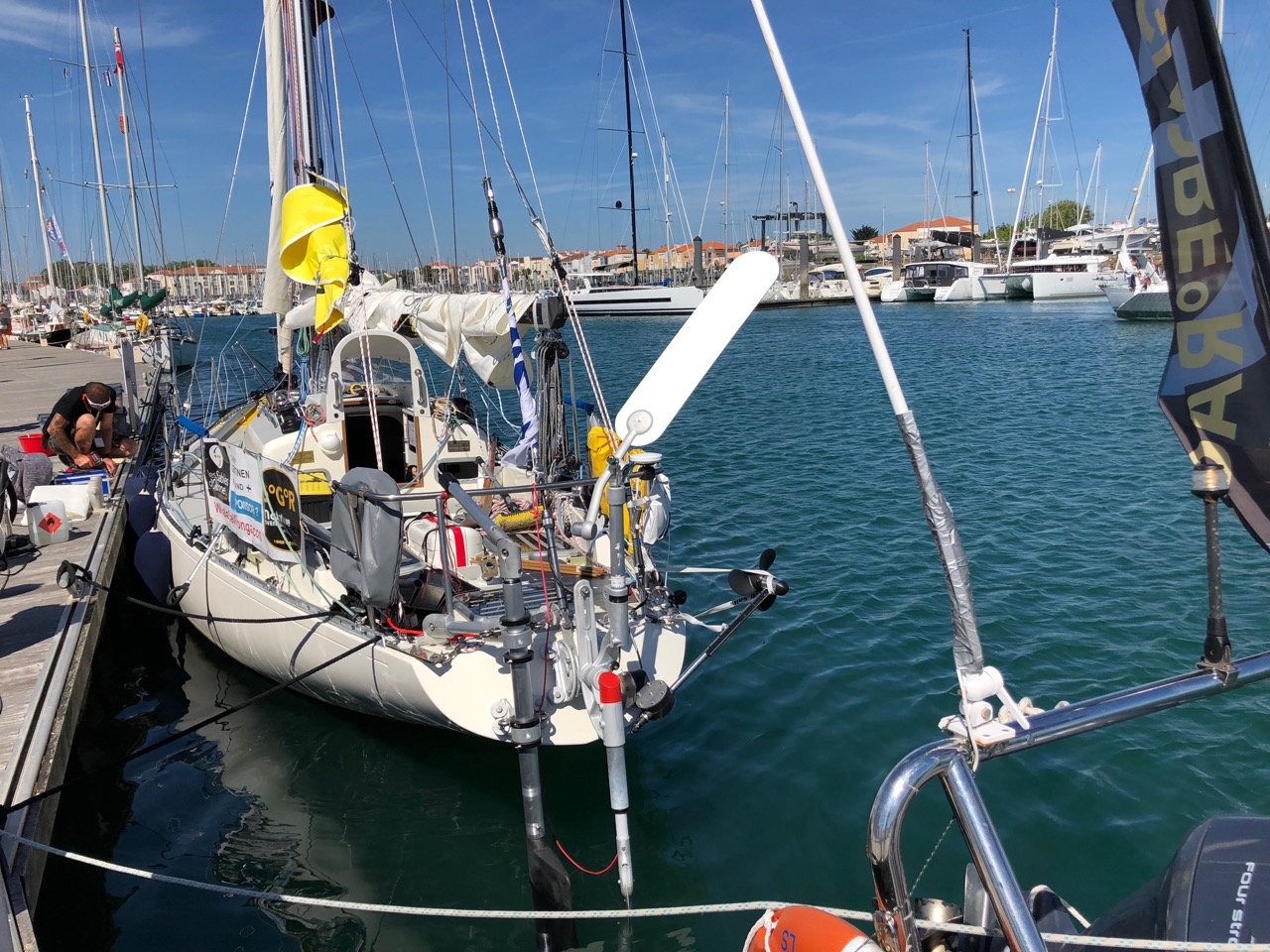 My dealings with Tapio were relaxed and friendly from the start. He apparently upset his daughter by reading my emails at the dinner table and denying her the undivided attention of her father, but he was certainly never anything but a pleasure to work with for me.
The complexity of the challenges involved in bringing what was virtually a new boat to the GGR start line in a mere seven months or so left no time for social niceties. We had exchanged around about 120 e-mails by the time we finally met face-to-face for the first time in June 2018 in Les Sables, so it is not surprisingly that by then we already felt almost like old friends. Most issues had already been covered in these exchanges, so there remained only a few small details to clarify on board. This was just as well given that Tapio's family was really, really very keen to have some time with him before the off. The man himself though – uniquely –seemed immune to the general air of tumult pervading the dockside in the days leading up to the start. His obvious serenity impressed us greatly because it seemed nothing and nobody could perturb his mood. He's a Finn, of course!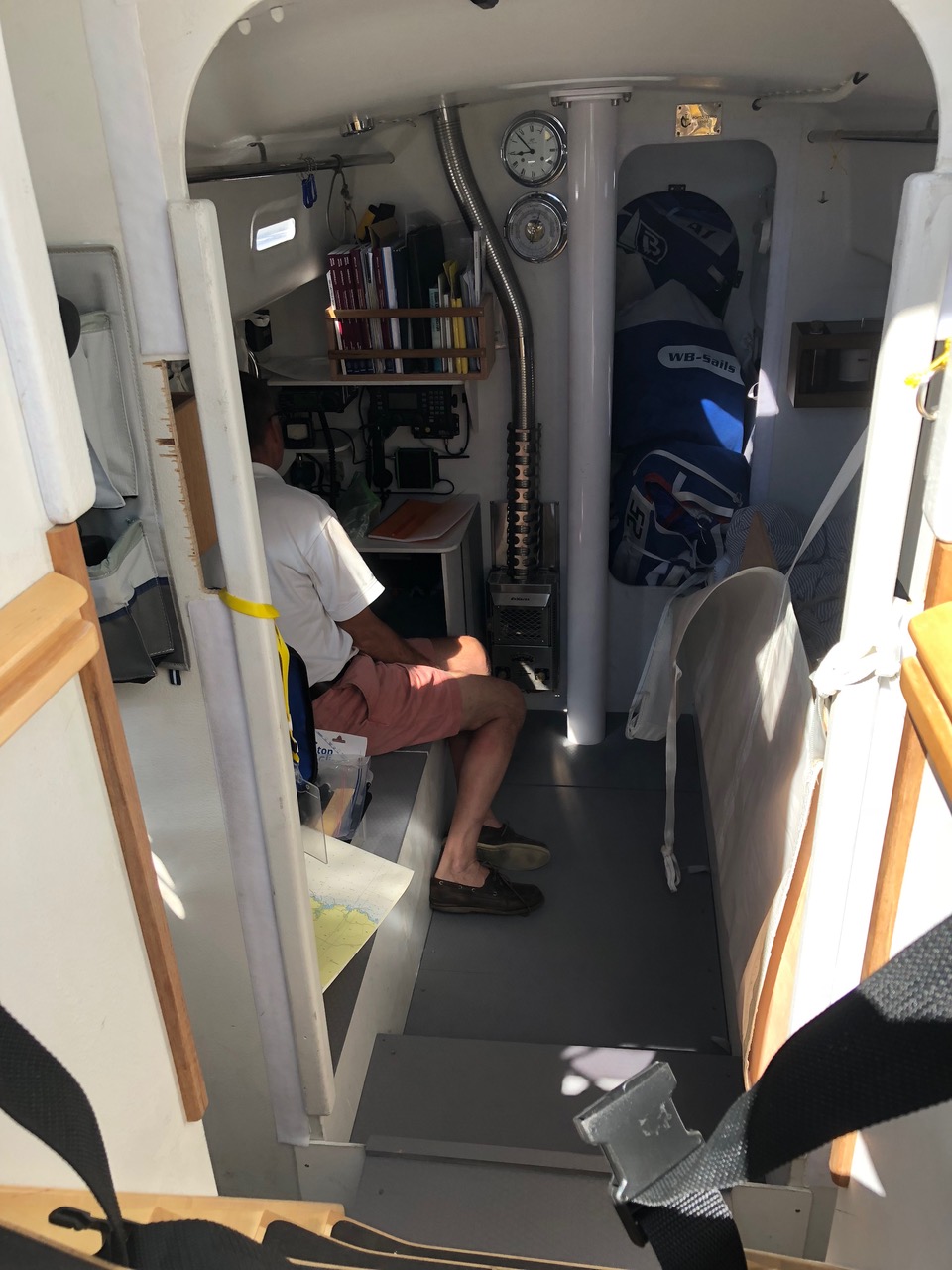 Even when we announced to Tapio, on the day before departure, that we had a second Windpilot and a package of spare parts for him, he just shrugged and asked if he could have a moment to think about it. His boat was already loaded up beyond all reason, he said, and he wasn't sure he could accommodate another 20 kg. Naturally he found space in the end. Whenever he called, Tapio always introduced himself as "the skipper of the half sunken ship".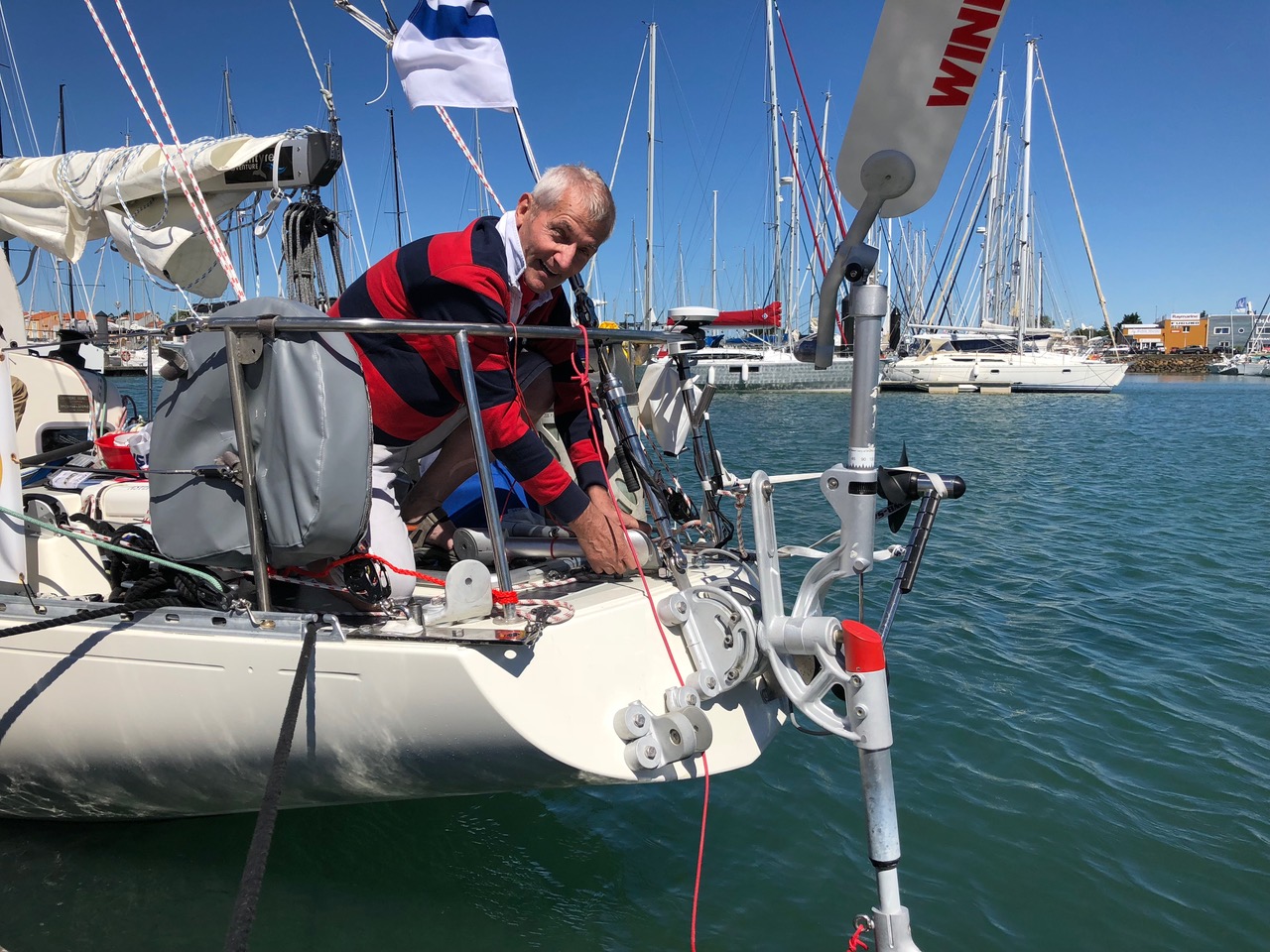 Tapio had no prior experience of using windvane self-steering and his learning curve could hardly have been steeper. The situation reminded me once again of my old saying that a mechanical helmsman can teach its master a lot about sailing if only the master understands the principles of good trim. We kept in touch his ham radio operator in Finland during the leg down to Cape Town (which was not a problem at all) and Tapio proved a quick learner.
As Tapio repeatedly pointed out in the podcast, the first 8,000 or so nautical miles of the race were effectively his sea trials. Constant repairs were just a part of the process, as were power supply problems: with his battery voltage falling below 8 V at times, he seriously considered "running dark" (sailing on with no electricity at all). Fortunately, after an intensive search, he eventually found the essential part he was missing for the SailingGenconnection hidden in the generator's spare propeller. Power supply thus assured, he was able to continue even after his solar charging system failed.
BARNACLES EVERYWHERE
Jean-Luc's Matmut apart, all of the boats seem to have been badly affected by growth on the hull and no doubt all were looking forward to the chance afforded by the Hobart stopover to hop over the side and clean off some of the load.
For reasons explained in my previous blog, Tapio suffered the tail ender's curse and was ordered to continue on out of Australian waters without cleaning his hull. Ever since, the world has been able to watch on live via the tracker as the other boats have sailed away from the ever slower (the really quite dreadfully slow) Asteria – an S&S 36 that would in principle be expected to outperform much of the competition.
I am sure I am not alone in greatly admiring the way that Tapio, far from complaining about his unmerited misfortune, has revelled in the isolation of South Pacific – and shared his insights in the podcasts.
BARNACLES AS BIG AS A MAN'S HEAD
My blood ran cold when I read this comment from Tapio a few days ago, because these particular barnacles had made their home on the rudder blade of his Windpilot Pacific. Not surprisingly, the blade couldn't cope with this permanent massive increase in load and eventually sheared off. Ordinarily it would be perfectly straightforward to swing the pendulum rudder up to deck level (a very easy thing to do with this design) and clean it, but the narrow confines of Asteria's elegant transom ruled this option out for Tapio.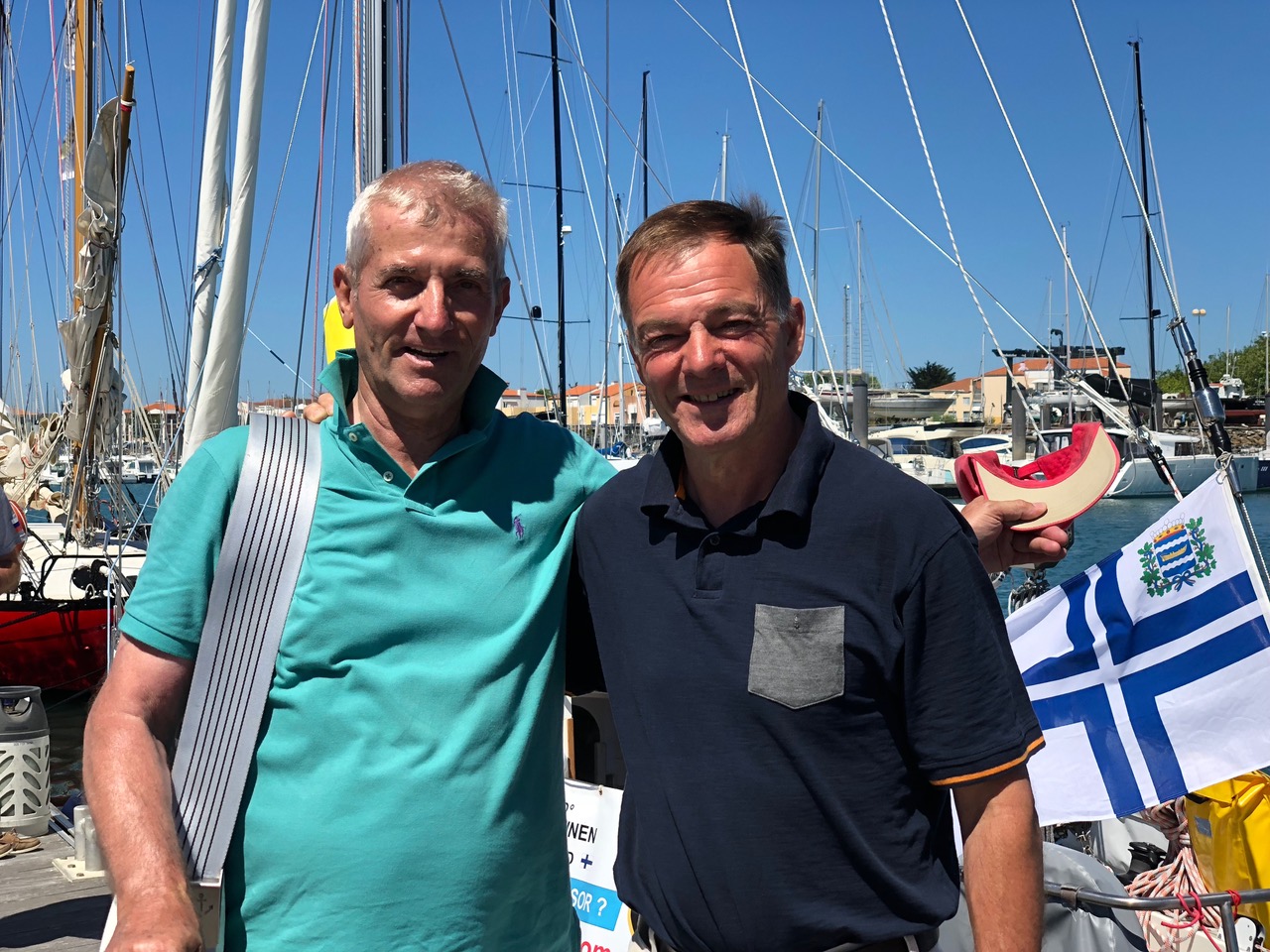 My advice, delivered via ham radio, to bring the whole system up on deck, rudder and all, and replace it with the spare system carried on board if necessary earned me a typically stoic response:
We read your message to him this morning. Tapio said that it would have taken him at least two hours to find the spare Windpilot, prepare it etc. Tapio had used six hours to repair the Windpilot. He had to take the hydro away first etc. Eventually everything went OK and he didn't drop a single bolt. 
He did all this yesterday, as soon as he could, to have everything fixed before the storm coming. Tapio sent his best regards Jari, OH2BU
Jari, OH2BU
Thankfully Tapio started off with two spare rudders for the servo-pendulum system, so he should be OK even if more of these rampant giants of the barnacle world take a liking to Asteria. Boat and crew, still some 700 nm West of Cape Horn at the time of writing, are back into the regular rhythm now: eat, sleep, read, run an eye over the boat, check sail trim, make any adjustments necessary and settle back down to wherever the mind is wandering today.
It will be interesting to see the welcome that greets Tapio when he finally makes it back to Les Sables. If anybody deserves something special, it has to be this quiet, patient, perceptive and persistent circumnavigating hero.
Suggests
Peter Foerthmann 01.02.2019