GOLDEN GLOBE RACE – WINDPILOT REFERENCES – REPORT
SV ASTERIA – TAPIO LEHTINEN FIN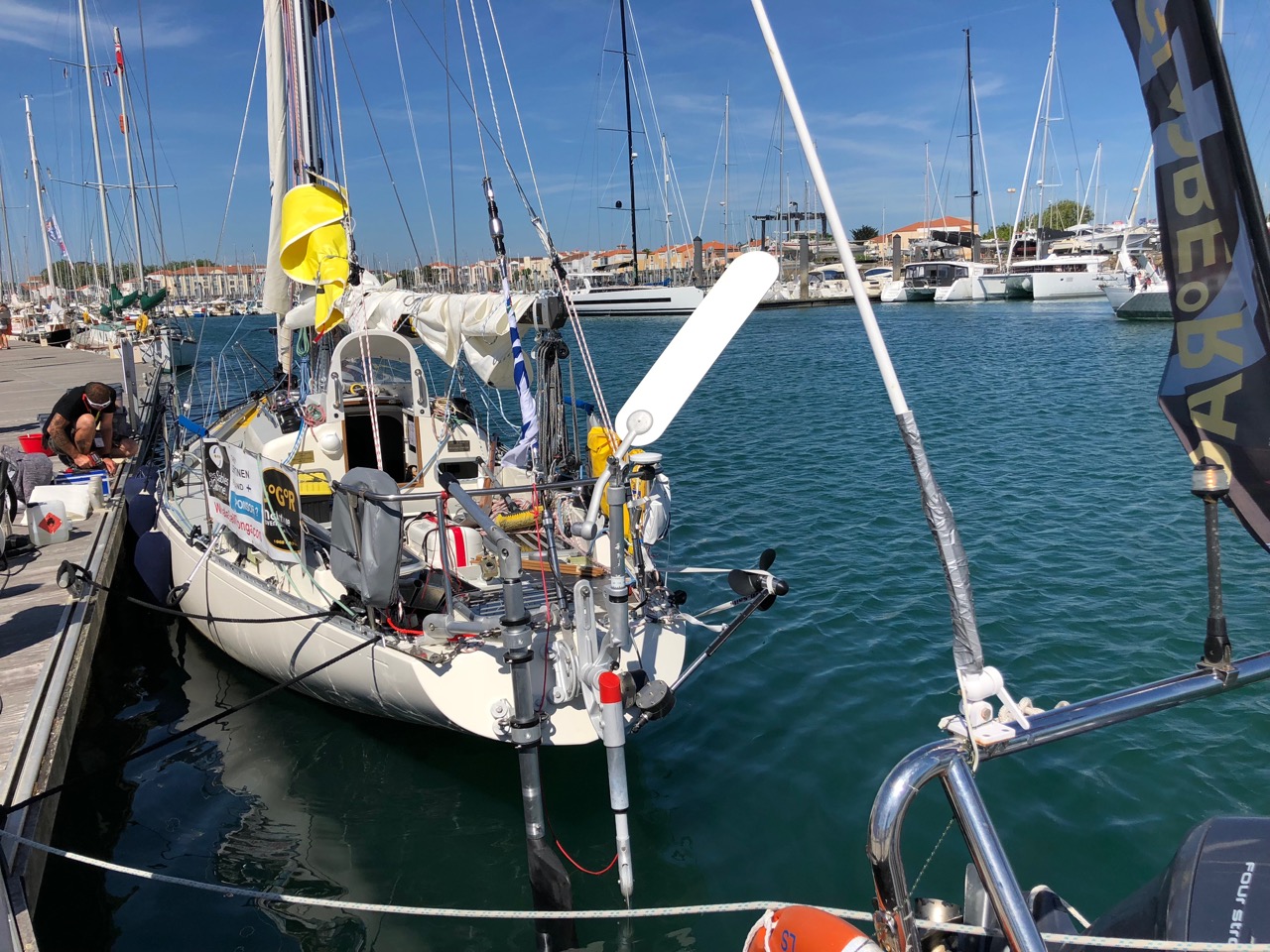 Just a few days prior to the PRIZE GIVING CEREMONY in LSO on 21 April 2019, Tapio Lehtinen still has about 2800nm to sail to the finish. ASTERIA is a slim, and perfectly designed, S&S Racer suffering from lots of barnacles, due to the wrong choice of bottom-paint in Tapio's home country. Perhaps Asteria might set a new record for "Slowboat Sailing".
The video taken in Hobart on 6 November 2018 shows a clearly content and satisfied sailor, completely at one with his environment.
Tapio Lehtinen Sailing Interview Q&A session ENGLISH Language #GGR2018

Gepostet von Golden Globe Race am Dienstag, 6. November 2018
Tapio had no prior experience with windvane steering. He learnt purely by practical experience with his new "transom ornament, i.e. his wind vane steering slave. Just a few pointers from me, and he was off. His slave obeyed his every command.  In fact, Tapio spent a lot of time, below deck, reading. He had read about 4.000 pages before arriving in Hobart. In his podcast, he explained:
"My Windpilot is very reliable. I practically never did any handsteering at all"
Once Tapio finally shows up in front of the harbour walls at Les Sables, hopefully without any incidents, his spare Windpilot below deck might end up being the very first Windpilot, which has sailed around the world, peacefully, in its sleeping bag, in the fore peak.
SV PUFFIN – ISTVAN KOPAR US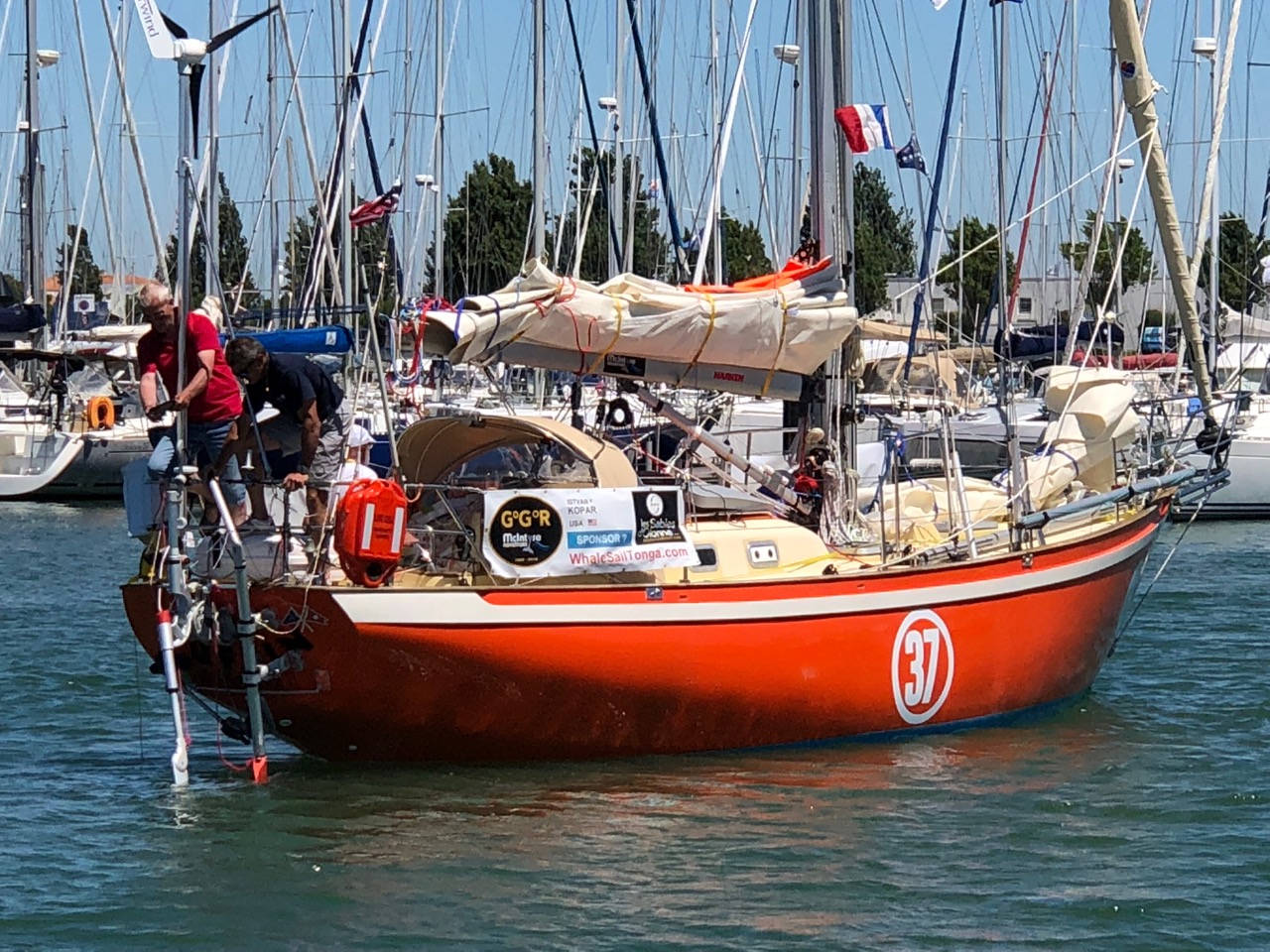 Istvan has turned out to be my "problem child", my pain in the neck and my sleep depriver for some 263 days. After his arrival, I fell into a deep sleep, probably the same as the skipper himself. The videos taken in LSO show my two transom ornaments happily alive and in good working order.
According to Don's Facebook post, Istvan left LSO in a hurry, bound for Germany to visit his German sponsors. I was convinced he would pay us a visit, as all of his Sponsors are based in Hamburg. Unfortunately however, none of us – Alexseal, Wempe and Windpilot – ever heard from him, nor received a visit.
I have to confess, I am a bit helpless. I was hoping to discover the solution to the Puffin puzzle from her skipper, i.e. how a steering slave has managed to destroy a complete pedestal steering system? Or some information about how this heroic skipper managed to survive with no sleep for  263 days, handsteering all the way? Perhaps the red and green pills, which he showed us in the Press conference, hold the answer? As I said, I am confused.
After all, I stand accused by Istvan. Even near the end of the race, he claimed: "Windpilot has killed my GGR!" But I am missing the evidence! Where does my fault lie? Unfortunately, the accuser has disappeared. Meanwhile the visible facts show: Puffin was successfully steered around the globe by Windpilot.
Until I am presented with some evidence to the contrary, I am going to take these facts at face value. And use them as a reference, since I never received any answers – and not even questions –  from the skipper or his team, since 30 June 2018. The equipment has not been returned either, even though, it seems, the vessel has been sold to a new owner.
Update of 24 March 2019:
To summarize: the Windpilot Pacific patiently took Puffin and Skipper 30,000 nm across the ocean, enduring twelve severe storms with winds in excess of 50 kn and three knockdowns, as disclosed in Robin Knox-Johnston's report. All of the spare parts provided to the skipper in case of need were returned to me unused. There was ample opportunity for the corpus delicti – a Pacific with "broken cog wheels" – to surface but nothing of the sort ever appeared.
SV ESMERALDA – IGOR ZARETSKIY RUS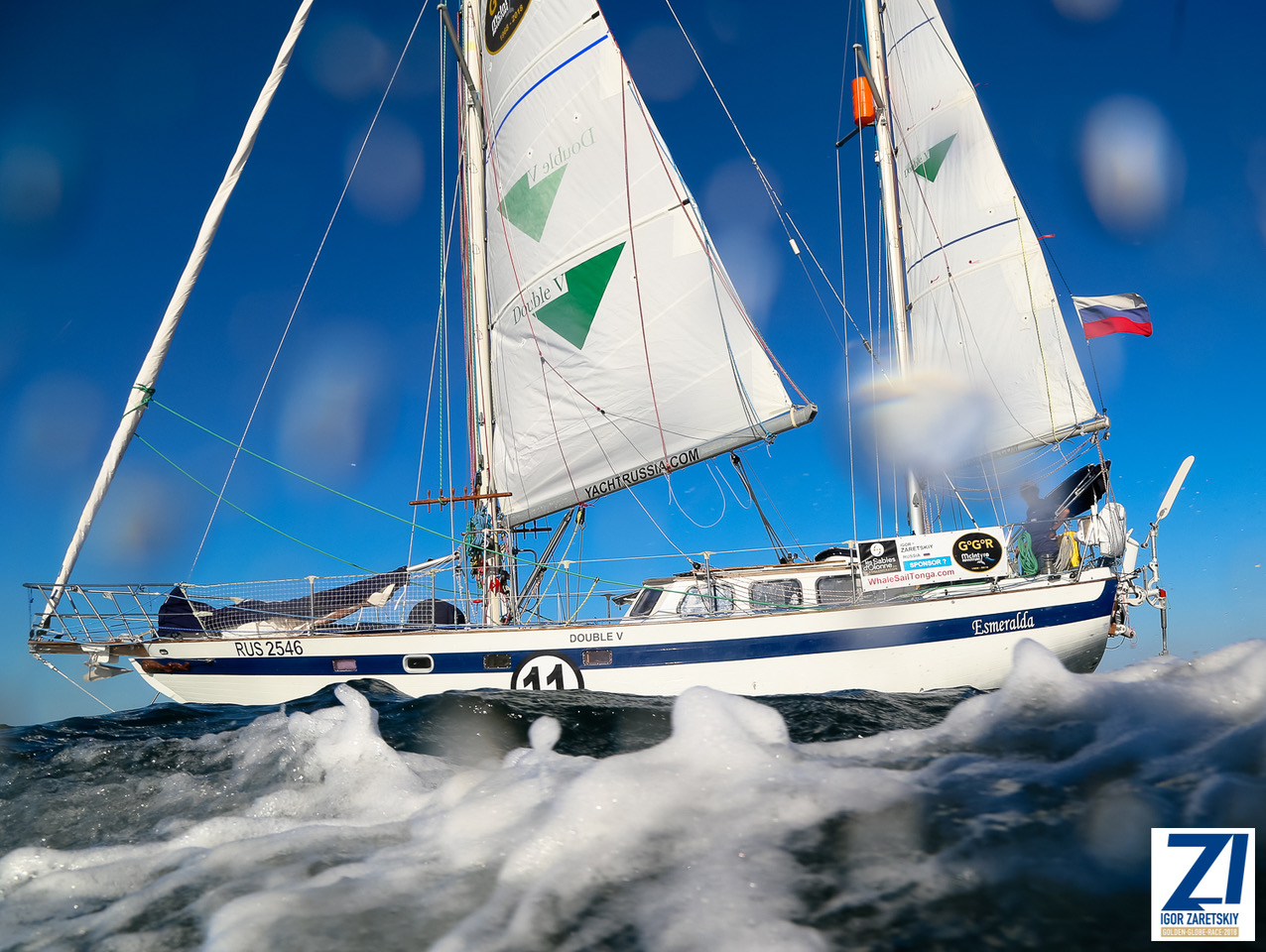 Esmeralda Okay! This was the endless loop of Igor's short, weekly Twitter messages , at least until arrival in Albany,  Australia.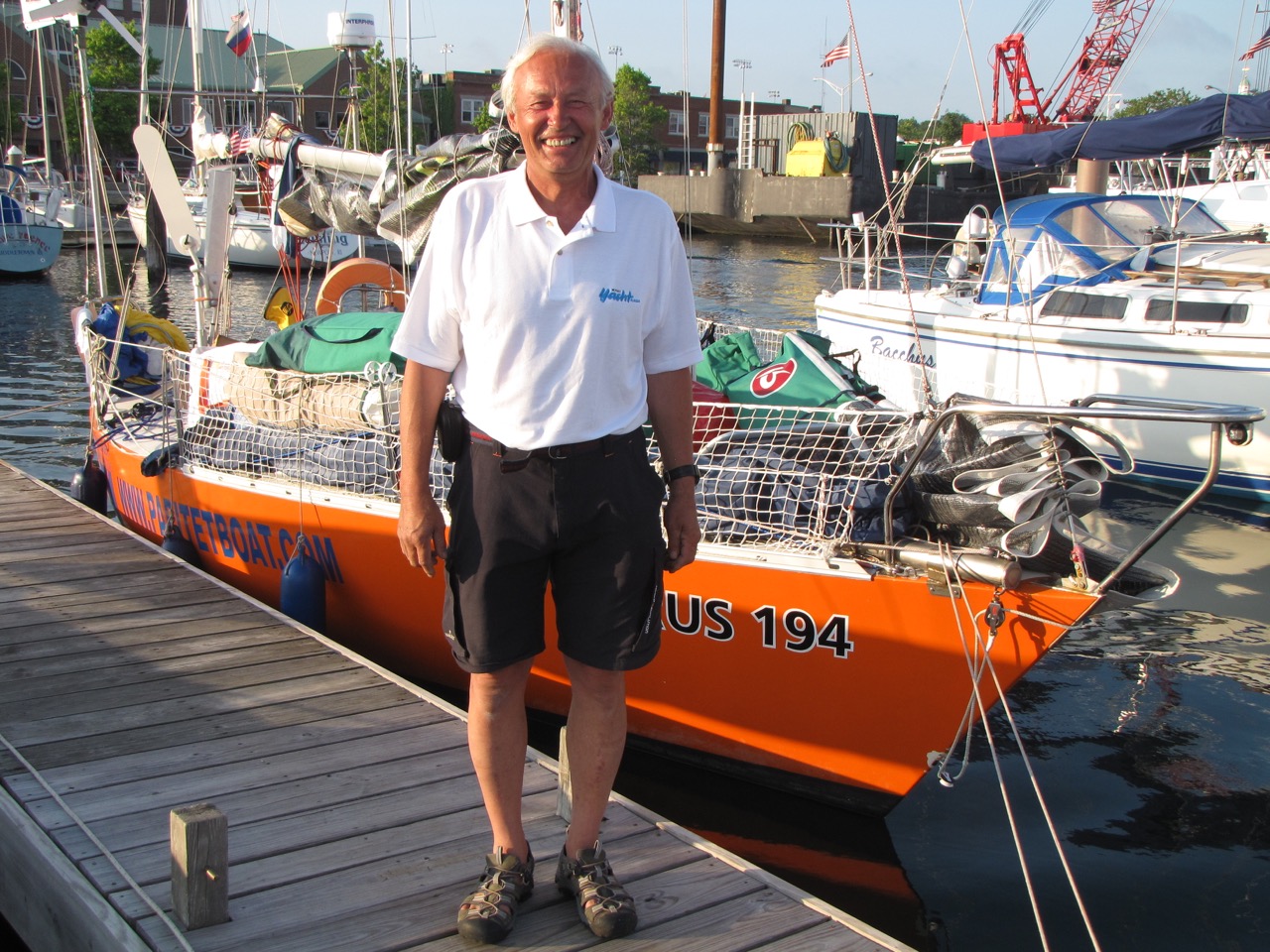 I have known Igor for many years, as he has used my transom ornaments quite a few times already, for other races across the Atlantic.
Dear Peter,
Having won the Jester Challenge 2010 with a Windpilot, it didn't take me long to decide on the same solution when fitting out Esmeralda.

It was a quick decision and absolutely the right one.

Initially I was thinking about the Pacific Plus for Esmerelda, but you soon convinced me that the Pacific would be the better option – and I think it was.

I made some minor modifications of my own before the start, adding a clamcleat on each side of the wheel so that I could easily adjust the tension. I also switched to larger blocks for the transmission lines to reduce the rate of wear.

I tightened the mounting fittings just once during my six months at sea and I regularly sprayed the system and blocks with WD 40. The Windpilot steered very well at all wind angles. I didn't need any of the spare parts. Even the original windvane made it all the way to Albany safely.

Barnacles grew rapidly on the boat during the time in the Indian Ocean and the main rudder was also affected to the extent that steering by hand became noticeably more difficult. Fortunately, the Windpilot coped without problems and I was able to enjoy the time at sea.

I am very grateful to you Peter. Your engineering is great and your advice and support while we were upgrading Esmeralda in Alicante were very valuable. And it was fun too!

Best wishes from Moscow,
Igor Zaretskiy
Igor decided on a stop over in Albany due to health issues requiring medical treatment in the hospital in Moscow. He plans to continue his circumnavigation in autumn 2019.
SV THURIYA – ABHILASH TOMY IND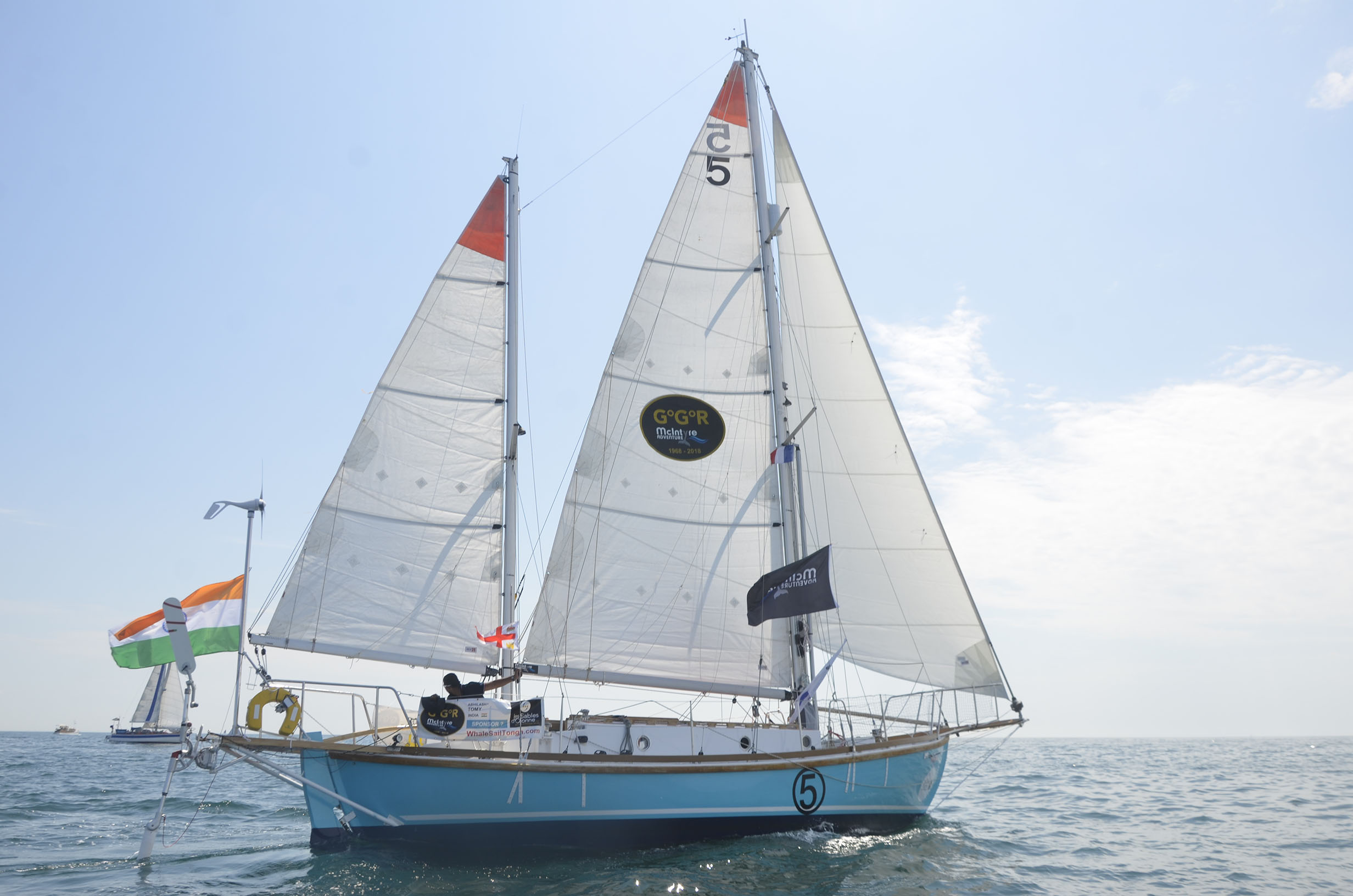 I was pleased and interested to receive two inquiries for providing Windpilot systems for the narrow end of ERIC 32 Atkins designs. Of these two Suhaili replicas, one came from Mike Smith in Australia, the second from India.
Mike did not manage to meet the tough time schedule and retired. Thuriya however, managed to make it under the watchful eye of Johan Fels, who was involved on site in India. A herculean task for the whole team. Finally, we met in Medemblik, in June, for a test sail.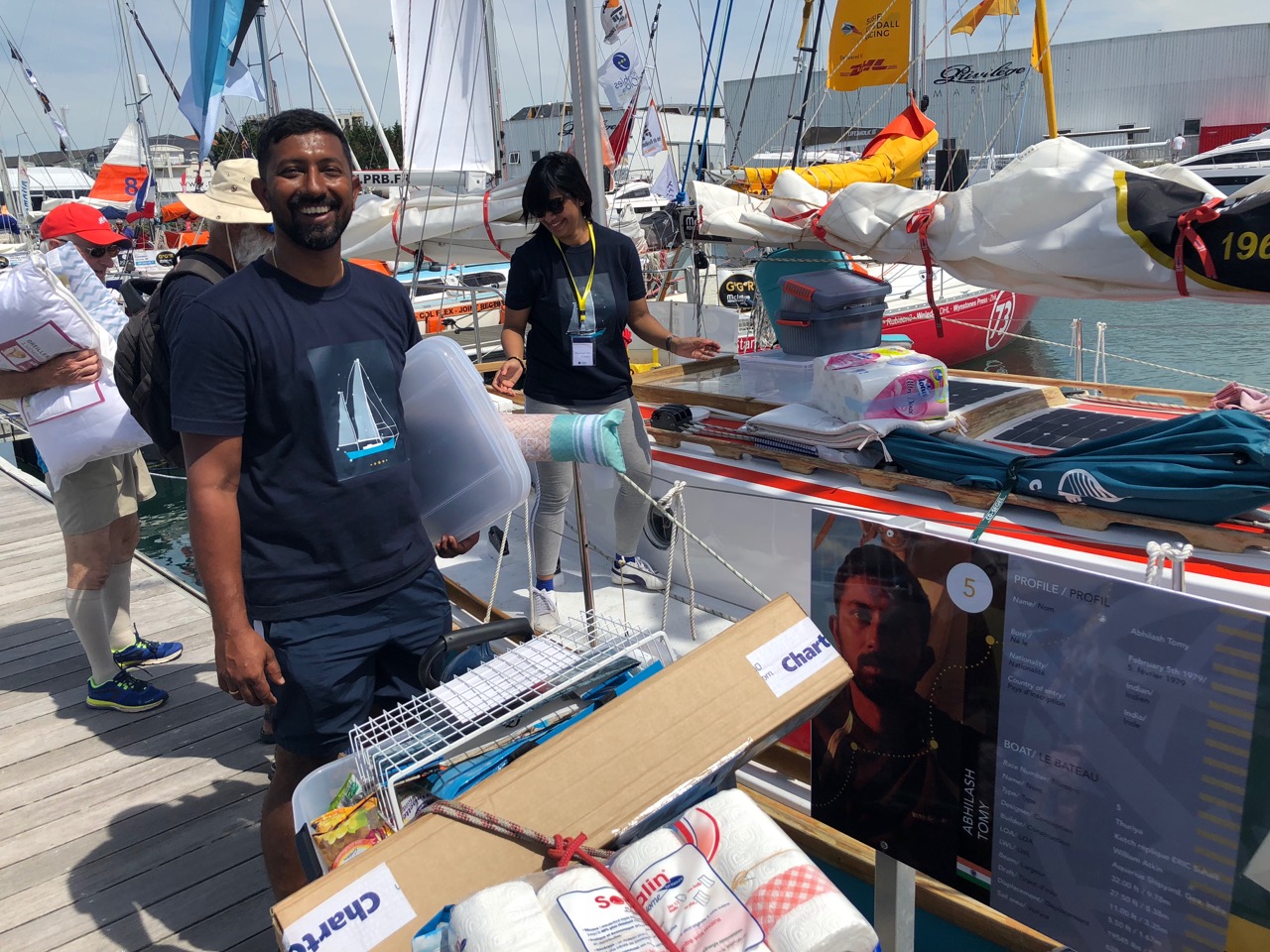 Abhilash was faced with innumerable problems with EU regulations:
Please read more about it on the recent post on ATTAINABLE ADVENTURE CRUISING
A lot of 1968 stuff is not available in India and some of the things that I ordered on ebay and had them delivered to the UK wouldn't work when I laid my hands on them. EU customs wouldn't let food from India through. The difficulties were innumerable. The French and the English had it way easier.
Both my wife and I gave Abhilash, his lovely wife Urmimala and her son Vedaant a lot of support. Hardly work, just a pleasure for us.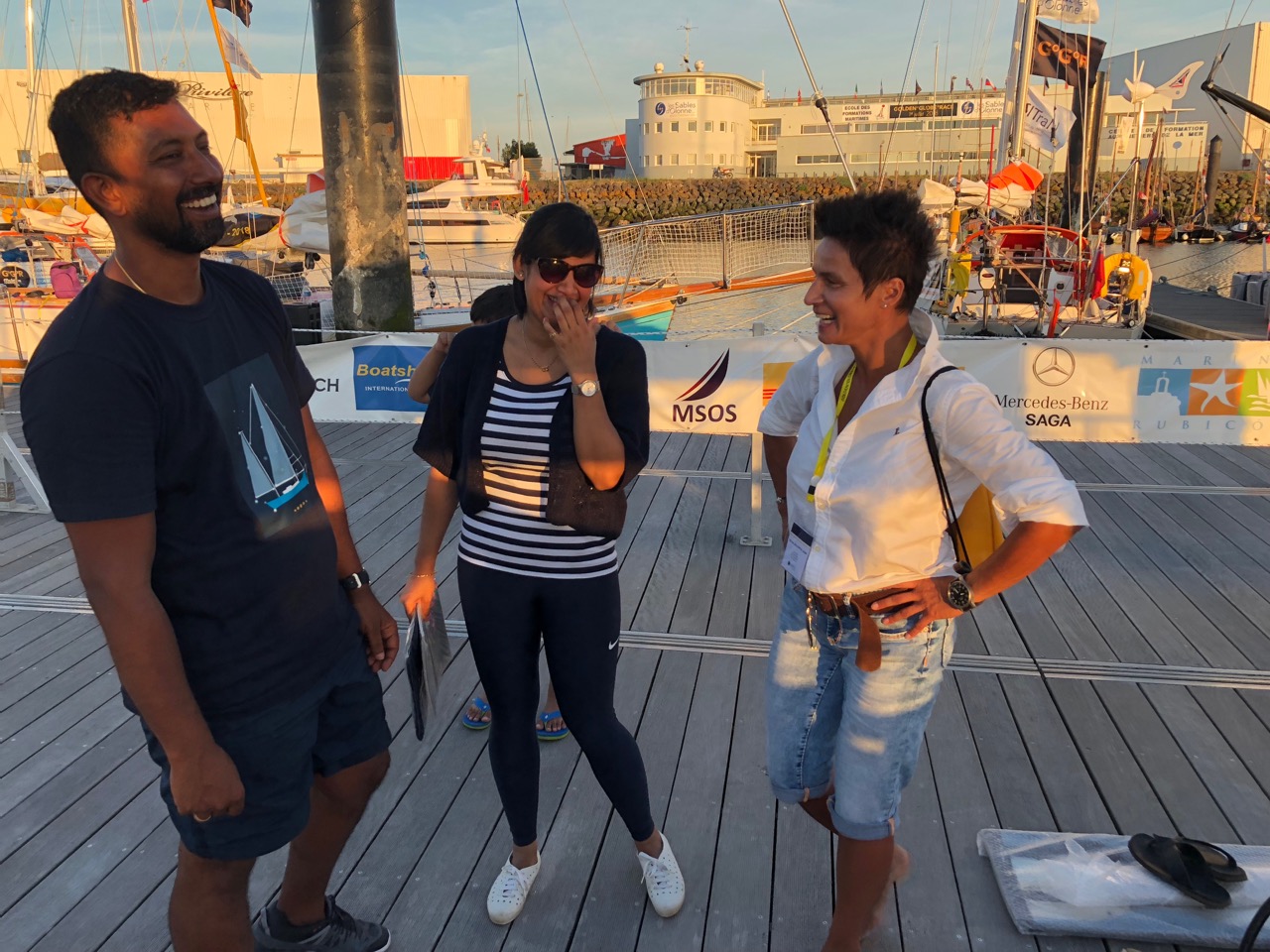 Abhilash's report:
Dear Peter
I am writing to you to express my sincere gratitude for your assistance with my entry in the Golden Globe Race 18. You were one of the first to support my project by sponsoring a WindPilot auto pilot.

Having sailed my boat solo and exclusively with WindPilot for over 12000 nm, this is what I have to say:-

(a) The construction is very robust and simple. It just doesn't seem there is anything that could fail unless you intentionally tried to destroy it, other than the control lines. I did have a link rod failure but that happened after almost 11000 nm in some real bad conditions. Replacing it in gale force conditions and in rough weather was not a very difficult affair.

(b) WindPilot mountings are perfect and they help make a very solid connection with the boat. Thanks to this the WindPilot sits firmly and steers the boat without any problem

(c) The installation is a straightforward affair. The tuning is very simple (and thanks for taking me through it at each step). And, as I discovered, if you want to play around, there is a lot of scope for that too!

(d) Even after almost 3 months continuously at sea, there were no rust streaks, creaking etc etc

(e) At one point, I wondered if I was the skipper or if it was WindPilot, because I rarely got to touch the tiller.

(f) My boat suffered violent knockdowns in a very bad storm on 21 Sep. Almost everything standing above deck was wiped out. The only piece of equipment that remained untouched was the WindPilot. It came through the storm and knockdowns almost untouched! I think one huge reason for this could be the fact that the blade is not restricted in its movement to either side.

The best part about Windpilot is, this goes without saying, Marzena and you! It has been an absolute pleasure working with you!

Warm regards
Abhilash, Urmi and Ved
SV MÉTIER INTÉRIM – ANTOINE COUSOT FRA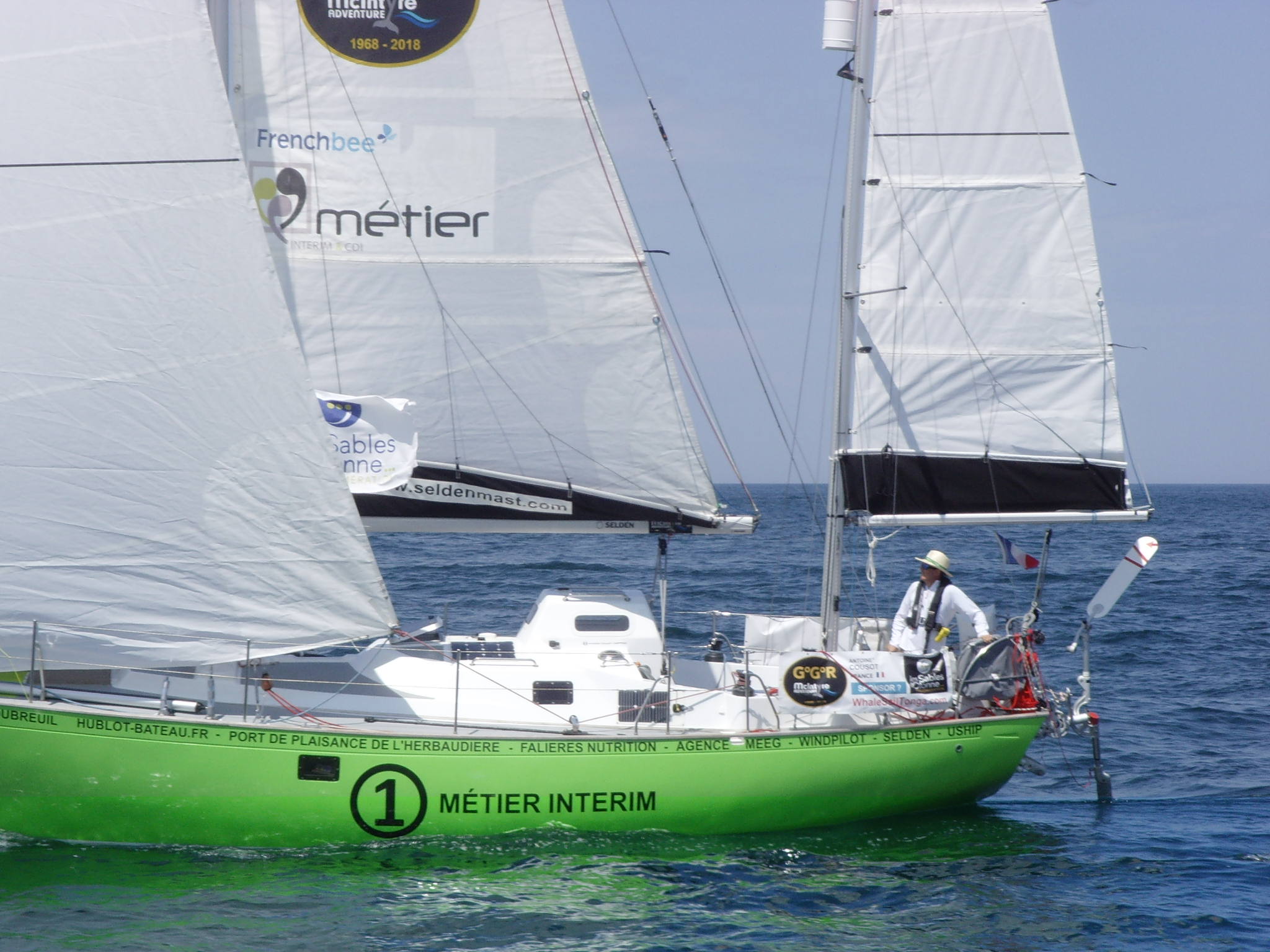 Antoine first contacted me in 2016. Like Tapio, he had never had any practical experience with windvane steering, but after a few days at sea, he made friends with his new steering slave. Unfortunately, he had to retire from the race in Rio de Janeiro, due to medical issues. His vessel is currently in Mindelo, and offered for SALE.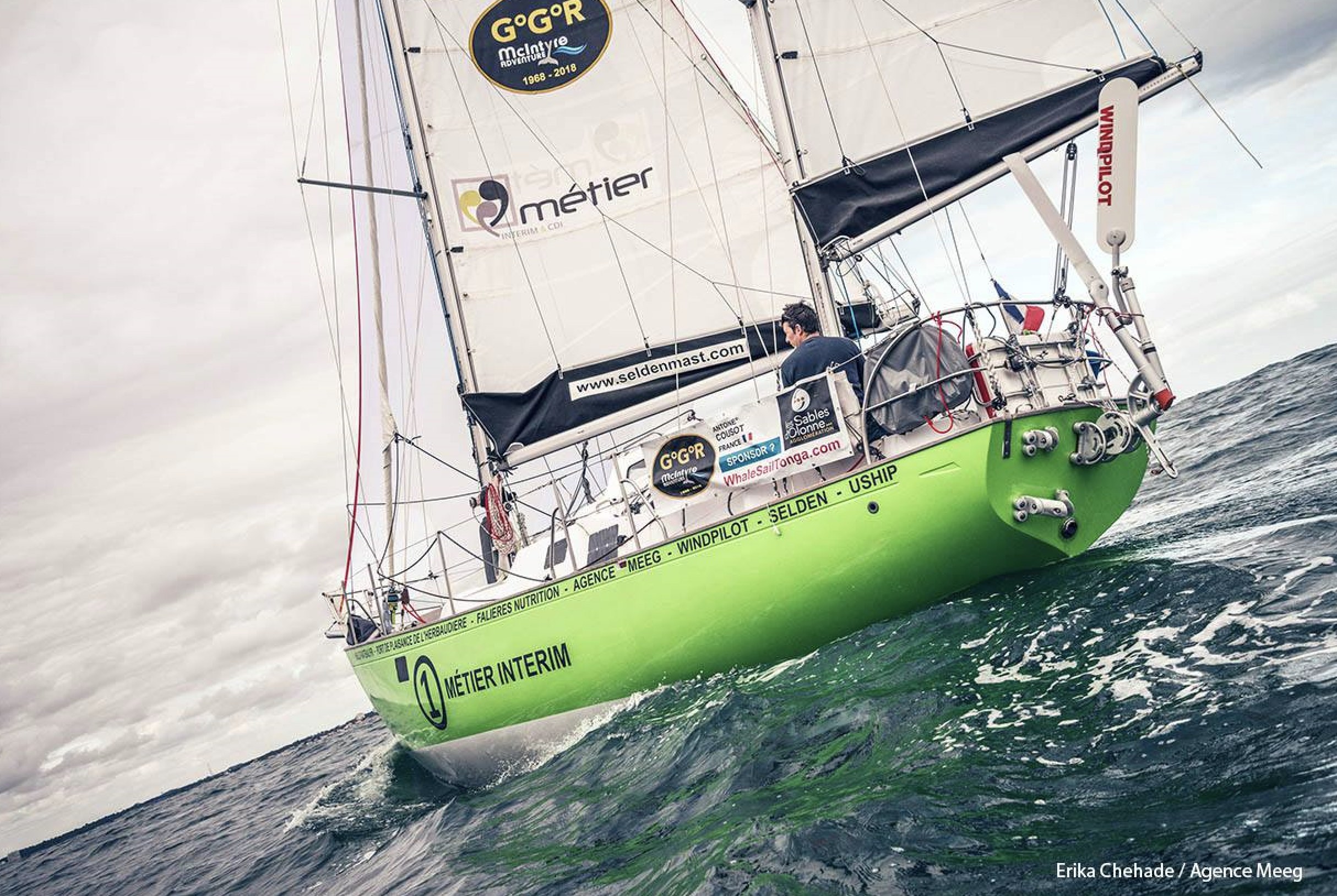 "Dear Peter,
after 2 months solo experience during the GGR, it is obvious that using a windvane, what ever the brand is, has to be taken seriously. Meaning, paying great attention to the installation and user manual. Windpilot is probably the best plug and play windvane on the market today. and it has also proved to be one the most reliable piece of kit in the world. I have chosen the Pacific type and I don't regret it. A very powerful model for my boat displacement in any wind strength. Even during the doldrum passage, with barely no wind, the Windpilot was performing above my expectation. Once again, I'd like to thank you Peter for your tireless efforts to improve the Windpilot and help customers to understand and make better use of their windvane."

Best regards from Noirmoutier

Antoine
WINDPILOT DAMAGE – SUMMARY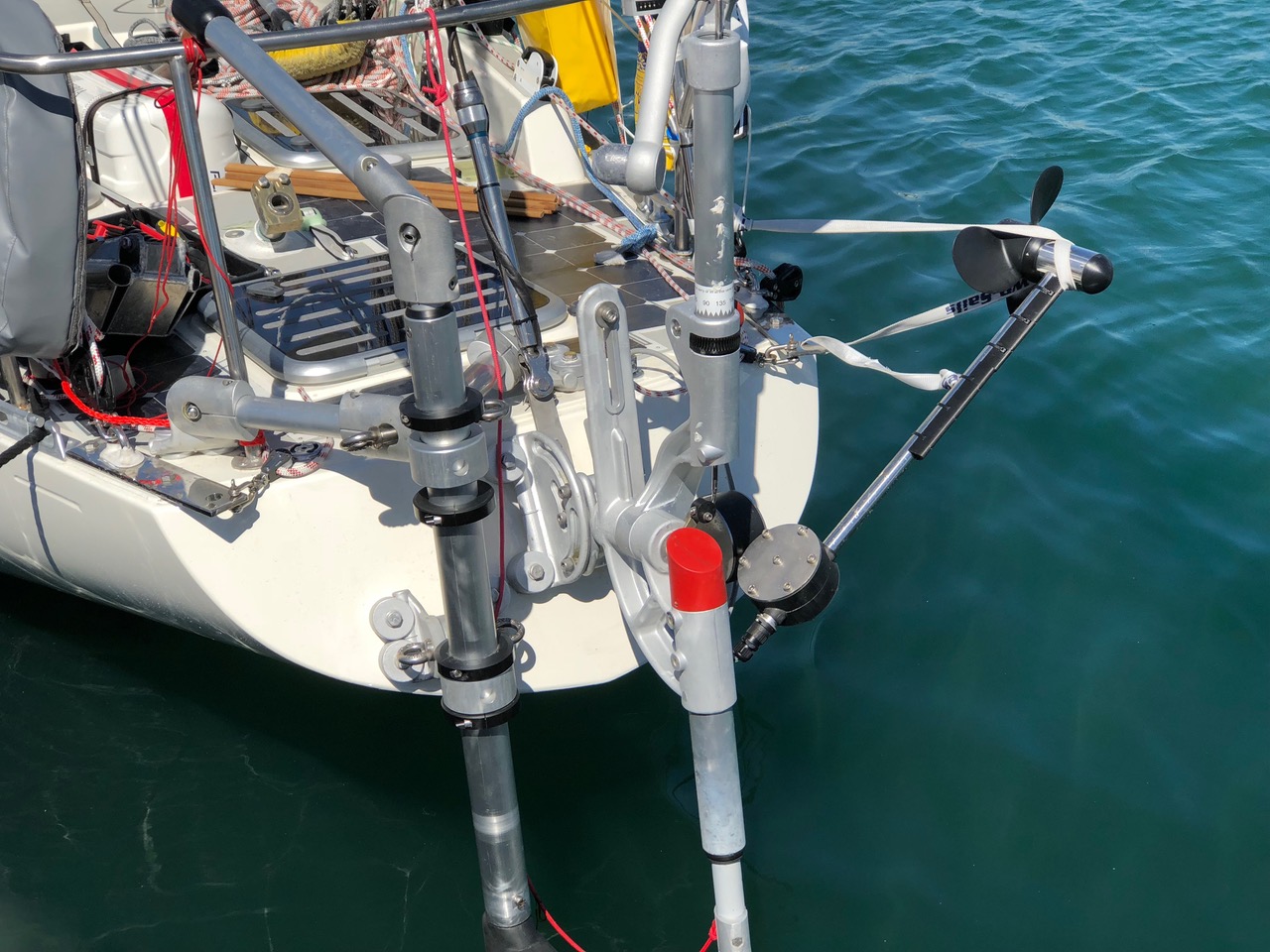 TAPIO: Rudder oar failed due to a huge amount of barnacles (a clump the size of a man's head). Tapio was unable to clean them off at sea, before it was too late, because Lift Up was  impossible, due to ASTERIA's narrow transom and the amount of equipment. Spare windpilot untouched below deck.
IGOR: No damage. Spare windpilot untouched, below deck.
ABHILASH: Bent pushrod during storm, plywood vane broken intentionally to reduce size during extreme wind.
Spare windpilot untouched below deck.
ANTOINE: No damage
Spare windpilot untouched below deck.
ISTVAN:
Puffin arrived, Windpilot equipment obviously (according to videos) without damage. Spare windpilot was seen on the pontoon in LSO. Unfortunately no information from the skipper.