REFLECTIONS AND THE INDIAN SOUL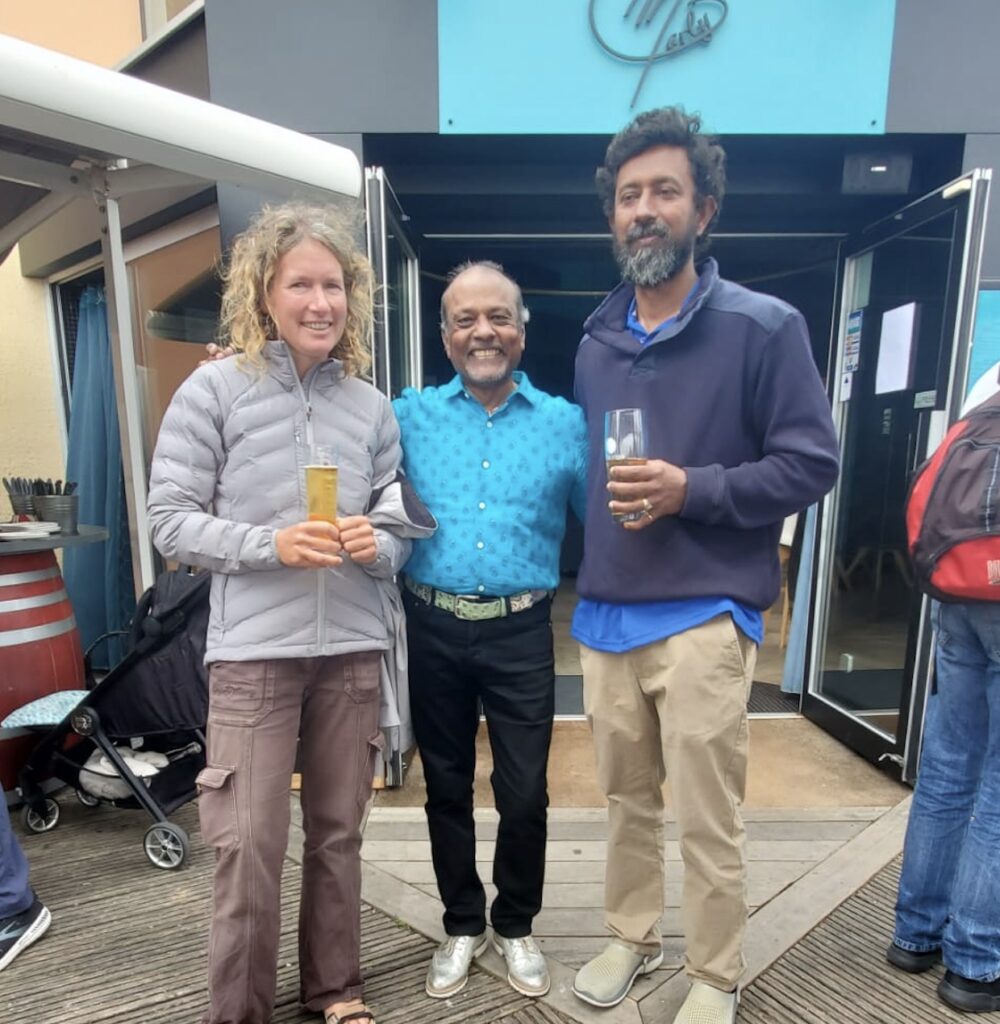 Hundreds of e-mails exchanged over the course of six years, numerous relaxed meetings in Les Sables, Medemblik and Den Oever: this seems like the right time to share a little more about my interactions with a group of characters who are in many ways wired a little differently – as I hope a few choice observations will illustrate.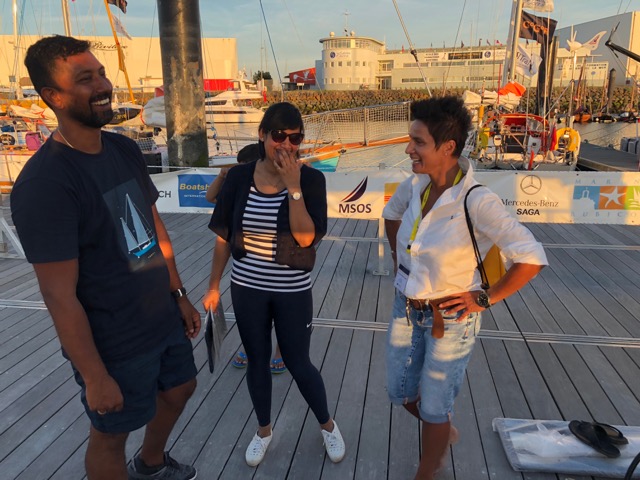 I often joke with sailors that their transom belongs to me. It's a throwaway remark that seldom makes much of an impact, but I have noticed it seems a rather more serious proposition when addressed to GGR skippers: effective and reliable self-steering is absolutely critical for a successful non-stop singlehanded lap around the planet.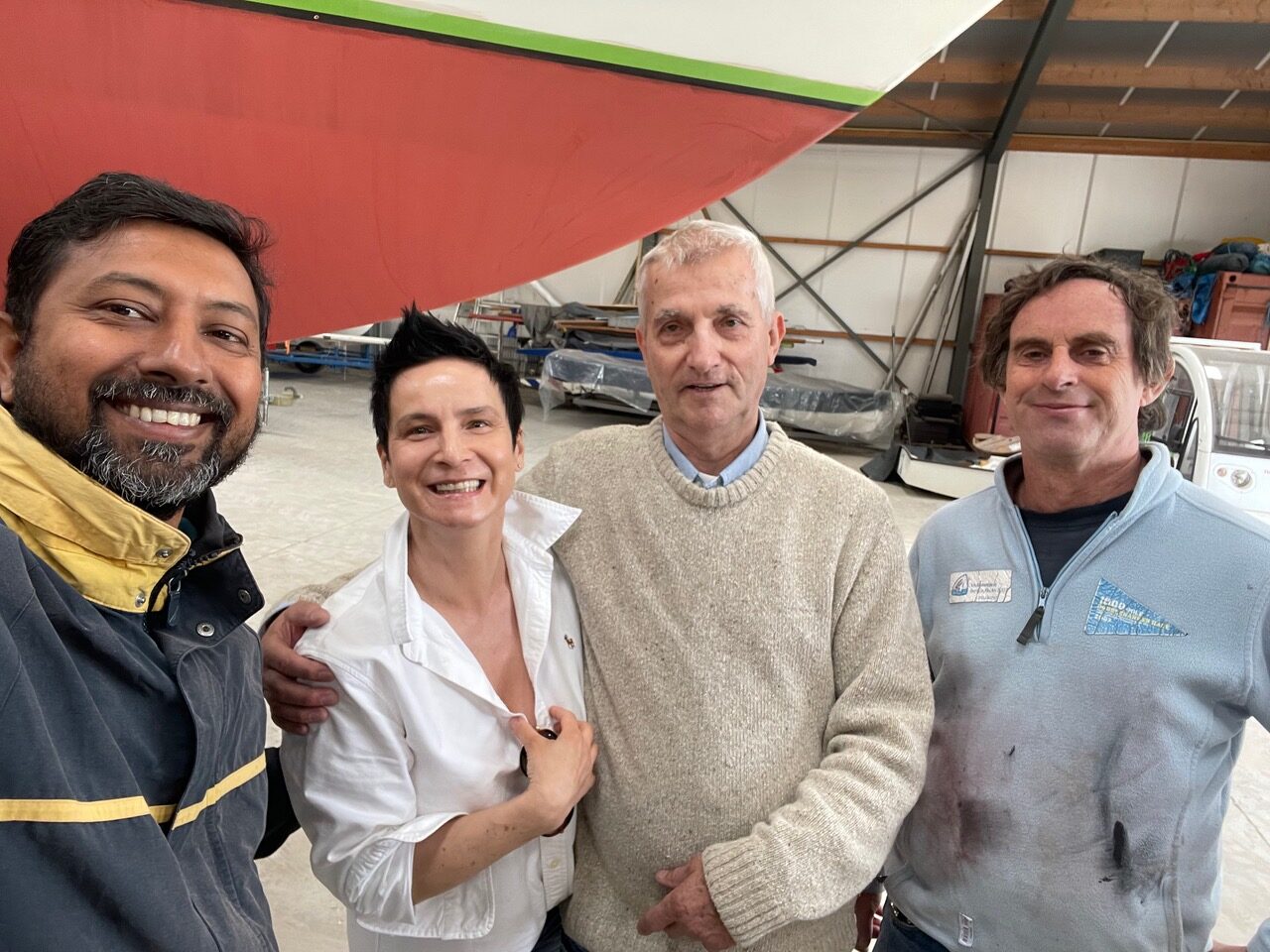 Although my experiences during the GGR 2018, as recorded in my book Windvane Report, had persuaded me to avoid any further involvement with the event, personal ties meant I ended up supplying two entrants for the next edition after all.

Eight wild and turbulent months at sea have left a visible mark on the participants – and none more than Abhilash! His relief is palpable and difficult to put into words, as are the very obvious physical changes brought about by his having lost an extraordinary 20 kilos in weight during the race. It didn't help that he was laid low by Covid almost as soon as he arrived.t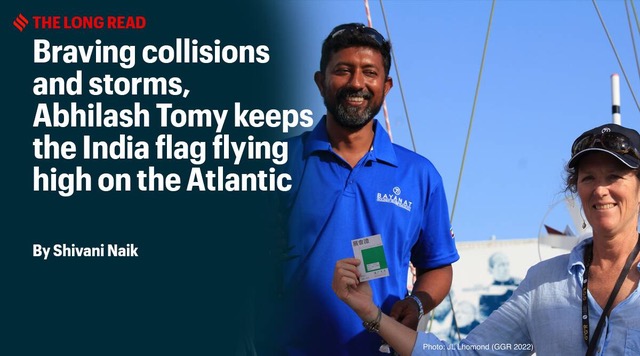 Abhilash sent me a quick note just after he docked in LSO:
Hello Peter, I couldn't have finished GGR without windpilot.
So a big thank you
Abhilash
I too was of course enormously relieved to know that after months of almost unbearable tension, our hero had managed to guide his battered and bruised Rustler 36 safely back to dry land without damaging himself too severely in the process. The build-up to the start is obviously a particularly busy time but the lively flow of e-mail correspondence – with Abhilash's team manager Sandy Shipp and his wife Urmimala, with Peter Mott and with the always stimulating Frans Loots (Jeremy's Manager) – and the steady supply of food for thought that it brings continue throughout the race. I have been on tenterhooks for the whole of the last eight months, in other words, having become completely caught up, heart and soul, in Abhilash and Jeremy's adventures and am only beginning to unwind at last now that Jeremy too is approaching the final stages of his race.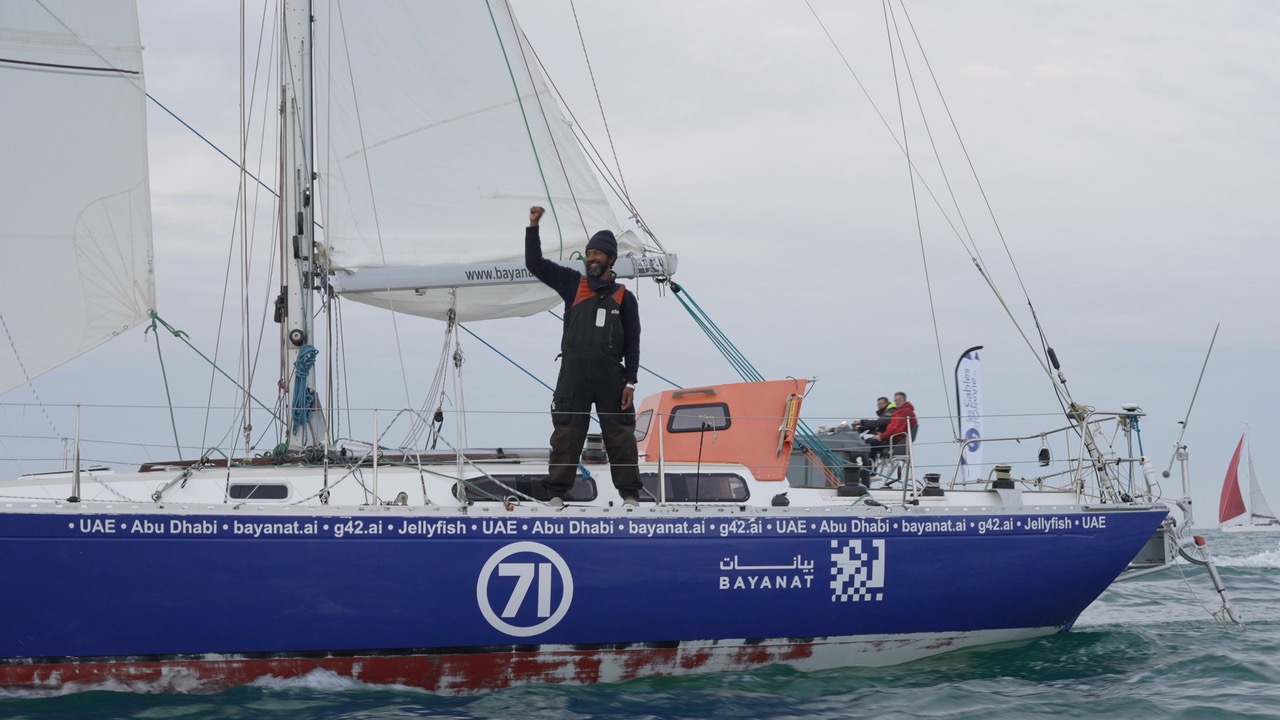 The day after Bayanat reached the finish, I was informed by Sandy that the spare Pacific I delivered to Abhilash in LSO "just in case" was on its way back to Hamburg in the care of a certain "Hari". All of which was a surprise: I didn't know until that moment that the spare system was intact and coming home, I certainly didn't anticipate seeing it again so soon after the finish and as for Hari, any expectations I might have had regarding him could not have come even slightly close to the reality!
Sure enough there arrived at Windpilot HQ the next day an Indian gentleman who had us comprehensively charmed in a matter of seconds. People like Hari are rare indeed, so I would like to share a bit more about the story of this 70-year old landlubber who suddenly found himself inspired by Abhilash and his dreams and, as a consequence, ended up at our home granting us an insight we could never have anticipated into his fascinating Indian soul. We have been treated to a very special experience.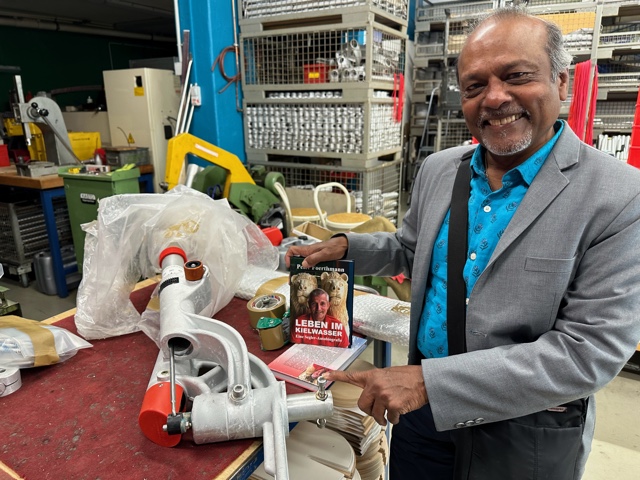 But first the facts: Hari (full name Hariharan Mudaliar) placed on our table an unused Pacific still in its original packaging, confirming that Abhilash sailed the globe with a single Pacific while his backup system – salt-encrusted despite its wrappings – slept the months away in peace. This was a particularly happy moment for the manufacturer: none of our skippers had cause to break out their spare system in the GGR 2018 and now Abhilash had finished the 2022 edition without needing his. Rudder blade and windvane, on the other hand, had –for reasons I will explain once the full facts have been established (it would be imprudent to speculate, what with windvane self-steering systems being such a bone of contention in the GGR) – been claimed by Neptune.

Hari has been living and working in Germany for 50 years and has a German passport to go with his Indian one, but his heart still belongs to the country of his birth. His late wife was German, his two adult children, with whom he could not be closer, are German and yet he has flown back "home" to India, where the rest of his family remains firmly rooted, 33 times over the last few years. Recently he was in India to celebrate his mother's 91st birthday.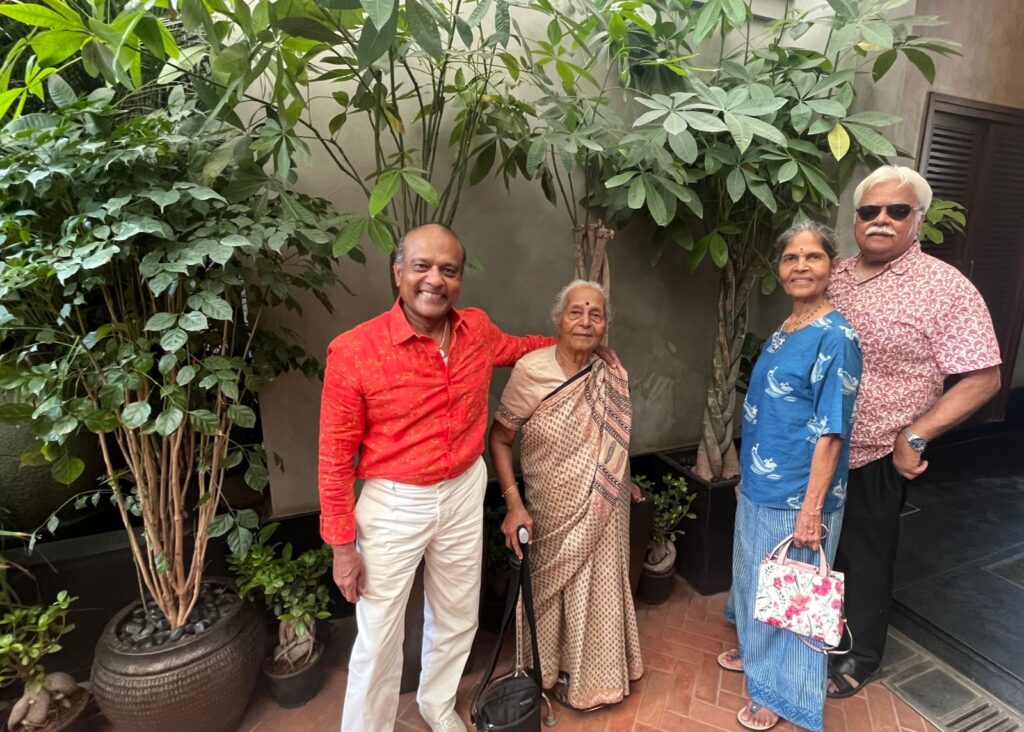 His mind-blowing story has already been turned into a book, so I will restrict myself here to a few particular highlights. At the age of 21, Hari decided he would like to drive to Munich to see the Olympics. His Royal Enfield motorbike was not up to the challenge, but Hari did eventually make it to Munich nevertheless. Having picked up the German language in just 29 hours (!), he went on to forge a career as an industrial engineer with tech and media company Burda and the Springer publishing house. Possessed of an extraordinary memory, he can recall every significant moment of his life in considerable detail (and with down-to-the-minute accuracy) and recount it perfectly fluently in at least three languages. Retirement has slowed the pace of his remarkable life only slightly, as he has apparently chosen to eschew the comfortable chair in favour of adding to his list of improbable (some might say out-and-out crazy) experiences. Which brings us back with impeccable timing to Abhilash and the Indian soul, which is what I originally set out to discuss.
Hari's sister Shobha, along with her husband and son, saw Abhilash Tomy's presentation about his two big sailing projects in April 2021 at an event organised by Indian investment company UNIFI and was immediately fascinated. The younger members of the family were so captivated by the whole thing that a Ketto fundraising drive organised shortly afterwards saw them donate from their own pocket money. The fundraising exercise as a whole brought in significantly less than had been hoped, but that did nothing to dampen their steadily growing enthusiasm for the GGR and Abhilash's second campaign to master it.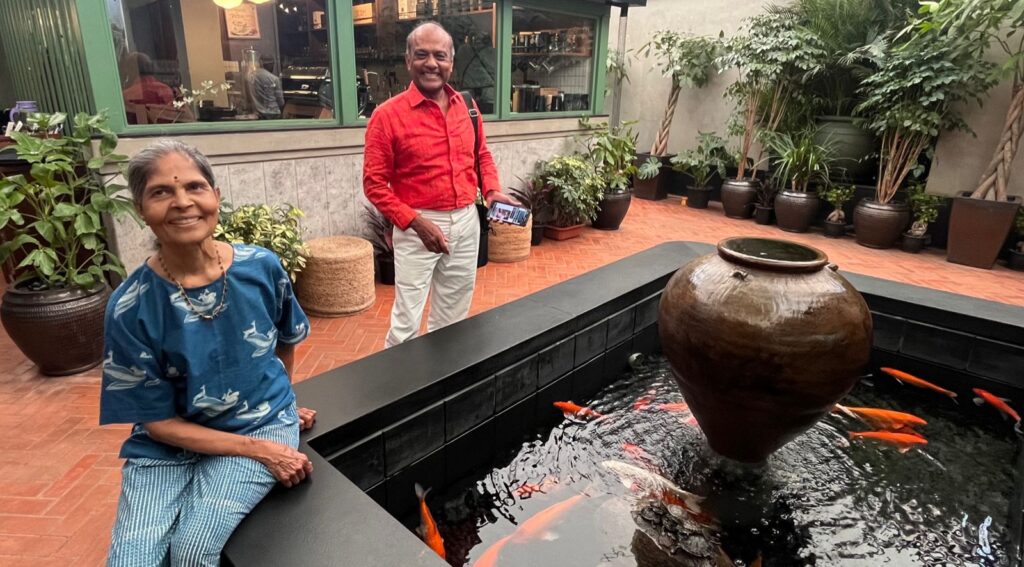 Here is how Shoba explained the story to her brother Hari:
Here are the details of how we got totally involved in Abhilash's fantastic adventure! I have no idea about sailing. Only paper boats we made as kids!

In April 2021,  I went along with my husband and my son Vedanth to hear Abhilash Tomy's talk about his two sailing adventures , in an evening, organised by UNIFI , an investment company where we invest .

I was absolutely awestruck by his story, as were everyone who were present there. After the talk, we went up to Abhilash and I spoke just two sentences. 

Firstly I said, "Abhilash, I just completed the book " The Vedas and Upanishads for children " which has this powerful line in the first page " "Don't settle for being human, discover the God that you really are "
and I believe you have achieved this!
Secondly, I invited Abhilash home to enjoy a delicious meal cooked by my 90 year old mother. He smiled warmly and we clicked a picture with him.
He then autographed his book "151 Days " (gifted to all the invitees), for my grandson Advaith and me. I came home and narrated his story to my Mother and then 9 yr old Advaith. 
As soon as Abhilash's Ketto fundraiser came up,  Advaith gave happily ,from his pocket money , Rs 1000, Vedanth  and I Rs 10,000 each.
I, in my own small way  also began to look for sponsors but in vain. Just one friend gave Rs 5,000.

On checking the Ketto and eagerly looking up the list on GGR for Abhilash's name, I was disappointed by the poor response from Indians . By March 2022, only 10 lakhs approximately, were raised on Ketto!
Then Bayanat came forward so generously , so timely, in Dubai and Abhilash created History! 
He truly is " The Man who Overcame !"
In January 2022, while practising yoga and Pranayama, I got a strong feeling ( this experience had never happened before), that Abhilash would  join the race and would win. I emailed him this and his response was that he got the same feeling and would be, atleast have a podium finish!

Urmimala and Abhilash come across as very balanced, affectionate couple and above all incredibly strong!

I never thought even for a moment that the meeting with Abhilash in April 2021 would develop in a surprisingly different and wonderful way! 
Because Hari came to visit us for two months on February 2023 and also got mesmerised by his details. When he heard the Arrival point was LSO, he determined to be there to welcome all the heroes especially Abhilash of course! And neither the distance nor the uncertainty of the arrival deterred him from  undertaking a 1600 km journey from Hamburg to LSO!

Best regards 
Shobha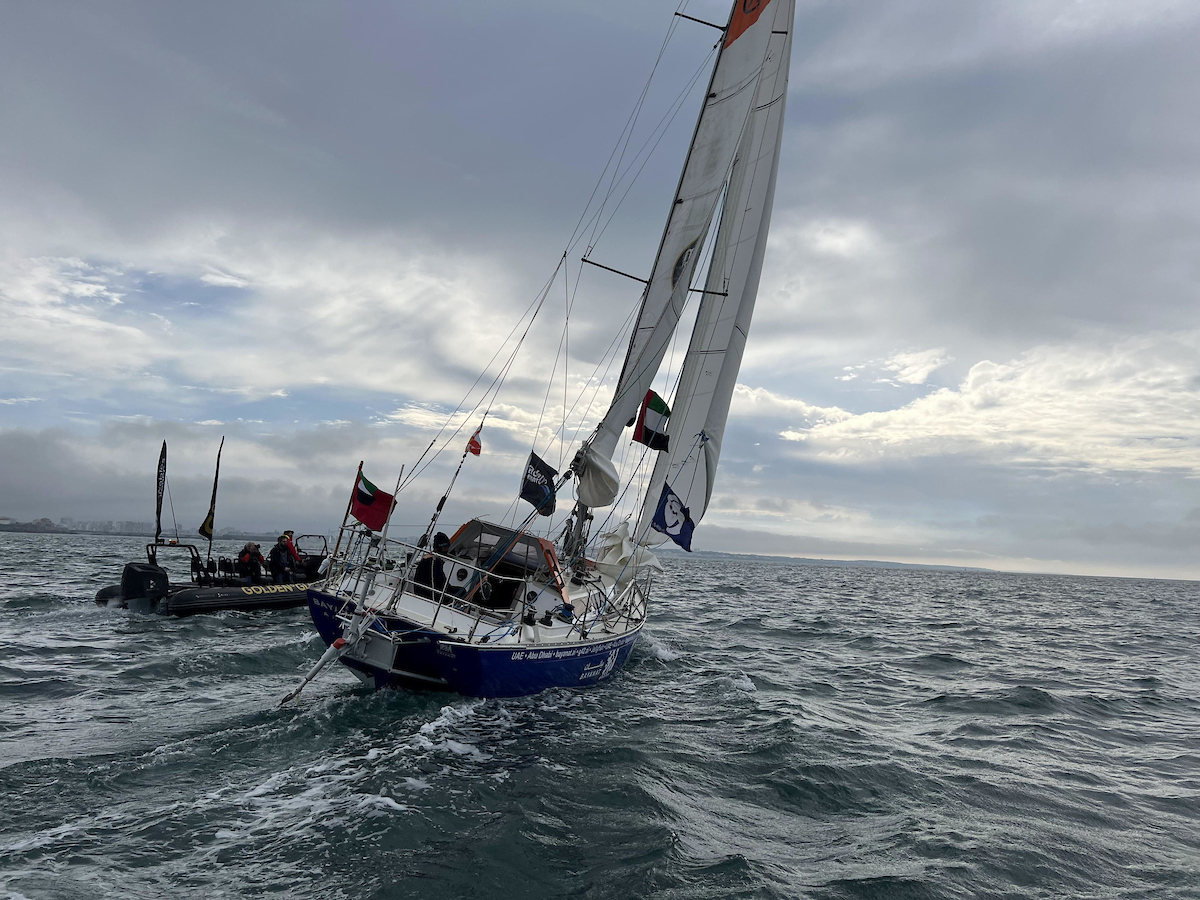 Capricious weather (is there any other kind?) delayed Abhilash's arrival, with the result that Hari and two of his friends ended up making the Hamburg-Les Sables run four times in total in order to welcome their heroes home and show their appreciation.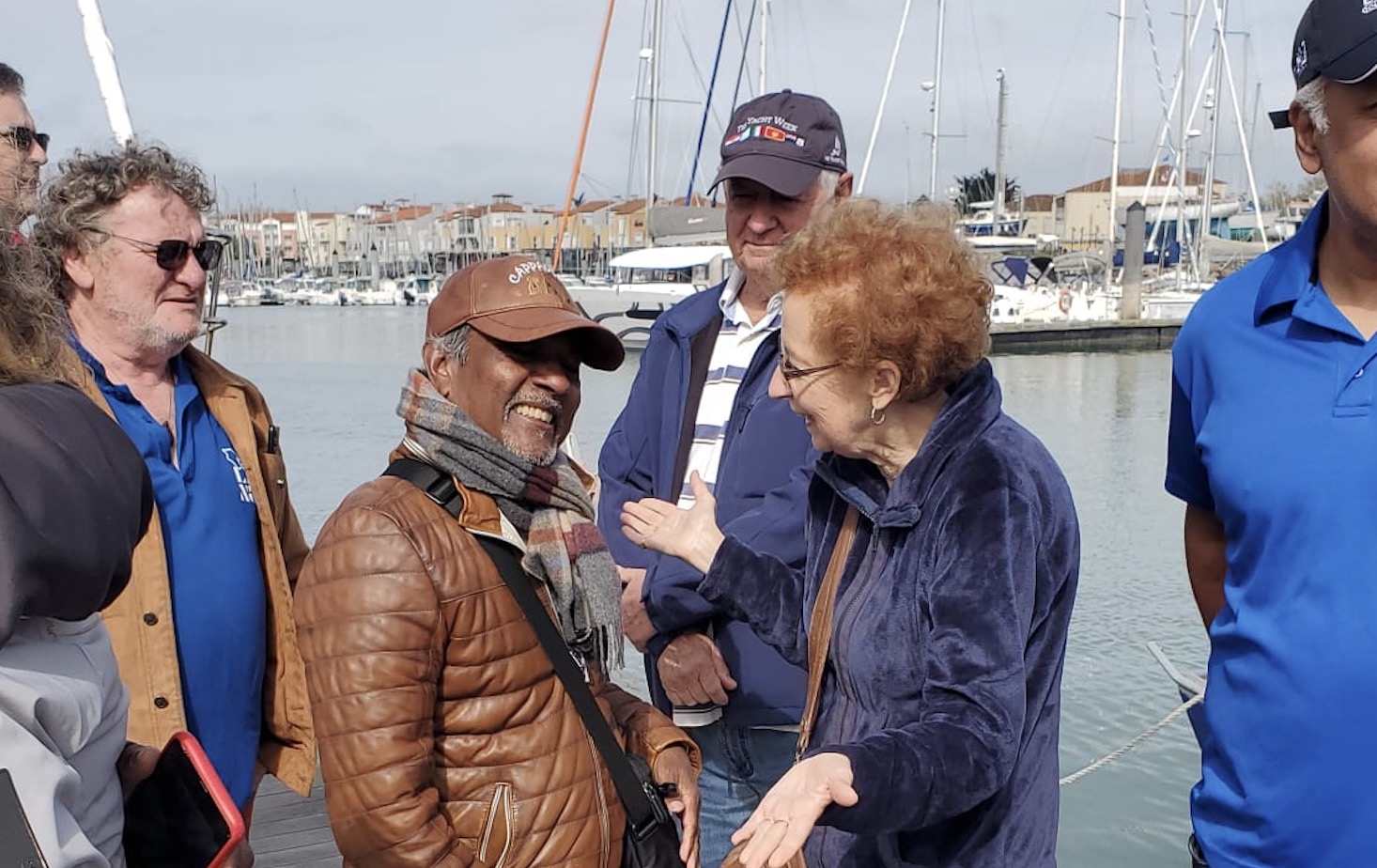 Hari told us about the unforgettable moment when he hugged Kirsten Neuschafer's mother and congratulated her on her daughter's achievement. There were tears of joy!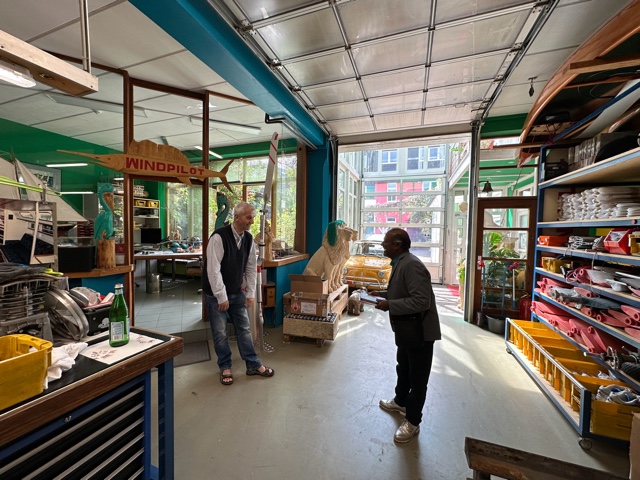 Getting to know Hari has been a profound and touching experience for us. It has reminded us that there are people who are clearly wired a little differently (in a good way) to those we are used to meeting and who follow a different – perhaps wiser – set of rules for life. I find there is just something about the look on their face that suggests they are doing it better!
The more we have learned, the more curious we have become. Happily, Hari is glad to indulge us and has now invited us for dinner, so we will have the opportunity to enjoy his Indian cooking as well as to discover more about this charming and engaging man. He undoubtedly has a wealth of fascinating stories to tell and we cannot wait to hear some more of them!
Hari paused as he was leaving to ask a question: "What does a Windpilot actually do?" It wasn't the moment for chapter and verse so for the time being we left it at: "Lets Abhi sleep worry-free at sea."
Peter Foerthmann
Hamburg, 7 May 2023