BOATS BY COUNTRY Part 1 – GERMANY
This investigation is based on the author's own data and the information provided in the published blogs of bluewater sailors.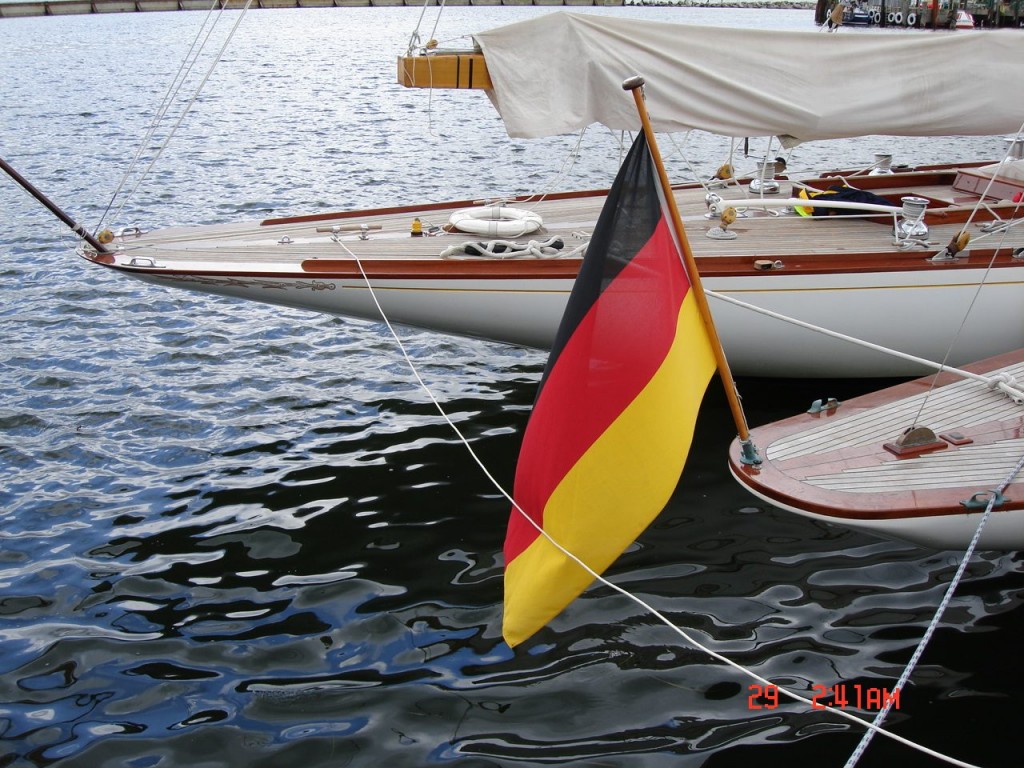 Germany has an international reputation as a hotbed of engineering and invention. When it comes to the country's preferences in respect of bluewater yachts, however, it is the Reinke factor that sets it apart. Reinke yachts are not exactly what might be expected, in terms of design and construction, of a country that otherwise ranks among the world leaders in product development, but for reasons I will now attempt to explain, they nevertheless remain very popular among ocean-going Germans.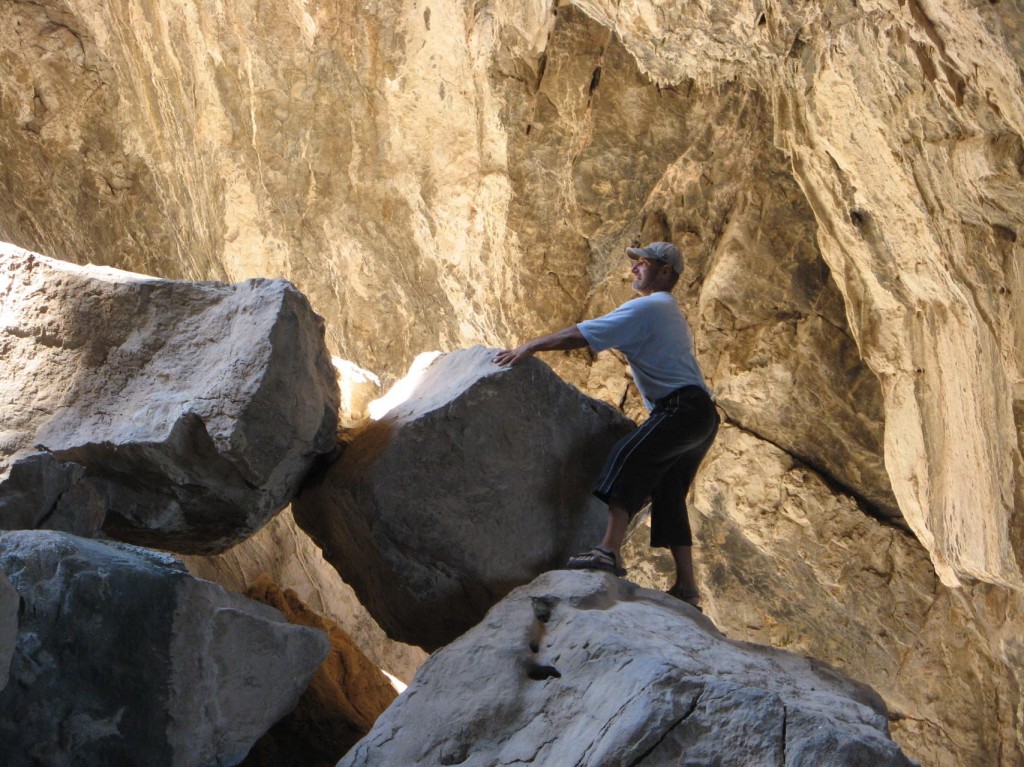 The foundations of the Reinke's success were laid decades ago
This is not the place to delve too deeply into the price of the average bluewater yacht. On the subject of money, however, it has to be acknowledged that sailors, generally a thoroughly practical bunch, are often more than willing to get their hands dirty in order to cut costs and set sail a little sooner. That being the case, what could be more logical than to start by building the boat itself? Given the eye-watering price of a boat straight from the yard, it should come as no surprise to learn that generations of German sailors have been inspired by this very thought.
Hard as it may be to believe today, buying pre-loved remained an equally unattractive proposition for decades in Germany because demand persistently outstripped supply – and by a substantial margin. Personally I have never lost money on a boat no matter how long I owned it. Boats counted as a solid investment: they paid for my studies, my sailing and my second car. By and large I haven't even had to advertise them: the new owners just came wandering down the pontoon one day of their own accord. Proper maintenance is the only prerequisite, which seems ideal for a generally very practical group like sailors.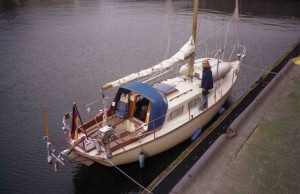 I started in 1972 with a Bianca 27 which I bought part-finished and completed myself in the yard for the stately sum of DM 31,000 including cushions, curtains and a 25 HP Volvo. My share of the work took me three weeks – and left me perhaps the proudest new boat owner Hamburg has ever seen! I sold the Bianca many years later for DM 45,000 and moved on to a 13 metre yawl-rigged construction project in steel, which my calloused hands transformed into, well, if not a silk purse then certainly a capable and effective performer.
In those days people with grand plans but unexceptional incomes had to look to their own labour to close the gap. This created opportunities in the market of which several German yards were well aware. Mr Deerberg of Bleckede offered sailors with a penchant for matting and resin a choice of three models, Amethyst, Beryll and Safir, as DIY projects. Prolific German author and journalist Joachim Schult and his son built a Beryll (adding a little extra matting in the process) and sailed it all over the North Atlantic (German-speakers might enjoy the resulting book, "Wale, Wikinger und wir" ["Whales, Vikings and Us"]), while fellow author Rolf Wemmer took his Beryll all the way round the world.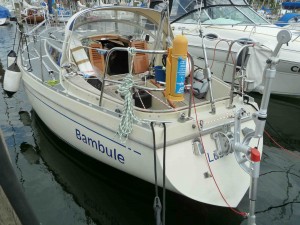 Mr Kornmesser down on the tidal reach of the Elbe, meanwhile, developed the Nordwind 32 and Mr Albers came up with the Carat, both of which were intended for DIY construction, and Mr Bartels gave us the Maru and the Delta 36, which is still much-appreciated in bluewater circles. Kairos, a steel Delfin design from Hamburg attracted international attention as it took Elga and Ernst-Jürgen Koch around the world.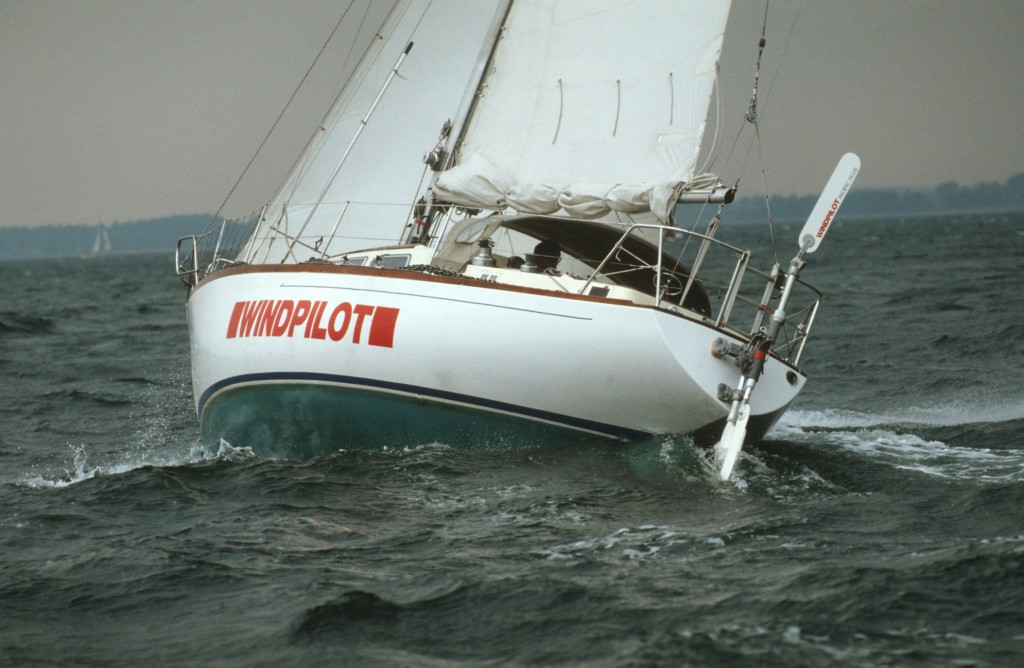 Elbe yards Hatecke and Asmus added to the choices available with their robust Hornet and Hanseat classes (which went on to complete a great many extended voyages but were sufficiently expensive new only to appeal to higher earners).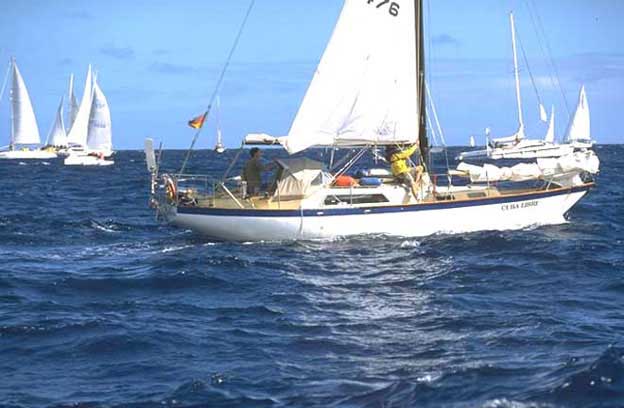 Lübeck's Staak yard, meanwhile, tempted buyers with its Nymphe design in wood, GRP and steel. All of these boats are recognised for their solidity and durability: they were built to last and they have, meaning that the great majority are still with us. Even after 30 or 40 years, these particular stalwarts remain as tough as ever and this strength, combined with the fact that they are eminently affordable, has made them highly attractive as liveaboards.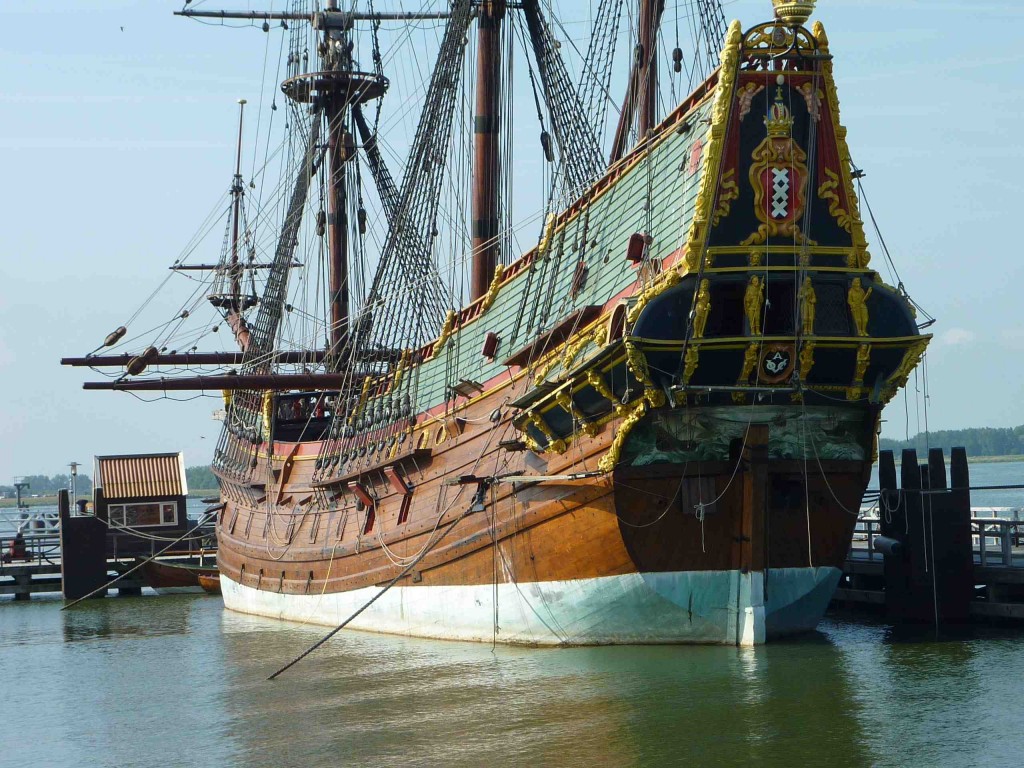 Not a task to be undertaken lightly
Building your own boat is not a task to be undertaken lightly. Think of it as something like building a house – a house with an almost infinite number of curved surfaces and hardly a right-angle to be seen. Working on boats drives otherwise reliable carpenters and craftsmen to distraction: where else in the manufactured world are straight lines so very few and far between?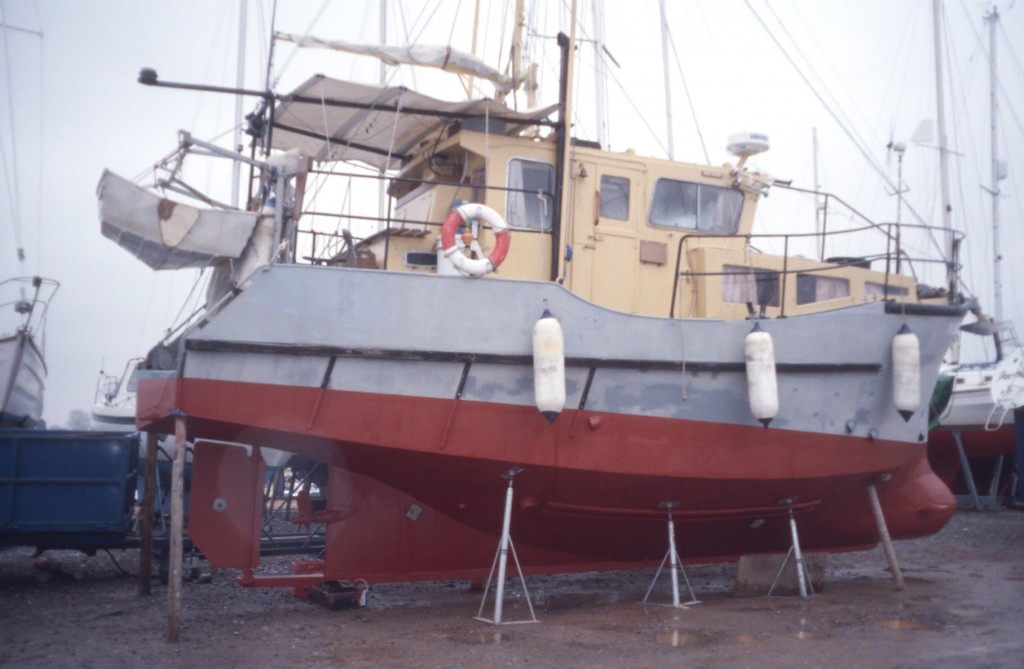 Just how many sailors there are among us who have seen a Reinke or Luft project through to completion without losing one or more of their partner, their enthusiasm, their financial equilibrium or their sanity we can only guess. Fortunately every abandoned boat-building project, while sad news for the victim, also offers a very inexpensive way for someone else to make that first step to Tahiti.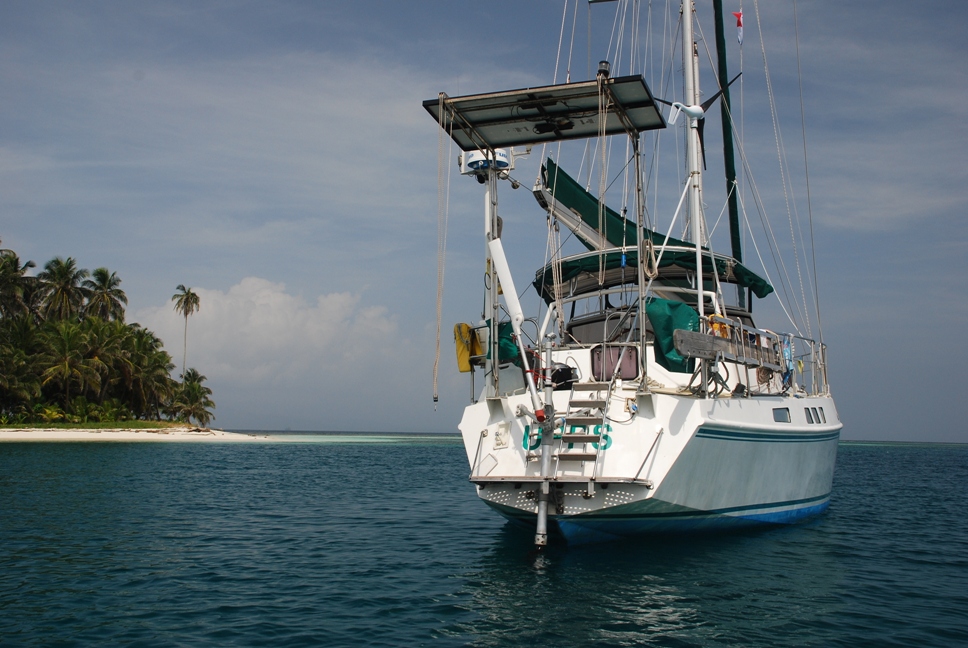 Reinke yachts
Kurt Reinke and his metal yachts proved particularly popular among ambitious would-be bluewater types: they came in their droves! Reinke, who learned his trade with A&R, wasted no time in tackling this gap in the market by producing designs whose hard-chine construction made them comparatively straightforward for DIY projects. Hundreds, perhaps thousands, of boats were sold in the form of licensed plans and customers following Reinke's Hobby Design programme were able to access practical support and favourable prices by ordering goods and services through the designer. Reinke yachts soon dominated the self-build scene throughout Germany.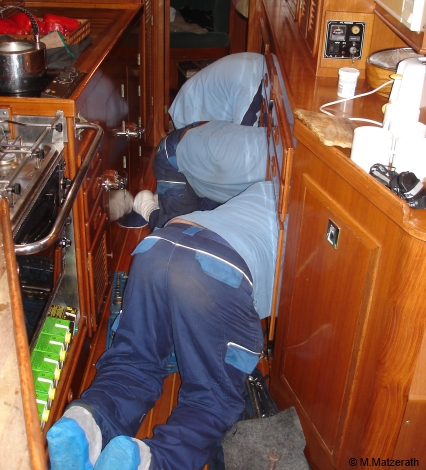 The appeal and the promise of the Reinke series was easy to grasp: a robust boat at a sensational price. The Taranga, for example, was initially offered for a quite remarkable DM 37,000 – ready to sail! Countless (would-be) sailors embraced the proposition with open arms, but the number of boats actually hitting the water grew much, much more slowly. Many saw their dreams founder on a lack of the necessary skills, financial difficulties or just the familiar imponderables of personal relationships under strain and we can safely assume there are still a great many unfinished hulls languishing in gardens all over the place waiting for either a new enthusiast with rose-tinted spectacles or a further rise in the price of welded scrap. Many must have seen their bubble burst on the thorny task of finishing a Reinke. The tales told of family tragedy, even unto divorce and death, could hardly be more heart-wrenching: few things can polarise a family in the way our sport of sailing can!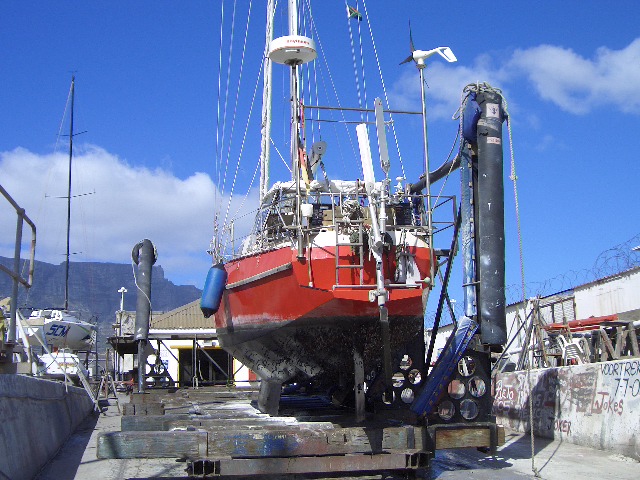 Mr Reinke saw fit to leave his DIY builders little scope to incorporate their own ideas. It has been reported, for example, that he went so far as to invoke the courts in order to prevent "his" transom being changed to include a swim platform for improved access. Despite his apparent strong objection to the concept, however, later designs almost always included a swim platform – an idea the designer became happy to claim as his own. His strict adherence to a life without typewriter or computer gave rise to a certain volume of tactful comment too, for all that his handwriting was "as clear as print" (and most of his writing, printed or otherwise, reached its targets in the sailing world in the form of photocopies). His was an endearing oddness – and one not without consequences on occasion for the sailing community and the several yards that had to refine his drawings here and there in the interests of practicality.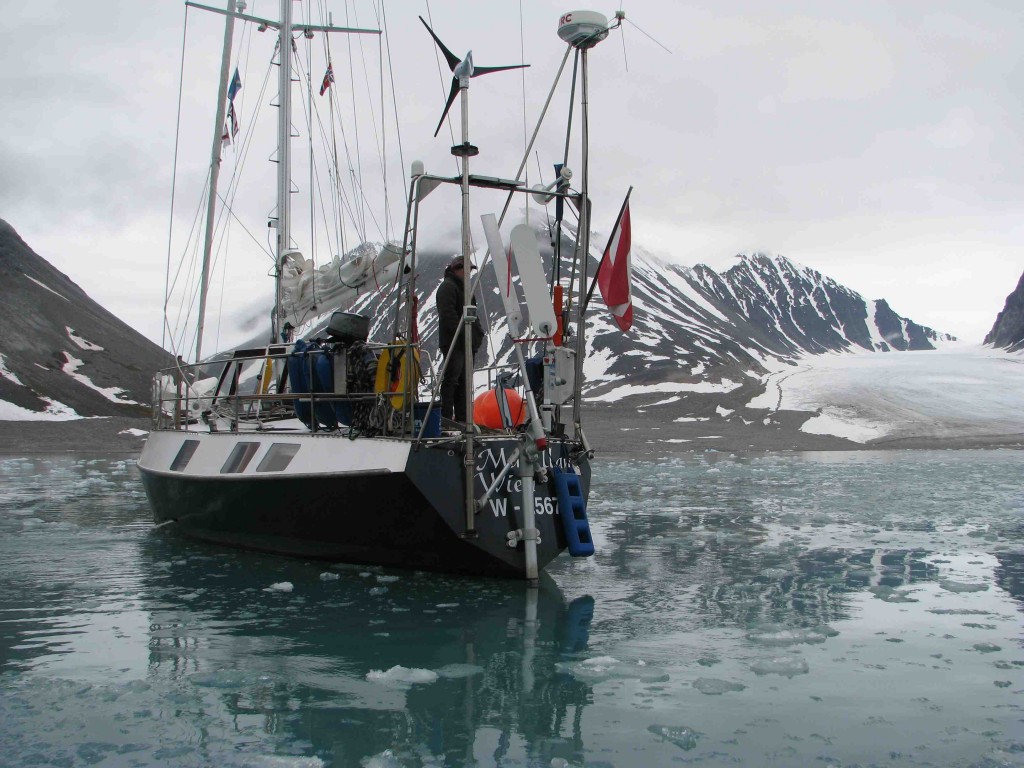 Reinke yachts remain enormously popular among bluewater sailors because, once finished, they are usually very favourably priced. Part of the reason for this must reside in the sometimes rather rough and ready finish achieved by inexperienced DIY builders. Their unusual design also undoubtedly plays a role though: form clearly plays second fiddle to function in a Reinke and the result can take some getting used to.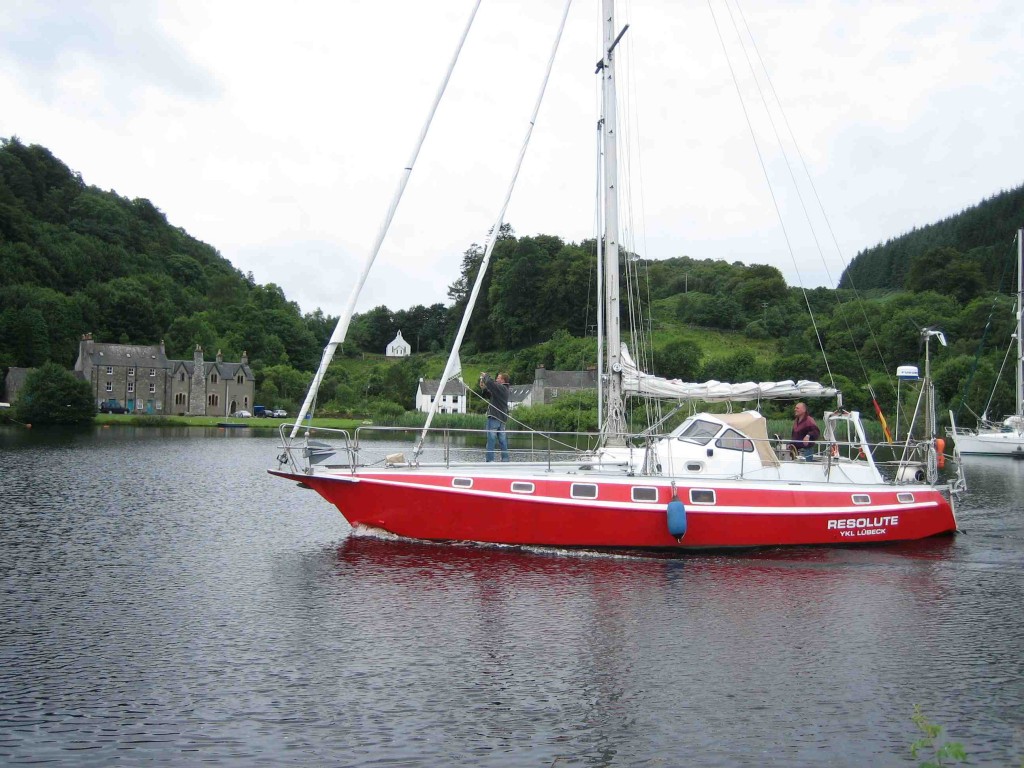 There are probably relatively few people still plying the oceans in a Reinke they crafted themselves.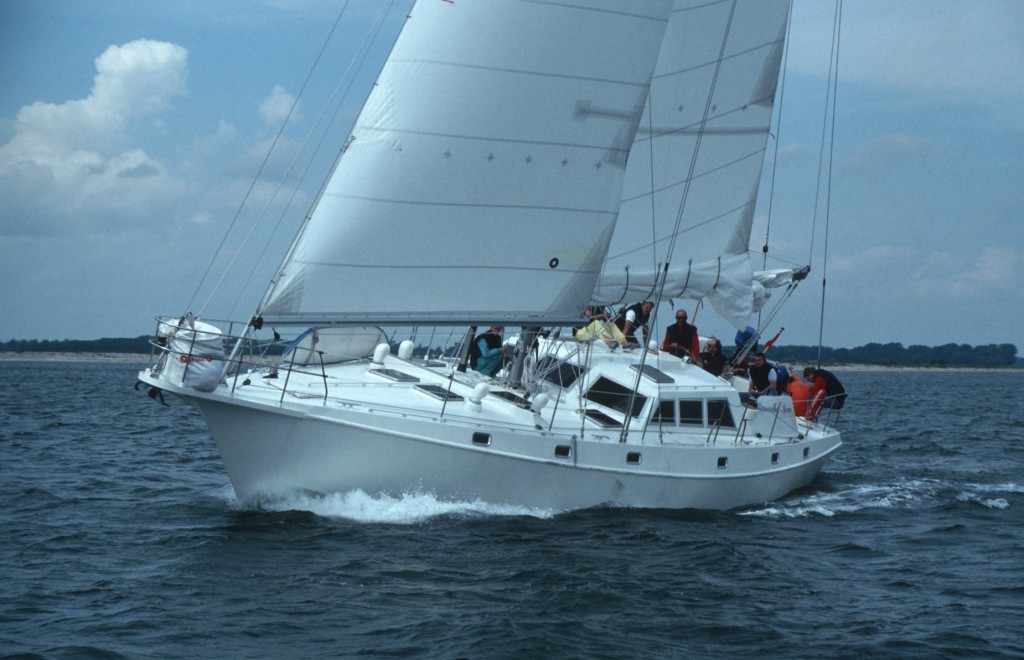 One of this rare breed is ex-Berliner Jürgen Pehlgrimm, who built his Reinke 16m Samantha Nova in the 1990s and now lives on it in the Caribbean, sharing his boat and love of the undersea world with liveaboard guests. One of a kind and a born conversationalist, he followed his dream stubbornly through thick and thin (and even a fire aboard) and now makes his living on the back of it. The used boat market has plenty of other examples of the Reinke 16m to offer though, mostly at prices that, as just a fraction of the build cost, should ensure they find a new home in short order.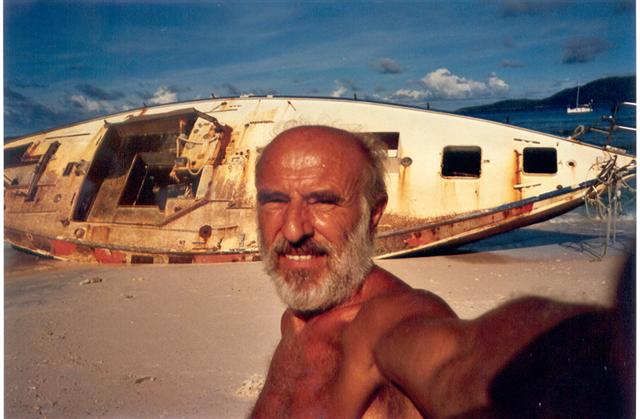 Wolfgang Clemens, a Bavarian metalworker better known to fans as "GANGERL" and a feature of the German bluewater scene from time immemorial, sailed an estimated hundred thousand nautical miles around the globe in his entirely self-built Reinke 15m Bavaria before it fell victim to a storm in Madagascar three years ago and Inge and Fritz Erkelenz cruised their Reinke SUPER 10 Pico together for decades before Inge's recent sudden death left Fritz to scatter his beloved wife's ashes to the sea and continue singlehanded.
A list of Reinkes still on bluewater duty would be a long one, so the following is just a contemporary snapshot:
SV FREYDIS, Ehepaar Wilts
SV MON AMIE, Simon Züger
SV SANTA MARIA, Wolf Kloss
SV UPPS, Bernd Neumann
SV JUST DO IT, Martin Birkhoff
SV SCHOGGELGAUL, Familie Schertel
SV BREAKPOINT, Thomas Witt
SV ALDJERINYA, Arne Vogler
SV MAGELLAN, Friedrich Pölzl
SV FIDEL, Moritz Herrmann
SV KIRA, Klaus Böhlje
SV ISIS, Hans Kujawa
SV OKEANIS, Uwe Lembcke
SV GRACE, Ralf Meischner
SV BLUE CHIP, Hans-Josef Nagel
SV VOYAGER, Jürgen Bey
SV ORION, Dieter Pfeiffer
SV LAUAN, Michael Holz
SV SEPTEMBER, Klaus Tischhauser
SV DADDELDU, Jens Quade
SV LAHNA, Leo Freese
SV MIMPI MANIS, Stephan Proell
SV NEREIDE, Frank Groeneveld
SV PIORE MOANA, Herbert Buchner
SV REMINDER, Klaus Radkowski
SV GEMMA, Ralf Wilhelm
SV MIRA, Marion+Rene Jenss
SV SENTA, Annette Knipp + Wilfried Schmidt
My file of Reinke owners over the decades includes literally hundreds of boats that have spent at least some time bluewater voyaging. They may not be immediately easy on the eye, but these hard-chine yachts, in steel or aluminium, have become an established favourite among full-time bluewater sailors – most of whom will have picked up their Reinke second-hand after the original builder proved unwilling or unable to see the project home.
Reinke yachts are surely the number one choice among Germany's bluewater fraternity because they embody perfectly the notion of the robust, stable and affordable yacht.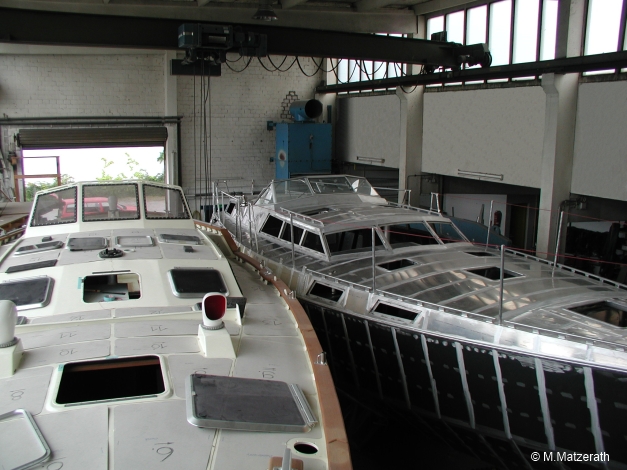 Professionally-built Reinke yachts
The BENJAMINS yard in Emden and MATZERATH in Düren have built many Reinke designs professionally.
Particularly popular in the used boat market are examples whose structural elements were finished at the yard and whose self-build input – in all its sometimes rather rustic glory – is limited to fixtures and fittings, which better conceal the tell-tale signs of inexperience spiced with enthusiasm. Most of the aluminium models created in the last 15 years were built professionally at a boatyard before, in many cases, going on to be finished DIY by the owner. Ironically, the Matzerath yard actually carries out a regular stream of refits on used Reinkes: making good the sins of the past is a very worthwhile investment in the case of professionally-built hulls.
Luft yachts
Anton Luft remains another very familiar name in the self-build world. His Moana 38 and Motu 42 designs have been built in large numbers and most examples are to be found long-distance cruising. Reinke and Luft are equally well-known for their achievements as authors and while both have now shuffled off this mortal coil, their books continue to fuel the DIY scene.
DIY boat-building increasingly irrelevant
Most realists probably accept now that building your own sailing yacht never makes financial sense. There is just no way to recoup all of the money sunk into the build project, which probably goes a long way to explaining why the DIY approach has fallen out of favour. Other contributory factors undoubtedly include the state of the used boat market, which offers choice aplenty in just about every size and genre, and the recognition that the sort of dreams that would take an age to realise through manual labour can now be picked up ready to sail for a relatively small amount of money (read more about the used boat market here).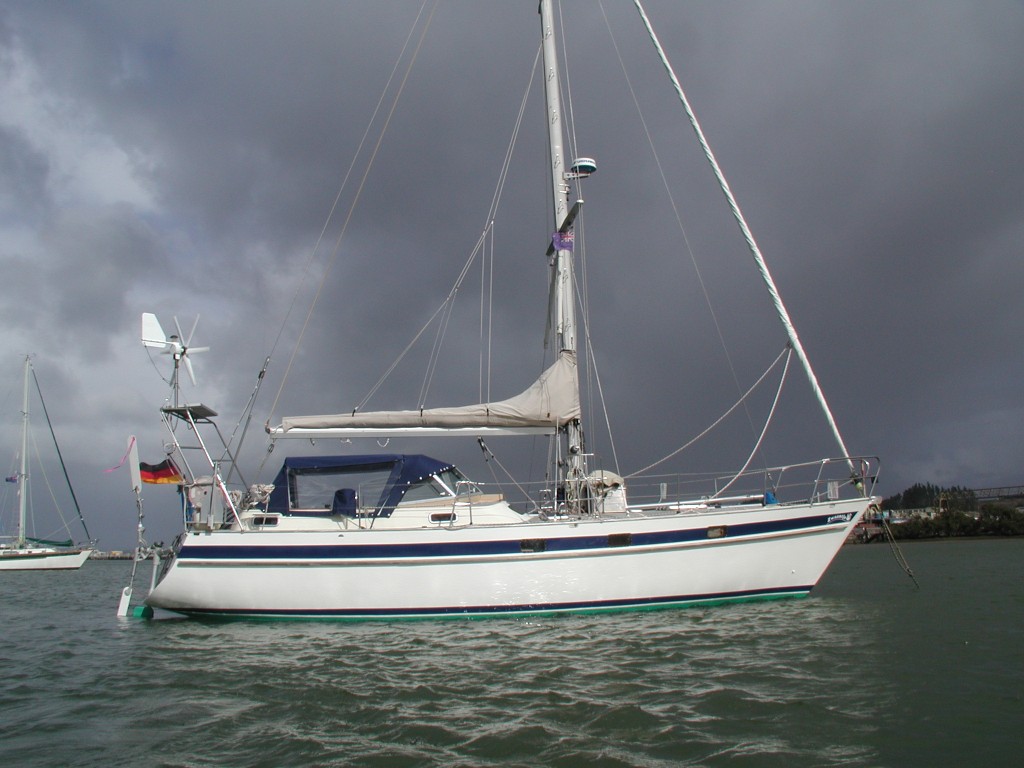 FELTZ YACHTS
Feltz's Skorpion designs have been a regular fixture all over the world for decades too, usually as a round-bilge hull in steel or, less commonly, aluminium. Some examples have crossed the oceans repeatedly with different owners, remaining as tough as ever to this day: Berndt Schneider, for example, has been cruising the world aboard Chez Nous for 20 years.
The Skorpion has Austrian David Eitzinger to thank for the most compelling demonstration of its robust construction: on passage with his family in the South Seas in 2012, David's Rancho Relaxo hit a reef after a navigational mishap and was eventually recovered most unceremoniously with the help of an excavator. The family – mother, father and two small children – survived the incident quite unscathed and the boat, while not quite as shapely as it used to be, also lived to sail another day.
Here is a small selection of the Skorpion yachts with a history of successful passage-making:
SV 2MICKYS Walter Goossens
SV NIS RANDERS, Bernd Mansholt
Kai Twisselmann
SV NADINE, Ulrich Hering
SV IRON LADY, Michael Wnuk
SV MOYA, Fritz Böhme
SV ALEDIA, Alexander Heeb
SV BAAL, Marcel Keiffenheim
SV ONYX, Hans-Joachim Leimküller
SV AMYGDALA, Hans-Werner Wienand
SV VIGO, Bettina Heüveldop
SV SIRI LUCA, Michael Köhler
SV LENA, Dietmar Fröhling
SV PERLE, Karl Halbgebauer
SV KIRE, Paul Jörn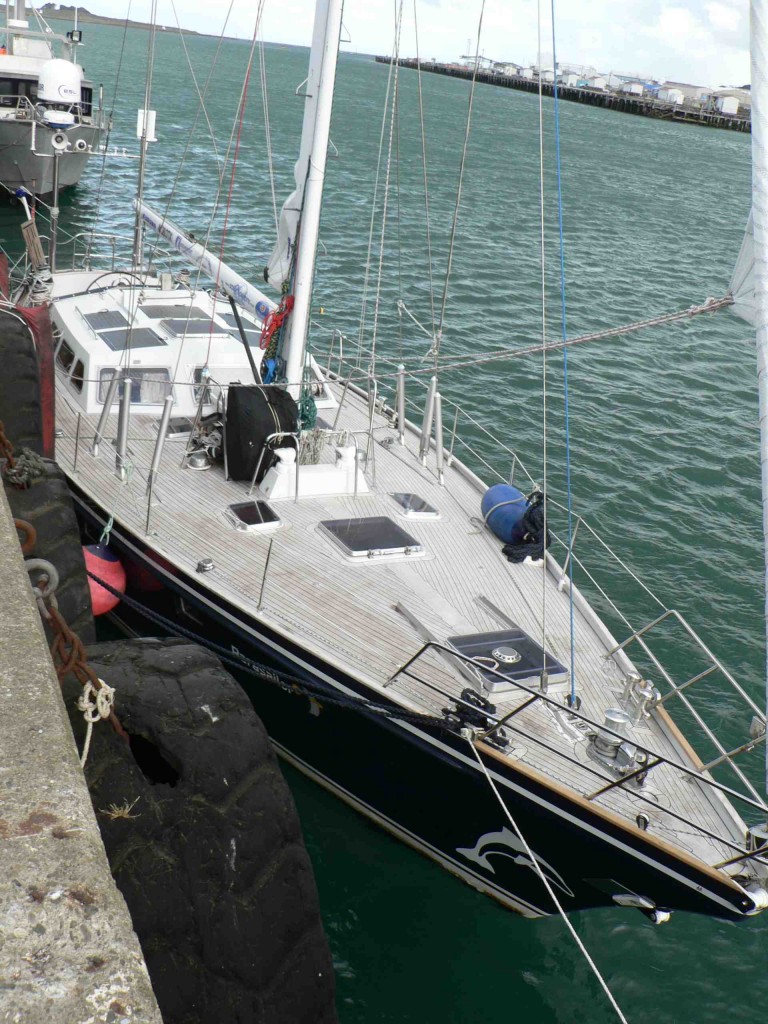 Glacer yachts
The best-known example is probably Bernd Lüchtenborg's Horizons, which enjoyed a relatively quiet life in the hands of its first owner before embarking on a much more challenging phase that eventually saw it abandoned to fate after a mysterious run-in with the cliffs of Tierra del Fuego.
Less commonly sighted but likewise afforded legendary status among bluewater sailors are Glacer yachts: professionally built to a high standard for particularly discerning yachtsmen and women, Glacer yachts have now come within the reach of the more ordinarily resourced through the used boat market.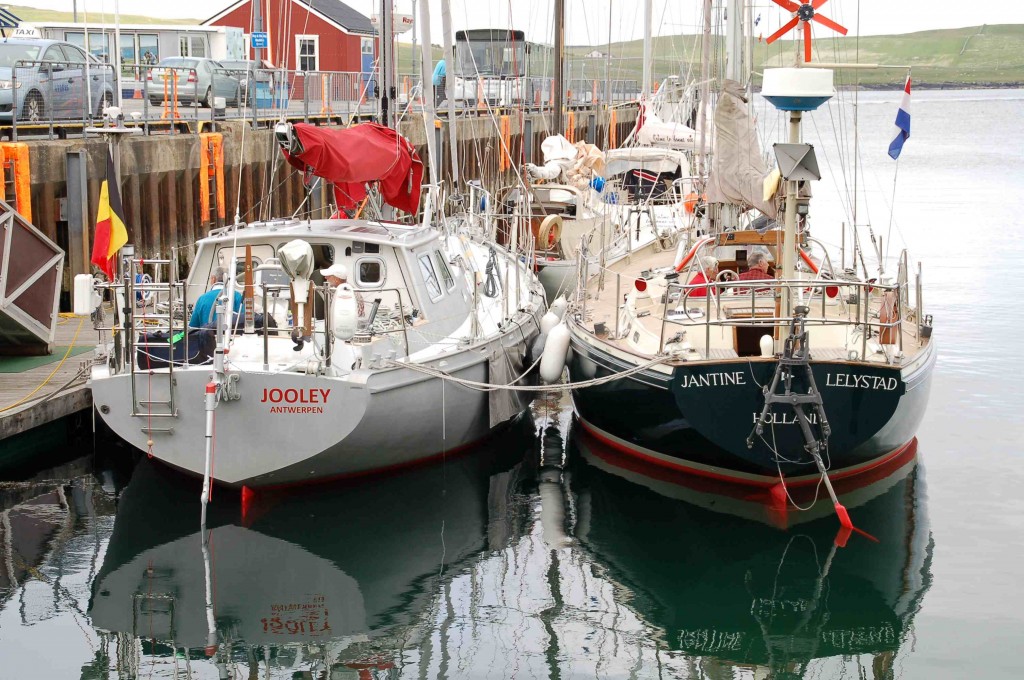 Koopmans yachts
German sailors are increasingly learning to love the work of Dutch father and son yacht designers Dick Koopmans Sr. and Dick Koopmans Jr. Built predominantly in aluminium, often in GRP and less commonly in steel or plywood, Koopmans designs are extraordinarily well-balanced and ideally suited for the demands of long-distance travel under sail. Commercially manufactured Koopmans designs from Hutting, Breehorn and Victoire enjoy an excellent reputation among German long-distance sailors.
Here is a small selection of the Koopmans yachts with a history of successful passage-making:
SV M, Dirk Mennewisch
SV MOMO, Uwe Moser
SV PLAYMOBIL, Guido Marx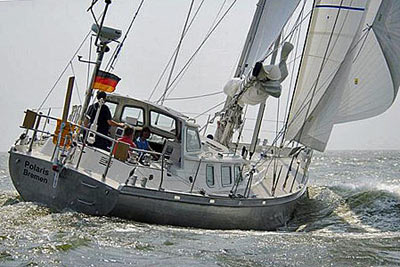 Polaris Michael Haferkamp, who spends a lot of time with his Hutting 54 in Northern waters – see his website for some sensational photos.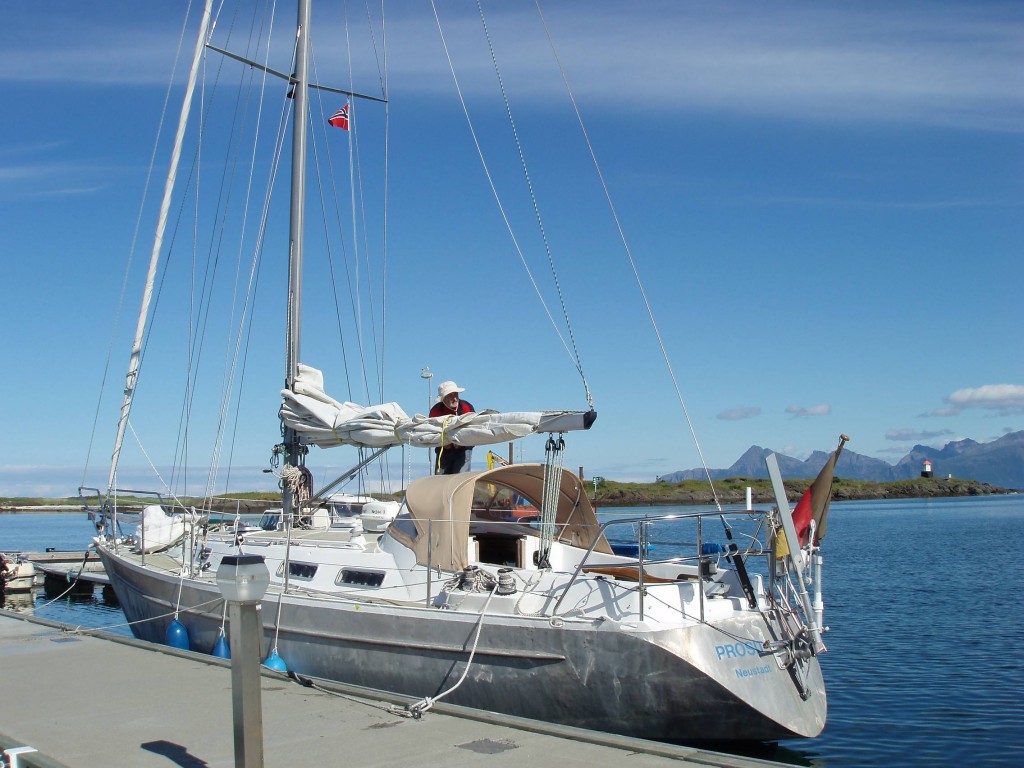 DÜBBEL & JESSE
The Dübbel & Jesse yard on the island of Norderney on the German North Sea coast brought a succession of superb round-bilged aluminium yachts into the world until the sudden death of Mr Dübbel and two, at least, have gone on to acquire a measure of fame: single-handed non-stop circumnavigator Wilfried Erdmann has been sailing his Nordsee 34 one off Kathena Nui for close on 30 years, although its sparkling condition makes it hard to believe it has completed so many spectacular trips, while Taonui, a 1988 NORDSEE 42, was constantly on the move with Canadian Tony Gooch having already covered a great many miles under its first owner, Clark Stede. The Porath family from Lübeck, to quote another example, have sailed many thousands of miles with their Nordsee 39, which has been in their hands for decades.
Production GRP boats
The fact that plenty of well-known circumnavigators have made it safely all the way round with a production GRP yacht should not necessarily be taken as definitive evidence that boats of this type are robust enough for the job: sometimes such success owes more to the skill and serendipity that kept them away from reefs and bad weather than any inherent strengths of the boats themselves. Yes, it is quite possible to circle the globe in an unsuitable craft provided the weather gods are onside and no uncharted rocks choose the moment of your passing to introduce themselves to the world; metal hulls offer the luxury of not having to rely so heavily on good fortune.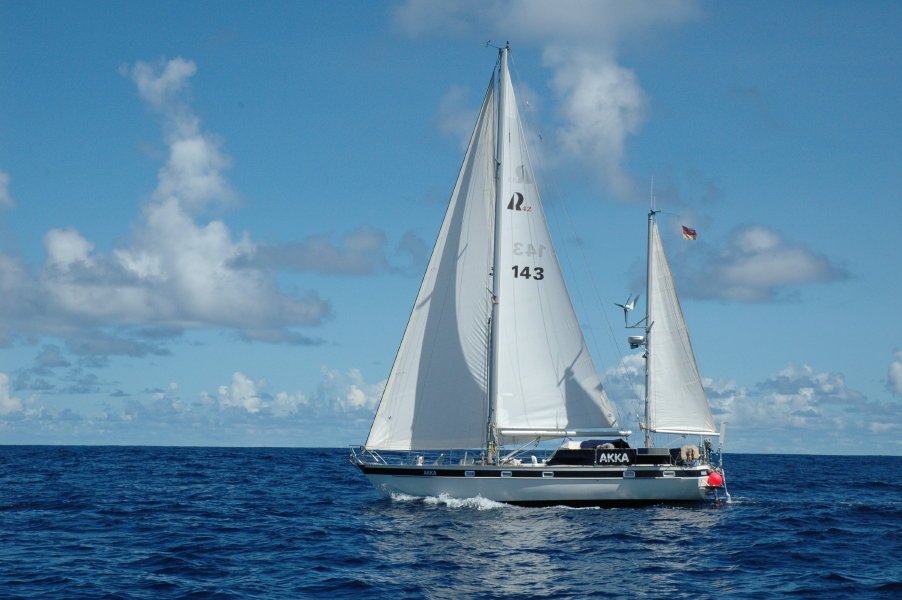 That said, it would be remiss not to acknowledge that GRP boats vary enormously in design and build quality and that certain standouts have completed legendary trips and proven their quality over decades of hard exploring. Hallberg Rassy yachts, for example, have an excellent record and remain particularly popular for long-distance use, especially the Monsun 31, HR 352 and HR 42 Olle Enderlein version.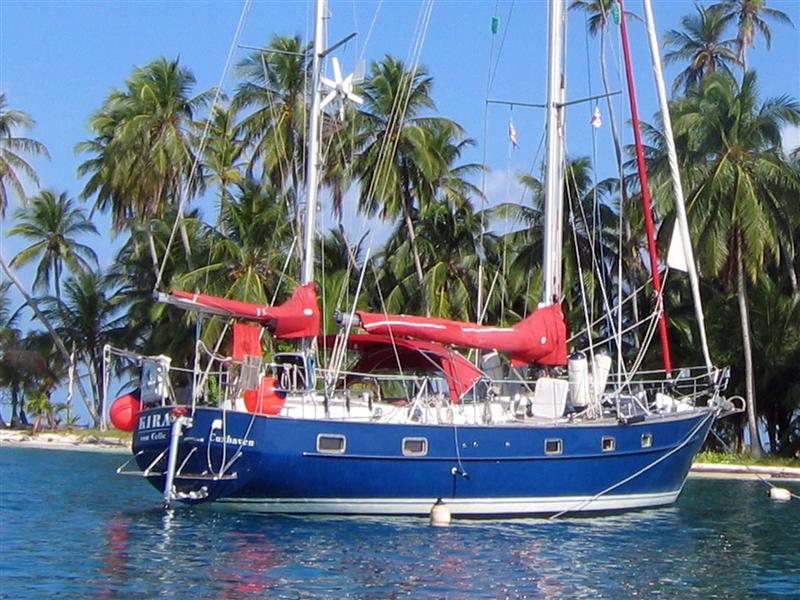 Rollo Gebhard travelled over 120,000 nautical miles in eight years aboard Solveig IV, an HR 42, and the same boat is now into the eighth year of another world tour with current owners Beate and Detlev Schmandt, who know her as Kira von Celle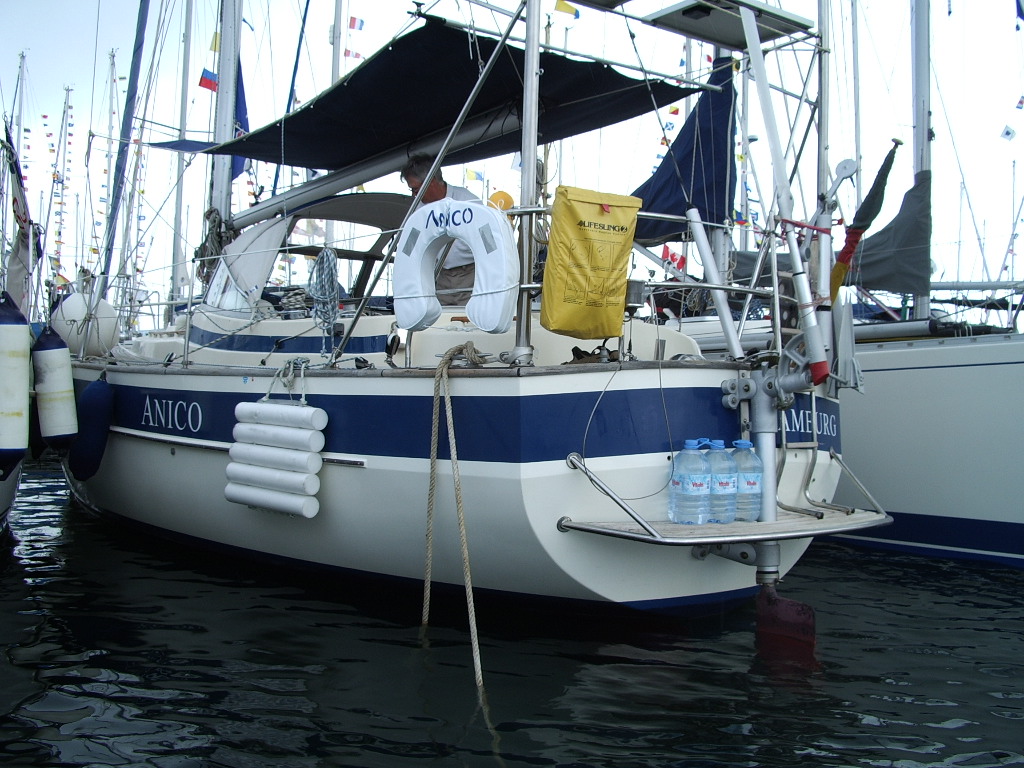 Even more popular is the HR 352, which ranks as one of the absolute favourites among bluewater sailors worldwide (perhaps helped by the fact that over 800 were built).
The majority of German bluewater sailors have no more than a moderate budget and this naturally informs their choice of boat. Here is a selection:.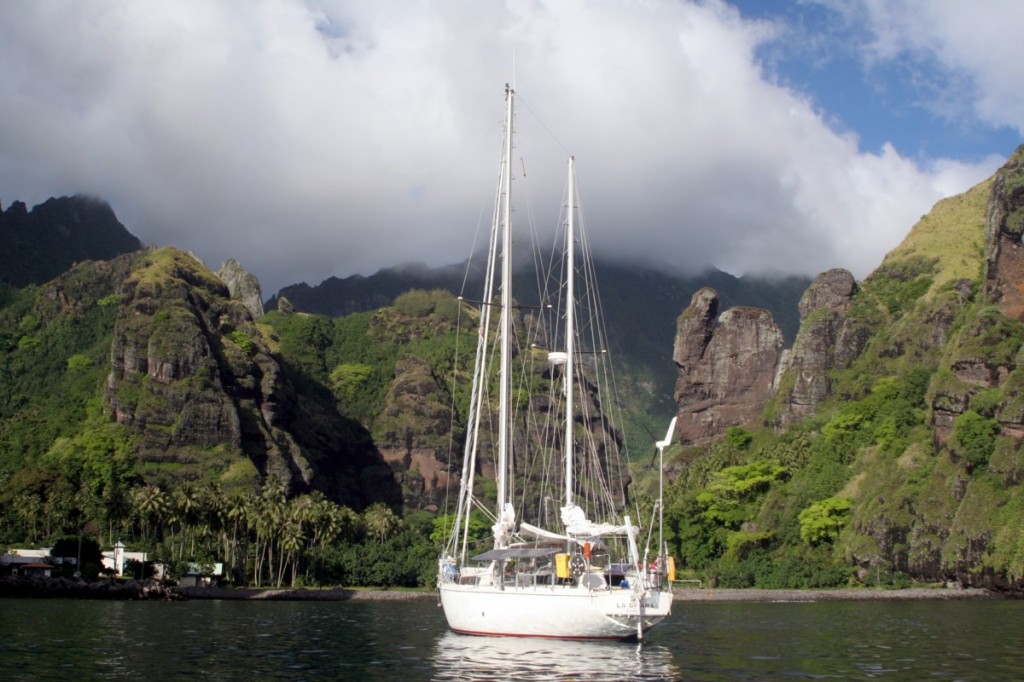 < GRP: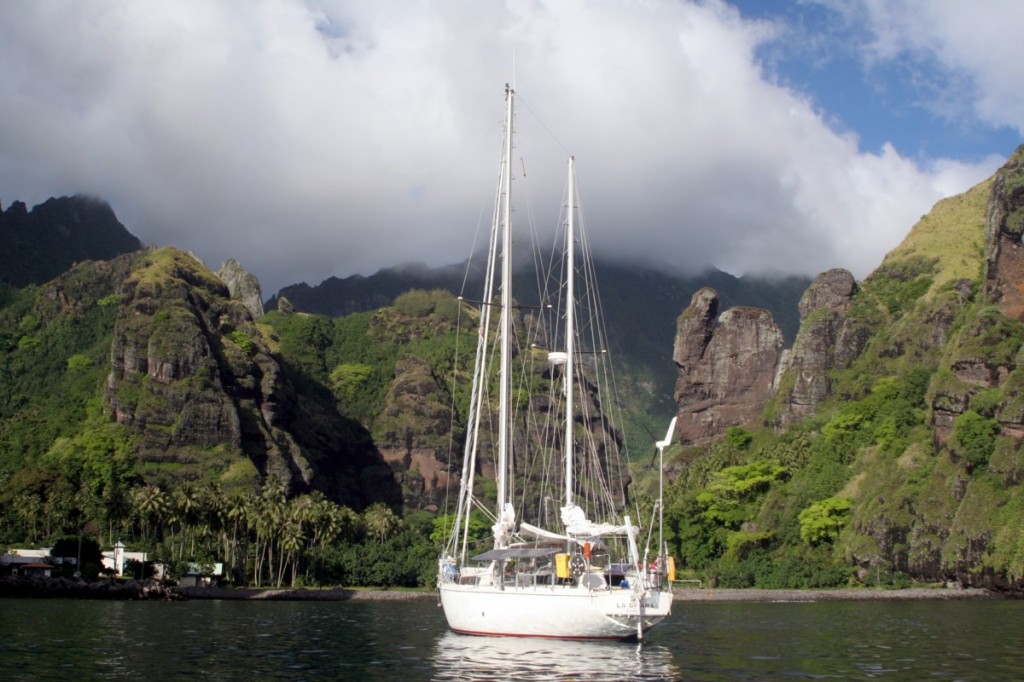 GFK SCHIFFE:
Amel Maramu, SV La Gitana, Michaela + Volker Kissling
Amel Sharki, SV Tamora Silke Reese + Dieter Blass
Ballad, SV Balu, Maret Nacken+Iko Andreae
Bavaria 37, SV Yagoona, Svenja + Marc Panzer
Bavaria 38, SV Blue Pearl, Stefan Bormann
Bowman 45, SV Jan Plezier, Elke + Franz Teutenberg
Catalina 42, SV Blue Sky, Grisel + Tino Schumann
Contest 38, SV YNot, Ute+Hans Guenter Scholz
Dufour Arpege, SV Mädchen, Gudrun Calligaro
Etap 21,>SV Wal, Carola + Hans Habeck
Etap 39, SV Aquila, Gerhard Ohm
Gib Sea 108, SV Hippopotamus, Judith + Sönke Roever
HR 34, SV Antares, Jürgen Rinne
HR Rassy 35, SV Kassiopeia, Claudia + Michael Engelhardt
HR 352, SV White Which, Manfred Jabbusch
HR 39, SV GWENAVEL, Wilfried Krusekopf
HR 39, SV JOJO, Jürgen Wallenwein
HR 42, SV Kira von Celle, Beate+Detlev Schmandt
HR 42, SV Akka, Andrea + Andreas Haensch
HR 42, SV Nukualofa, Helmut Burbach
HR 42, SV Solagracia, Eva Hauer + Rüdiger Tamm
NAJAD 460, SV BAROS, Wolfgang Barkemeyer
Nicholson 31, SV Olgalou, Inga + Vassil Beitz
Jeanneau SO 45, SV Genesis, Wolfgang Bittag
Phantom 38, SV Europa, Manuel Rathai
Phantom 38, SV Jöke, Edith + Michael Zahn
Swan 40, SV Lena Ly, Dieter Marx
Sunbeam 42, SV Mignon, Johan Meijer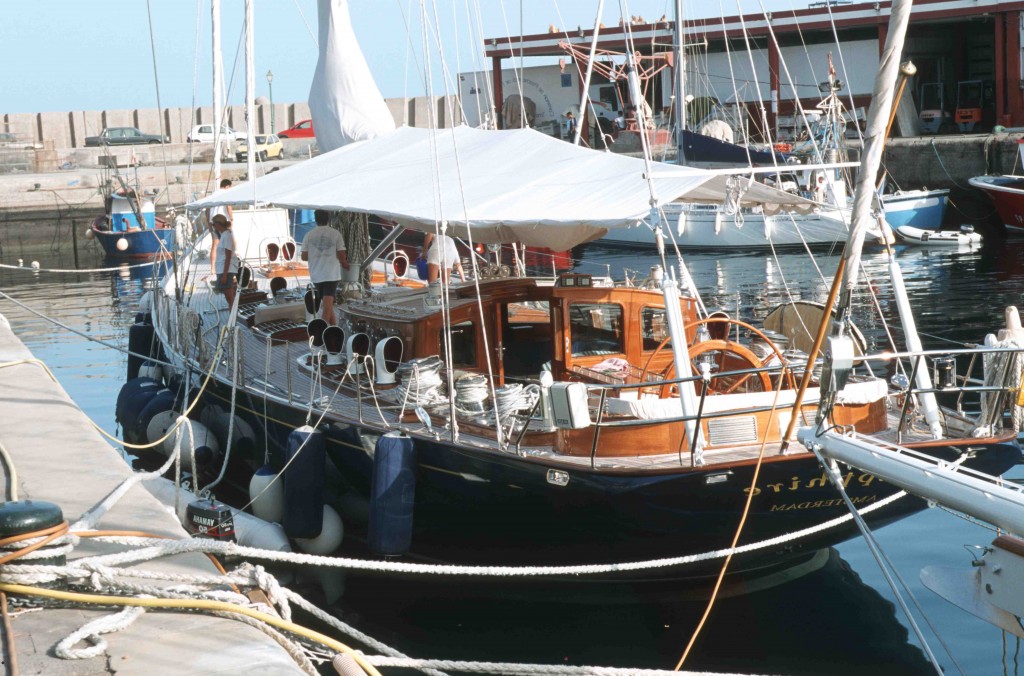 Steel:
Cumulant 36, SV Orion, Wolfram Zinn
Cumulant 41, SV Sonnenschein, Ingrid+Timm Pfeiffer
Damien II, SV Pandarea, Peter Hoebel
Danish Rose, SV Lopto, Kerstin+Helmut Siebrecht
Glacer 40, SV Fradilira, Dirk Stahlmann
Motiva 39, SV Atair, Wolfram Treptow
Motiva 42, SV Josi, Ingrid+Jürgen Mohns
Vanguard 13m, SV Nele, Eva+Horst Bressel
Van de Stadt Seehound, SV Spica, Lars Winkelmann
Wibo 945, SV Sea Star II, Daniel Winkelbauer
Wibo 990, SV Aeola, Klaus Rathnow
Wibo 1100, SV Moonlight, Leo Nigg
Stahl One Off, SV Anni Nad, Rita + Ulfried Pusch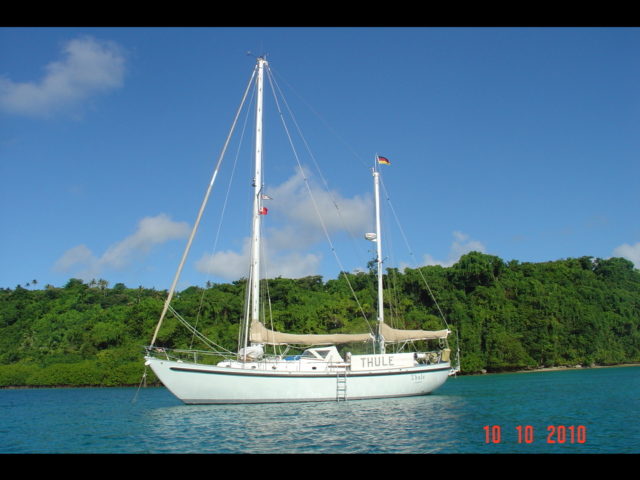 ALUMINIUM:
Abeking u.Rassmussen One Off, SV Thule, Ursula+Rainer Woehl
Alu One Off, SV Fanfan, Uwe Röttgering
Ovni 32, SV Kaya, Gaby+Rüdiger Hirche
Trintella 51, SV Larossa, Manfred Urich
Further information about circumnavigators may be found, together with links to blogs/websites where applicable, here.
Further information about owners who are also career authors may be found, together with links to blogs/websites where applicable, here.
The next article in this series on Boats by Country will follow shortly,
promises
Peter Foerthmann