THE NETHERLANDS
We discovered in Part 1 of this investigation that when it comes to the evolution and construction of dream yachts for bluewater sailing, Germany, where such "specialist" craft seem to be very much a niche market, is certainly no hot-bed of revolution. A short distance to our West, however, the picture looks very different: the Netherlands has a boat-building industry dedicated to bluewater yachts that differs fundamentally from that of Germany.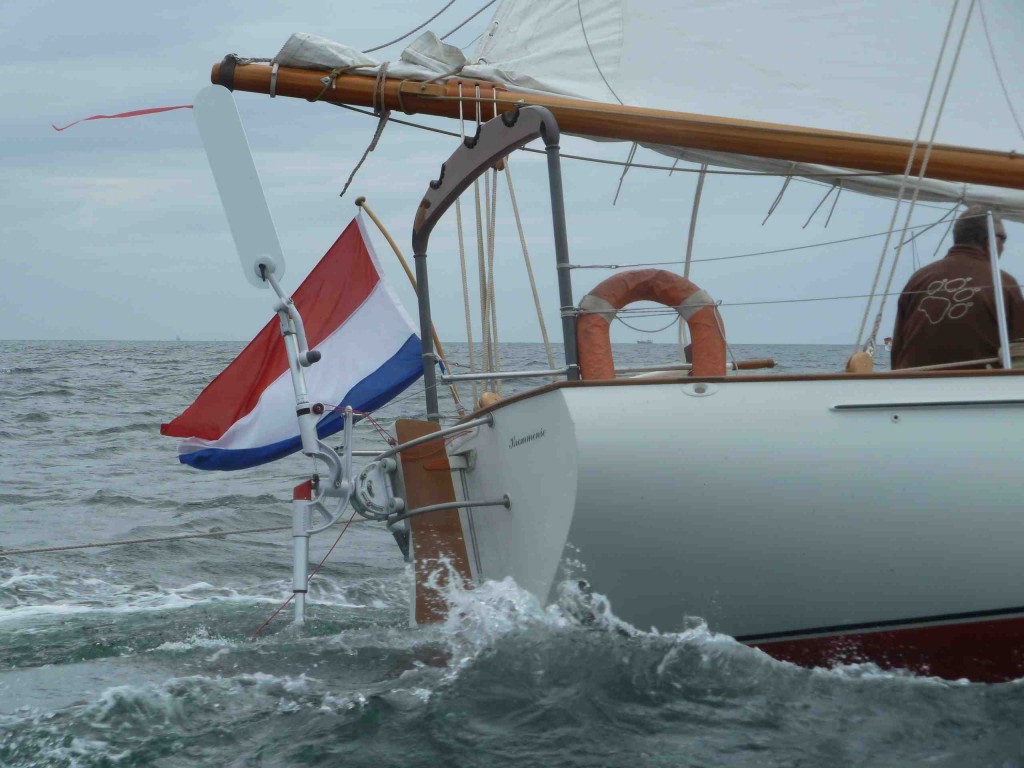 While some of this gulf can undoubtedly be explained by careful budgeting in the realisation of bluewater dreams (sailors appreciate that money spent before casting off is money denied for the voyage itself, in other words), it is probably the way that sailors (choose to) finance their adventures that really sets the two countries apart. I suspect that a large proportion of the German yachts plying far-distant waters have been paid for out of the owner's pocket and that very few indeed hit the water encumbered with leasing agreements or loans. The interest on GRP designs mass-produced for charter/buy-to-charter/leasing or private purchase with bank finance seems to be too punitive for most private individuals to stomach.
Little appetite in Germany for buying one-offs and dream yachts on credit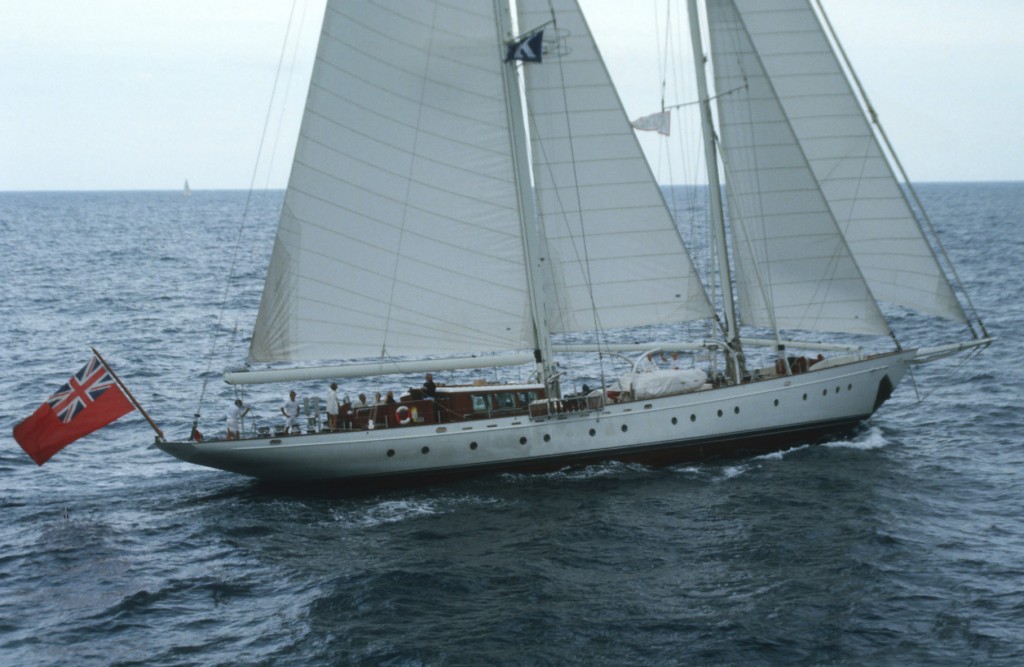 German sailors prefer to fund bluewater yacht purchases out of savings, assets, inheritance and income. Sailing is stigmatized in the German mass media as an elitist pursuit, with yachts dismissed as "playthings of the rich". Sailing as a mass-participation sport attracts hardly any media attention – no doubt our journalists are all to busy watching the football!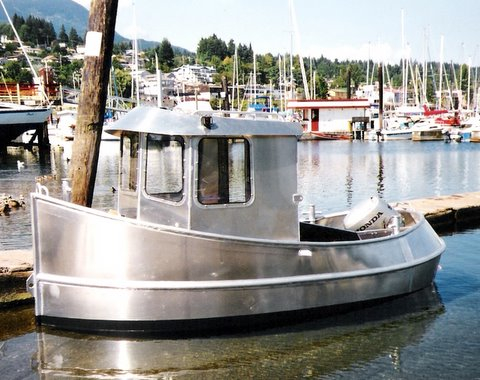 This, surely, is the elementary difference between Germany and our neighbour the Netherlands, in which nowhere lies far from the water and every child seems to have a boat of their own as soon as they grow large enough to handle it. The cost of borrowing to finance recreational sailing is tax-deductible in the Netherlands too (now that's what I call a stimulus programme) and the effects on the market could hardly be more striking: the Dutch have a boat-building industry on a scale that would be simply unthinkable in Germany. Envy would be an understandable response among those of us in the German bluewater sector, but in truth the position in the Netherlands also reflects particular political preferences that can only make a real impact on the market over the long term.
Our trade associations must probably shoulder a measure of the blame here in the Germany too – perhaps the intensity of their lobbying leaves something to be desired – and perhaps the watersports community has been too accepting of the "marginal activity" tag that sees it largely neglected by our politicians? The current debate about changes to the status of the Schlei estuary up near the Danish border on Germany's Baltic coast and the associated campaign to block government measures to downgrade the management of this particular waterway leave no doubt as to the politicians' attitudes to watersports. Even living on the water has become difficult in the city of Hamburg, where bureaucratic restrictions on houseboats amount not so much to a discouragement as to open harassment.
POLITICS AND THE MARINE INDUSTRY
We may well also be suffering in Germany from a lack of far-sightedness among our political representatives: as things stand, the German yacht design and manufacturing scene is pretty small and shows little sign of expansion, so why even give it a second thought? In the Netherlands, in contrast, there is all kinds of support available to attract and encourage prospective boat builders.
Germany has remained a developing country in the context of bluewater boat-building, content by and large to leave the innovation to other nations. The focus here, rather, has tended to fall on maximising the potential of the sort of generic production boats that can be manufactured efficiently and cost-effectively for owners and backers in the interests, first and foremost, of the bottom line. Mass-produced yachts can obviously be turned out sufficiently inexpensively today that yards can still make money even after expensive marketing campaigns, significant advertising costs and the pressures of competitive pricing. Building boats on a smaller scale quickly makes the economics much less attractive: thousands of hours of labour do not come cheap. Those thousands of hours of labour equate to solid jobs, of course, but offer meagre scope for fat profits.
The Dutch, whose political priorities seem to result in a steady stream of new waterways and modern bridges, for example, evidently see all of this from a rather different angle. Their yacht design and manufacturing sector has been a lively source of innovation for decades, earning international recognition and admiration in the process. Aside from Abeking & Rasmussen, Blohm + Voss and, in the superyacht segment, Lürssen, the German bluewater boat-building industry barely figures on the radar of international buyers. And all the while customers from all over the world queue up to do business a few miles away in the Netherlands on the strength of the unrivalled expertise of the country's naval architects and yards. This has created fertile ground for the emergence of design offices large and small in a way that just doesn't happen here in Germany.
The designers active in Germany, like JUDEL FROLIC , GEORG NISSEN, BERCKEMEIER und VAN AHLEN, together account for just a small number of jobs and the companies featured in the membership list of the German Boat- and Shipbuilding Association (DBSV) include only a small number of yards able to claim specific experience in building bluewater yachts. The Netherlands, in contrast, boasts a prolific line-up of design offices and plays in a different league altogether when it comes to volume of designs. The entire country also seems to be peppered with ventures of all sizes serving the bluewater scene: from service companies providing anything from fitting-out, installation and painting to yards specialising in hull production or developing and manufacturing under their own brand, the Dutch apparently have it all.
HARD-CHINE OR ROUND BILGE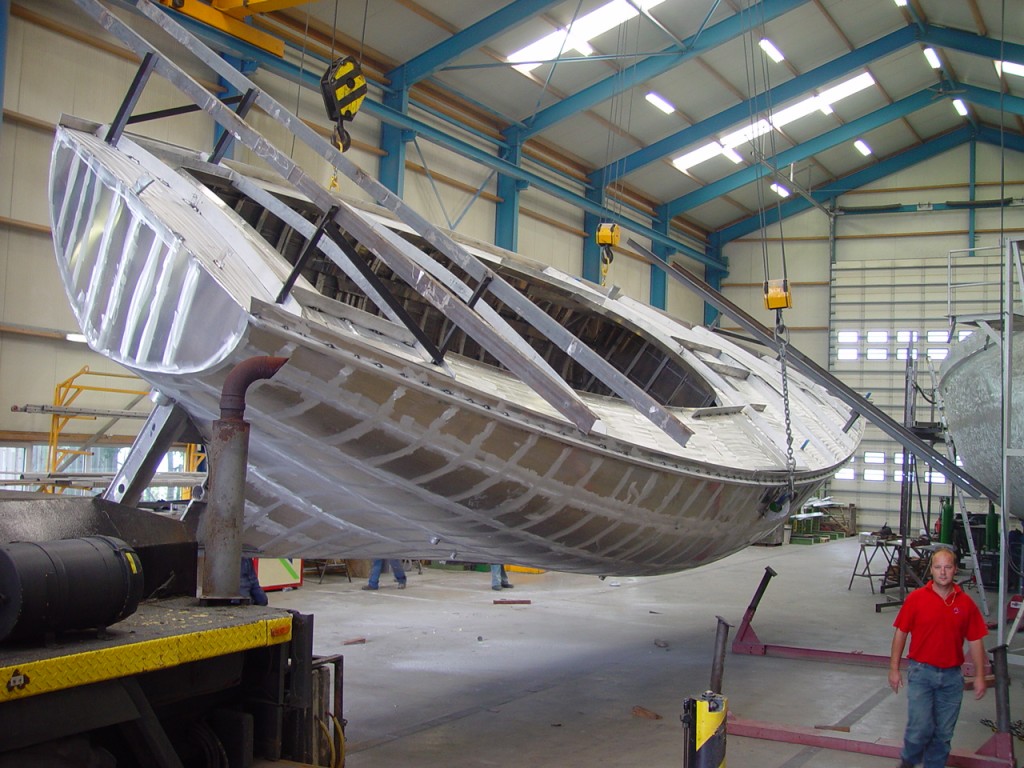 Few characteristics have such a big influence on production costs as the choice of hull form: hard-chine or round-bilged? There is a world of difference between the two, not least in terms of the scope they offer for DIY construction as a way to improve affordability. Which way the decision falls depends largely on the owner's manual skills and pocket depth: hard-chine designs can obviously be manufactured much more easily (inexpensively), because they require that the steel or aluminium material be shaped only in one dimension. Realising round-bilged designs involves shaping the material in two dimensions, which is vastly more complicated. Internal bracing poses fewer challenges with hard-chine designs too, as the chine itself often forms a part of the bracing system. Round-bilged yachts are usually built over frames, with the hull shape clearly discernible even before the outer skin appears. Both designs have been refined with particular vigour in the Netherlands.
Few figures in the Netherlands have triggered a boom on the scale of that initiated by RICUS VAN DE STADT, who played a leading role in shaping the early years of the rapid expansion of sailing in his home country along with his yachting friend KEES BRYUNZEEL. The two remain legendary names to this day in the Netherlands, the one as a naval architect, the other as a manufacturer of doors and windows. The development of seawater-proof plywood was the link that paved the way to affordable craft for the average sailor in the early days of recreational sailing in the Netherlands. Some of the first such designs have proved remarkably resilient too: the Valkenklasse, for example, remains active to this day, with boats as old as 65 still sailing.
It is indicative that van de Stadt still employs the hard-chine design as a signature feature of many models despite having also designed and built a great many round-bilged boats in the interim. Classes such as the CARIBBEAN 40, SAMOA 47, MADEIRA 44, SEAL 36 and FORNA 37 were turned out in their thousands, a significant proportion of them as DIY projects by committed self-builders.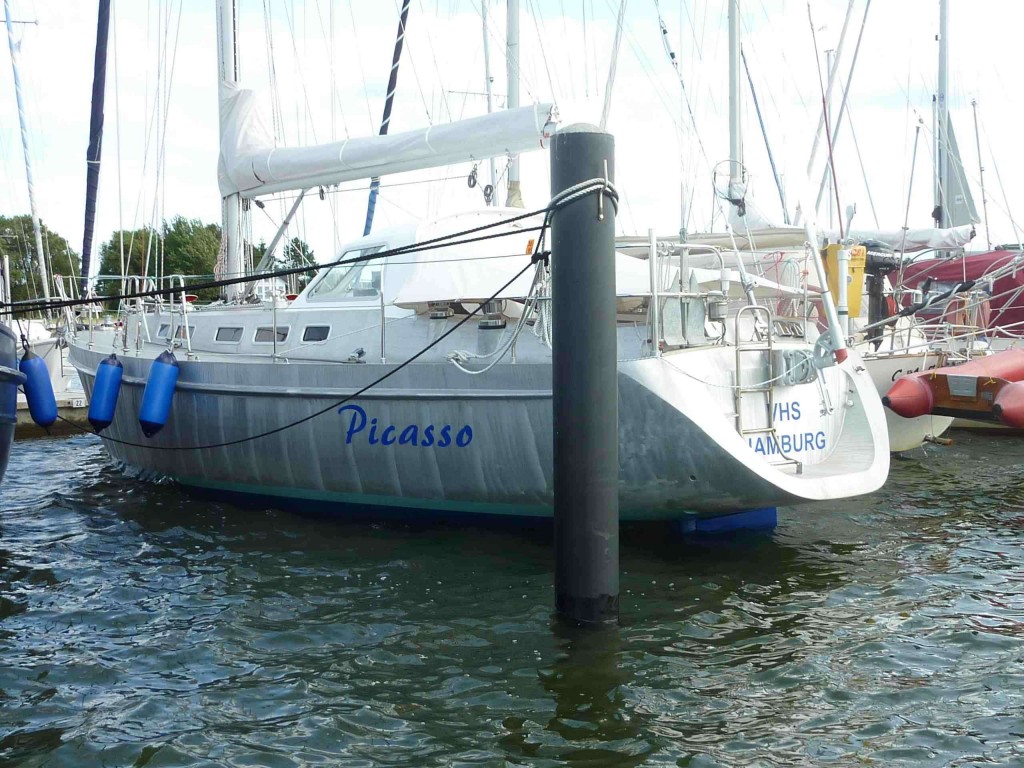 A large number of the van de Stadt designs sold around the world in the form of construction plans over the decades continue to enjoy a strong reputation as solid bluewater campaigners.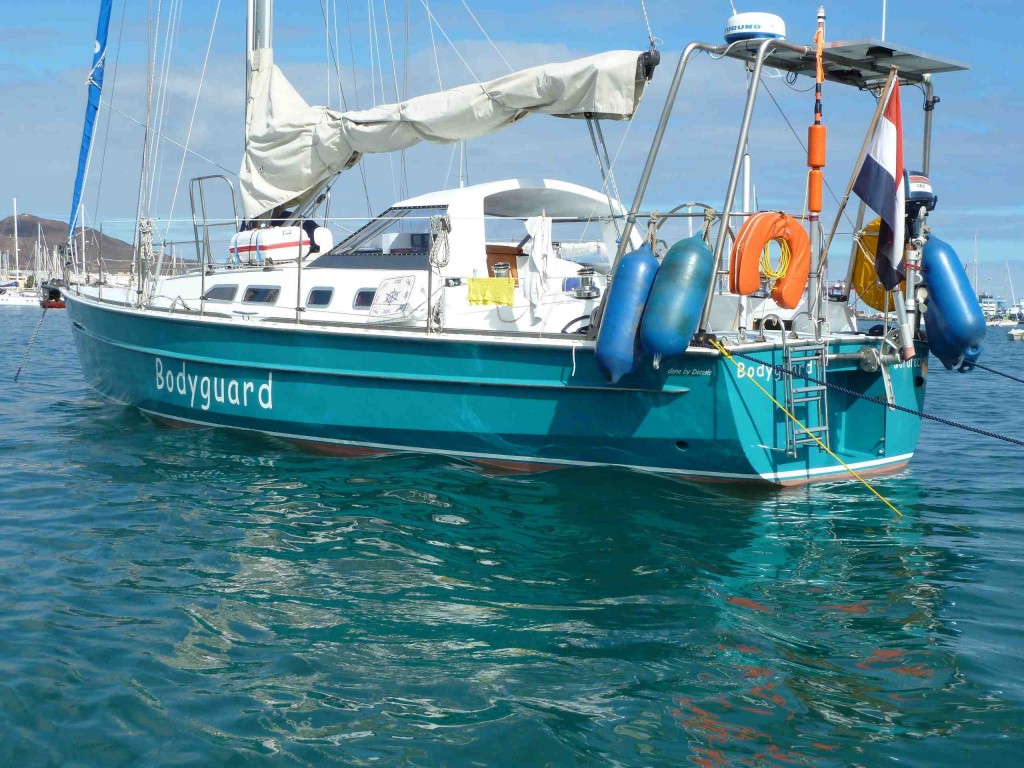 REINKE designs never gained much traction outside of their home market in Germany, but van de Stadts yachts have conquered the world. The company has sold thousands of sets of plans over the decades (continuing right up to the present day) and this list of common van de Stadt boats will likely make very familiar reading to most current and prospective potential bluewater sailors. Steel dominated in the early years, but aluminium has subsequently established itself as the material of choice for van de Stadts as well.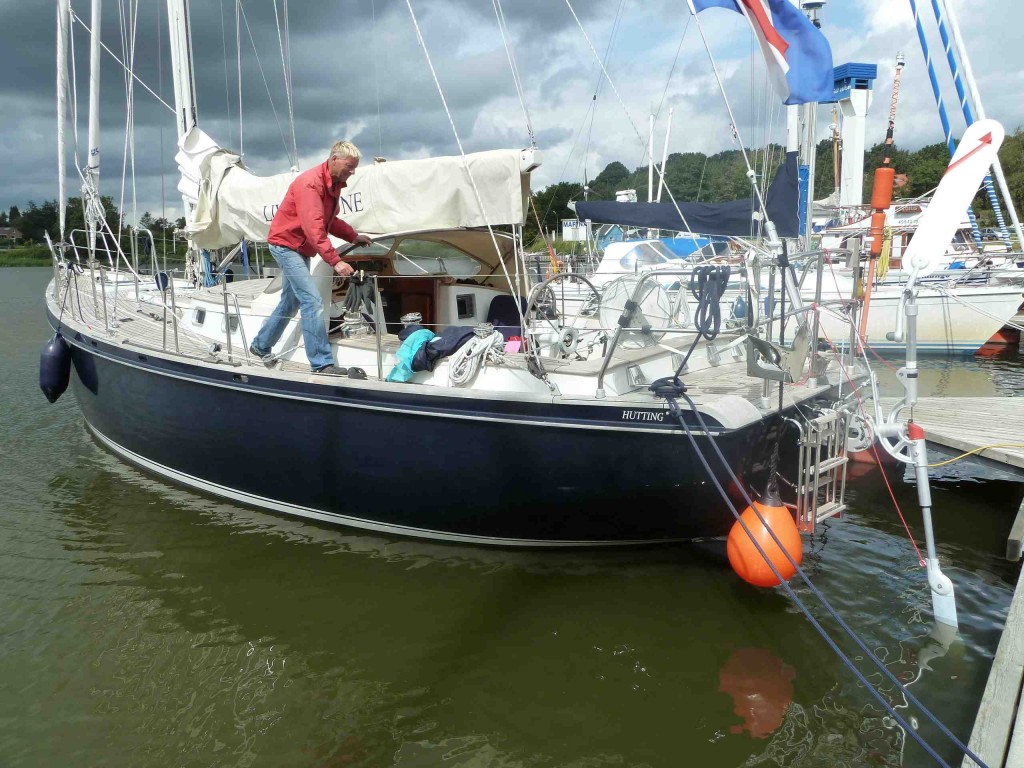 HOLLAND IS KOOPMANS COUNTRY
A quick survey of the bluewater fleet currently sailing under the Dutch flag reveals a particular fondness for boats from the family-owned KOOPMANS company.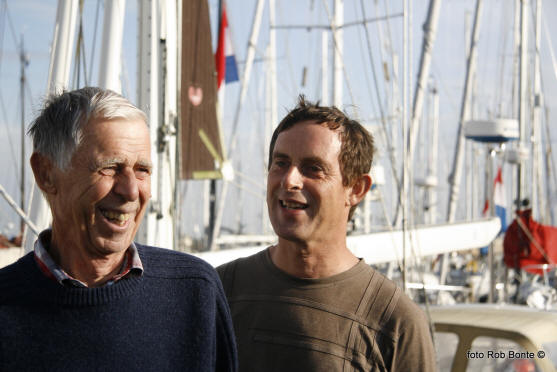 Dick Koopmans Sr and Dick Koopmans Jr epitomise a style of yacht design that puts balance and harmony first. It is an approach that has won father and son team many friends too: a reunion held to mark the company's 50th anniversary in 2011 attracted almost 100 of its various designs. So popular have their designs become that Koopmans yachts always move quickly in the used boat market even in the most challenging of economic times. Almost all Koopmans designs share the same set of distinctive features: balanced, harmonious lines, large overhangs, generously proportioned keel and rudder and a choice of long keel, fin keel or the centre-board so beloved of Dutch sailors. Round bilges are mandatory for Koopmans designs, which gives an idea of their likely price bracket.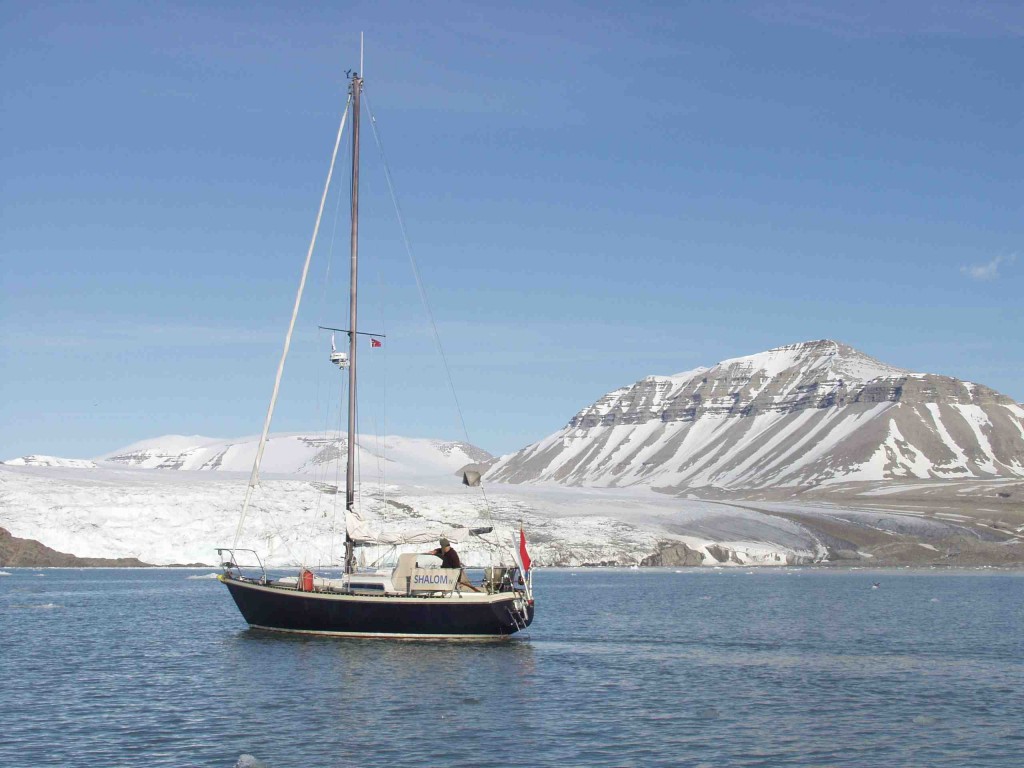 Koopmans has designed a whole series of production yachts, the best-known of which, in Germany at least, bear the VICTOIRE, BREEHORN and HUTTING brands. It remains the case, however, that the great majority of their designs are built as one-offs and, since we are dealing with the Netherlands here, the overwhelming majority of these are professionally built: the combination of yards that do nothing but manufacture hulls and hundreds of small boat-building companies specialising in finishing and fitting out – and their ability to do this at a reasonable price – seems to convince virtually all owners and buyers that there is just no point considering the DIY route. The service companies that underpin this system do not exist on anything like the same scale in Germany.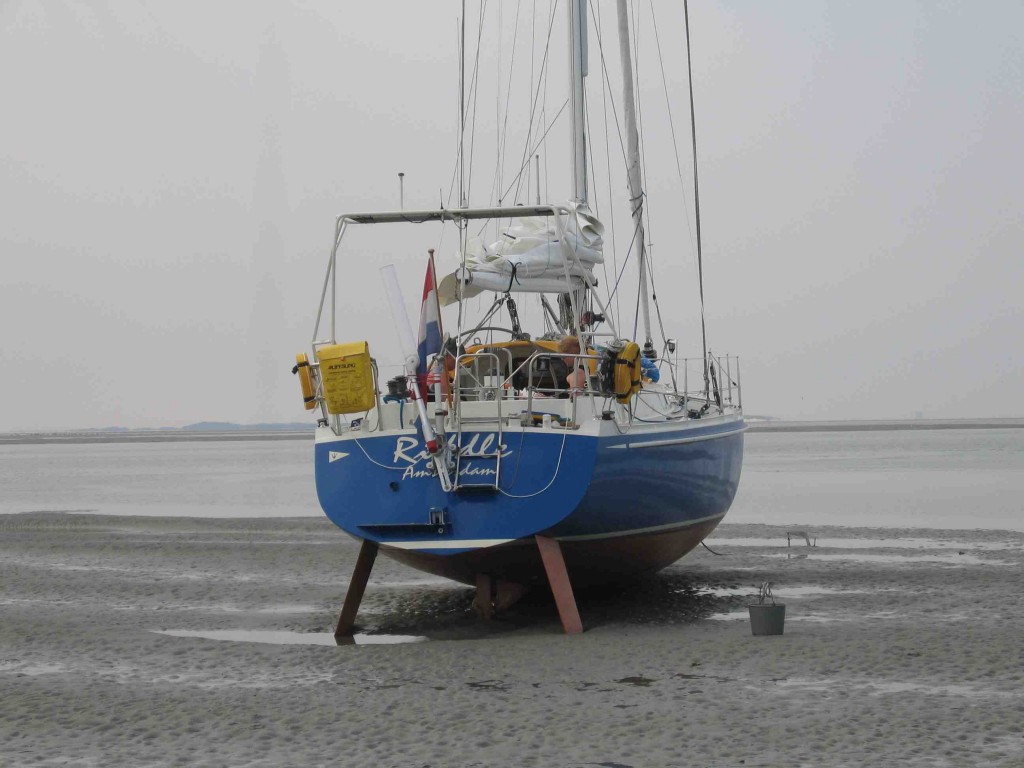 DICK ZAAL and his ATLANTIC YACHTS occupy an altogether different part of the yacht design spectrum. Most feature radical, modern lines, often complemented by a twin rudder configuration, making them ideal for exploring shoal waters without any loss of upwind performance. All Atlantic yachts have a professionally-built hull finished at the yard in Harlingen.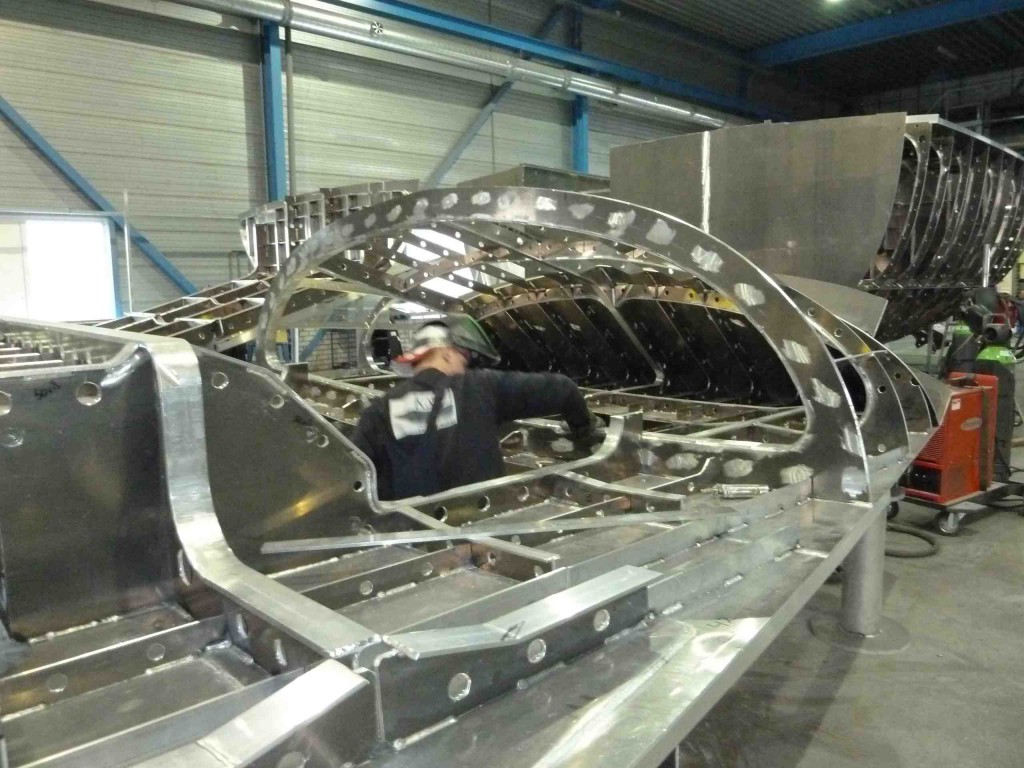 K & M YACHTBUILDERS in Makkum made its name building the legendary BESTEVAER yachts, which range in length from 53 to 76 feet, but also takes on significantly larger one-off builds, all in aluminium. Its manufacturing operation is breathtaking, most notably for the speed with which the yard combines hull segments and prefabricated components to create finished hulls.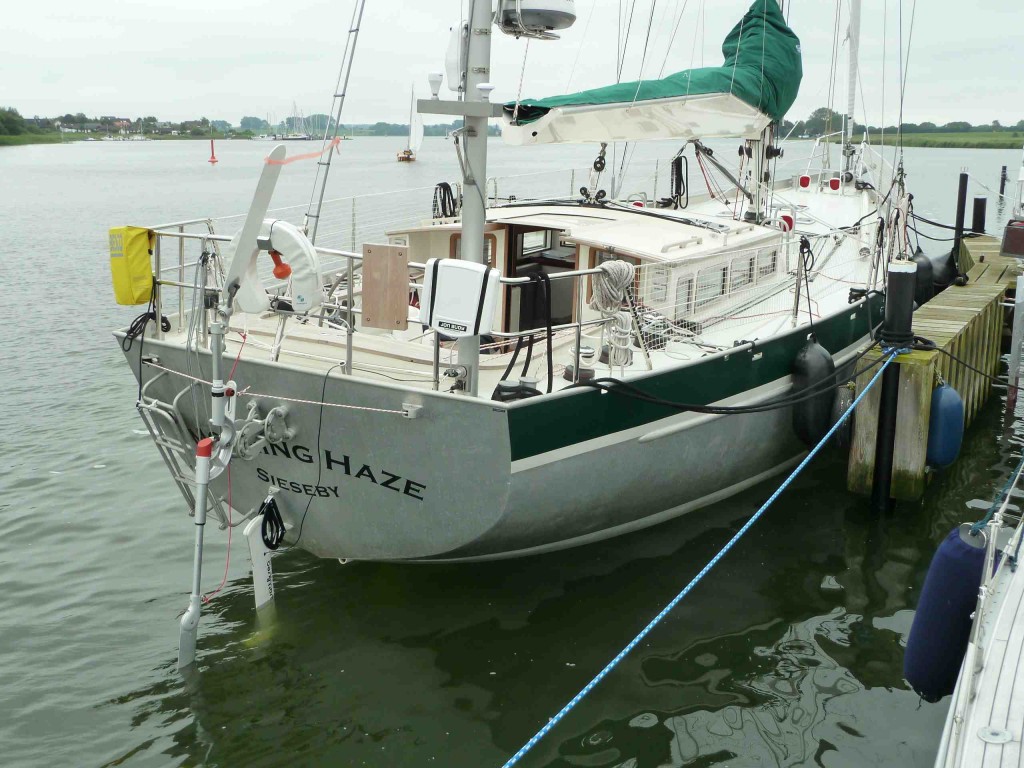 All BESTEVAER models spring from the pen of GERARD DYKSTRA , who has already covered some 100,000 nautical miles, mostly sailing single-handed at very high latitudes, in his own Bestevaer 53. And virtually all of the Bestevaer fleet – none of the members of which are likely to fall within the price range of the sailor of average means – is to be found on extended voyage somewhere around the globe.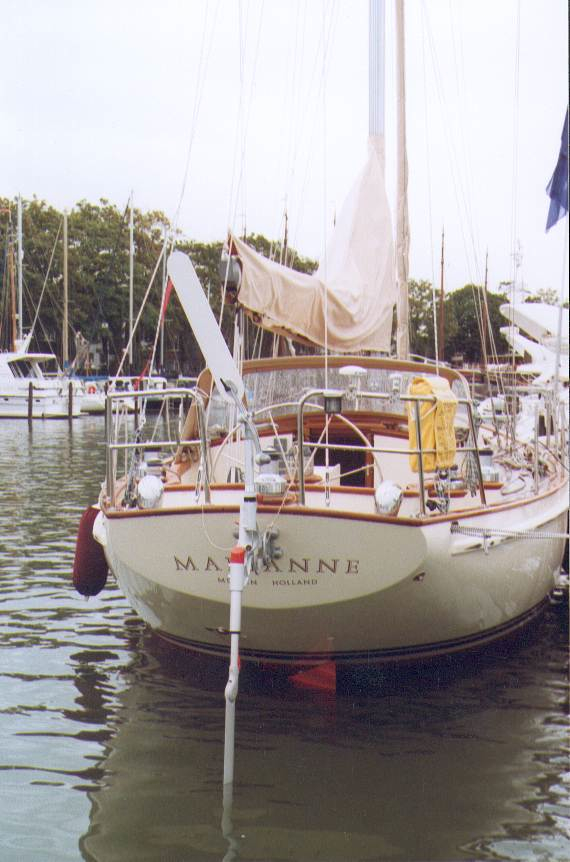 Moving further up the price range – prepare to enter the stratosphere – we find theHOEK DESIGN GROUP, whose fusion of classic lines and modern underwater profiles has brought it tremendous international success. I mention these spectacular yachts, which never fail to captivate the eye and lens of the world's marine photographers, purely for the sake of completeness and to illustrate the heights scaled by the Dutch marine industry: sadly they do not represent a realistic bluewater option for us mere mortals!
PIETER BEELSNIJDER is another established name in the Dutch superyacht business. Almost all of his designs are built as one-offs.
VRIPACK is the largest design office in the Netherlands. It has always concentrated almost exclusively on motor/expedition yachts, but over the years the copious output of its extensive team has included a few sailing yachts.
Breewijd 31, Cumulant, Vanguard, Danish Flower, Danish Rose, Contest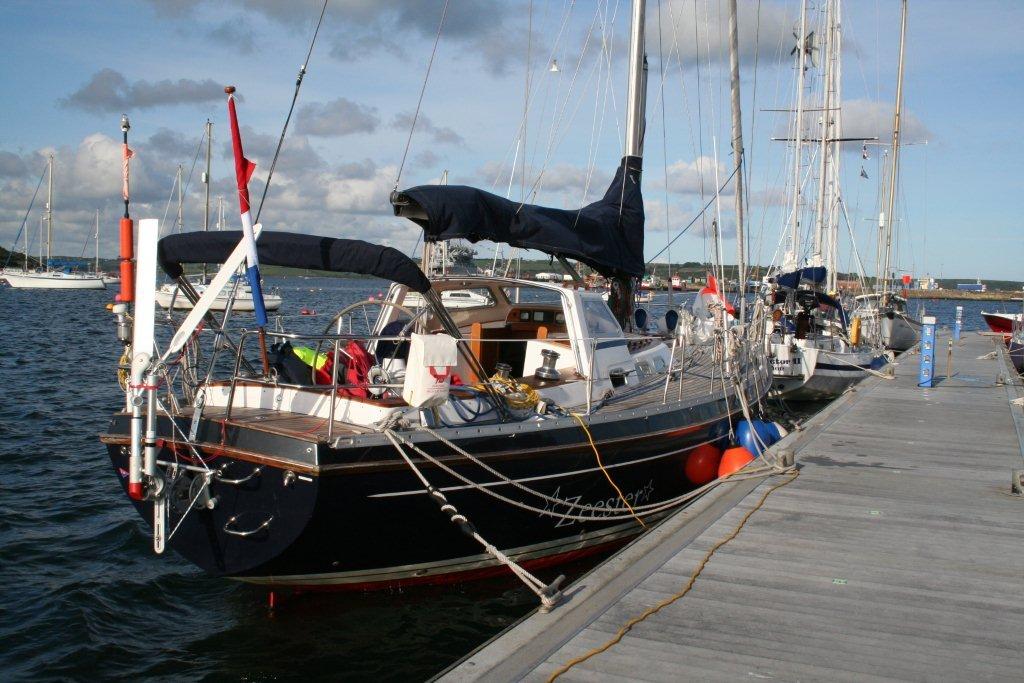 POPULAR PRODUCTION GRP YACHTS FOR BLUEWATER USE
CONTEST
BREEHORN
VICTOIRE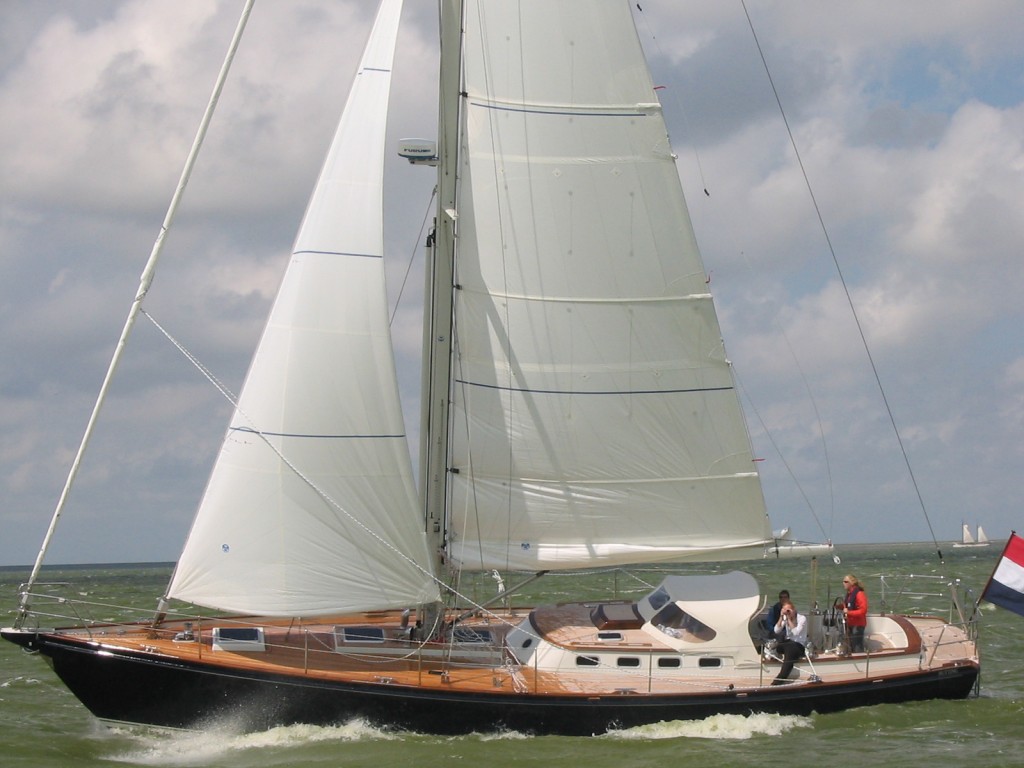 YARDS HULL ONLY OR COMPLETE
ROYAL HUISMAN
ALUBOOT BV
CONCORD JACHTBOUW, St. Annaland
DE SLUIS JACHTBOUW BV
KOOPMANS KASKO´S 
JACHTTBOUW FOLMER 
JACHTBOUW VELS BV 
K & M YACHTBUILDERS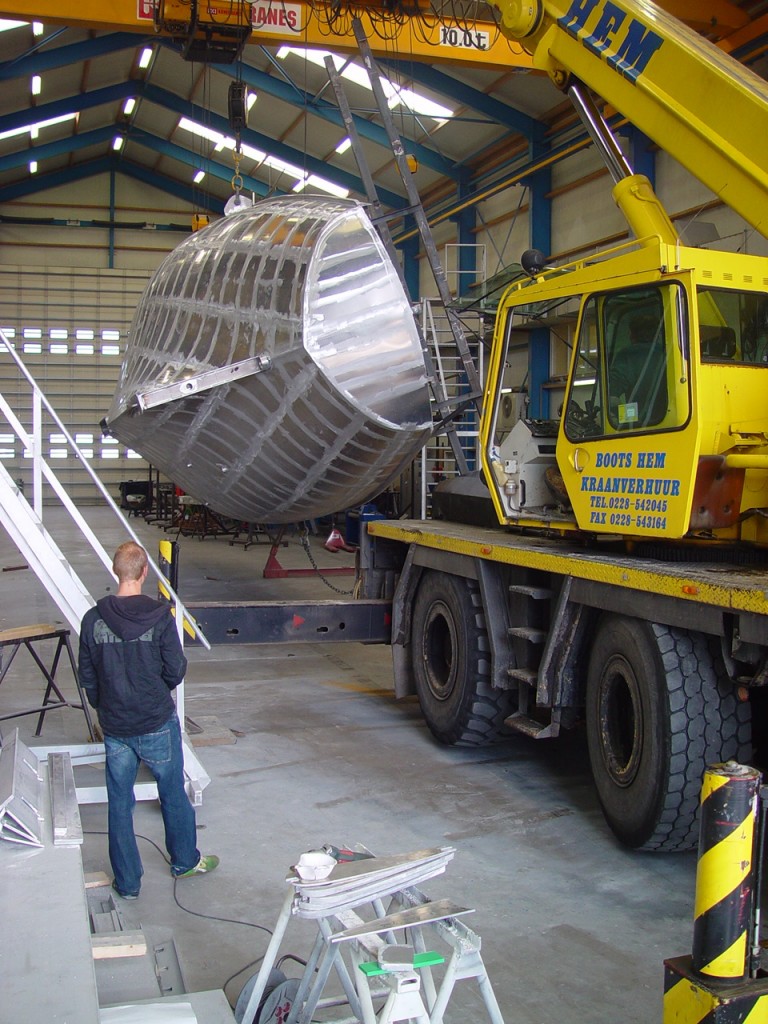 HULL FIT-OUT
ROB FRITZ 
S.J.NIJENHUIS
J.H.PRONK 
JURJEN MULDER
The Dutch do not just have their own distinctive way of building yachts, they also buy/sell them differently: whereas production boats in countries like Germany and France are almost without exception marketed through a network of dealers (with a corresponding constant presence at the national boat shows), the Dutch rely all but exclusively on direct sales. This means no margin for middle-men and in most cases no need to "invest" in glamorous boat show stands: Dutch customers, apparently, can find their way to the yards and design bureaus on their own. The financial advantages of this system should be obvious: more ship for your money when buying a one-off and no marketing costs for the buyer to share when purchasing a production boat.
The average length of the boats on bluewater duty under the German flag hovers around the 38-42 foot mark. The Dutch seem to like their yachts rather larger – and better equipped too. Dutch sailors apparently either have more to spend or are prepared to spend more of what they have on sailing: in fact it is striking how few low-budget yachties there are abroad under the Dutch flag.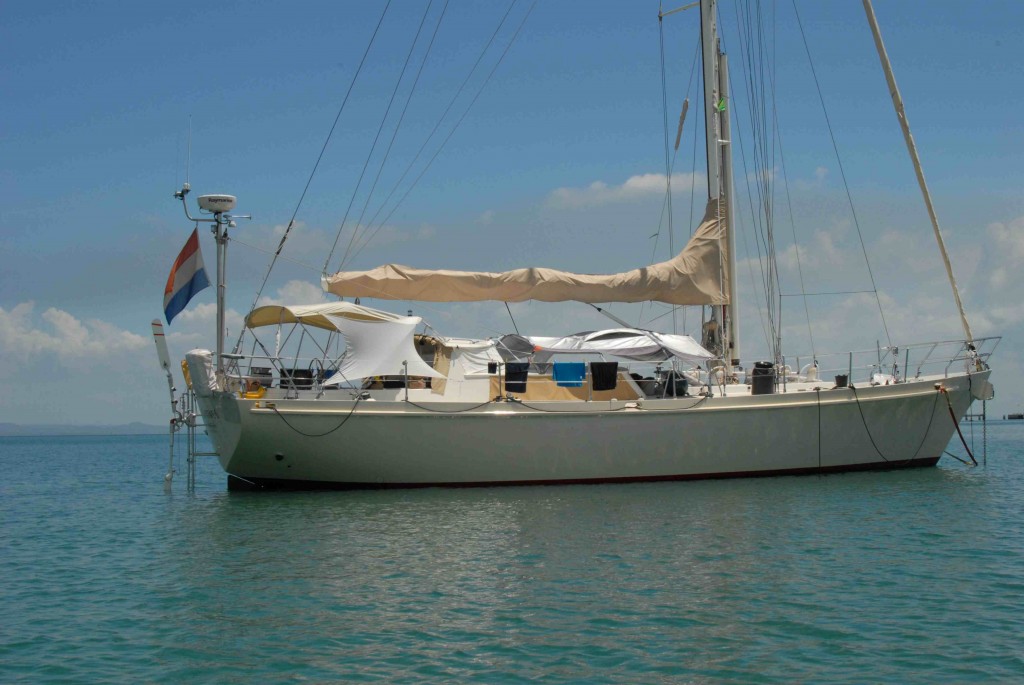 BLUEWATER PORTAL – DUTCH BOATS
ATLANTIK YACHTS
SV RIDDLE ATLANTIK 43
SV LOESJE ATLANTIK 42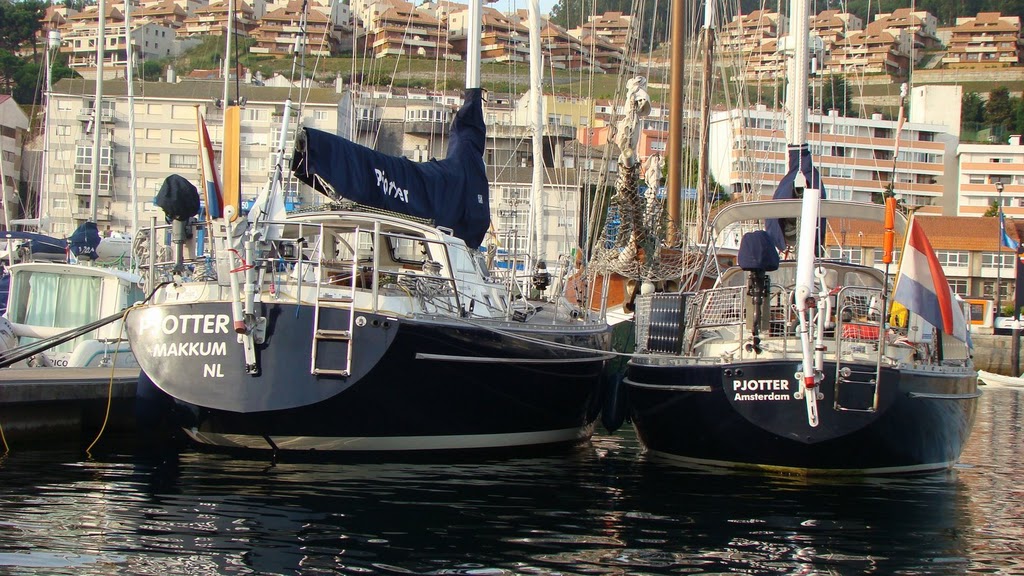 BREEHORN
SV PACIFIC BLUE BREEHORN 44
SV ZEEZOT BREEHORN 37
SV PJOTTER BREEHORN 44
SV PJOTTER BREEHORN 37
SV BLUES BREEHORN 37
SV NOSTRESS  BREEHORN 37
BREEWIJD
SV MADAME CURIE BREEWIJD 31
SV GABBER BREEWIJD 31
SV VIDA VAGADUNDA BREEWIJD 31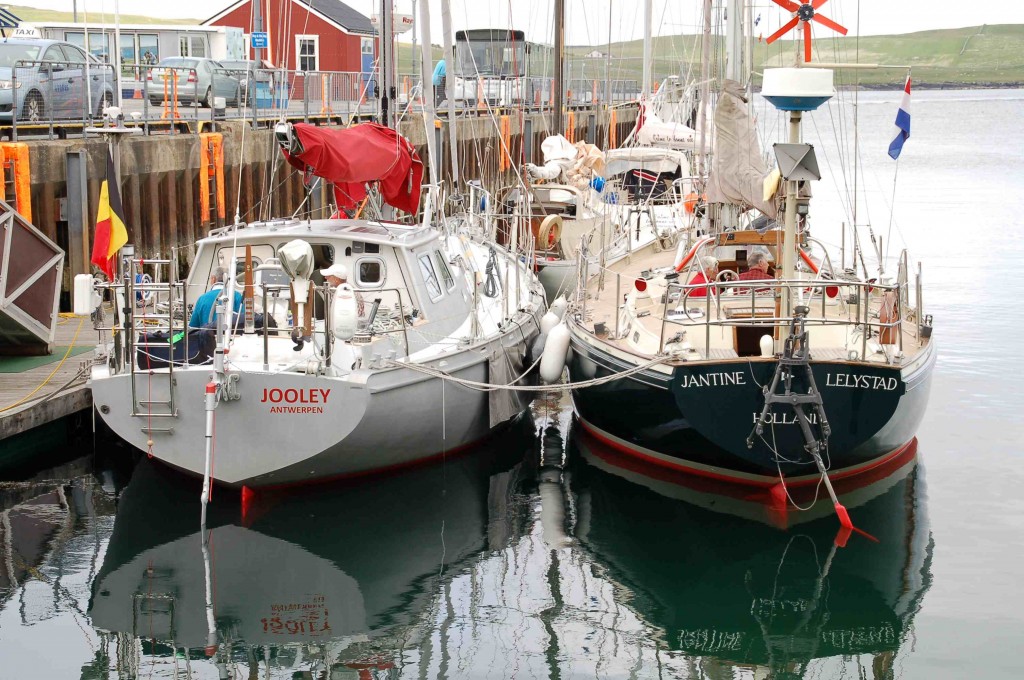 KOOPMANS
SV GEMINI KOOPMANS 46
SV FLYAWAY KOOPMANS 47
SV KAAT KOOPMANS 39
SV JACQUELINE KOOPMANS 42
SV RITME KOOPMANS 33
SV BOEZEMAN KOOPMANS SENTIJN
SV SANTANA KOOPMANS 54
SV MIRUS KOOPMANS 37
SV FLYING SWAN KOOPMANS 46
SV ZWERVER KOOPMANS 39
SV SABBATICAL KOOPMANS 45
SV INDIRA KOOPMANS 40
SV ANAKONDA KOOPMANS 50
SV WING IV KOOPMANS 41
SV BARBAROSSA KOOPMANS 44
SV BANNISTER KOOPMANS 45
SV VLIEGER KOOPMANS 39
SV SIRIUS KOOPMANS 40
SV ELSA KOOPMANS CONCORD 47
SV CALLISTA KOOPMANS 43
SV MUNDINHO KOOPMANS 42
SV DIKKE DRUYFF KOOPMANS 44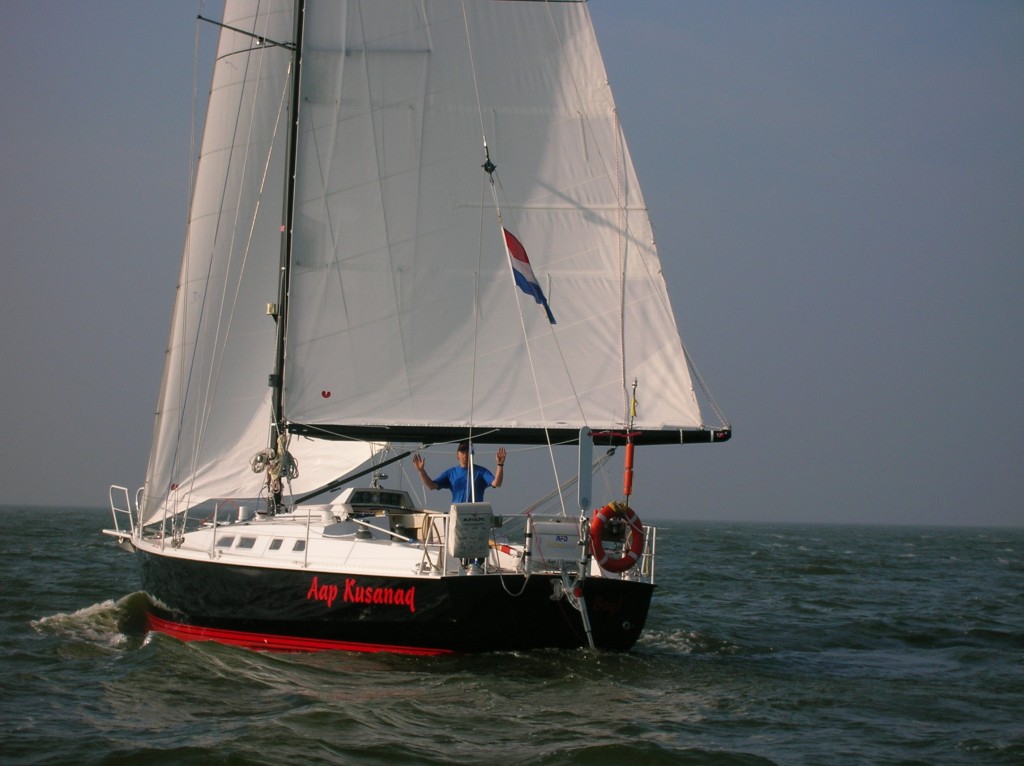 VAN DE STADT
SV SEPIA VAN DE STADT 34
SV TISCALI VAN DE STADT
SV VAGANT VAN DE STADT MADEIRA 46
SV VRIJHEID VAN DE STADT 34
SV ALEXANDRA VAN DE STADT SAMOA 49
SV BODYGARD VAN DE STADT FORNA 37
SV ANGELIQUE VAN DE STADT 43
SV NIGHTFLY VAN DE STADT 34
SV HEIDENSKIP VAN DE STADT 65
SV KOSTAT VAN DE STADT NORMAN 40
SV BLAUWE PINQUIN VICTOIRE 34
SV REBEL VICTOIRE 1200
SV LIBERTY VICTOIRE 1044
SV CAPILANO VICTOIRE 1044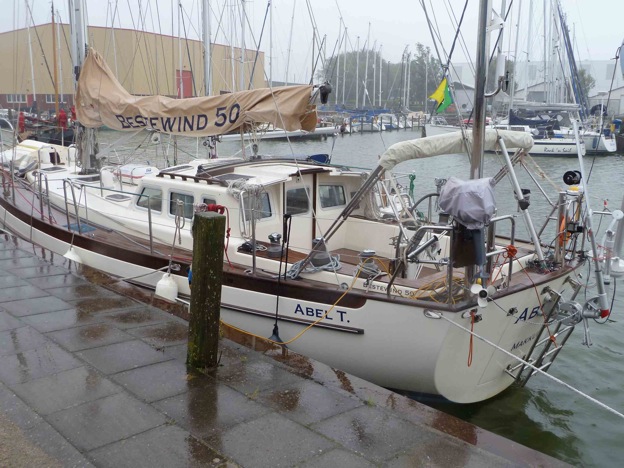 OTHERS
SV ABEL T. BESTEVIND 50
SV DIX BAY BEELSNIJDER 45
SV PINICAL DICK ZAAL
SV BARRACUDA CUMULANT III
SV DALWHINNIE DANISH ROSE 42
Further information about owners who are also career authors may be found, together with links to blogs/websites where applicable, here.
Further information about circumnavigators may be found, together with links to blogs/websites where applicable, here.
The next article in this series on Boats by Country is on the way,
promises
Peter Foerthmann