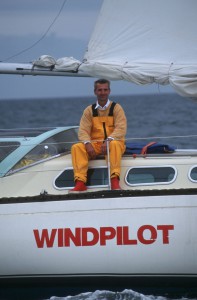 Grandfather's principles coursed through my veins. He never showed me any anger and certainly never raised a hand to me, but his great restraint, even when he was clearly seething inside, made a tremendously deep impression. Grandfather's mantra was uncomplicated: buy only the dreams that you can afford. Openly advocating such an attitude today of course would be tantamount in the eyes of many, including our dear politicians, to a large down-payment on a padded cell.
I, however, considered it at the time to be entirely reasonable advice and a sound basis on which to proceed and the boats that came into my possession in the early decades of my sailing life were consequently sourced from the nether reaches of the food chain and available in effect for the price of a few beans. This never affected my enjoyment of the boats concerned and the skills I learned have stood me in good stead since.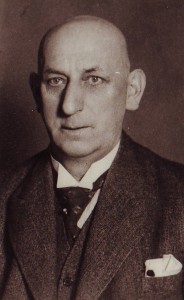 The sense of having (re)created a capable vessel – and, in due course, the pleasure of being able to sell it on for good money to a fellow enthusiast – more than made up for the blood, sweat and toil involved in helping a forgotten near-corpse of a boat set sail again.
I loved the feeling of providing for my own transport out of my own means on road and water alike. How very different it must feel to buy a house, I thought, paying off the mortgage over a period of decades and knowing for all of that time that the repayments had to take precedence over everything else? No, that didn't sound like my cup of tea at all. My affairs with elderly sailing craft, in contrast, were perfectly flexible and could be matched to my financial position at the time.
The departure of Träumerei then left me wondering just where exactly life was heading: as well as everything else she had burnished my ego wonderfully, but the sale was the only possible way to iron out a matrimonial blunder without ruining myself in the process. A man resolved to face the facts about a failed marriage, it seems, can expect to suffer greatly at the bank on account of his distaste for self-deception.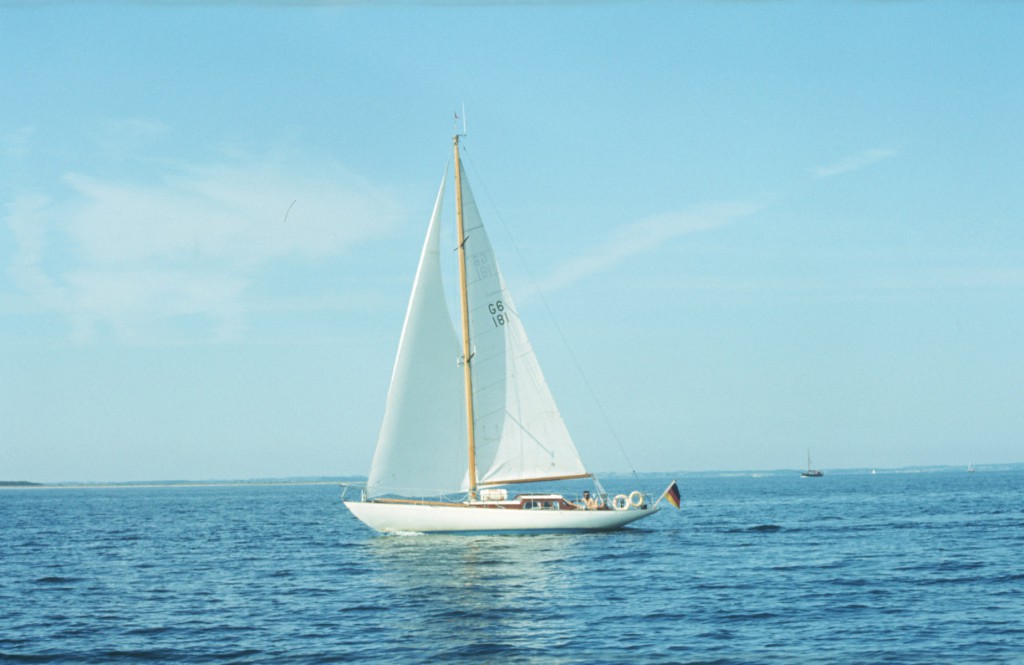 The NADINE 24 performed flawlessly it is true, but pale blue was not a colour I appreciated in a boat, not least because the German navy had a whole fleet of pale blue Nadines on the Baltic and I in no way wanted to be mistaken for one of them. So I traded her for hard currency, which I immediately converted into a Belgian boat that I then delivered back to Hamburg, in the highest of spirits, single-handed (this was a period of my life in which female company was lacking – although as an interim solution it was a lack I quite enjoyed).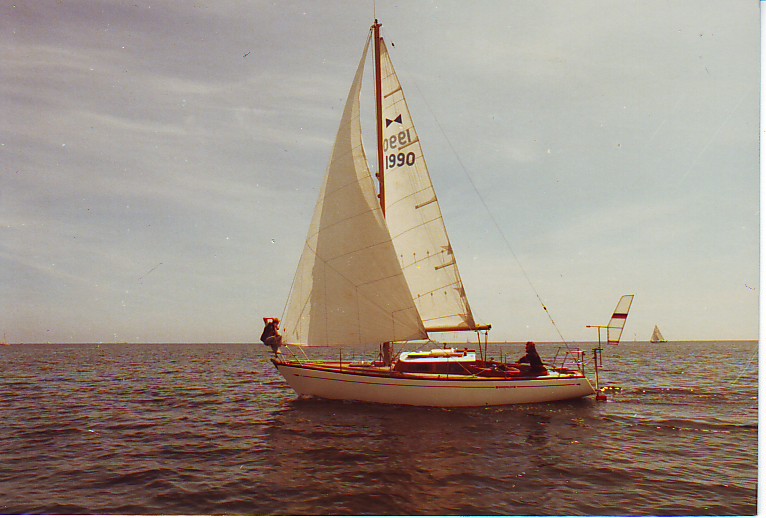 Eine SPLINTER 30 von Van de Stadt, für damalige Verhältnisse ein extremer Segler, war ein optischer Hochgenuß, unter Deck hingegen hatte dies Schattenseiten, denn aufrecht stehen, konnte ich zumindest, nicht!
This new boat, a Van de Stadt Splinter 30, was an extreme sailor by the standards of those days and a beautiful object to behold, but this came at a cost down below, where I, for one, was unable to stand up straight. In fact as it transpired, there was more wrong down below than just limited headroom: the Nanni Diesel had some serious, serious issues and one spring, during a tight but not unreasonable manoeuvre off the island of Heligoland, it and the base on which it sat toppled over sideways and nodded off. It was clear – everyone in the harbour seemed to have taken an interest and they all agreed – that the base and the hull must have fallen out very badly, as they had parted with great force.
Thanks to a strong south-westerly, we were able to flee home and ride the tide up the Elbe to Wedel, where we applied matt and epoxy in generous quantities to reconcile hull and engine base, forcibly, and allow the engine to resume directing its energies to the prop in the usual fashion.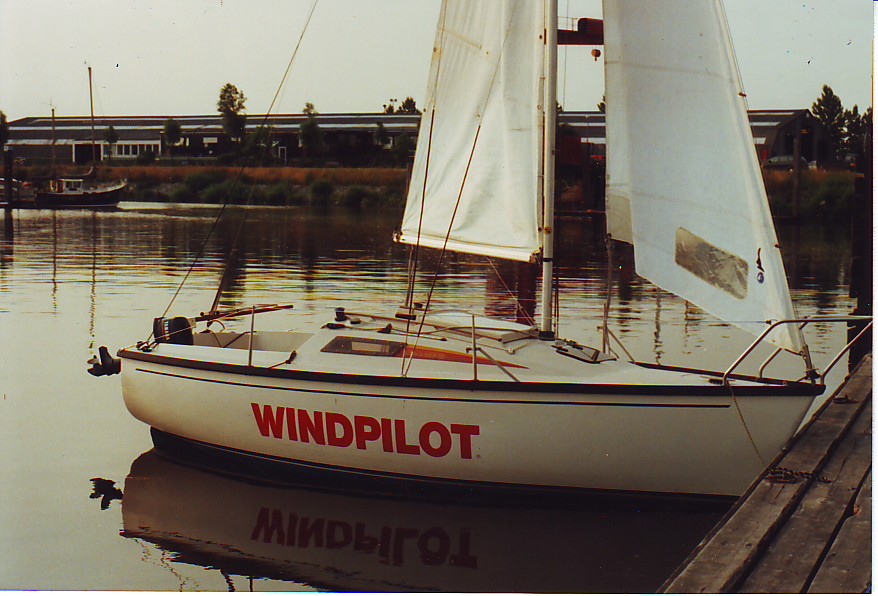 A car for a boat? Done that! The outgoing car was my fine 2CV, the incoming boat a sad Beneteau First 18. This marked the launch of my new policy of henceforth keeping at least two boats in the stable and with it the grand decision, in 1984, to reach for the stars with future yacht purchases. The brightest objects in the firmament at that time were held in German sailing circles to be Baltic, Swan and Hanseat, names whose inaccessibility made me loathe even to allow them into my dreams. But I decided to chance a closer examination anyway, just in case…
Baltic I ruled out very quickly due to my misgivings about GRP sandwich construction, while the price of a Swan 36/37 involved more digits than my bank account could muster. But a Hanseat, manufactured almost on the doorstep at Glückstadt on the Elbe and the boat of choice (I thought) of seafaring dentists, lawyers and gynaecologists everywhere, proved to be not entirely beyond the reach of an up-and-coming young entrepreneur in the windvane steering business.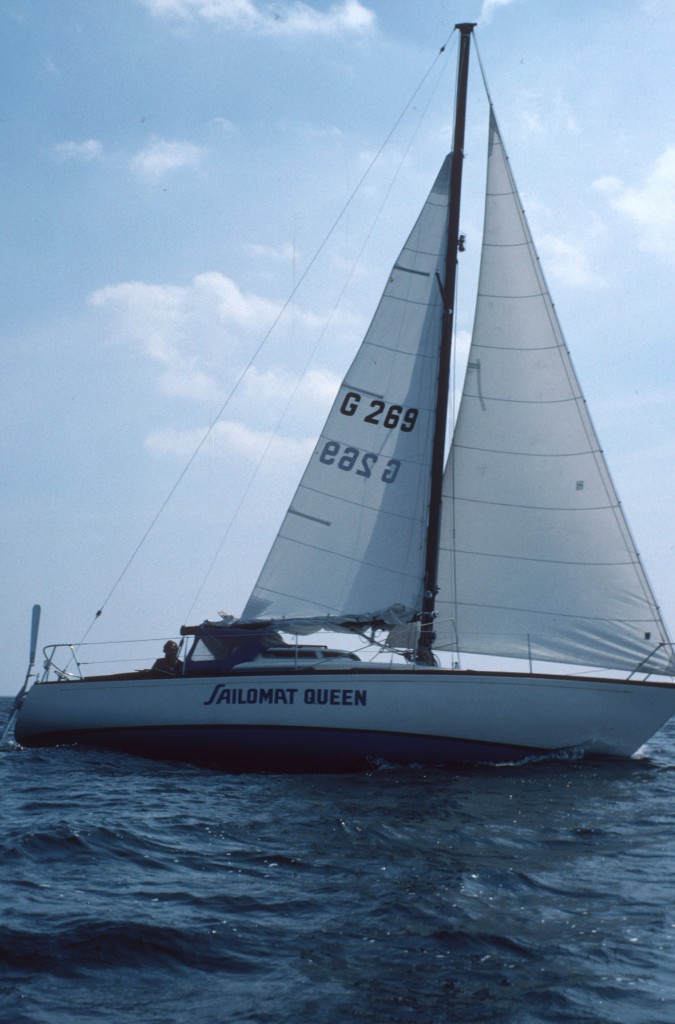 A Hanseat 69 it was, with the distinctive extra tier of windows around the companionway (which had earned it the rather unkind nickname of "double-decker") and a hull built to last forever (probably because people had no idea in those days just how thin a hull could be). I was right back on top of the dung heap again and crowed liked the proudest cockerel: Hanseat owners, I discovered, enjoyed a previously unsuspected deference in harbour.
Hot on the heels of my new pride came a new fall, this time a grave miscalculation on the business front. A competitor took me for a ride, defrauded me out of a large sum of money and disappeared, along with my cash, into deepest, darkest Scandinavia. The money had gone and the boat already belonged, in theory, to the bank. I had to pursue the matter in Sweden for a long time, but that's another story and while the facts remain fresh in my mind, I'm not sure yet whether they will be seeing the light of day again (perhaps I should take advice from my wife on that one).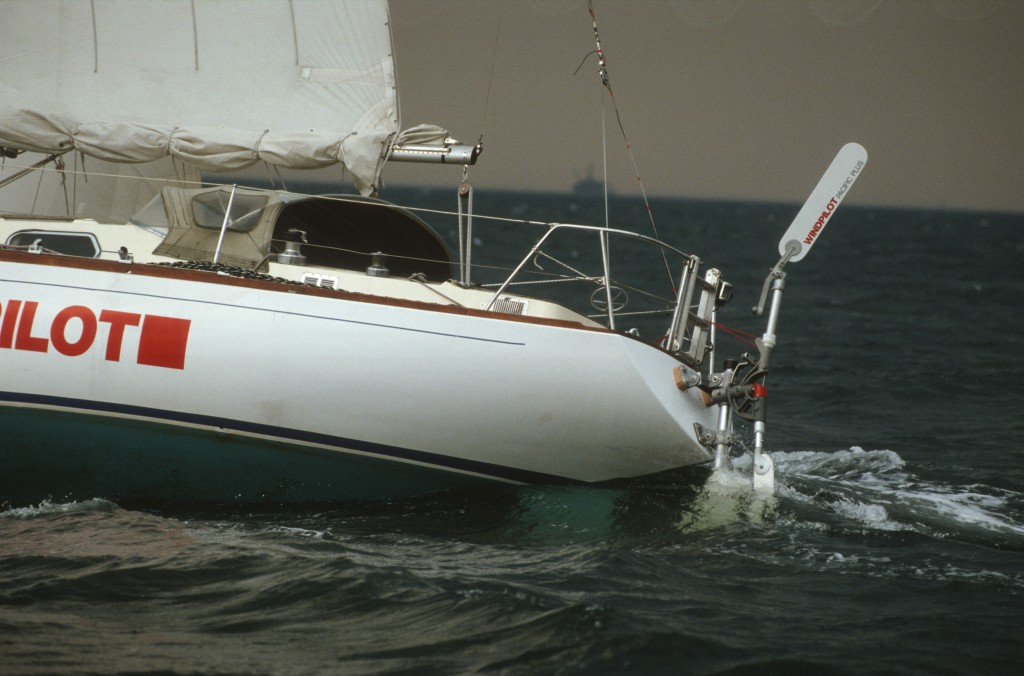 What next? Well, my friend Heiner, the man who had bought my Bianca many years previously, showed up asking if I might perhaps like to buy his Hanseat 70. Silly question – we both knew the answer already! As mentioned, however, I was pretty much broke and out of favour at the bank, so I had not much to offer in exchange. Luckily, not much turned out to be about right. Heiner's boat was the black sheep in the otherwise high-quality Hanseat flock: a problem child riddled with osmosis, it seemed ideal for an enthusiast short on cash (that would be me).
The Wrede family examined the patient at Schulauer Hafen and recommended a full peel and replace (plastic surgery in the truest sense of the expression). It seemed like a wonderful job at first, but my heart sank a few months later when the evil bubbles began to reappear. Evidently something had gone wrong with the procedure, but what?
It can happen sometimes, said one Wedel brother, but another, Peter, saw things quite differently and promptly arrived at a most elegant solution: he was just looking for a Hanseat himself, he said – perhaps I would like to sell him mine? Financing arrangements we resolved in no time and with Peter having taken the boat off my hands and paying the agreed instalments punctually, the way was clear for me to move on to Hanseat number three.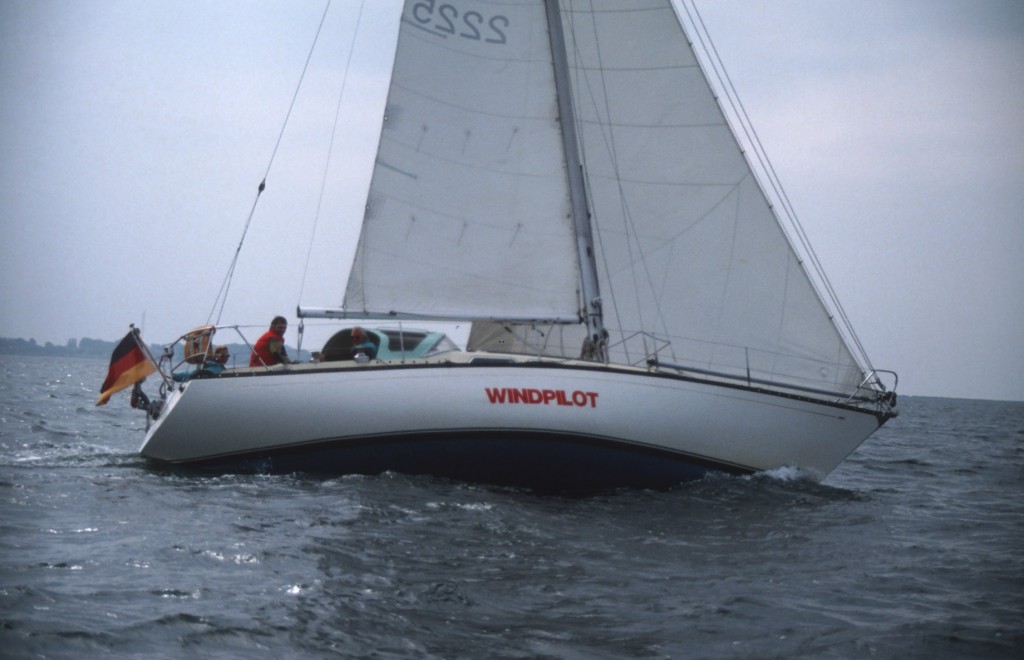 This time I went for a Hanseat 70 B II, the centrepiece of the range and, for once, a boat with no quirks and no skeletons in the cupboard. A vessel of perfectly balanced aesthetics, I acquired her from a doctor who had too little time to enjoy her for a price I never had cause to regret: when I finally sold her after 16 years of sailing adventures I lost neither dollars, nor Marks nor euros. A wonderful investment – I wonder how many boat owners could say the same today?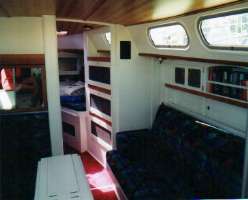 I fell for this boat so absolutely that we took a deep breath and treated her to an A&R-style interior refit in contrasting white paint and red cedar strip with stainless steel cubby-hole trims and Italian-design cushions in gentle rainbow colours. To this I added a smart self-built rigid dodger. The result surpassed my expectations, even appearing in Germany's Yacht magazine.
My third Hanseat put up with me for a whole 16 years; an extraordinarily long time given my history, but it represented everything I believed a sailing yacht should be. Eventually though I couldn't help noticing that due to pressure of work, it had been the last boat left in the shed several springs in a row and I passed it on to a man who, not content with two boats overseas, now needed one at home as well. He knew my boat already and had thoroughly lost his heart to what was undoubtedly the smartest, most beautiful and best maintained Hanseat around. Looks aren't everything, of course, but they certainly help!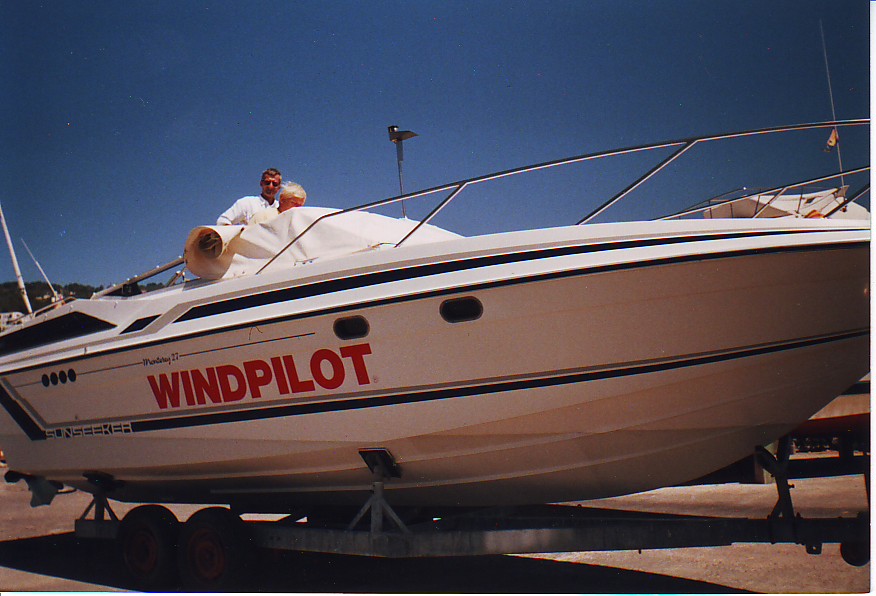 What else is there to report? Well, I have been known to drive a powerboat in Mallorca. A twin-diesel Sunseeker speedboat came first, principally, of course, as a service boat so that I could reach all those needy customers swinging at anchor beyond Puerto de Andratx. Having sold the Sunseeker some years later in Portals Nous, I invested in a Boston Whaler Outrage, a tough offshore powerboat with twin 165 HP Johnson Searunner outboards.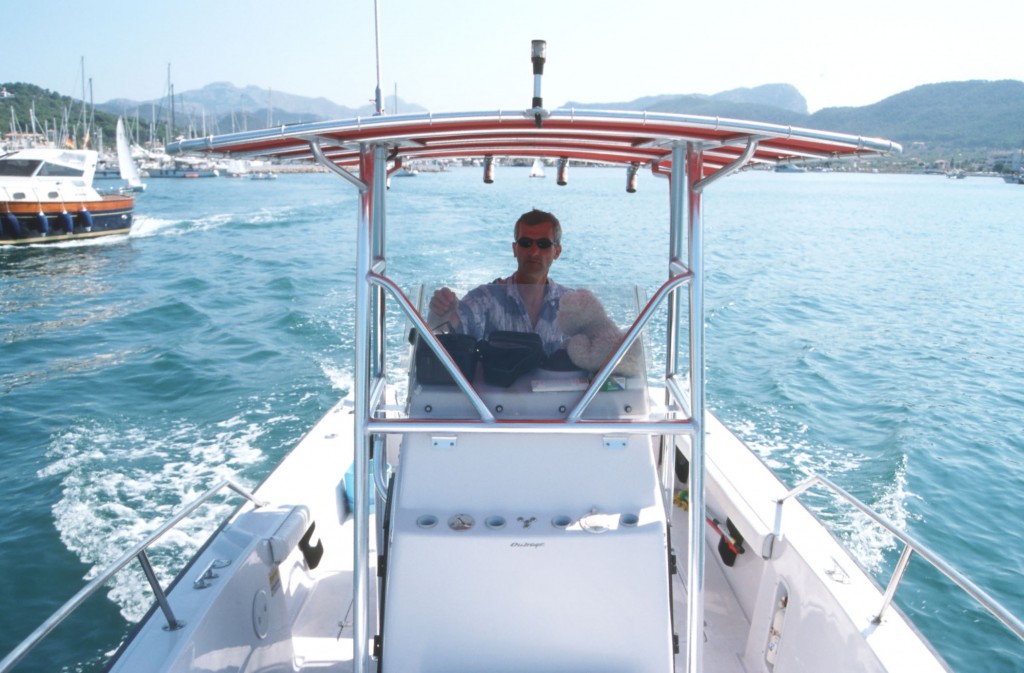 I collected the Whaler in Crystal River, Florida, and immediately raced down to Ft. Lauderdale to catch the Sevenstar transport to Mallorca, where I arrived six days later to find I was just in time to watch the spectacle but just to late to intervene: when the dock was flooded, the force of the water rushing in pushed my boat backwards and when the engines failed to start, it continued in the same direction – straight into the military restricted area in the western corner of the harbour. The military carefully moored it up behind the Spanish king's racing yacht and that was the end of my access to it. Hours of discussions followed, at the end of which it was put to me that the boat now belonged to the Spanish navy! That might well have been that, but later on the friendly wife of the harbour commandant suggested to me, in fluent English, that I should just get in my boat and take off. Nobody would do anything, she assured me.
Short of options as I was, I took her at her word and made for the open sea as fast as I could. I then headed West for Puerto de Andratx at 30 knots in an Easterly of about the same, lashing myself to the seat to avoid any spills as we skipped from wave to wave. The voyage was a short one at that speed and I am still full of respect for the legendary seaworthiness of Boston Whalers, which continue to do hard graft as the workhorse of the US Coast Guard.
My Whaler subsequently followed me back to Germany when I drew a line under the highly educational Spanish chapter of my life after twelve years. A boat like mine, however, couldn't help but catch the eye of the bored harbour police as they cruised the waterways around Hamburg looking for ways to justify their existence. Speed was the problem: even with both engines idling, the Whaler just couldn't go slowly enough. Tempting as it might seem, screaming away from the cops at 46 knots was no solution either, as they had always a helicopter standing by not far away and would have jumped at the chance to call it into action.
Bowing to the inevitable (the inevitable that didn't involve fines and court appearances), I let the powers that be have their way and today the Whaler works the Kiel canal hauling damaged lock gates.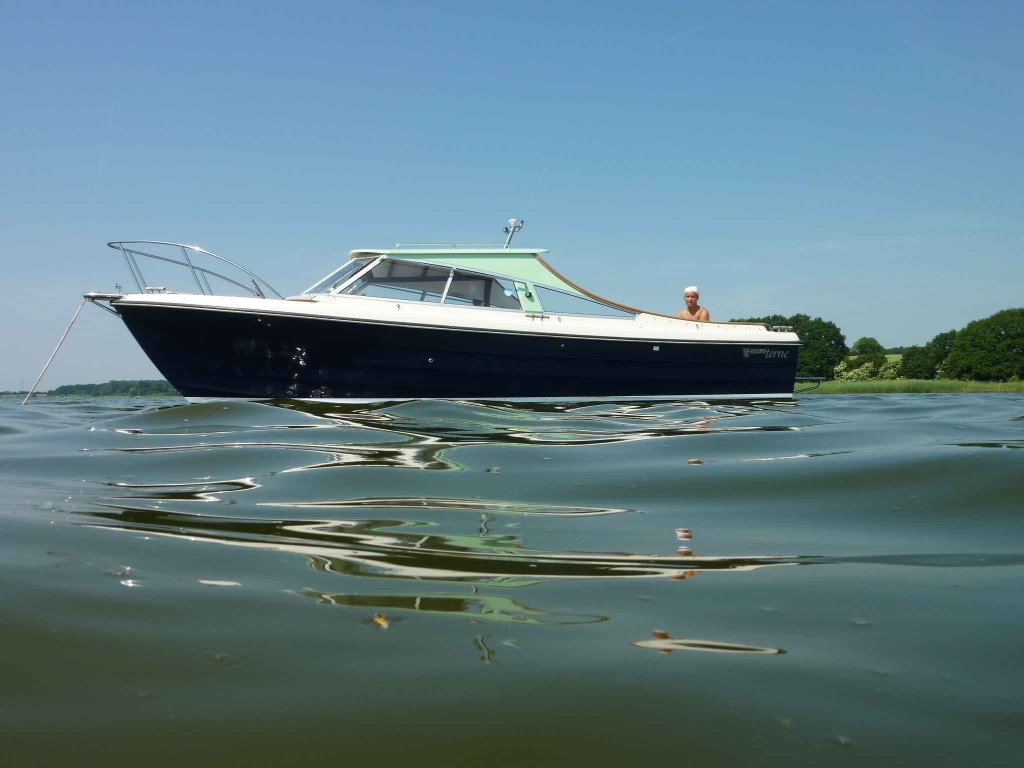 To replace this rapid, minimalist centre-console wave skimmer I chose a Norwegian clinker-look GRP Fjord Terne, which – and it surprises even me to say it – I still rely on to this day.
The current fleet also includes a Joli Morgann, which I finally managed to prise away from her previous owner after he left her bored and covered in duck droppings on a lonely mooring in Provence. A previous cold-moulded prix d'elegance contender had to be evacuated from Hamburg due to her disproportionately deep 2 m draught and now spends her time with Ferdinand Piech on the steeply shelving Lake Wörth in Austria.
How long it will be before my next relapse, before my internal equilibrium is upset again and the compulsion to venture back into the boat market strikes me, who can say? Perhaps I'm cured: I certainly seem at last to have found the right companion to share my boats. I have to say that of course just in case (highly unlikely as it is) she happens to check up on me and read this herself: A little caution is never a bad option for a clear-thinking man who respects his better half, suggests
Peter Förthmann