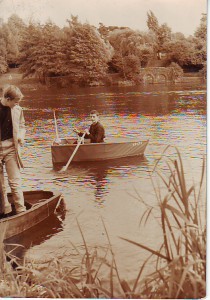 I was bitten by the bug at a very tender age. What began with envious looks whenever I happened to pass the waterside quickly advanced to all manner of junior deception and skulduggery as I attempted to 'charm' my way into boat shows. The chance for a closer look at other peoples' boats inspired me to build my own and before long I had expropriated the family balcony and set to work.
The geraniums' loss – as I sawed and fixed so they faded and died – was my gain and thanks, in no small part, to my mother's remarkable tolerance my new 1.73 metre ocean thoroughbred came together without tipping our family life too far out of balance. My materials were simple: 15 x 30 mm spruce slats with a skin of raw cotton cloth. The cloth was stitched by my aunt at my grandfather's garment factory, which usually specialised in rugged work clothing, drenched in a linseed oil varnish until there was no chance of even the tiniest droplet of water squeezing through and then painted in a military-style olive drab.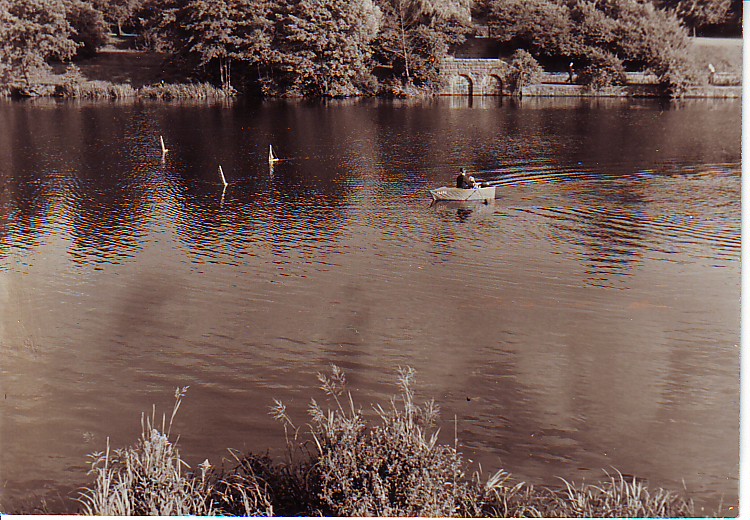 Although I could carry the finished craft with one hand, my bicycle trailer became the preferred (much less tedious) option for longer expeditions such as the time I towed my creation to the Hamburg Harbour Police to have her certified as seaworthy. It cost me four Marks, but my boat was formally approved and I had the official – stamped – paperwork to prove it.
With the formalities complete and my new vessel number proudly daubed on the side, it was time to put to sea. Even the fearlessness of youth could not blind me to the perils of venturing onto the North Sea in a boat as modest as mine, so I chose Hamburg's Aussenalster basin for my maiden voyage instead. The rowing was hard on the hands and I began to question the designer's wisdom in eschewing proper oars (a couple of lengths of 22 x 22 mm timber with a bit of board screwed on the end proved a poor substitute). Eventually I took my socks off and stuck them on the end of my paddles to serve as grips, but by then the damage was done!
Barely ten years old at the time, I could hardly have been more proud of my achievement. Time marches on, however, and a short while later my first yacht disappeared into my mother's coal cellar to spend the next 40 years rotting in the blackness, growing lighter and lighter every year as the mice tucked into the linseed-soaked fabric (redecorating the cellar floor in the process). This chapter of the story finally came to an end with a silent burial at the hands of Hamburg's municipal waste department, which cleared the house after my mother passed away. No tears are noted in the records – and sadly scrappage premiums were unheard of in those days…
Why did I turn my back on boat number one so soon? Simple: I decided with all the wisdom of my age that from now on, sails were the way to go. I had found my true calling, in other words, although I have to concede that at this stage – we are talking 1958 here – I still preferred the speed and elegance of a skiff, sliding seat (and altogether inelegant departures therefrom) included, to the infinitely more robust and seaworthy yachts that turn my head today.
At the age of eleven I decided to invest 75 Marks, the product of my hard labour in the service of the family, in a "Pirat" class dinghy. It seemed like a good deal for a whole five meters of boat, although the aftermost metre left something to be desired due to the stern having lost – most emphatically – a duel with a steamer out on the river. I judged it no more than a flesh wound, however, and the damage was soon made good. I felt pretty sure nobody would notice an extra chine on a boat like the Pirat anyway.
A spell in the merchant navy did nothing to still my enthusiasm for yachts and when I returned to life ashore – now a young man of 18 – I couldn't wait to start sailing again. I now worked my way through a series of boats (including an old Dragon) in quick succession, fixing them up, sailing them and moving on. There were many wooden gems rotting in the various waterways around Hamburg at the time, some with little more than cosmetic damage, some with strapping saplings reaching up through the planks.
I took advantage too of the opportunity to trade winter days working on the cutters Neuwerk and Scharhörn at the SVAOE sailing club for summer sailing above deck on the brown waters of the Elbe. Unfortunately, as I soon came to realise, cutter sailing was men's work in those days and neither sexy nor appealing to the ladies. Time to move on again! Life in a purely male environment, I had resolved during my time as a seaman, couldn't provide the excitement I wanted out of life. I had had enough of the thick, nicotine-soaked air and the stench of sweat, stale beer and schnapps seeping from every pore. If there was one reason for all of these shortcomings, I felt, it was surely the absence of female company (and of course if there was one reason for the absence of female company…). Anyway what I wanted, in short, was a more varied world with mixed company or, at times, no company but my own.
Head and hormones then both led me to favour something with a cabin: the fairer sex just wasn't excited by the idea of sailing an open boat and the prospect of après-sail with no saloon to which to retire was also (usually) something of a problem.
I saw no reason why I shouldn't have a proper yacht this time, in fact the idea of a floating bachelor pad seemed to solve nearly all of my most pressing concerns at a stroke: at home the authorities kept a close eye on order and propriety, the cornfields seemed to be crawling with hostile wildlife (not to mention the occasional hostile farmer) and the seats in the 2CV did not recline, but a boat … a boat offered comfort, convenience and privacy.
It didn't take me long to find what I was looking for: no sooner had I discovered the Lümmel, lying at the Hinsch yard just up the Bille river from the harbour, than she had me captivated: a whole seven metres of clinker-built oak hull finished in black, she had started life with a large dose of waiting, restrained up on her davits as a lifeboat in coastal traffic for one of Hamburg's major shipyards. Unused but weather-beaten, the shell was then lovingly converted into a smart pleasure craft. She had two I-beams bolted on beneath her keel to help her course-holding abilities – and, presumably, to add a bit of weight – and sported a 12 m spruce mast with jumper stays borrowed from an 11 m yacht that had been destroyed by fire.
This at least suggested rapid progress under the cotton sails, which were already spotted with mould due to never having been aired by the previous owner, whose voyaging seemed to have been limited to a stretch of the river where frequent bridges made sailing unwise if not impossible.
The combined effect of the boat itself and a smooth-talking broker blinded me to any possible drawbacks though: consider me smitten! I either failed to notice – or plain didn't care – that my intended lacked both engine and gin pole, both of which were essential for a successful escape from the industrial area in which she was lying. The seller probably couldn't believe his luck when I turned up: here was a fool, grinning his usual foolish grin, and he would surely soon be parted from his money.
Not that it seemed like a great deal of money to me, so completely had the Lümmel captured my heart. A mere 1150 Marks – remarkably little I thought – and not only that, but thanks to a special sales promotion I would even be able to pay it in twelve monthly instalments rather than all at once. All I had to do was produce 150 Marks in cash and sign the contract and she, not a dinghy or dayboat but a proper yacht, was mine – a famous day and a mighty boost to my ego, at least until sundown…
I immediately had my hands full, mainly with the daily pumping out. At least I could see what I was doing though: the planks had dried and cracked in the sun, so there was plenty of daylight below deck. I found an engine too, a Fichtel & Sachs single-cylinder two-stroke number wheedled out of a farmer who no longer needed it after upgrading to a stand-alone milking machine. Stationary engines like this, which could be applied to various tasks, were once almost ubiquitous on German farms. They were air-cooled and noisy and tended only to run properly – if at all – at full speed.
A bevelled scaffolding plank fastened to the floor beams with coach bolts solved all manner problems (I've never understood why people think boat-building so difficult). Starting the engine always provided a challenge though: jamming the kick-starter at an angle back into the afterpeak was a job to which my shins learned never to look forward. I had no problems with the gearbox though. There wasn't one. If the engine was chugging, the prop was flat-out, which meant every voyage began with a king-size dilemma about when to start the engine: to cast off first or not to cast off first? That was the question. My family smirked, but I toughed it out, paid my instalments and dreamed my lonely dreams until the Big Day and the moment my baby would race forth onto the waters of the open Elbe. That was the plan and nothing was going to stop me!
And nothing did: with the mast resting in a hastily cobbled-together support – the top 7m overhanging precariously – we charged with an enormous bow wave down the canal to the customs jetty. There three kind customs men helped me step the mast and then it was hoist the sails and away down the Elbe. Annoyingly the summer-dry planks drank in water greedily every time we heeled despite the days I had spent carefully soaking them with rags and cloths in advance. Alone on board, I had my hands full and there was no time for second thoughts. The idea of stopping the engine temporarily certainly did not appeal: bringing a hot, air-cooled two-stroke back to life would have cost me the skin off both shins at best, so I decided to turn a blind eye and beat down the river as fast as we could manage.
A chill Westerly was whistling up the Elbe and I came all at once to the realisation that adding sails to a lifeboat does not necessarily instantly transform it into the ideal machine for tidal sailing. I preferred to find things out for myself though – who had the time (or indeed the inclination) to stand listening to advice from their elders, especially as most of them seemed to keep their feet firmly on dry land…
Anyway, we had some fun and some hair-raising moments and with the last instalment safely handed over, I put my little clipper up for sale. Astonishingly my advert in the Hamburg paper found a taker and in no time at all Mr. Rickmers, who actually called my price of 2600 Marks a special offer on the telephone, was there in front of me at the airport complete with compass, flare gun and lifejacket. He asked me about the tide, gave me the money (saying don't bother about a contract) and had soon disappeared in the direction of the North Sea with the familiar enormous bow wave.
I had a secret rendezvous with the boat in her new home some time later and was greatly relieved to find her still afloat.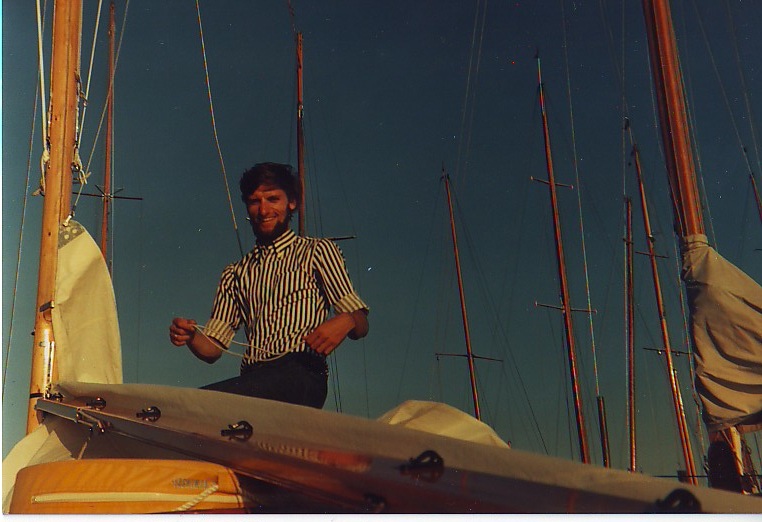 Now somewhat older and wiser I started to look for a more elegant steed and before long I had my hands on a Folkboat. The seller, a Mr. Meyn, wanted 14,000 Marks, a sum I was prepared to find for his immaculate Lind-built number 127. Now a new element of style came to my life afloat – even my girlfriend began to enjoy sailing. The joy of the wind in the sails and the water under the bow is never stronger than when it's shared; that is how I felt then and it's a view I still hold today, although I am conscious it has taken me most of the intervening years to find the right person with whom to share it.
We all know the old adage that every yacht is a few feet too short. Soon I too found myself hungering for something bigger and so the Folkboat moved on to pastures new. Thankfully it proved another quick sale.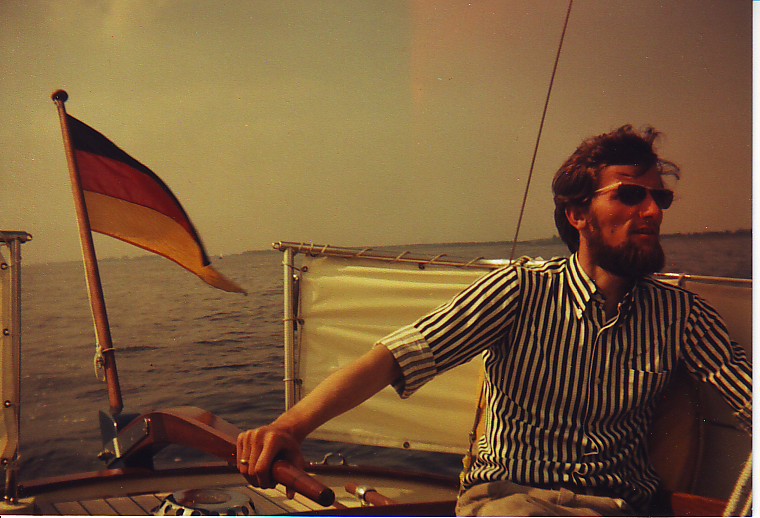 My urge to put more boat beneath my feet led me into a potentially risky deal at the tender age of just 24: in 1971 I signed a contract to buy a brand new Bianca 27 for 32,000 Marks. Not a ready-to-sail Bianca 27, I should add, but rather a bare hull with nothing but an engine inside. The betting around my sailing club in Wedel was that I would never manage to finish the boat and sail her back to Hamburg in the three weeks available, but they were wrong: I even had time to provide cushions and curtains. I have had better times than the three weeks spent living in a tent at the yard (where head man Holger Christensen did everything he could to help despite having plenty on his plate already – whoever could have predicted that a yard a bustling as his would fall on hard times), but the result more than made up for any hardship along the way. Bianca 27 hull number 259 stayed faithful to me for a whole two years before disappearing off with another man (who subsequently became a good friend).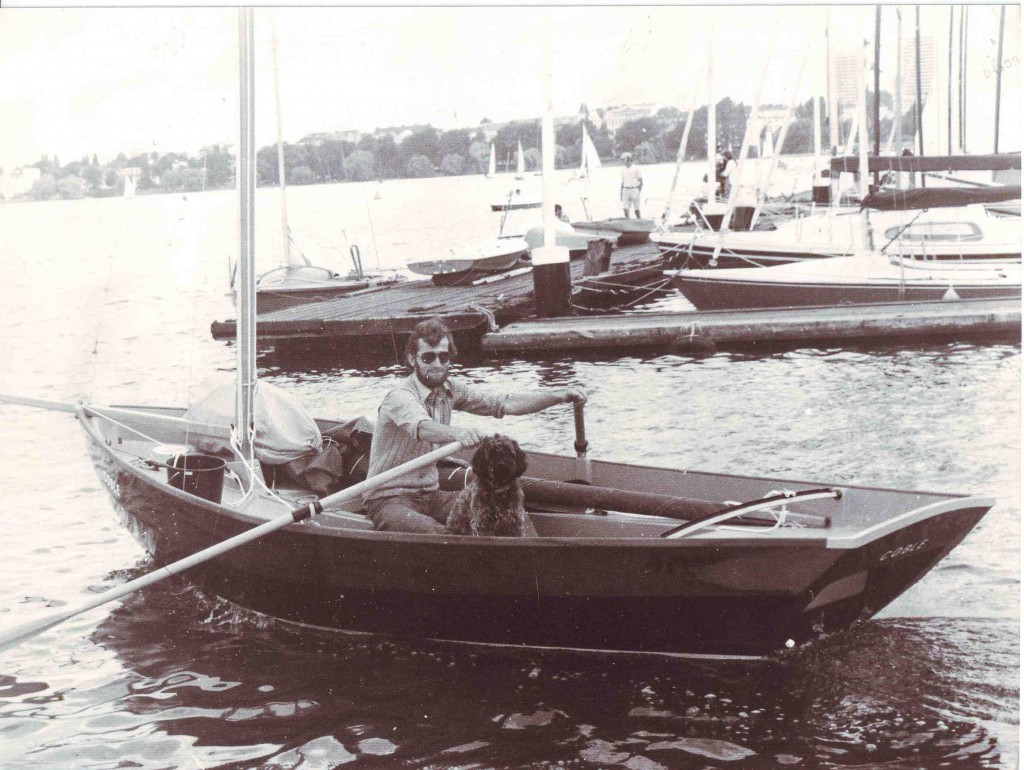 The next adventure wasted no time in arriving. Peter Deichgräber, Fisher yachts importer and someone for whom I had done a fair bit of work, offered me the chance to become importer for Cornish Crabbers and I was glad to accept. The Coble gave years of enjoyment, both for me and my dog Max, who found the high freeboard helped to keep him out of the briny (Max, a refugee from the dogs' home, had a fine pedigree – in fact he had several – and we remained loyal companions throughout his long life) as our third boat. For my main boat, however, I felt I needed something more spacious. And I needed to do something about it pronto!
I learned that the Janne, a heavy double-ender of Hein Garbers' legendary WINDSPIEL class was on the market and having already sailed on both Sottje and Windspiel itself, I steeled myself and challenged the 2CV to take me to Flensburg for a look. I'm not sure, with hindsight, whether I had genuine delusions of grandeur or just a screw or two loose up top.
In the end the seller, Captain Feddersen, was unable to quell my lingering doubts and the enormity of the situation got the better of me. Boats like this could be a real handful to park and it was always tempting to go in fast and hard – with inevitable consequences in the case of misjudgement – rather than risk losing steerage and limply bumping alongside somewhere undesirable. The launch-style engine with its exposed rocker arms struck me as a bit of a monster too. I kept my own counsel though and headed home leaving nothing but – somewhat reluctantly – my address (a commodity of which prominent yacht broker Capt. Feddersen would go on to make notable use).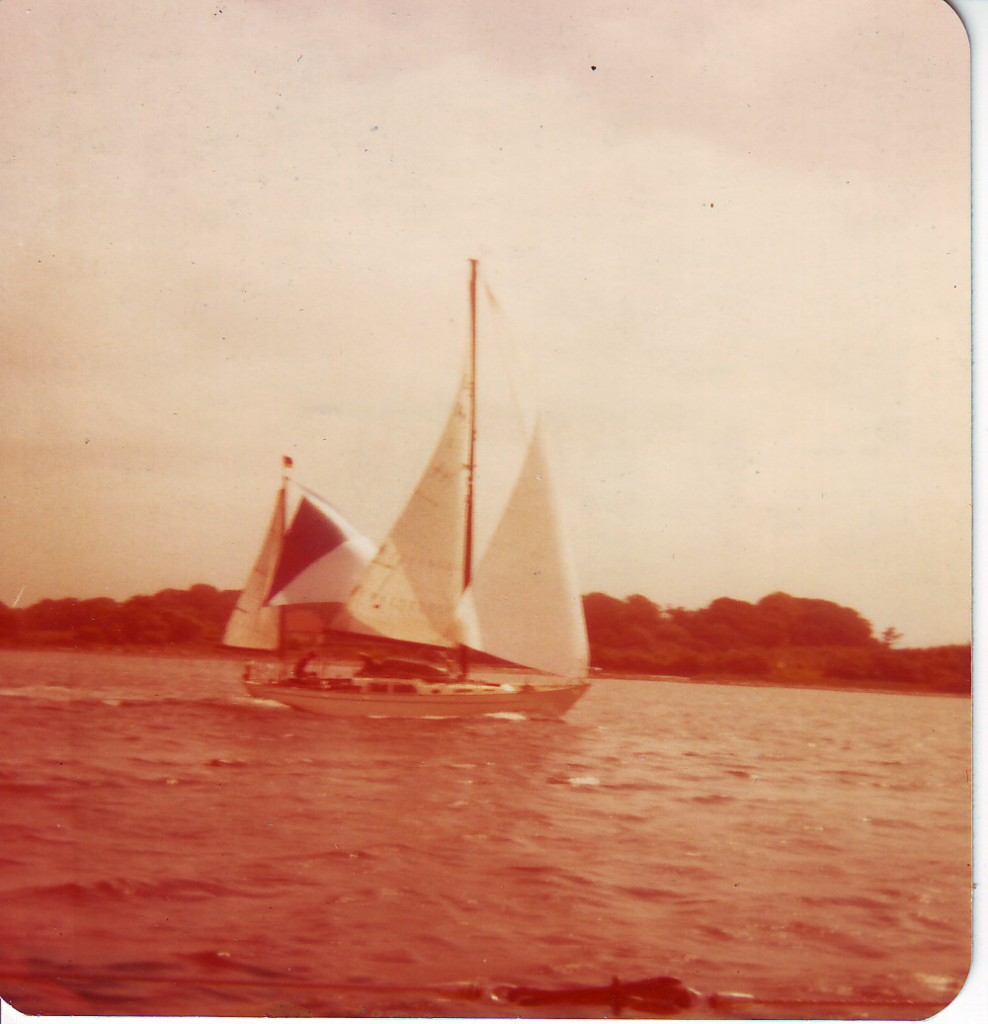 Next came the forced sale of a dream yacht (or so the offer went). So urgent was the situation (whatever it was) that the seller wanted – or needed – to be rid of his floating beloved that very evening. A little voice in my head told me I had to act: this was just my thing, exactly the kind of drama I enjoyed.
Life seems to restrict the gift of spontaneity largely to the unwed, or at least the unmisled… Luckily for me I found myself in a position to accept the gift and raced off to meet the hard-pressed individual concerned at Hamburg airport, where he handed me a piece of paper and turned around so that I could rest on his back to sign it (we had no time for a table as his return flight had already been called). I parted with my hard-earned and that was that – and I hadn't even laid eyes on the boat yet!
I jumped straight in the car and rushed (insofar as a care like mine could rush) round to Fehmarn on the Baltic to meet my new boat. We put to sea by moonlight that same night just in case – I couldn't entirely rid myself of the suspicion that the boat might have been sold more than once. My only mistake was to forget to open the seacocks right away, with the result that I quickly learned how practical a fresh water cooling system is and how useful it is as skipper to have that period of grace before pistons run amok and the cylinder head gives way. Order restored, I sailed straight through the firing range at Todendorf on the great circle route to the Kiel Canal lock. That the previous owner had had to disembark in a hurry could not be doubted: his half-eaten jam sandwich sat mouldering up for'ard and his underwear – his used underwear – still lay on one of the bunks.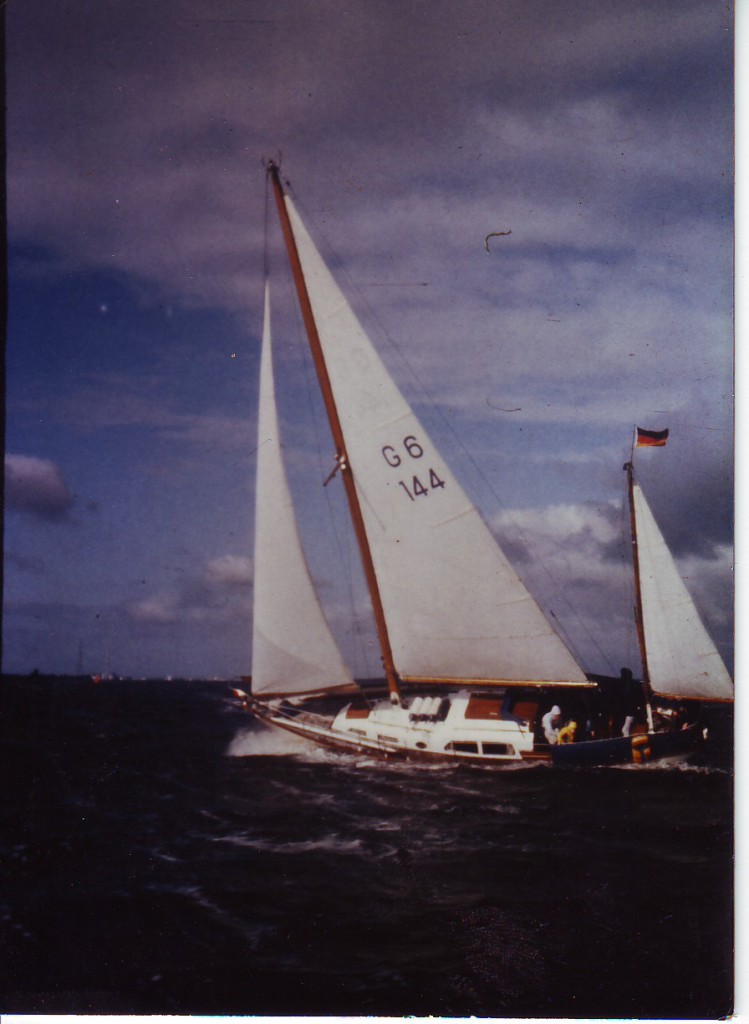 The Lilofee (in those days I was still in thrall to the daft notion of naming my boats after the woman in my life – perhaps in the hope of some recognition) was a solid metal yawl and certainly no slouch. She ticked all the boxes for me at the time and I, in my ignorance, thought I had reached the pinnacle. What more could there be? We enjoyed some wonderful sailing, not least in the snows of winter when the Refleks heater kept the toes toasty. Back at the club, however, some sailors began wondering behind my back how such a young man could possible be able to call such a substantial craft his own. I was no more comfortable dealing with envy then than I am now – but I was rather more foolish and consequently took a long time to realise the likely consequences of stepping (to say the least) out of line at a German sailing club and conspicuously failing to respect the established order!
I had other concerns too as it turned out, as my then wife had decided to put the brakes on my boat-buying programme. My changes of boat, in fact the unpredictable changes of course that characterised my life in general, were anathema to her. She would have been much better off with some small-town bureaucrat, although she did quite like the idea of a second car and maybe a house and garden too. Either way I was clearly not the man for the job!
Nevertheless the promise – I, husband of the aforementioned, will keep my current yacht for ten years – was laid down on handmade paper and I signed it. It knocked the wind out of my sails to do so, but such was the price of a little peace and an end to having my ear bent at every opportunity (on this subject at least). Sometimes the polite way is the right way, I thought, and I signed my name on the line. I said nothing, but did allow myself a little surreptitious grin as I resolved to put my boat on the market two years later and see how much she might bring in.
My offer attracted plenty of interest and so, the following Saturday, I made the short journey to Laboe for a test sail with John Adam. The sun shone, the wind and sea conspired to spice the air across the deck with tiny flaming diamonds of spray and John and I discussed the purpose and object of a meeting that would change life's course dramatically for both of us. John wanted to sail to Australia with a girl very close to his heart and was looking for a suitable vehicle. It appeared he had found one! Then it was my turn. I paused, and then asked with intent, "And what are you going to do with the business?"
It took us less than two hours all told to settle the deal: I gave him my key – the key to the boat – and he gave me his – the key to the Windpilot workshop, which at that time was located in a stable complex (surrounded, naturally enough, by most un-nautical piles of traditional stable by-product).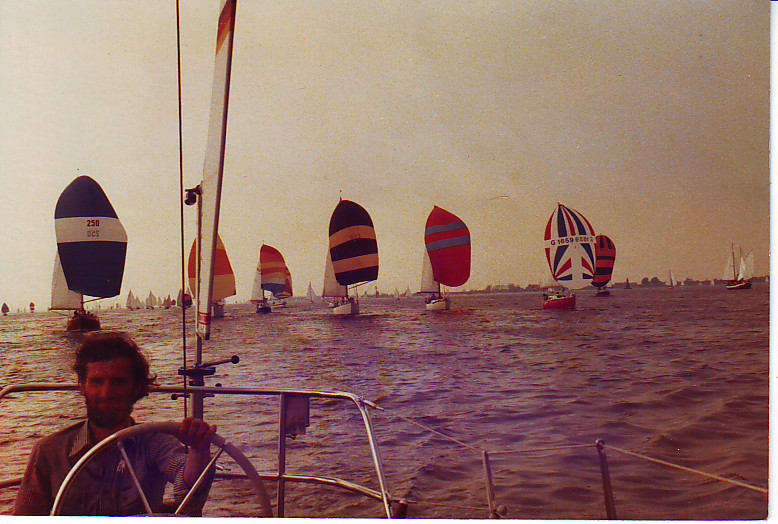 My wife, it soon became clear, considered this to be something of a faux pas on my part. How much it contributed to our subsequent parting of the ways I couldn't say, but it certainly didn't help. There's no avoiding fate (as I tried to tell her). Things happen the way they do for a reason and thinking too hard about it (I averred) is apt to cost you your reason. Nevertheless the very notion of trading a lovely yacht for a pile of oily machines and a dream proved quite incompatible with the plans and outlook of my soon-to-be-ex (although the separation phase dragged on wearily for years – as I gather it generally does) wife.
I, however, viewed the deal as an opportunity, as grounds for excitement and enthusiasm not despondency and heart-break. A compromise solution for the sake of my wife – say half a boat for half a company – would never have worked. It took courage to seize the moment like this (I told her).
One immediate consequence of the deal was that I spent the next year boatless and had to rely on rides with other people while I recharged the bank account. Fortunately we drove cheap cars (yes, we had a second car by now) and the rent was low, so there was scope in the budget for something rather more swanky when it came to yachts. It was simply a matter of perspectives and priorities.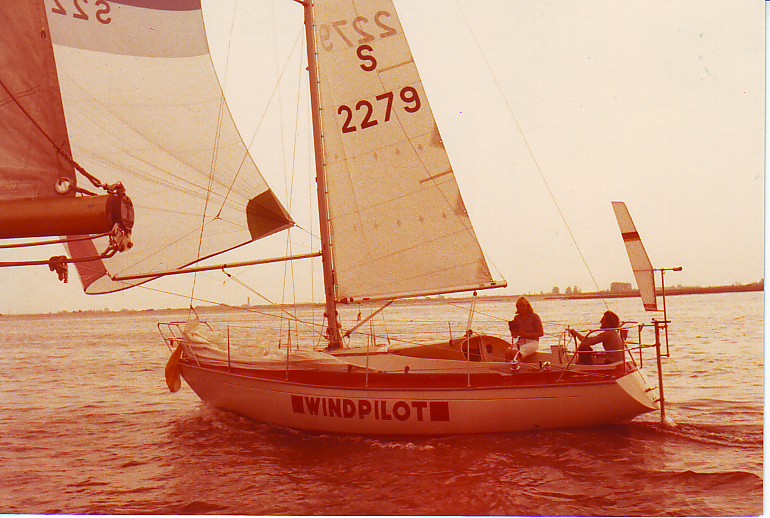 In Sweden I fell in love with the B-31, of which I have subsequently owned three. Great under sail, these narrow beam yachts could be had for prices I found positively restorative: a perfectly appointed example with Seldén rig, two-cylinder Yamaha and everything else cost so little it made Folkboats look expensive. At that time the used boat market in Sweden was firmly in the doldrums, there was plenty of choice and German customs was a friendly and welcoming outfit only too willing to assist (or at least not as rapacious as it was to become).
Next came a 9m Wiegleb & Scharf centreboarder – something of a 'project' – followed by that had come to grief close to the mouth of the Elbe in a March snowstorm with no engine after the owner lost his bearings and eventually, sad to say, his life.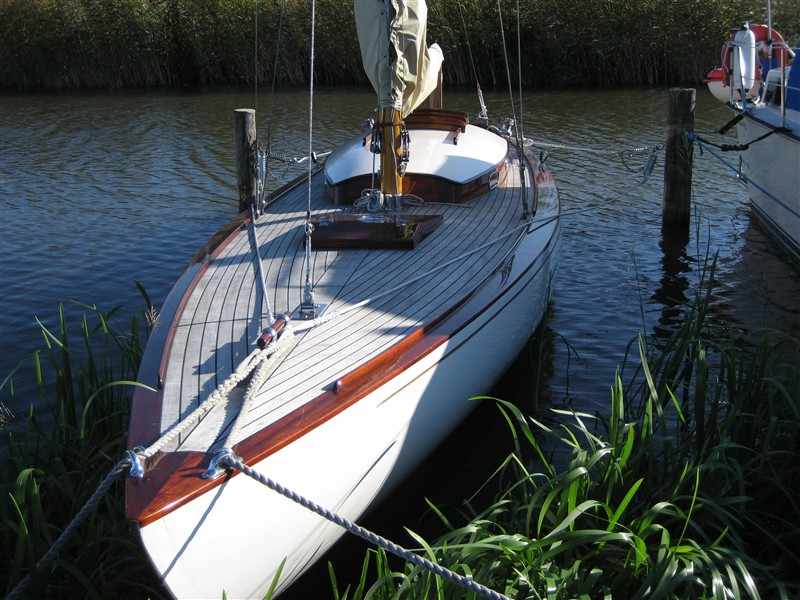 Craned out of the river and then hauled to the yard where I found it, I picked this boat up for loose change. About the name there could be no doubt: this little beauty was a Zara, just like her sister ship once owned by Adlard Coles. New planks were installed and all traces of her unfortunate past made good so that by the summer of 1980, Zara was ready to take to the Elbe again. A true thoroughbred, her 9m length and minimal 1.9m beam made her just about unrivalled on the wind: any higher and I might have had vertigo! This close-windedness came at a price, of course. A Folkboat was positively spacious down below in comparison and it was this that gave me the justification to look for a buyer, who duly appeared in the form of her Hamburg-based previous owner but one and renamed the boat Carina.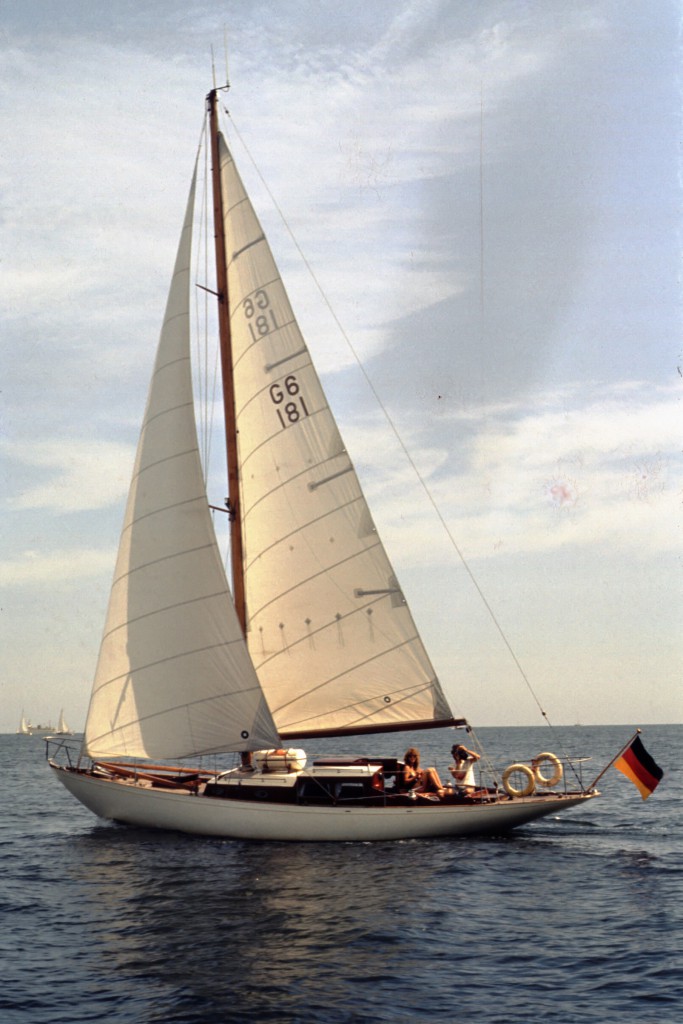 The next step for a lover of traditional yachts with a back-catalogue including Folkboat, Bianca and Tumlare crystallised in my mind when I heard that a dream A&R-built 7 KR was for sale in Flensburg. The only immediate drawback to this boat, which was eager for new adventures following the death of its previous owner (a tyre dealer) and had already worn through its mooring line, was its incongruous name: Klümpp (believe me it sounds as bad in German as it does in English). I replaced it with something I deemed more suitable – Träumerei ("Reverie") – before we set off and that is the name this fine vessel carries to this day.
There is actually a rather bittersweet story behind my choice of name. Träumerei is also the name of a piece of music by composer Robert Schumann and a leaky von-Hacht-built 100 sq m classic yacht acquired late in life by our friend Karl-Wilhelm. A Schumann himself, the ever-jovial Karl-Wilhelm, who served as chief of the JKN yacht club in Wedel for many years and ran the canteen at one of our local hospitals (it was the favourite of all the doctors and convalescing patients despite being hygienically compromised by caged birds and a model railway), once joined us, along with his wife and his diminutive dog, for a Scandinavian cruise in company. Asked by the Danish harbourmaster for the name of his yacht, Karl-Wilhelm called out "Träumerei". The harbourmaster, who clearly knew his classical music, responded "Schumann?", at which Karl-Wilhelm produced the inevitable "How did you know my name?" Karl-Wilhelm died in a car crash together with his dog not long after retiring and it was in memory of him that I decided to name my new boat Träumerei, his own Träumerei having passed away not long after her skipper.
Träumerei, astonishingly, turned out to be the first wooden boat I had owned to boast a dry bilge. Outside the hull gleamed, thanks to our hard work wet-sanding with 1000 grit and a subsequent polish (just for looks), and down below the floorboards inside, flecks of old paint rolled around in the dryness like so much tumbleweed. Almost unbelievably, this boat betrays no sign of the joins between its planks even now, 65 years after it first went afloat.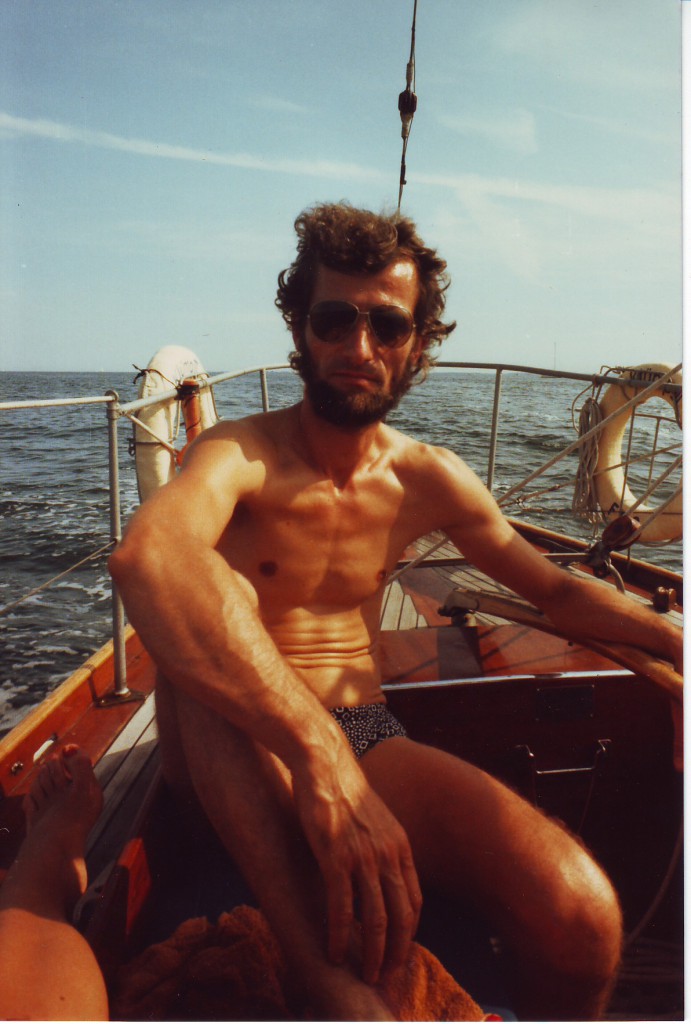 Now then, how can I explain without too great a loss of face that even this yacht served my needs for a limited time only? That's right, divorce was in the air and such things are never cheap. No sooner said than done: one advertisement on the notice board at the Hamburg marina and that same evening I received a phone call to reserve the boat. The buyer's only concern was to confirm that it was indeed the one swinging a lonely circle around a mooring post away up the coast. It was – and with that the transaction was sealed.
As deals go it was an interesting one, for I received a Nadine 24, a pocket Swan effectively, as a dowry and was thus able to carry on sailing uninterrupted, albeit on a slightly different scale. People say divorce always hits the children the hardest; fortunately we had none, but it was certainly a confusing time for boats…
Life went on though and the fun returned. I would say more, in fact I will, but first of all I need to get the facts in order in my head: so many years, so many boats – and I want to make sure to give each its due!
There's more to follow, promises
Peter Foerthmann