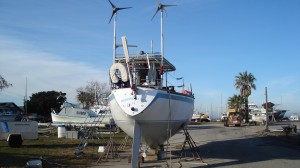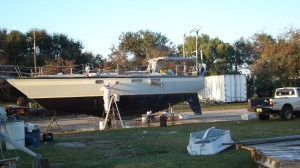 US built Pearson 40 has sustained severe damage in Hurricane IKE in 2008 – being restored by the owner and his wife during now 2 years because they had no insurance.
This is their message sent 27.11.2010:
Hi Peter
Thanks for the reply, for some reason I did not receive your first email… however I am glad to provide you with the necessary information . Our windvane is a little older than 9 years old …
The boat is a Pearson 40 cutter, composite construction, about 30,000 lbs, offshore racer, whale belly bottom (similar to a Ted Hood bottom), centerboard. Pls let us know what other info you would like.
I am also including a few pictures of the vane after I removed it from the boat. We were in a hurricane and our boat sustained damage but my wife and I fixed almost all of it in the ensuing 2 years.
Best regards
Ovi Sacasan
Please read their report published in SAIL magazin