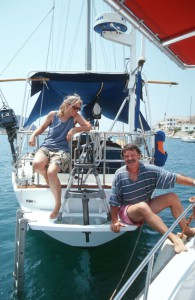 Living part time in Puerto Andratx since the nineties, there was no way to come around to meet Mary Synge and Paul Kinzelmann who settled in her old Finca "Es Roses" in ANDRATX de Mallorca. I often met them on my way to the open see where I had to pass the mooring of SV TULA.
Born in Bavaria in southern Germany, Paul Kinzelmann started sailing dinghies in the local lakes when he was 10 years old. In 1968, the 25 year old businessman, sailed his motorless 32ft Fähnrich sailing yacht "TEJA", with various crew, from Travemünde in N. Germany, via South America to New York.
Thereafter, he spent a year on "S.Y. ISABELL", a 90ft Fife, which was chartering in the Caribbean and then a year on the 62ft racing yacht, "SORCERY", in the USA.
Back in Europe he took all his yachting licence exams, did deliveries for several yachts from Holland to the Mediterranean and worked as an advertising photographer.
In 1977 he started "Yacht Service Mallorca" in Palma de Mallorca and became known as the "Service Man" for Jongert yachts.
In addition to these professional activities, he had another dream – building his own ideal cruising yacht.
After years of drawing plans and building the hull, his self-designed and self-built dream yacht, a 42ft sloop named "TULA", was launched in 1982.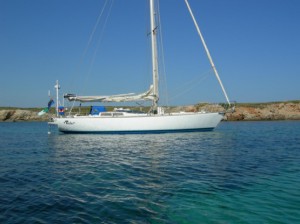 It was also at this time that he met Mary Synge. For the 28 year old town planner, born in Scotland, sailing was not new. She crewed Fireball dinghies in the Thames Estuary and had spent the summer of 1979 sailing together on her twin sister's boat, "CORALETTA", a 1916 built gaff yawl, in the Ionian Islands.
In addition to the two young ladies, was the crew, "Polly", an African Grey parrot.
Together, Paul and Mary worked on fitting-out "TULA" and the maiden voyage in summer 1985 was from Mallorca to Turkey and back.
In June 1989, they started their long voyage around the world, which took them as far away as New Zealand and Tasmania, and ended in June 1995 with their return to Mallorca.
Since then they have been living in their old finca, "Es Roses", close to Andratx.
They also sell sails in Spain and worldwide for the Australian sailmaker "Rolly Tasker". More info : www.VelasRollyTasker.es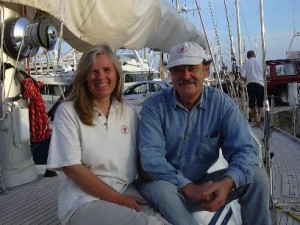 After such a life, it was not possible to live without a boat and just on the land, and so the couple spend a few months each summer on "TULA" sailing around the Balearic Islands.
And that is how "Tula´s handy charts".came to be.