BROKEN HEART – LUCKILY NOT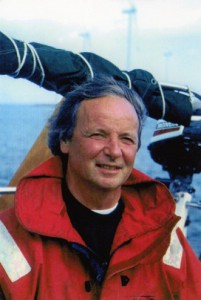 CHICAGO january 1998. Deep winter, minus 25 Grad Celsius, snow white town all over.
I just built up my Windpilot equipment for CHICAGO BOAT SHOW – NAVY PIER – and accepted some icecold days driving back and forth between hotel lobby and the Convention Centre, always aware not to fall into depression.
Compared to Chicago the Boat Shows in Oakland, Ft. Lauderdale or Miami making considerably more fun as tempertures are somewhat better to say the least. Super yachts being exibited in Miami in deep frozen halls to avoiding stress for material and visitors. Cold is cool, at least in America´s Southern part.
Back to Chicago, where traffic happens on two floors and during winter times at the lower one in dark tunnels.
STRICTLY SAIL at those days as they are today in terms of running lots of SEMINARS. Thats considerably different from German Boat Show managements as Convention Centres in Germany offering huge halls only, not too advantageous for seminar events.
As so many times during US Boat Shows, I held my lecture about SELFSTEERING UNDER SAIL, any day, same time, same place. Interesting but sometimes a bit stressing with several hundred sailors as audience.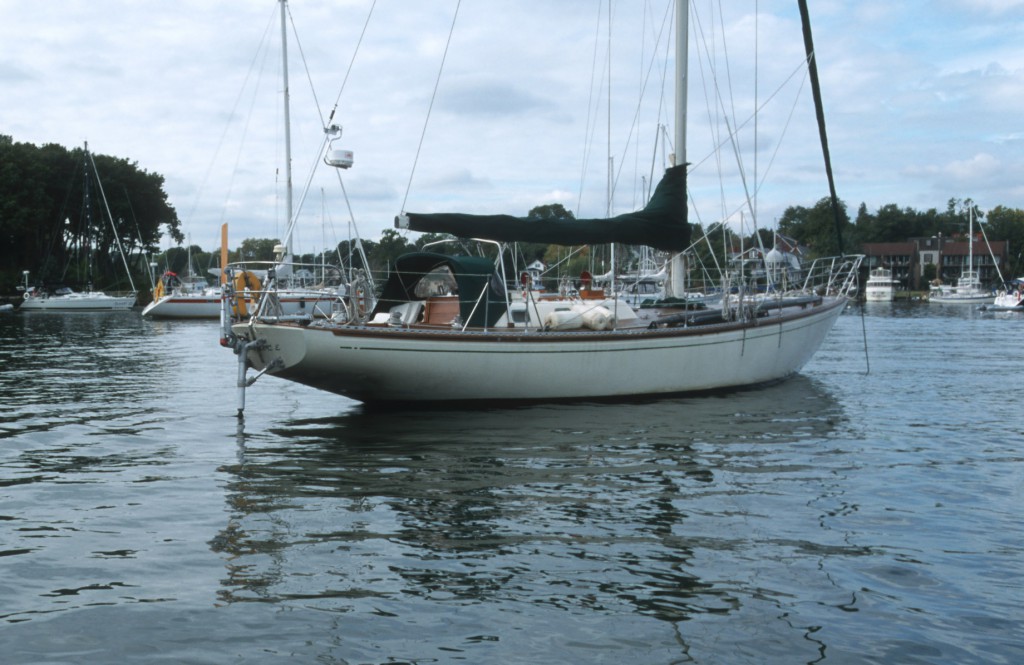 Some day it happened that an US couple took me at the end of the lecture to talk about an eventual installation of a Windpilot at their 50 ft BILL TRIPP Beauty to keeping away from the helm, leaving the Autopilot at rest during their planned Atlantic cruising.
Yes, we got acquainted, spent some time together talking about boats, cruising and finally about family affairs. Always interesting to talk with people being trained in terms of psychological issues. They seem to look through people in front of them. At least we came in balance, all of us.
Is has been obvious that John at those days reflected some hard times and I have got the full story soon afterwards. After some very hard years of suffering by heart problems, spending lot of time in the hospital he ended up with a heart plantation and turned his life at about 180 degree.
His second wife Barabara at the side, John planned for the new chapter of life.
Having done some extended cruising to Europe in former times, they decided to do something similar jointly with their two young daughters Kathie and Erin. The plan has been the way, not knowing how long this may last.
None of them had the slightest idea to do Ocean cruising for the following four years. They headed down the US East Coast, where we met in ANNAPOLIS the year after. I found the boat moored just in front of the ANNAPOLIS SAILBOAT SHOW.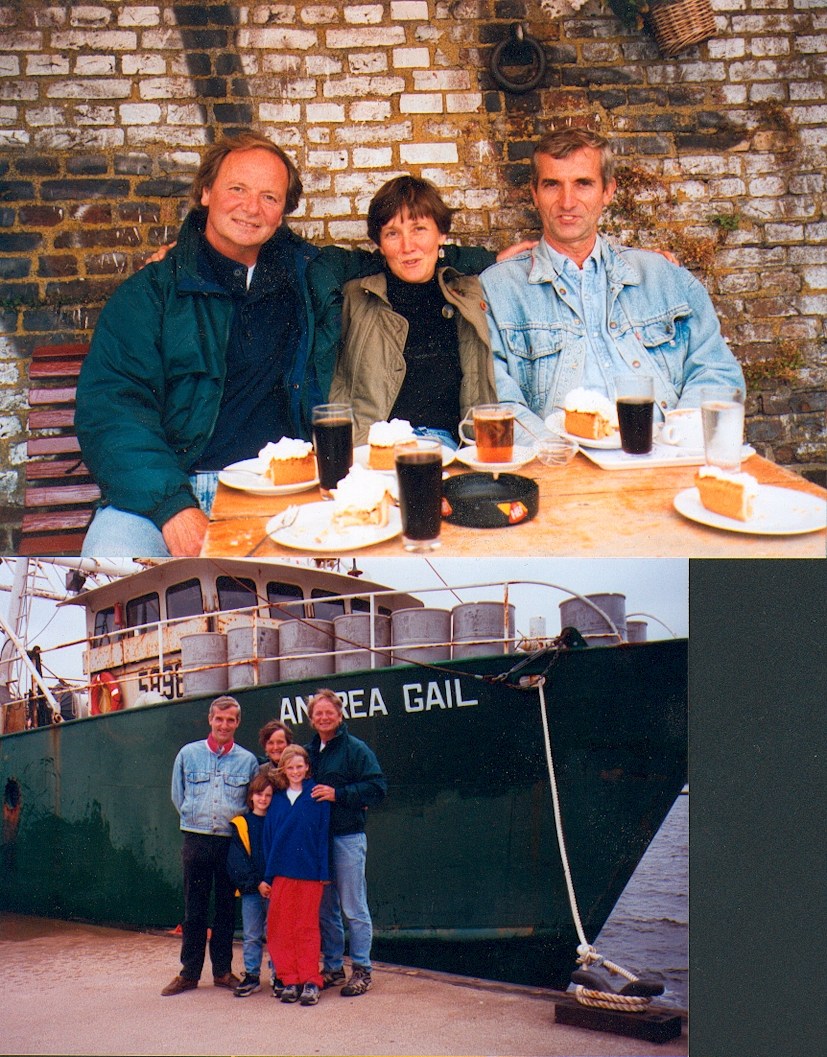 A year after SV GRACE visited Germany and we spent some nice days together in Hamburg and later at in ARNIS at SCHLEI FJORD in the BALTIC. The boat has been move on the hard to get bottom paint treatment, the Crane has been hardly able to lift this substancially heavy displacement boat. Luckily nothing serious happened to either boat and crane
Very obviously John felt better and better, the longer this cruising time lasted.
It took him about 4 full years before the famiuly returned back to their home port in the US, daughters were in need of ssome school treatment.
John and Barbara restarted their previous work, as professionals in terms of psychological support for people in need.
And John started to write his story of life with its downs and the final happy ending. He ended in his own publishing business.
SAILING GRACE has been published sometime in 2007
OUTRAGEOUS GRACEgot published by ADLARD COLES, London in 2009
SOUNDINGS magazin in Maryland has published the following report
Eine deutsche Übersetzung ist derzeit in Arbeit.
Movie maker RYAN OTTERBACHER, John´s son of his first marriage, has been successful in gaining a contract with HOLLYWOOD. The story of his fathers incredible life might finally find a happy ending as a movie.
John´s heart still todays keeps running strong and full of power – at the end of now about 14 years.
Peter Foerthmann