REGELN NACH GUTSHERRENART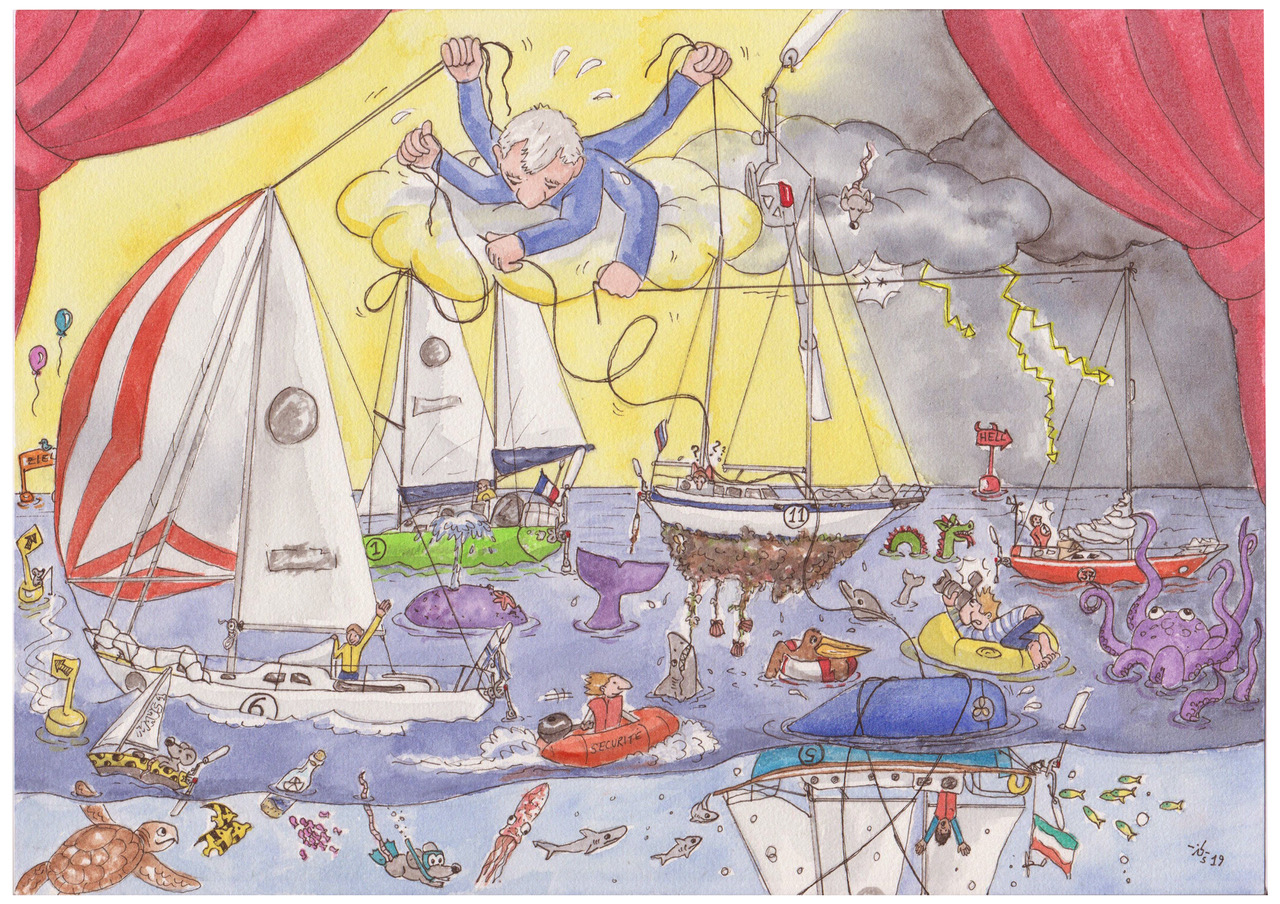 Zwei Monate weiter ist Bewegung in die Spielregeln gekommen. Hat sich etwa der Berg bewegt … oder gar der Veranstalter sich gedreht? Die NOR 2022 jedenfalls lassen erkennen, dass man nachgedacht, ein paar Hausarbeiten gemacht, hier und dort Regeln nachjustiert, wobei ich als Spezialist für Heckverzierungen mich eben nur auf diese kapriziere, weil ich dabei mit den Beinen auf Tatsachen stehe, mich Haifischen somit nicht zum Frasse vorzuwerfen habe, wenn oder weil ich auf zu dünnem Eis gestanden, eingebrochen und den Fischen mit dem breiten Grinsen in die Augen zu schauen hätte. Jedenfalls sind in einem Regelwerk von 63 Seiten nur wenige Zeilen für mich relevant, unscheinbar zunächst, gleichwohl voller Brisanz.
REDUNDANZ DURCH AUTOPILOT
Autopiloten waren und bleiben verboten, dies ist in den NOR unter BANNED EQUIPMENT nachzulesen. Unter SAFETY PLAN allerdings heisst es nach wie vor:
Emergency Cockpit Electric Autopilots may be carried on board an Entrants boat, only if all its components are secured in an approved container and sealed in an approved manner, such that only by Breaking the security seal can the system be installed. An entrant must submit comprehensive details of the chosen container and method of security sealing it for approval to the organisers. If the seal is broken for any reason whatsoever the Entrant will be moved to the Chichester Class. Only the electrical wiring linking the pilot to the boat's batteries may be installed with one waterproof power plug on deck. No other installation wiring or components are allowed.
Aus zuverlässiger Quelle habe ich kürzlich erfahren, dass drei GGR Teilnehmer von dieser Option Gebrauch gemacht haben, die Namen allerdings wurden nicht genannt.
Offenbar geht der Veranstalter also auch weiterhin davon aus, dass Windsteuersysteme (WSA) die Herausforderungen einer Weltumsegelung in den Hohen Breitengraden ohne Störfälle bestehen können, denn andernfalls hätte er sicherlich eine bessere Vorsorge für seine Segler getroffen, bzw. sie treffen müssen? Die Situation – und die Fakten – wurden im Windvane Report adressiert.
APPROVED WINDVANES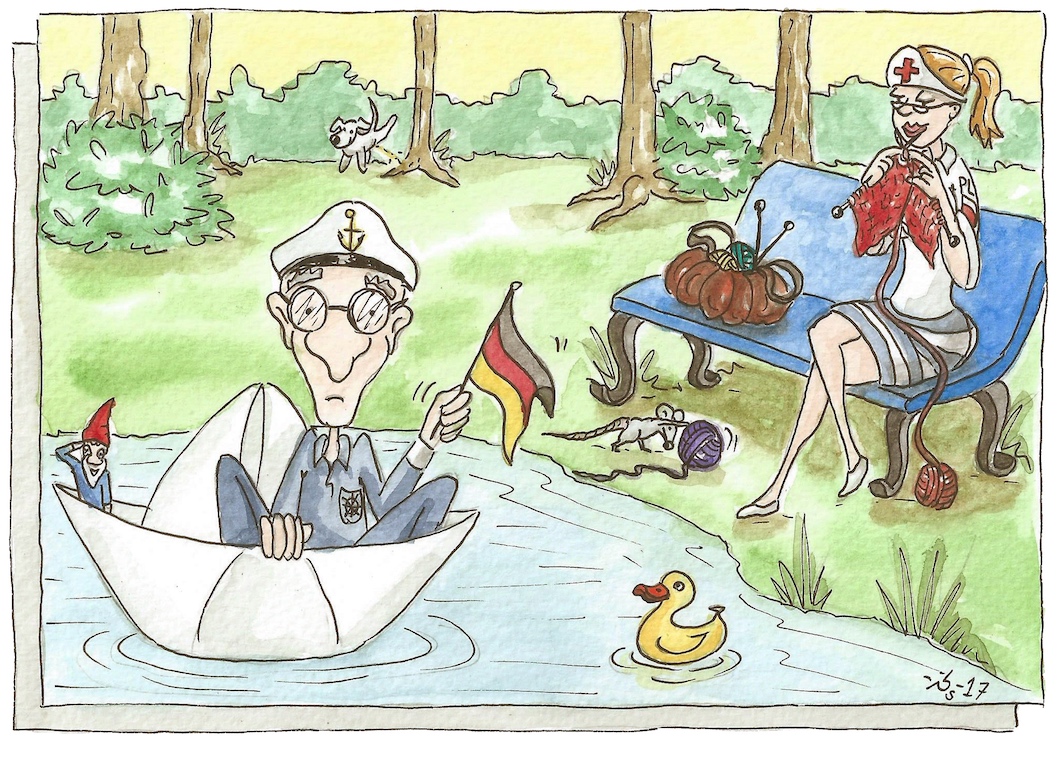 Ein Terminus wie ein Gütesiegel! Im Windvane Report allerdings ist nachzulesen, warum mechanische Steuersklaven für den Einsatz in den Hohen Breitengraden nur bedingt einsatzfähig sind. Umso erstaunlicher für mich, dass der Veranstalter sein "Approval" weiterhin – oder dennoch? – ohne Einschränkungen erteilt!
Wind-vanes currently ​"approved" for the GGR include ​Hydrovane, Aries, Windpilot and Monitor-only with GGR Mods​. Entrants wishing to use other brands must supply a brief report on why they believe that unit will provide secure service on GGR style boats during storms in the Southern Ocean
Nicht unerwähnt sollte bleiben, dass ein Meinungs Austausch mit dem Veranstalter einer Einbahnstrasse glich, derweil Gegenverkehr als verbotene Frucht befunden wurde, denn die Funkstille wurde zu meinem Sponsoren Privileg.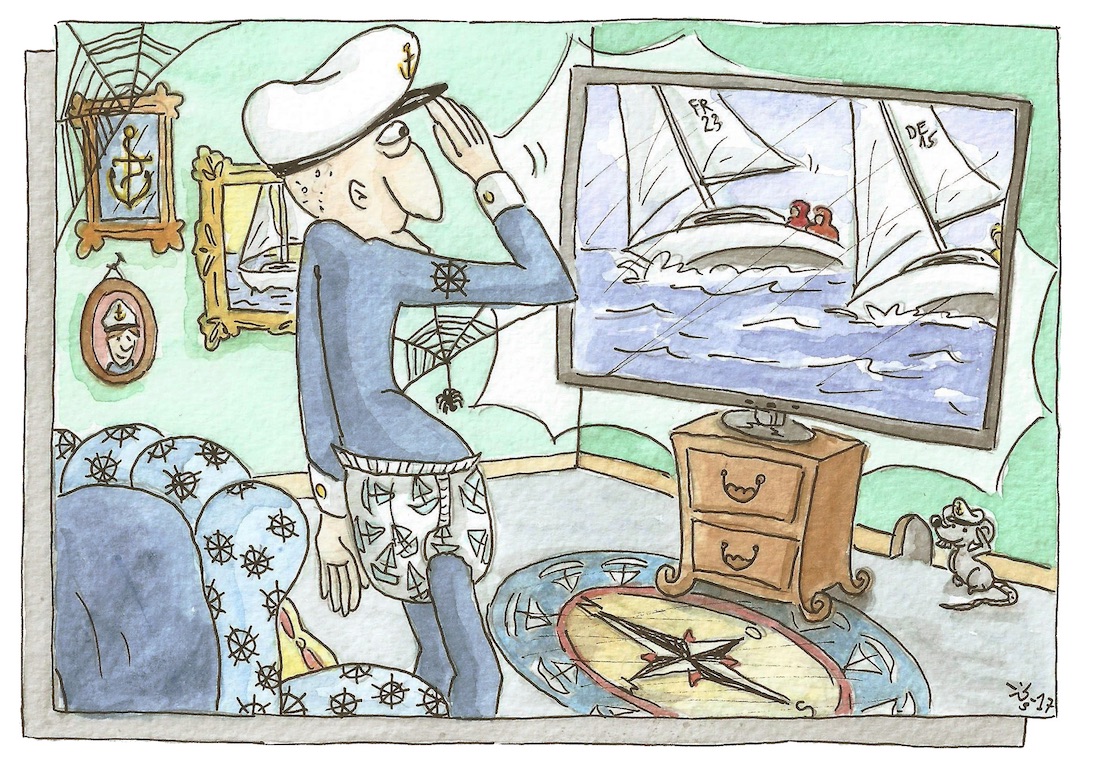 Wenn also der Veranstalter heute trotz Kenntnislage von Schwachpunkten ( Shearpins – Overload Protection ) sein "Approval" erklärt ( provide secure service on GGR style boats ), den Einsatz sicherheitsrelevanter Redundanz zeitgleich unter Strafe stellt (Chichester Class) – sehe ich eine verhängnisvolle Interessenkollision zum Nachteil der Segler, denen die alleinige Verantwortung für die Entscheidungslage zugeschoben wird, deren praktische Folgen in einem Seenotfall enden können, die bereits stattgefunden haben.
Liegt hier der Hase – oder das Geheimnis? – begraben, das dem GGR mediale Aufmerksamkeit – oder Würze? – sicherstellen soll, weil die Segelheroen diesen Kampf einzig mit – oder gegen? – sich selbst zu bestehen haben, derweil der Veranstalter sich hinter einem verqueren Regelwerk vermeintlicher Retro Originalität versteckt? Ein Spiel mit der Sicherheit der Athleten, bei dem der Veranstalter eigene Verantwortung bereits im Vorfeld von sich weist? Für mich ein Schuss in den eigenen Schuh, unverantwortlich zudem, weil die Sicherheitslage der Segler – wider besseren Wissens! – erkennbar unter Vorsatz – verschlechtert wird.
FEIGENBLATT EMERGENCY RUDDER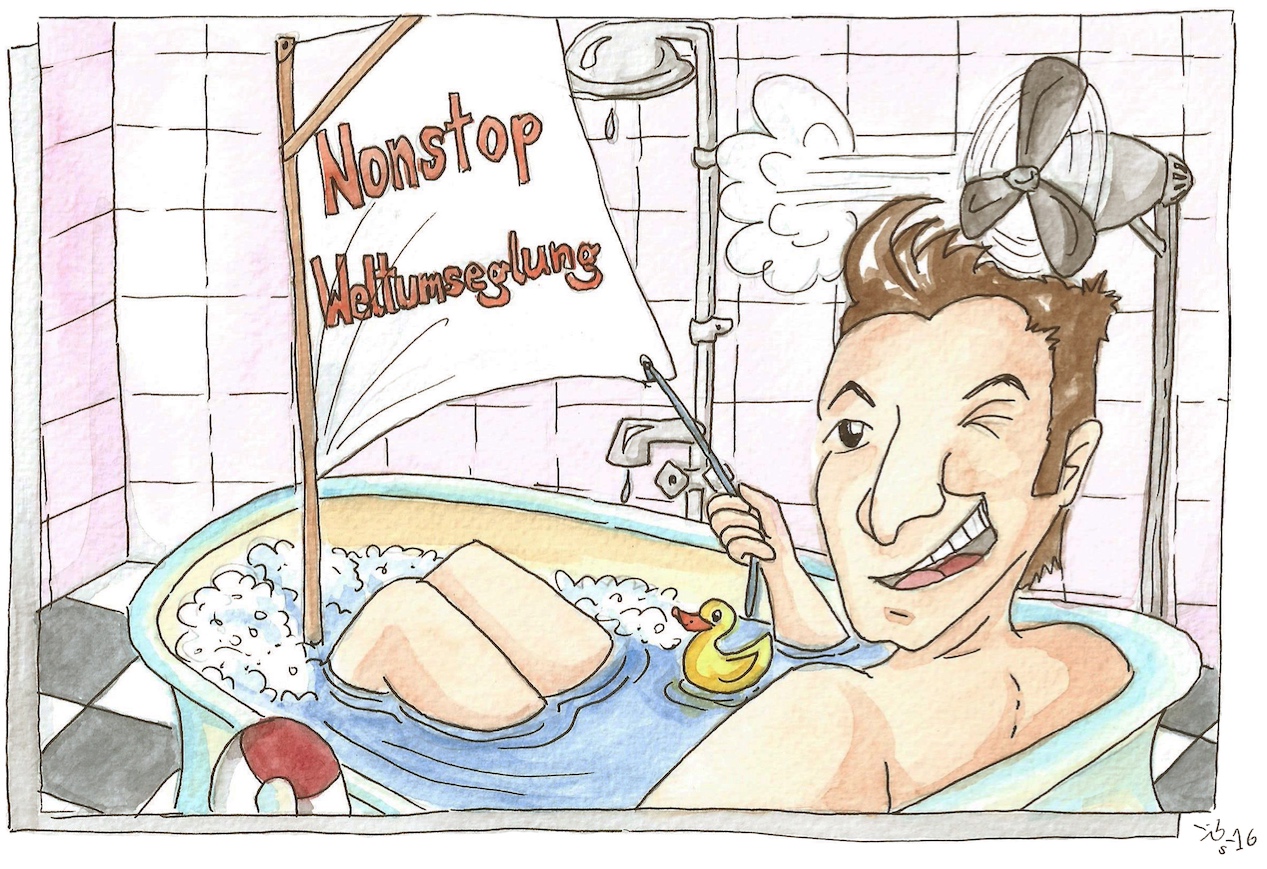 Wenn selbst der letzte Interessierte, sozial Verlinkte oder gemeine Segler nun begriffen hat, welch besondere Präferenzen der Veranstalter in Bezug auf Heckverzierungen hat, weil er vermutlich seinem ganz persönlichen Sponsor sämtliche Heck´s seiner Schützlinge exklusiv zur Ausrüstung zur Verfügung zu stellen hoffte, dann können die NOR Rules ansonsten heute niemanden mehr überraschen, weil die Stringenzen der Gutsherren Präferenzen – unter der Mimikry von Sicherheitsmassnahmen – überall in den Regeln nachzulesen sind. Für den hier begünstigten Sponsoren der Traum schlechthin und eigentlich unbezahlbar, gleichwohl für einen überschaubaren Betrag, Fleisch gewordene Wirklichkeit.
5.1.5 Special equipment regulations
K) If wheel steering is fitted; an effective emergency tiller is required. Supplies and equipment to affect an emergency rudder and steering must be on board. This emergency steering must have been previously installed by one person from the boat and used by the skipper (with the main rudder locked) in the open sea on the entered boat for at least five hours with average wind over 15kts on a triangular course and a full detailed report on its operation and satisfactory performance, with photos, must be submitted with the Race Organiser no later than 30th MAY 2022. A permanent Tiller may replace any standard wheel steering system.
Ob es hilfreich ist, in Bezug auf die Wahl einer WSA ggf abtrünnigen Delinquenten die Bürde eines praktischen Tests der Funktionsfähigkeit eines Notruders aufzulasten, um ihnen den finalen Kaufentscheid zur richtigen WSA zu erleichtern, wage ich zu bezweifeln, weil hier ein Terrain betreten wird, auf dem das Eis immer dünner wird, auch wenn man als Gutsherr glaubt, die Argumente – als Spielregeln getarnt! – diktieren zu können. Dazu ein paar Gedankensplitter: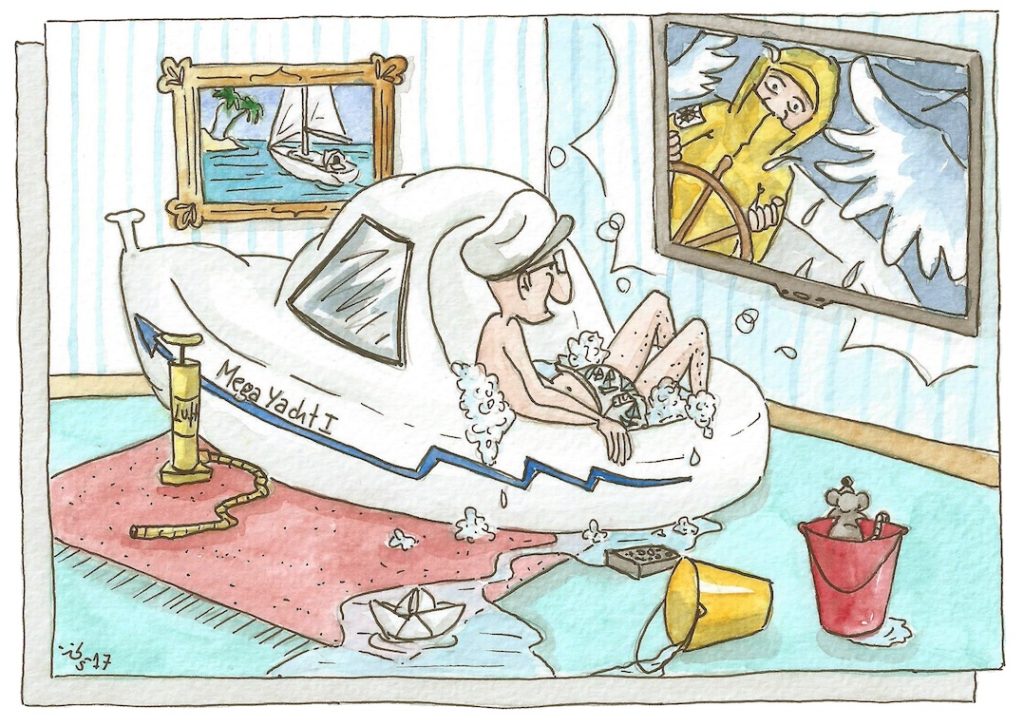 Über die Notwendigkeit eines Notruders an Schiffen mit Langkiel könnte man theoretisieren, wohingegen eine Notpinne für Schiffe mit Radsteuerung Selbstverständlichkeit ist. Die GGR Schiffe erfüllen sämtlich qua Regelwerk beste Voraussetzungen für eine sichere Reise, was durch die Praxis bewiesen, denn Schäden an Ruderanlagen hat es nicht gegeben, wenn man die Situation an Bord der PUFFIN ausnimmt, wo zwei wichtige Voraussetzungen – Planungsfehler! – vernachlässigt worden sind:
– Die Radsteueranlage war für den geplanten Einsatz in doppelter Hinsicht ungeeignet.
– Eine solide Notpinne war nicht vorhanden
Welchen Sinn es allerdings macht, eine praktische Funktionsprüfung mit "festgesetztem Hauptruder " per Video Beweis vorzulegen, wird vermutlich Geheimnis des Veranstalter´s bleiben, weil im Ernstfall das Hauptruder eigentlich gar nicht mehr vorhanden ist! Praxisnah´ wäre allenfalls der Beweis einer Funktionsprüfung mit "nicht festgesetztem" Hauptruder gewesen, weil dieses im Notfall als Lateralfläche nicht mehr zur Verfügung steht, eine ungleich härtere Herausforderung für das Bestehen einer Funktionsprüfung, weil die WSA Ruderfläche nur im Bereich von ca 30% der wirksamen Hauptruderfläche beträgt. Im Kontext einer vom Veranstalter als vorteilhaft gepriesenen Ausrüstung mit einer WSA mit Hilfsruder werden zudem Argumente vernachlässigt, die bei der Wahl ansonsten Wichtigkeit besitzen:
– Die ungeschützte Lage eines Spatenruders am Heck ( Treibgut )
– Unerreichbarkeit von Sollbruchstellen ( shearpins )
Es ist natürlich nachvollziehbar, dass der Fokus eines Veranstalters mit besonderen Präferenzen, hier Blüten – oder Purzelbäume? – schlägt!
Es sei erlaubt, an dieser Stelle darauf hinzuweisen, dass ich Igor, Antoine und Tapio explizit vom Einsatz meiner Pacific Plus Doppelruderanlage abgeraten hatte, weil ein Hilfsruder durchaus zur Achilles Ferse werden kann, weil der Segler sein Ruder tief unten am Heck nicht erreichen, somit Sollbruchstellen nicht kontrollieren oder tauschen kann, der Grund, warum Istvan sich ohne fremdes Zutun gegen eine Hydrovane entschieden hatte.
Jean Luc Van Den Heede hat den Veranstalter vorausschauend rechts überholt, indem er eigenständig seine WSA optimierte ( Shearpin verstärkt, Ruderblatt verkürzt ) und ein Schlauchboot an Bord führte, um den Ernstfall zu entschärfen. Vielleicht sollte man dem Veranstalter empfehlen, Hydrovane Segler zukünftig zum Mitführen eines Dinghies zu verpflichten? Immerhin ist auf der MATMUT selbst der verstärkte Shearpin gebrochen, trotz verkürztem Hilfsruder.
Eine unnütze Diskussion, weil sie endlose Weiterungen erlaubt, gleichwohl verdeutlicht, dass das offenbar uneingeschränkte Vertrauen des Veranstalters in die zur GGR 2022 von ihm zugelassenen vier WSA die Erfahrungen der vergangenen GGR keinesfalls widerspiegelt. Vollends irrwitzig würde der naheliegende Gedanke, dass ein Notruder namens Hydrovane nach Verlust des Haupruders einen Bruch des Shearpin´s erleiden könnte. Es bedarf nur geringer Phantasie, die Tragik einer derartigen Situation zu erkennen. Zu weit hergeholt? Ich halte eine Sollbruchstelle für ein vollwertiges Notruder als fehl am Platze! Ein Blick auf die Notruder von Abhilash und Mark Sinclair mag dies verdeutlichen. Die vom Veranstalter hier bemühten Argumente und Regeln halten einer praktischen Betrachtung kaum stand. Man möge mir meinen Sarkasmus verzeihen, aber ich halte die hier strapazierte Notwendigkeit für das Feigenblatt einer Marketing Massnahme.
GGR IN DEN MEDIEN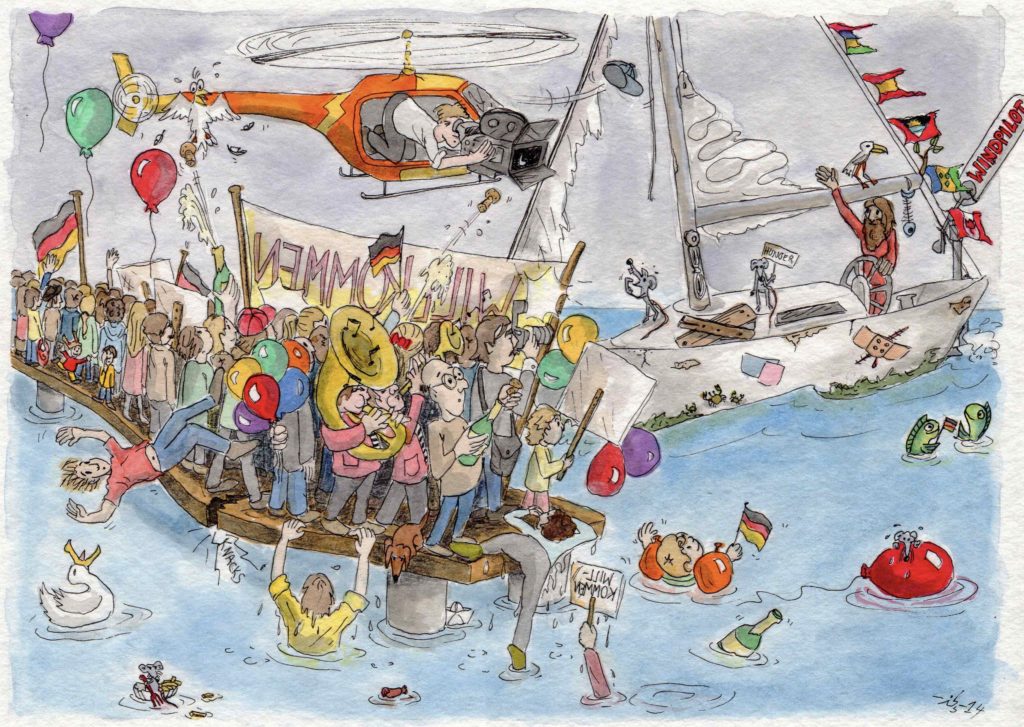 Die mediale Verbreitung des GGR erfolgte durch Barry Pickthall, einen Profi seiner Zunft, der die Berichte des Veranstalters an weltweite Redaktionen aufgearbeitet und weiter geleitet hat. Für Redaktionen in der Kostenklemme ein verlockendes or d´Oeuvre mit da capo Effekt, zudem hoffnungsvollem Potential für Yellow oder gar Red Code Sensationen, die es dann in die Headlines schaffen, bei Abhilash und Susie hat´s geklappt. Verführerisch und voller Pin-Up Fotos in high resolution aufgerüscht, um mit Copy und Paste eigene Inhalte mit wenigen Klicks zu generieren, Alltag heutiger Journalisten, der in allen Marktbereichen funktioniert. Eine Vorgehensweise allerdings, die ein grelles Licht auf journalistische Arbeitsweisen wirft, die dabei allzu leicht überflüssig wird, weil eine glaubwürdige Recherche als unnötig befunden wird.
So konnte es geschehen, dass bei der Berichterstattung die Sichtweisen des GGR Veranstalters – inklusive seiner durch einen Sponsor verursachten Verdauungsbeschwerden – von weltweiten Redaktionen gepasted wurden, mit unschönen Auswirkungen auf die Veranstaltung und auf meine eigene Marke.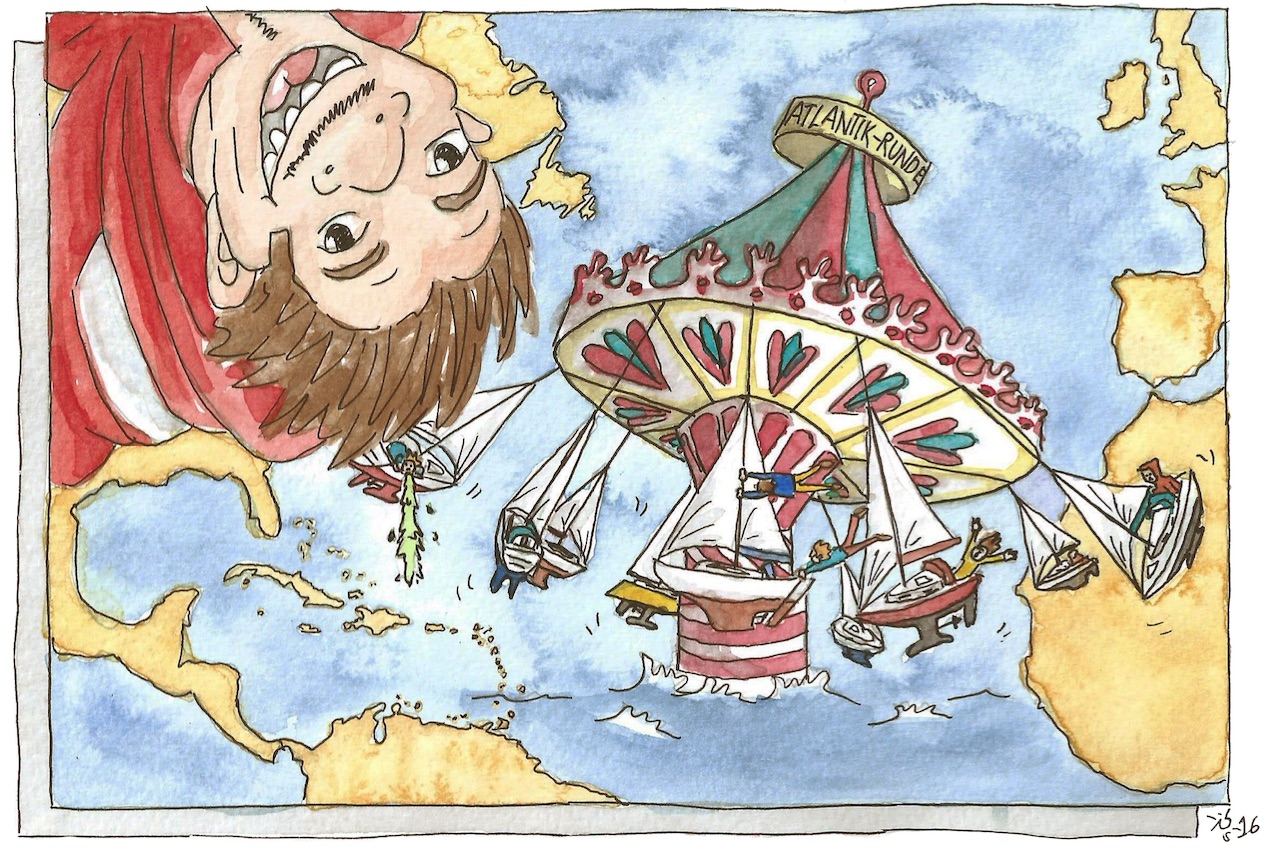 Diese Abläufe wurden zum Startschuss, meine Sicht der Dinge zu publizieren und am Ende sogar Podcasts auf detaillierte Aussagen zu untersuchen. Eine paradoxe Situation, die vermutlich einmalig in der Segelszene ist, insbesondere verquer, weil hier ein ausgewiesener Unterstützer und Sponsor von fünf GGR Seglern, durch einen Veranstalter, bei seiner Arbeit behindert, bekämpft und zu Gegendarstellungen veranlasst, besser: gezwungen worden ist! Schlimmer als im Kindergarten! Ein Makel, der eine eigentlich wundervolle Veranstaltung vom Anfang bis zum Ende überschattet hat.
Der Rote Faden mangelnder Neutralität gleicht einer Blutspur, die ich hinlänglich ausgeleuchtet habe. Ich beschränke mich heute auf den Hinweis, dass ein Schlagabtausch auf offener Bühne unklug, zudem negative Strahlkraft für potentielle Unterstützer besitzt, zumal der Wettlauf um mediale Reichweiten nicht durch Anzahl von Hits, hingegen durch Inhalte und Fakten entschieden wird, beurteilt von einem Publikum, dass sich – wie von Geisterhand – in Spreu und Weizen teilt.
Meine Kontaktaufnahme zu Barry wurde zum logischen Schritt. Es gehört zu meinen ungewöhnlichen Lebenserfahrungen, dass mir Unterstützung bei der Suche nach einem kompetenten Journalisten / Autor zum Thema Windvane Report zugesichert – dies am Ende jedoch nicht zum Erfolg führen konnte, wofür Gründe benannt wurden.
GLAUBWÜRDIGKEIT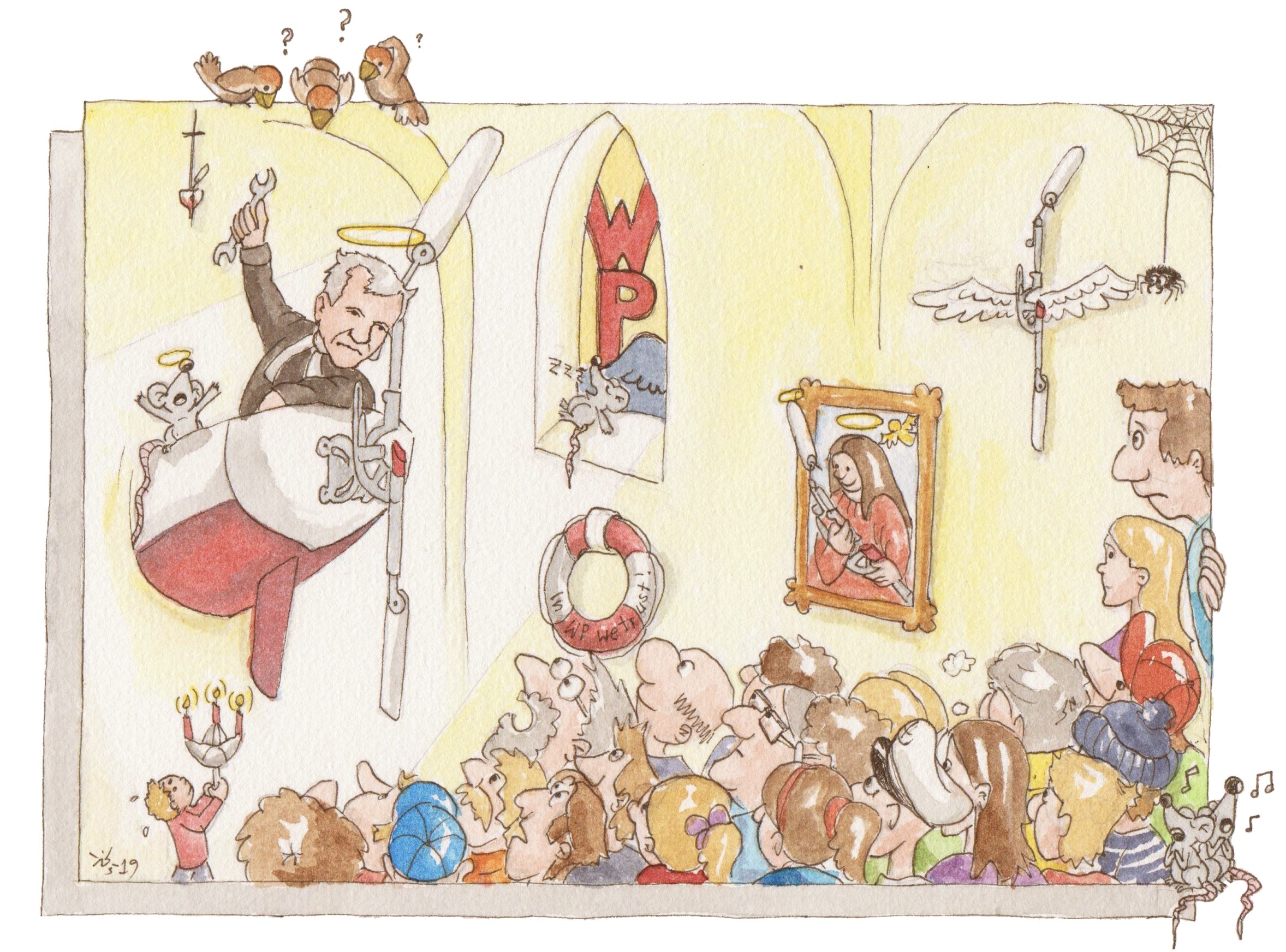 Der erste Grund war mir wohlbekannt, es war zufällig der gleiche, weshalb ich im Jahre 1998 eine Klage am HIGH COURT IN LONDON zu bestehen hatte: Glaubwürdigkeit! Kann oder darf ein Hersteller zu seinem Fachbereich Berichte oder Bücher verfassen? Am High Court hatte ich dafür die Bestätigung erhalten. Nach 45 Jahren der Tätigkeit in Sachen Steuersklaven habe ich diese telefonische Frage von Barry, mit einem Lächeln quittiert.
Die Suche nach einem geeigneten Autor erwies sich als schwierig, wobei Barry die Namen von Dick Koopmans und Gerard Dijkstra nannte, beide weltbekannte Naval Architekten, Dick war als Team Manager für Mark Slats im vergangenen GGR aktiv während zudem Gerard der Autor des vielgelesenen Buches Self steering for Sailboats in den späten 70 ger Jahren gewesen ist, beide Windpilot Segler seit vielen Jahren. Verhandlungen mit Magazinen – Print sowie Online – oder Freelancern erwiesen sich als kompliziert, weil entweder Anzeigenaufträge oder Honorarverträge eingefordert, mangelnde Kompetenz erkennbar, oder die Bereitschaft fehlte, einem für Seesegler so elementar wichtigem Thema, ausreichend redaktionellen Platz zur Verfügung zu stellen. Insgesamt ein deja vu, ein mir bestens bekannter Hürdenlauf um journalistische Aufmerksamkeiten, bei dem wichtige Details allzu schnell untergehen, übrigens Grundstein für meinen Entschluss vor 20 Jahren, lieber auf weltweites Direktmarketing sowie Word of Mouth zu vertrauen, ganz ohne Anzeigenwerbung oder Messegefängnis Aufenthalte. So wurde, keineswegs zur Überraschung für mich selbst, erkennbar, dass ich den Windvane Report selbst zu verfassen hatte.
Ironie der Geschichte, interessant zudem, dass mir ausgerechnet vom Verteiler aller GGR Media News "fehlende Glaubwürdigkeit" als hinderlich für meinen Windvane Report entgegen gehalten wurde! Ich habe meine Doktorarbeit mit Sorgfalt dennoch niedergeschrieben, meinem wichtigsten Blog, weil er 45 Jahre Lebenserfahrung in Bezug auf Heckverzierungen komprimiert und zum bislang mit Abstand meist gelesenen Blog im Verlauf von 9 Jahren avanciert ist.
Bleibt nur noch festzustellen, was ich in Korrespondenzen mit verschiedenen GGR 2022 Seglern bereits mitgeteilt habe: Ich werde mich an dieser Veranstaltung zukünftig nicht mehr beteiligen. Gewohnt, mit Seglern in gegenseitigem Respekt umzugehen, bin ich im GGR auf Menschen getroffen, denen andere Werte wichtiger sind.
Garnicht meine Welt!
Hamburg den 7.9.2019
Peter Foerthmann