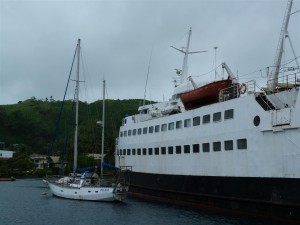 December 25th 2012
SV Drifter and Cyclone Evan
Since about a week it becomes more and more clear that there is a cyclone developing. We're in Savusavu, Fiji. It supposes to be a cyclone hole here and it has a good reputation. However one never knows in advance what can happen.
It's clear now that Evan will hit Fiji probably close to where we are. People start to prepare their boats and stuff. Moorings are checked by divers and if necessary ropes are replaced. It's remarkable that no one is nervous, there's no panic at all.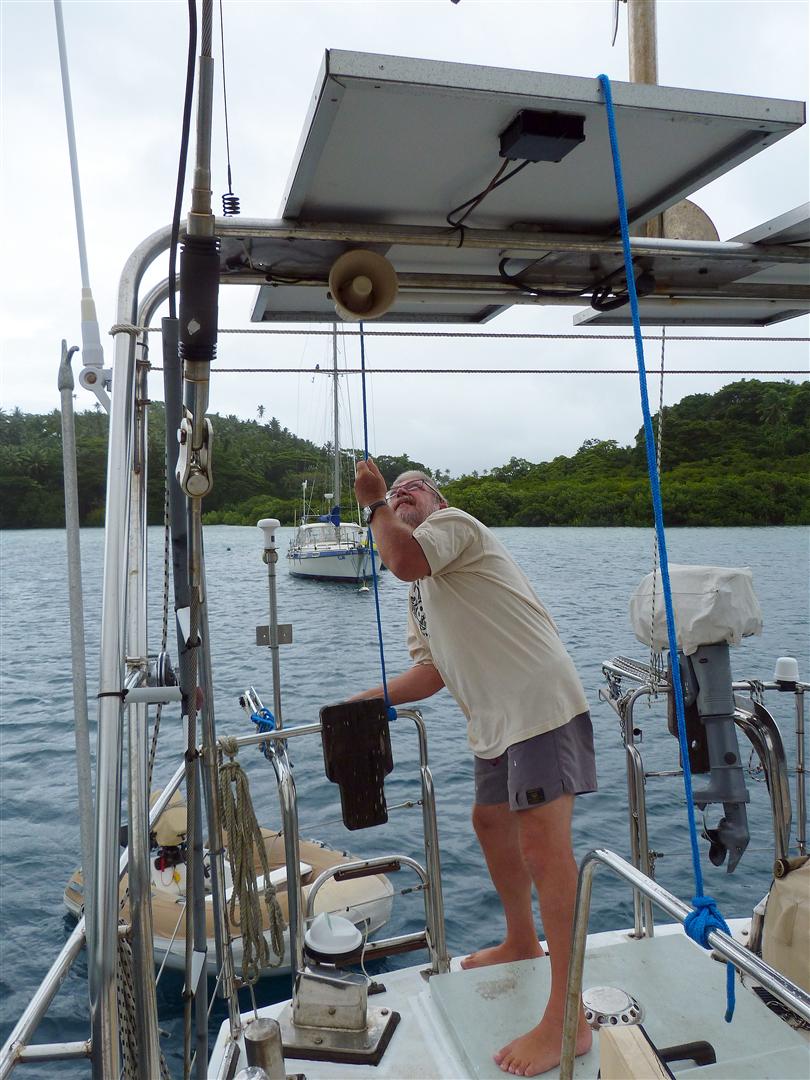 On Drifter we take the main sail of and store it down. It has to been taken of anyway because there are some jobs to do on the rigging, bimini and sail. We wait until it's clear what Evan will do before to make the decision about the head sail. It's a big sail and still on the furling system. To store it inside the boat takes a lot of room. Once it's clear that Evan will come very close we take it off and bring it down.
It's amazing how nice and calm the weather is, beautiful, while we know that in a couple of days the wind will blow in very strong forces and massive rain will fall down.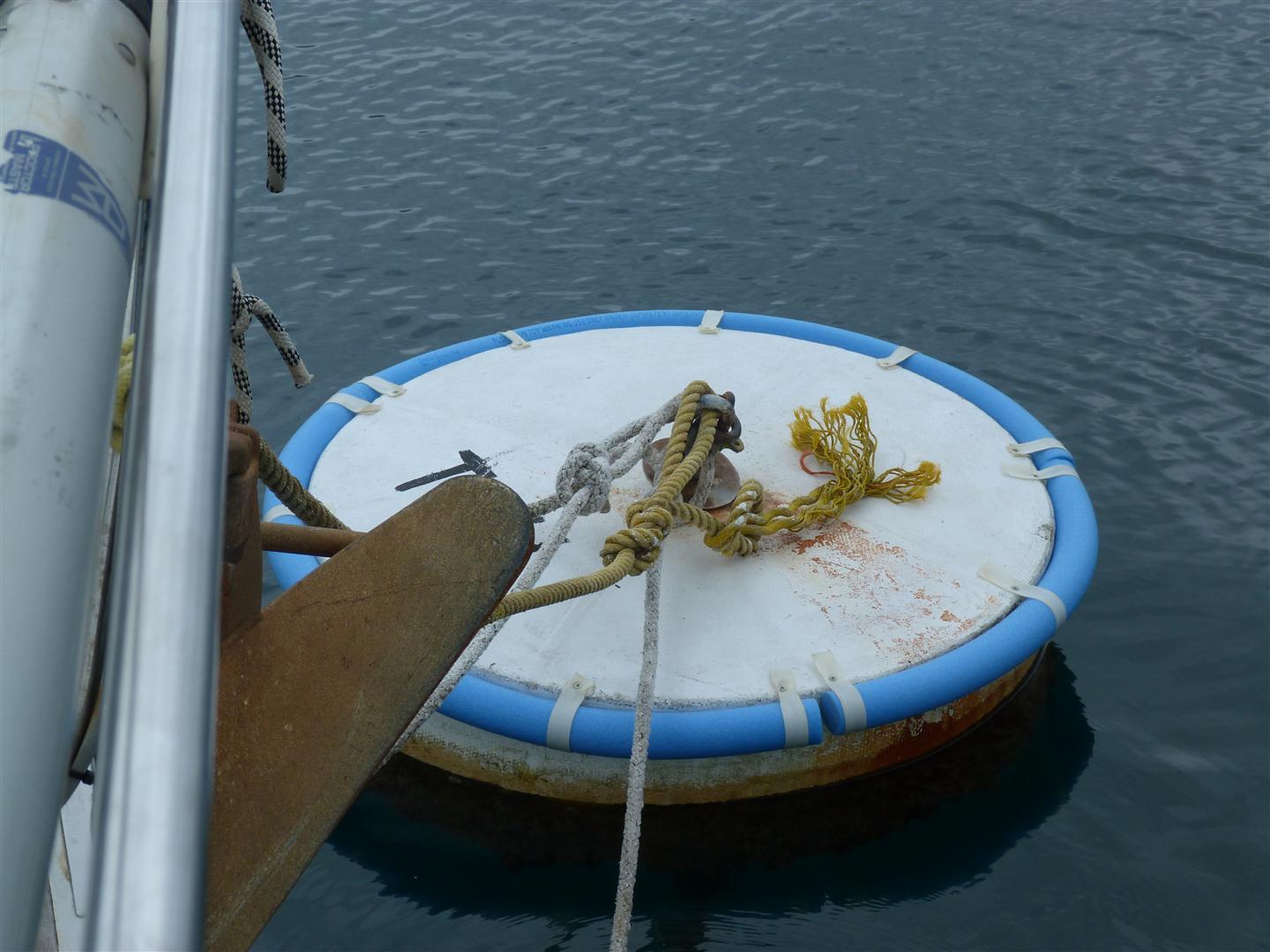 Our mooring is also checked by a diver and we suppose to have the heaviest one of all. Still I don't have a good feeling about it, especially about the part of the chain what's inside the mooring buoy. This part is always in the water and in the air. With the windlass I can pull the chain up and I was right, the three upper links of the chain are totally corroded and the thinnest part is less than 8 mm. After cutting them off and connecting everything again I have back my good feeling about this thing. A few extra strong ropes to the boat and that part of the preparing is oké.
I also have a check on Flashback, the boat of a friend who had to fly to Canada. After addition an extra rope and some shaving protection that boat is cyclone proof (as far as possible) too.
Some boats which are still on a jetty have to be moored on a mooring. Some of them have no engine and have to be tugged by dinghies. It's nice to see how everybody helps one another.
From Drifter we take of the dodger and the bimini and everything from the deck. All the rest is tided very well.
I secure the solar panels and take off the wings from the wind generator.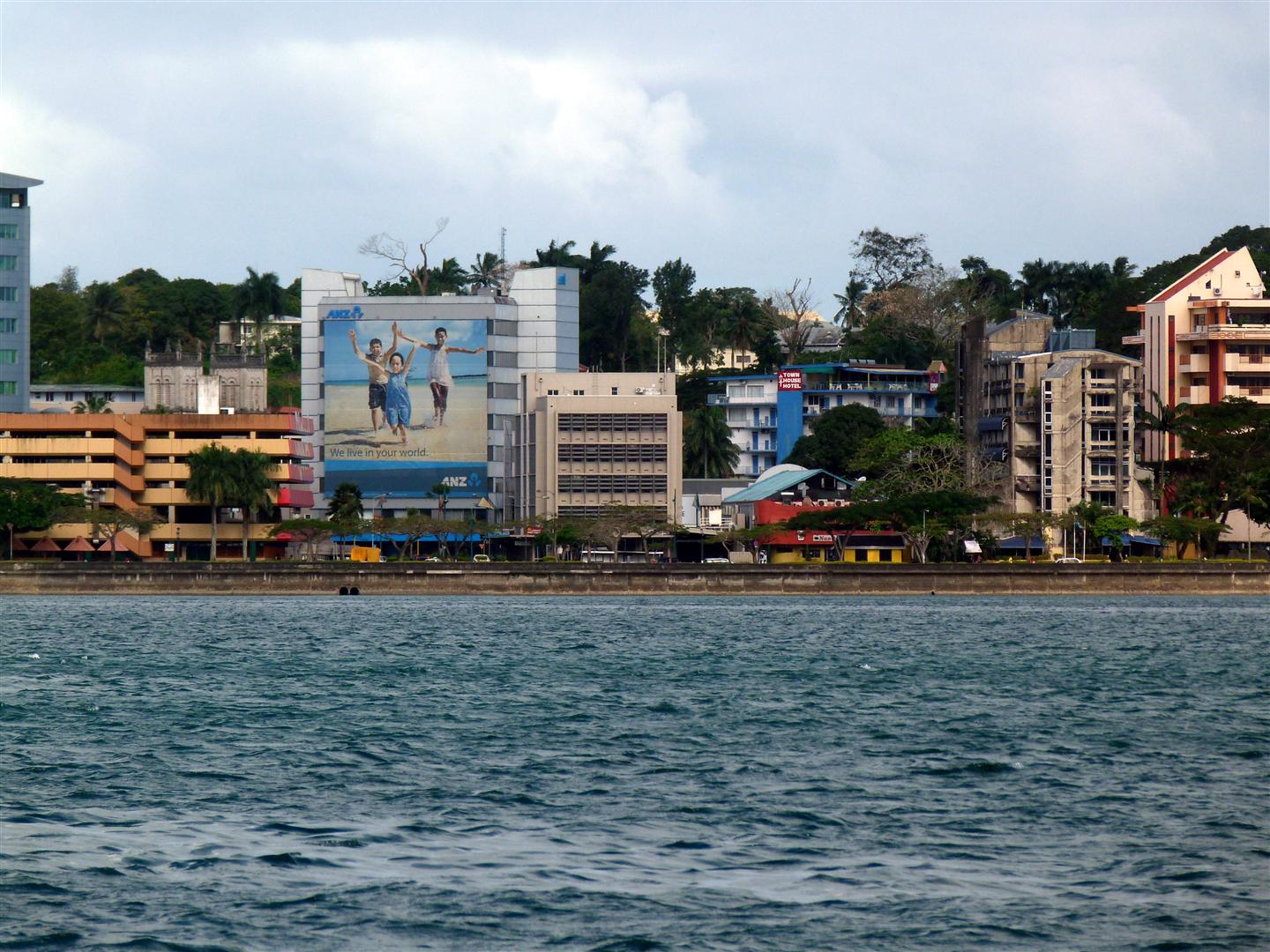 At Saturday most of the shops on shore closes earlier than common. Everybody start to protect the windows with sheets of plywood. All what can fly away is tided or stored.
At Sunday on Drifter we taken off the canopy over the boom and store the dinghy upside down on the deck.
That's it; let Evan come, we think we are ready for it.
Some people don't want to stay on their boat and booked a room in the hotel. Coby decides to do that also and she managed a room together with Elisa from Italy with her 14 months old daughter Sofia. Both of us think that it's better for her mind when Coby goes to the hotel.
Except clothes, food, torch and such things she has to take also drinking water from the boat because the water on shore is not reliable after heavy rainfall. And that is what we can expect.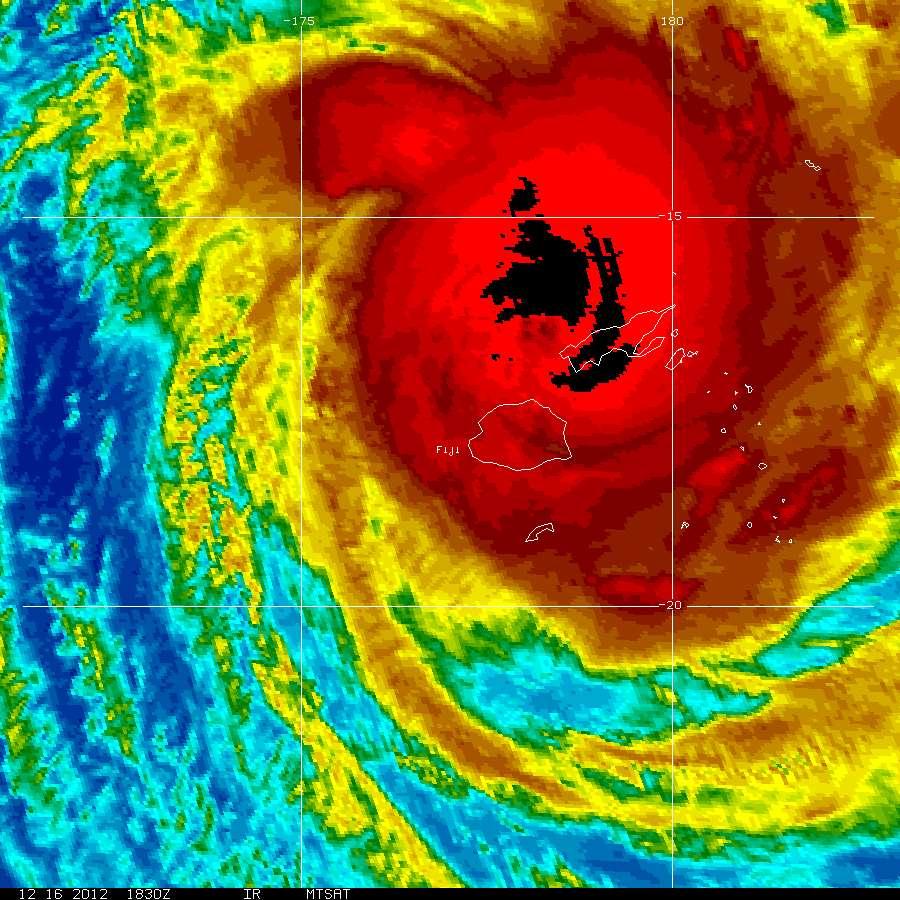 In the mean time Evan is developed to a cyclone of category four. The categories for cyclones are a bit different than those for hurricanes on the Atlantic Ocean but still, category four is a heavy one. It's clear that it will pass us north of the main island Vanua Levu, about 60 – 70 nautical miles north of where we are. The forecast is talking for our spot about gusts up to 90 knots. Brrrrr…
The whole Sunday we have nice and calm weather but during the day it becomes cloudier. Late afternoon it's 100% overcastted and the clouds becomes more dark and the wind picks up a little bit, 20-25 knots. During the evening I write an article for Zilt, a Dutch online sailing magazine and after that I watch a movie on the computer. Around midnight we have quite a blow, approximately 40 – 45 knots, gusting up to 60. It's amazing how quite the behavior of Drifter is behind the mooring. The main thing is that there are no waves build up in the water. Because of swinging behind the mooring Drifter is healing now and then. Only during the peak of Evan I had to secure some things to protect them for falling down. VHF is standby continuous but there is not much traffic. It seems like a quite watch.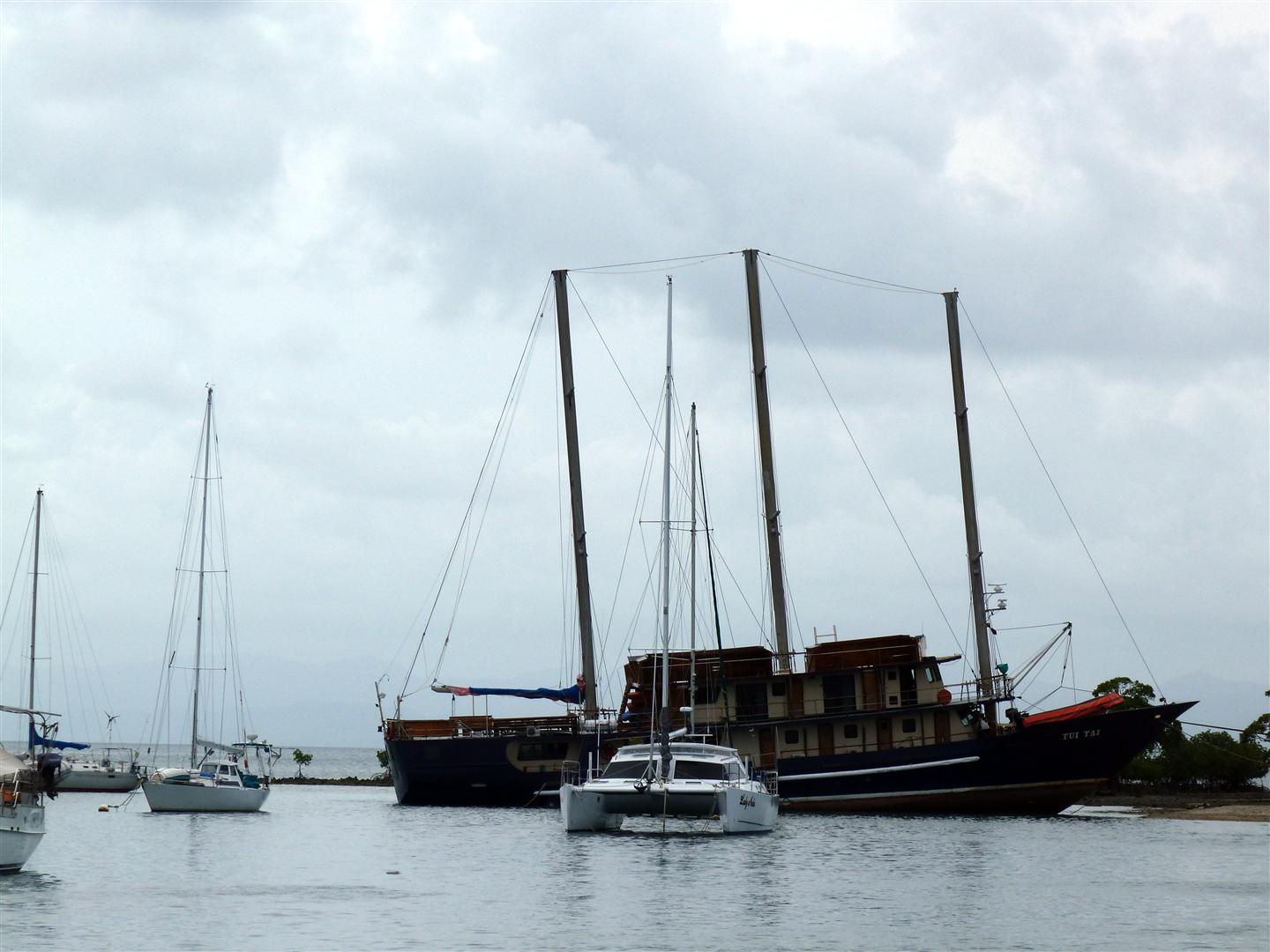 Approximately at 3.00 am I'm advised by radio on channel 16 that a boat is dragging its mooring and heading west down the marina towards Drifter. Immediately I'm up to the cockpit and see the dragging boat colliding with a catamaran in front of Drifter. The wind is 60 -65 knots, gusting up to 75. I start the engine in an attempt to take evasive action. Than the boat comes down and hit Drifter amidships. Its bowsprit is hooked in Drifter's railing and I have a fight with it to prevent more and more damage. Finally I have to cut the mooring line of the other boat and slowly it turns and drifts away. Then I feel guilty because there are other boats down wind and I can't do anything except giving a warning, totally out of breath, on channel 16.
Approximately one hour later there is another mention of a dragging boat. It's a big heavy boat and it follows more or less the track of the pervious boat. I'm scared now. Luckily a few brave people in a small boat are able to secure the boat before it hit any other.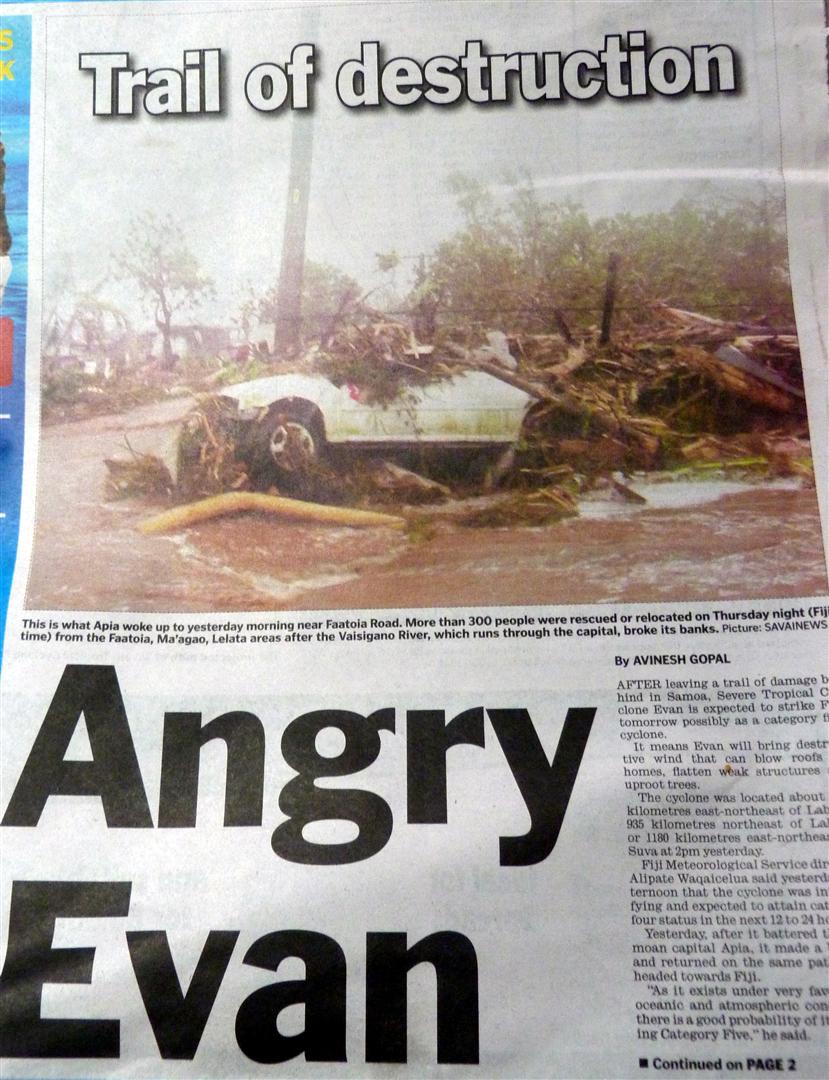 In the early morning the wind calms down a bit. 35 knots looks like a nice breeze after those storm forces. At the first sunrise I look outside and I'm really surprised to see the boat I cut of its mooring line, laying moored in the marina on a pontoon. It's a big relieve that nothing happened to other boats. Later I hear that it drifted into the berth by itself. Like a miracle. The only thing the security guard had to do is tiding it with a few lines.
There is damage on Drifter; a big part of the railing is bended, a side window is cracked, some scratches on the hull and the rudder of the Windpilot, which was stored against the railing, disappeared.
The next day it's clear that the first dragging boat damaged with its mooring block one of the mooring chains of the other boat which slowly started dragging after that. Looks like a domino effect.
Looking back we can say all the boats in the marina did well on their moorings except one. But the chain is as strong as the weakest link.
25 December 20012
Arnold Lelijveld