ORCAS – DAS NACHDENKEN BEGINNT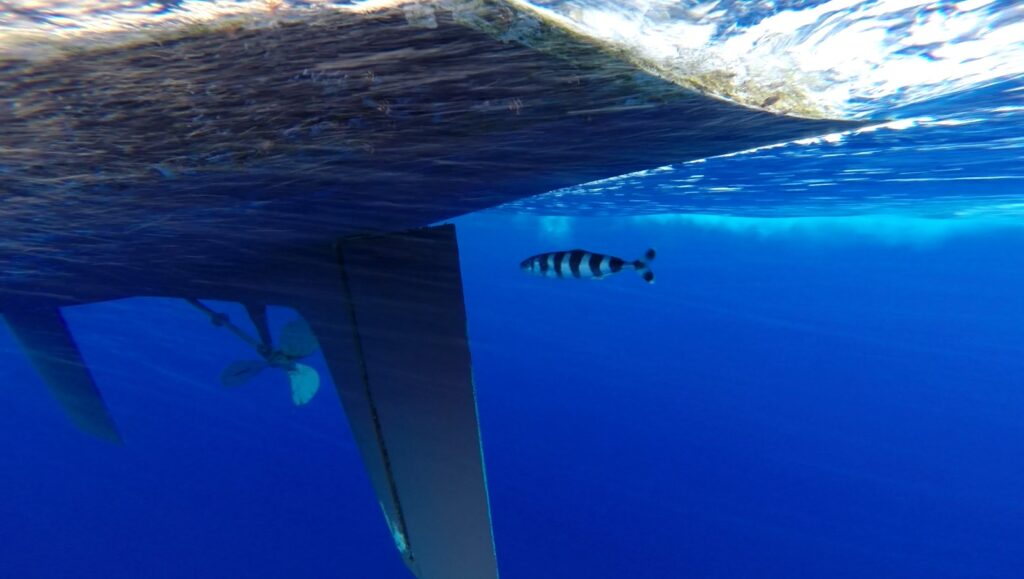 Vermutlich haben Fische unseren Gedanken auf die Sprünge geholfen, denn das Thema ist an Bord in der Cruising Szenerie zum Tagesgespräch avanciert. Die Nachdenklichkeiten reichen bis unter das eigene Schiff: war die Entscheidung für ein Schiff mit Spatenruder richtig? Verständlich, dass die Thematik eines Notruders für Segler mit "modernen Schiffen" bei einem Hersteller für Notrudersysteme, oder Windsteuersystemen, die u.U. auch als Notruder verwendbar sind, in der täglichen Beratung angekommen ist.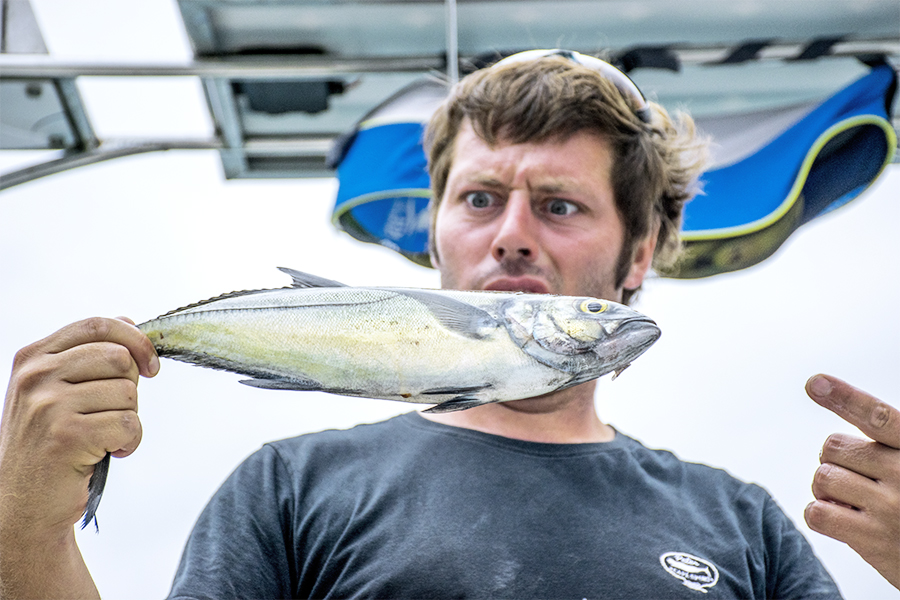 Hello Peter
I am looking into emergency steering for my Dehler 46, should I loose the rudder. Looking at your website, it seems the SOS Rudder Solo ll is the model for my size of boat.
 
I have some questions regarding how to install it. You'll see from the attached photos that the boat has a drop down bathing platform. The bottom bracket is not a problem as this can be fitted on the centreline below the bathing platform (red circle 1). With regards to the top bracket, would it be possible to fit it where I have put red circle 2, with a shorter shaft? This would mean removing the bathing platform which is not a major issue, and would save drilling holes all the way through it, if we were to fit the top bracket on the platform – red circle 3.
I look forward to hearing your thoughts.
Kind regards
Ken
Dear Ken,
so the Orca´s arrived in your mind! I consider its making some sense to talking straight.
Here some thoughts ENGLISH VERSION
Also certainly useful to read about auxiliary rudder during emergencies.
Here some thoughts DEUTSCHE VERSION
Lesenswerter Bericht über Hilfs- und Notrudereinsatz im Notfall:
Coming down the the facts on your DEHLER 46:
Reading through these postings you might be aware that hardly one single emergency rudder / SOS rudder will be capable to perform your performance vessel after damaging / loosing of the main rudder. The overall size will be far away from achieving the safety you will require as output from the small rudder surface in an emergency.
In top of this … and this was your question … the installation on boats with drop down platforms will hardly be possible: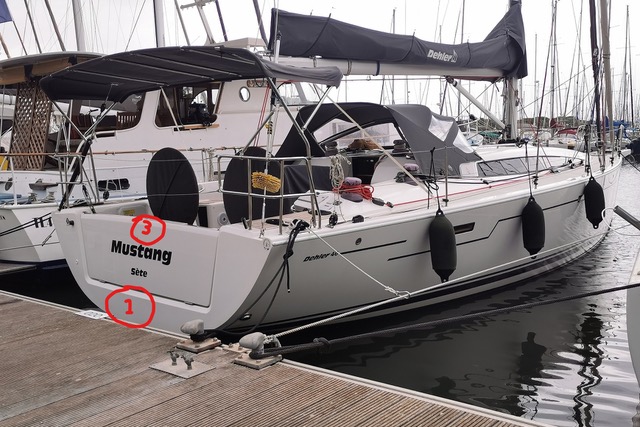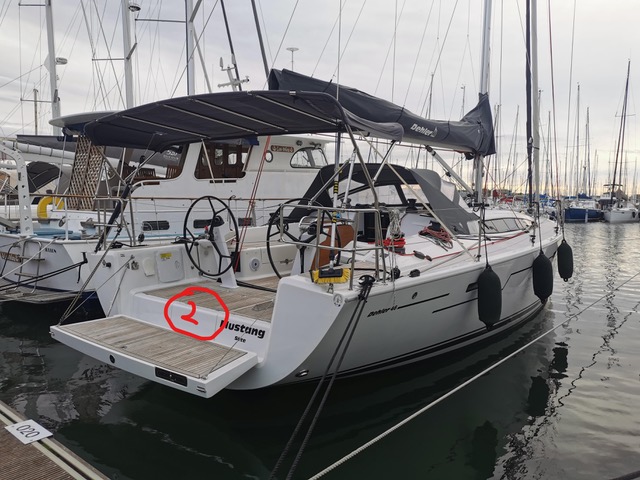 Place 1 + 2 are by far too close to one each other … and without reach of the helmsperson in an emergency, unless you cut aware the platform first
Place 1 + 3 does not work either as the lower bracket is not within reach of the skipper during installation.
Of course I am aware that some manufacturers claiming to offer the "perfect" solution … and certainly I could get some benefits by just selling an equipment which will not provide the service you may want.
After some 47 years in the business of windvane steering I do however like to be straight … the reason of my answer … like above.
Final consideration: PLEASE MIND that the Orca will tend to treat an outside transom fitted rudder … at first … before tending to discover the main rudder not to be far away … You want me to show damaged auxiliary rudder?
Here we go … just recently happened in Portugal …
best from Hamburg
Peter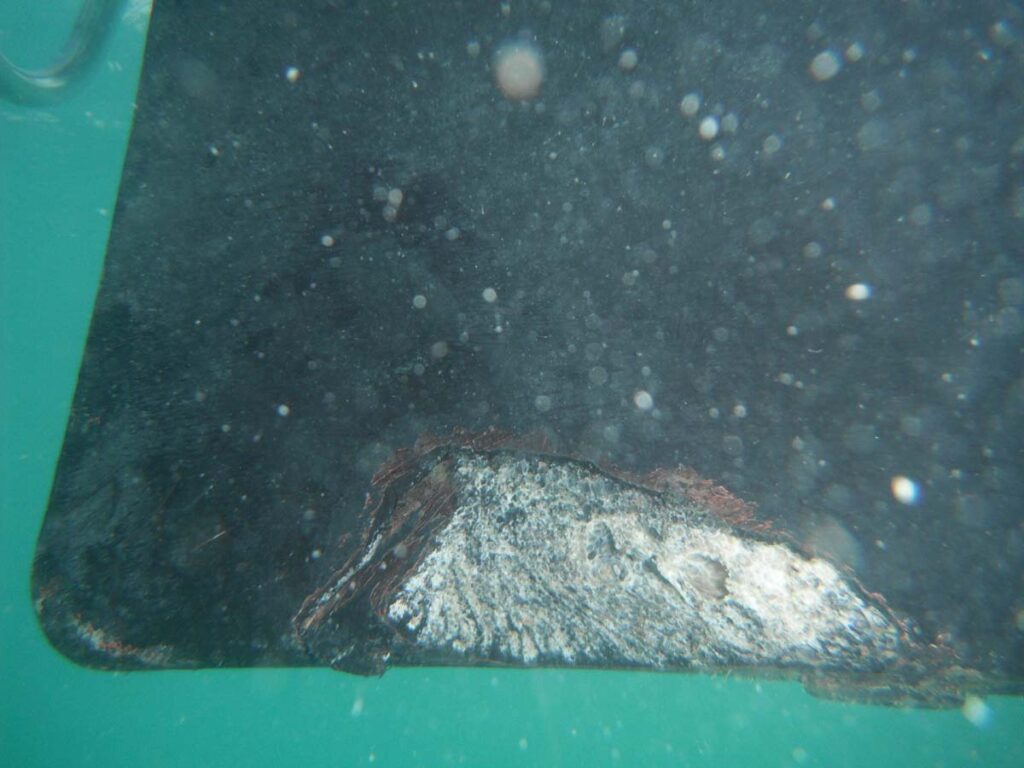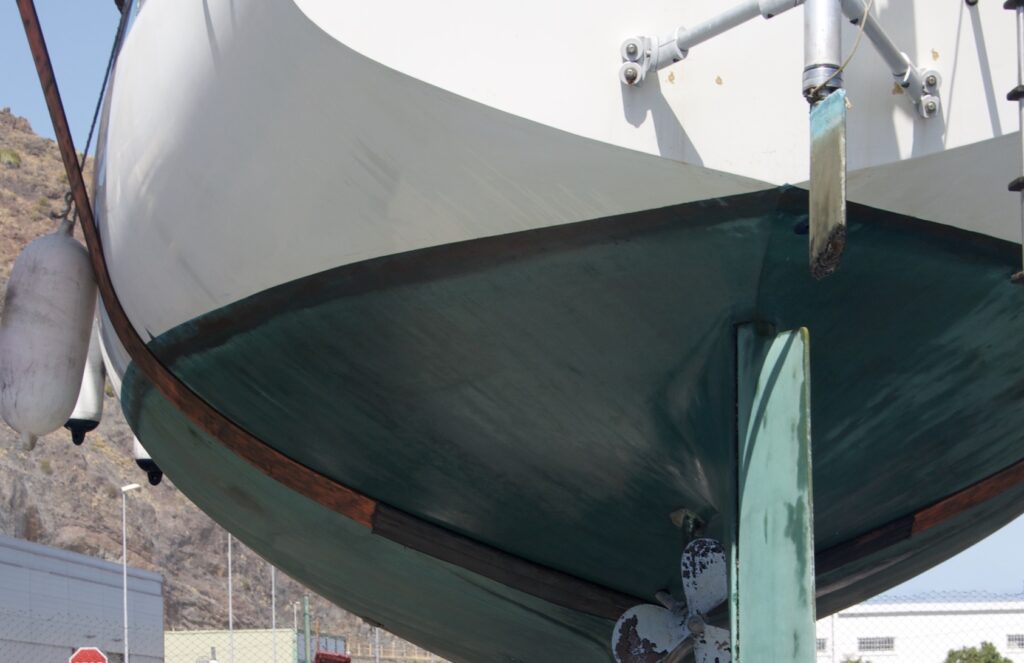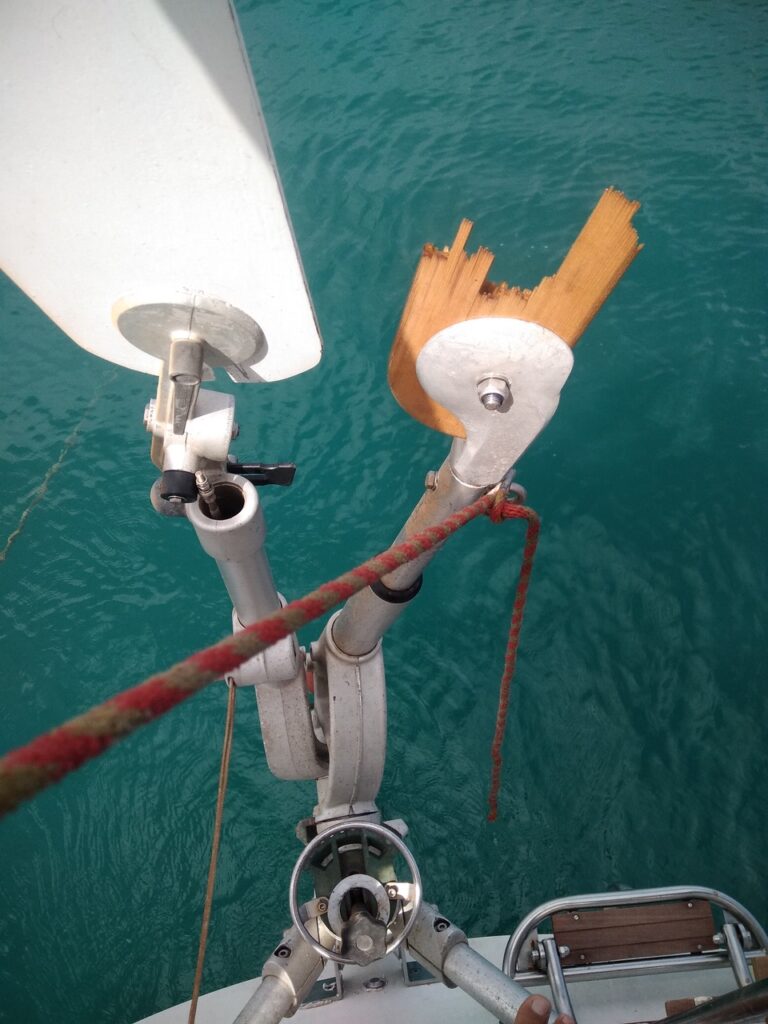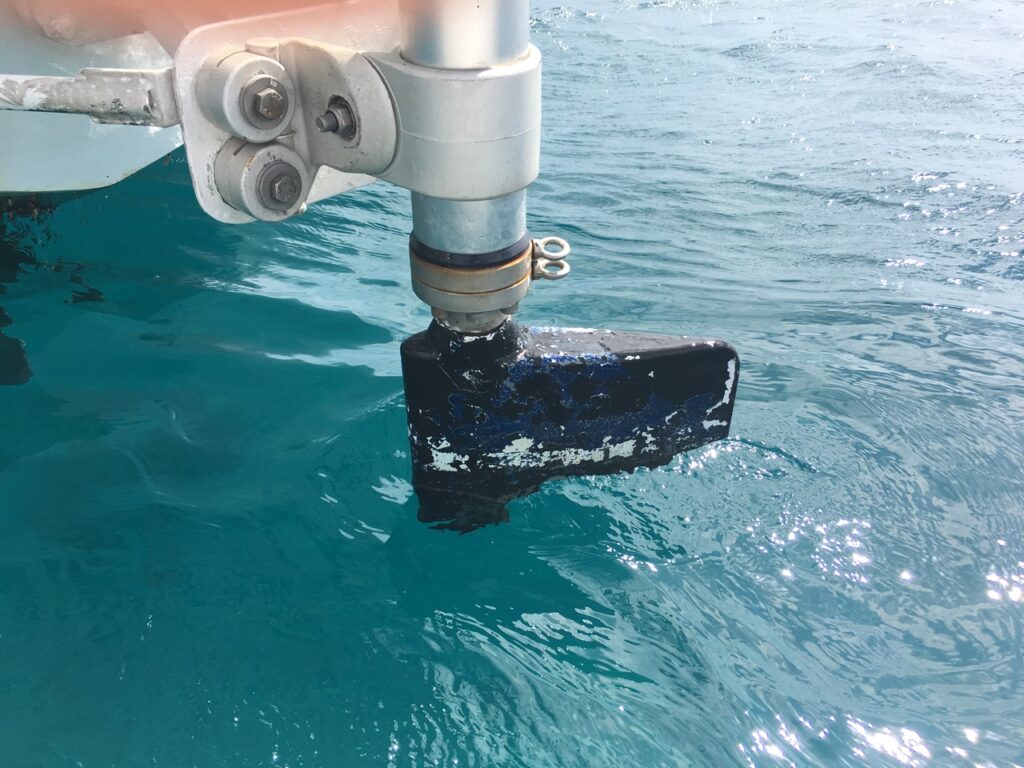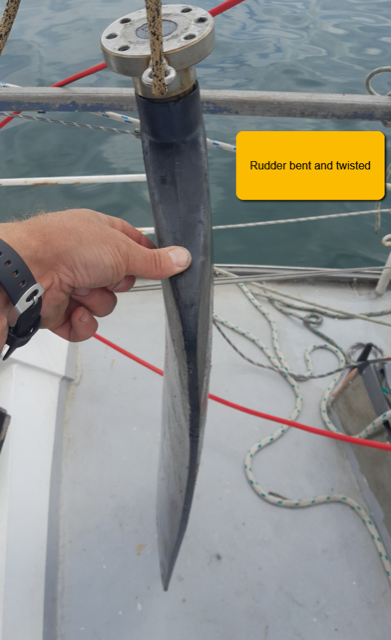 Dear Peter
Thanks for your email and links. I am embarking on an Atlantic circuit later this year starting and finishing in the Med, so yes the Orca's are a concern when coming through the Gibraltar Strait, but regardless of them, I like to carry emergency steering when taking on an ocean passage as there are all manner of things to hit in the ocean these days! I am also aware that the performance of the boat will be severely compromised if I have to use the emergency rudder, but better that than abandoning the boat mid ocean.

I understand your reasoning for positions 1&2 being too close together, but I thought positions 1&3 could be a serious option. I don't see any major problem in getting a crewman down to the lower bracket if he is harnessed in on a halyard. The bigger problem I see here is having to drill all the way through the bathing platform to install the top bracket.

But if you don't think it is viable, I thank you for your time and I will look elsewhere.
Kind regards
Ken
So, you are now aware about the situation as it is. That was my aim once writing.
An Installation at places 1 + 3 will be possible if you compare the following picts.
1.- lower place bolted through lower transom
3.- upper installation: compare the picts down below
best from Hamburg
Peter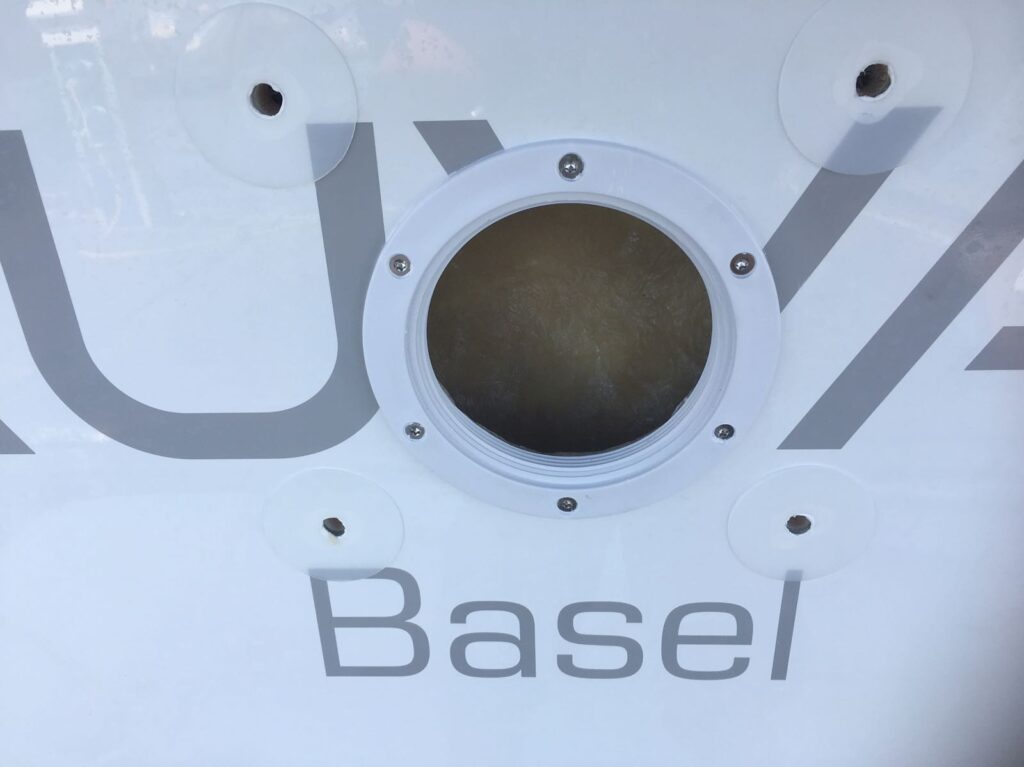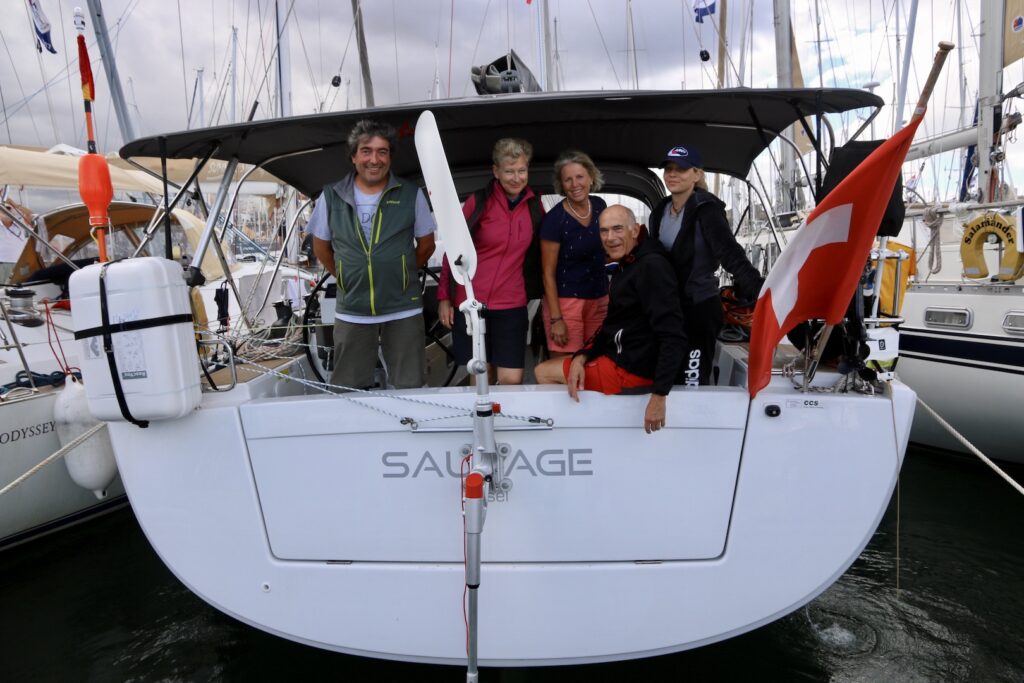 Hi Peter
Many thanks for the info, leave it with me and I'll let you know. I was unaware that the bathing platforms were hollow inside. This makes life a bit easier.
Kind regards
Ken
to be continued …
11.09.2022
Peter Foerthmann