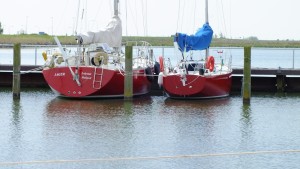 Written by Dick Koopmans:
Designing Golya was a real pleasure, A lot of designs are designed around an interior, but not with this yacht. She is in the first place a sailing yacht. There still where some challenging requirements. She must be able to sail as a shorthand ocean racer while also it must be possible to trailer her. In races like OSTAR and Round Britain, there is a minimum length of 30 ft. (9,14 m). On the road, the with is limited to 2,5 m and from keel to top 3.65 m (depending on trailer type) is the limit.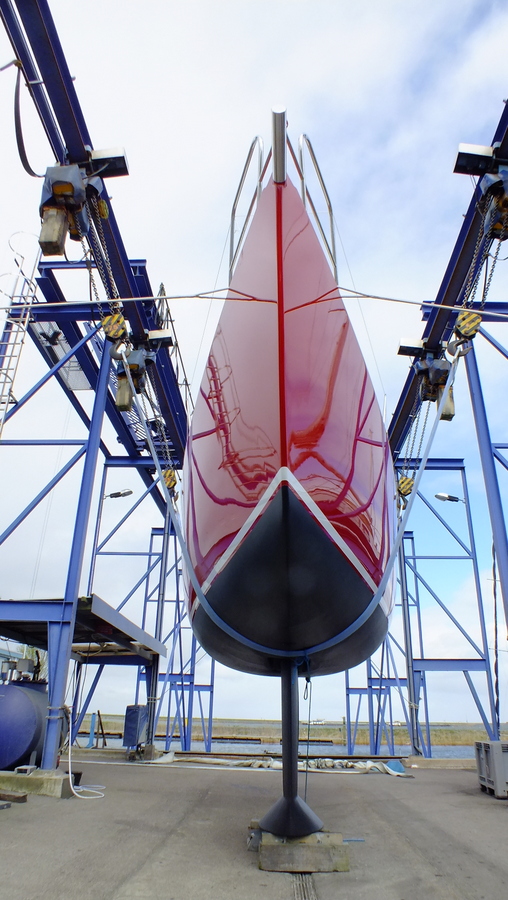 To fulfill the stability requirements of a CE-A boat, a low center of gravity bulb keel is fitted to get the lightest possible boat. Although she must be able to sail races, she is designed as a fast cruising yacht with classic lines. There is a big flush working deck with only a couch roof behind the mast. This makes it much more comfortable on the fore deck while chancing sails and playing with spinnaker. Inside there is still a comfortable hight at the entrance while you have some shelter behind the coach roof outside.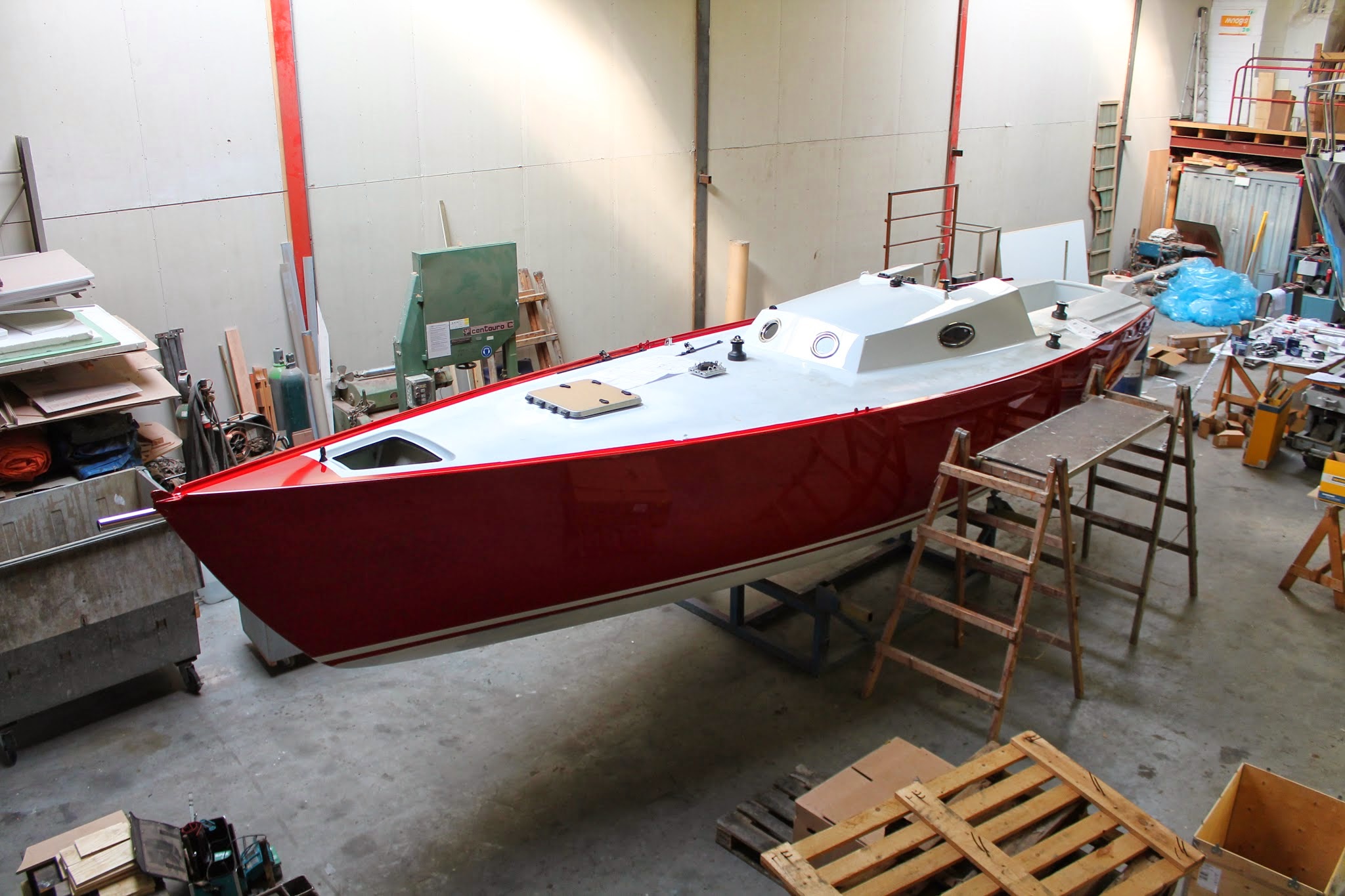 Hull form: The hull has narrow lines and overhang in bow and stern. The bow overhang gives more room fore the fore triangle and therefore there is no need for a long genaker bowsprit. It will be an easy to sail yacht with some reserve buoyancy in the bow to get the deck above water in rough seas. To get good stability for such a narrow boat the waterline beam is 87% of maximum beam. Most sport boats come to 75% ore less. A narrow hull give low resistance, but also less stability. The strongest point will be light air and running conditions. Strong winds on the nose are no problem, but here she loose some. The keel is made from developable steel plates. The lower part is filled with lead, the fin is hollow.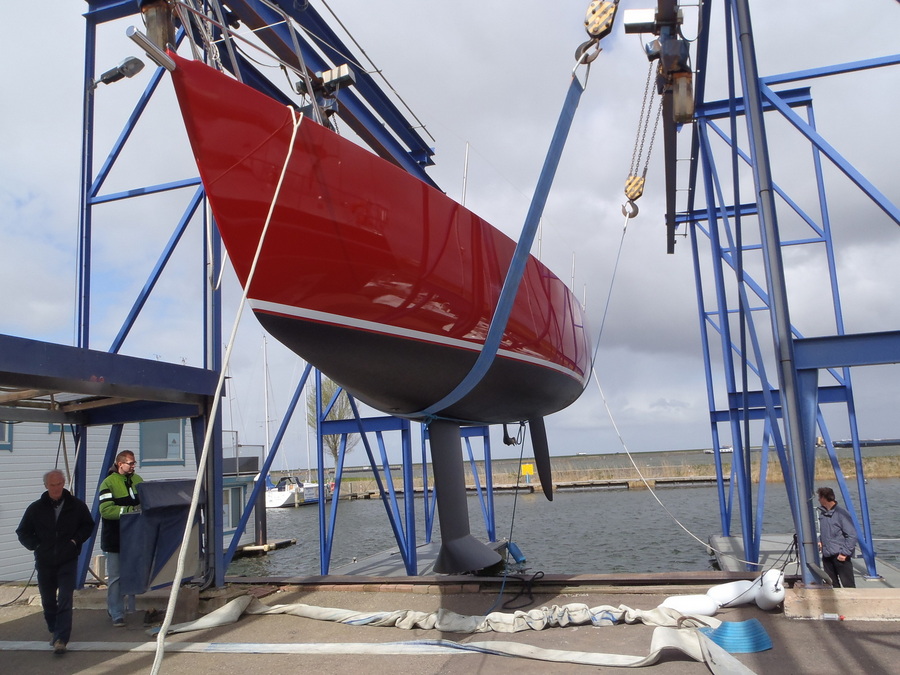 Rig For the rig we want to have an easy to handle one, For the sailing this mean not too big, for setting up, mind it will be trailered, not a too long mast with easy rigging. We found a mast profile that was suitable for one spreader. We choose aluminum because the profile weight was less than 7 kg more than carbon and carbon is more fragile. With the back swept spreaders there was no need for running back stays. A code0 or light air 50-80 degree true wind angle will hoist from the top and set on a small bowsprit.. The asymmetric spinnaker can be set fractional to the bowsprit ore set from the top on a spinnaker pole. For running there is a fractional set spinnaker on a spinakerpole. With light wind it can be set as a top spinnaker if there is more wind above.
Material & Construction The boat is a one off, It is build from foam strips over temporally moulds. The foam is covered with glass and vacuum injected with epoxy. After this the hull is turned and the inside is covered with glass and vacuum injected with epoxy. Around the keel the foam was cut so here is a massif laminate. This gives a light stiff hull. The deck is done in the same way, but here we used carbon instead of glass. This reduce the top weight, and give more stifles. There is a longitudinal stiffener running at 300 mm from centerline over the whole length of the hull. Keel floors are attached to this stiffener. The stiffener is used as front for the berth. The top of the berth is also laminated to the hull and the inside is filled with foam to make the yacht unsinkable.
Dick Koopmans Most of my designs are ocean going cruising yachts between 40 and 60 ft. You will find a Koopmans yacht in any ocean and frequently in the Arctic and Antarctic. Dick has sailed over 150.000 miles both cruising and racing. This brought him to places like Tahiti Svalbard and America. He raced three times double handed round Britain and Ireland, and won two times. In 2009 he was third in the OSTAR, singlehanded from England to America. Last edition his VQ32 design Velocity Girl won her class in the OSTAR.
Double handed Round Britain&Ireland With the Globssy 30 it will be the forth time for me to sail this race. All the races where different. The race starts in Plymouth and has a first stop in Kinsale, Ireland. Here competitors has to stop exact 48 hours, giving time to meet each other and prepare for the next leg. This go West of Ireland to Barra, an island on the Scottish outer Hebrides. There is no harbor, but a bay where you can anchor for another 48 hours. From Barra you have to round St Kilda, an Island 60 miles NW of Barra. Hereafter you sail around the north point of Shetland and finish in Lerwick. Forth leg is to Lowestoft over the north sea. This is the only leg with a straight line from start to finish, so here tactics can bring the boats far from the rumb line and each other. The last leg from Lowestoft to Plymouth is buzzy with shipping. A lot of tidal currents constantly ask for inshore ore offshore position so here a lot of time is spend on navigation.